HOME PAGE SITE MAP CONTACT DAVID ST JOHN
SOUTHERN ROOTS
*If returning to this page- please 'refresh' or press F5 for latest browsing session*
COPYRIGHT
Please note that many images contained within this website may be subject to copyright, although many have been kindly sent to me and intended to be shared on this non commercial outlet. If anybody wishes to use any of the same, then please get in touch as well as possibly giving credit where due as well as setting up reciprocal links if relevant to the actual content on any webpage. Please note that I am able to monitor any image-copying and if published on other websites. I would appreciate any contact to report broken/outdated links and any corrections to the text that accompanies any images herein. Thank you and enjoy!
This website was originally set up as a one page advertising route on the internet, around 2005/2006, in order to promote myself as a professional comedy entertainer. I was quite proud of being a self-taught 'webmaster' but realised that I needed to keep it simple, with text and a few odd images - eg small files that would not take too long to load. Those were the dark days of 'dial-up' with slow connections, in contrast with modern technology as high speed broadband has changed the world and allowed amazing download speeds as we all know. My 'home page' served its purpose for a short while, but then I decided to write up further web-pages and start with a basic 'biography' that highlighted my early days from the age of ten. This was in 1958, in my home town of Southampton, as I started to sing at rock n roll dance nights on the Royal Pier and other local ballrooms. The 60s and 70s saw me singing with several local bands until I went solo in 1972, and still at it after all these years! Take a look at: www.davidstjohn.co.uk/biography.html as well as clicking on the link at top of this page to check out my Home Page, but then come back here! You will notice a great photo of 'The Unforgiven' (Carousel Club) which was sent to me by a great pal - Dave 'Beau' Dinnage, who played alongside me in our first 1964 group- The Abdo-Men. He first played rhythm guitar plus a fantastic high falsetto vocal range, along with superb harmonies etc. He later moved onto bass guitar and currently wowing audience with his current band 'Toast' (as of 2016) You can also read about his time with Brownhills Stamp Duty with the legendary twins Rick and 'Burnsy' Brown - formerly Ricky and the Hi-Lites. There are pages on the Hi-Lites and you can search You Tube for some rare footage- plus my own channel featuring interviews etc - see 'The Day the Music Died' pilot documentary.
As well as the 'Unforgiven' image, Beau kindly sent me a photocopied booklet of an incredible piece of work that was titled 'Southern Roots'. Some 23 pages that outlined several Hampshire pop groups from the late Fifties through to the late Seventies/early Eighties and compiled by John Clare and Terry Hounsome in 1980 They had copied the format of 'Rock Family Trees' instigated by Pete Frame that catalogued the various musicians and ever changing line-ups of groups in towns and cities across the UK. Little did I know that a massive 'encyclopaedia' of Southern Roots was in existence, which contained a wealth of hand-written notes plus rare photographs that passed through a few hands in Southampton, resulting in a few treasured photos going sadly astray, and not being returned to the original owners. John kindly posted (at great expense!) the main heavy SR across from his home in Australia as he emigrated several years ago but still keeps in touch with old pals, thanks to the internet plus occasional visits back to Southampton. This work is mind-boggling and it must have taken ages to hand-write every page which is in alphabetical order plus photos,updates and add-ons etc. I have used a lot of information and great photos when writing up new 'Groups' web-pages as well as sharing information as and when people get in touch with me from all over the world. Usually fellow musicians who stumble across this website or maybe someone told them about it or others needing to make contact, plus writers, researchers and many more who share some of the output, as kindly shared by others in the first place- very much appreciated and we thank them all. My website has also been a way in which long-lost relatives trace the history of certain musicians, and I have managed to pass these requests onto the very person- often resulting in moving outcomes- eg family reunions or getting back to play with former band-mates!
Back in the Sixties/Seventies - John Clare worked at the legendary Henrys Record Shop in St Marys Street opposite the old Kingsland Market He later managed the shop as well as DJ work/presenting on Radio Solent and at the Concorde Club - another rock landmark which featured several up and coming bands including Free and many more. John now lives in Australia and I am in touch with him as we exchange these golden images and memories from way back then. His encyclopaedic knowledge of records was the mainstay of Henrys Records, and he made sure that only the best discs were ordered plus new releases that soon hit the charts- some say he was psychic! Terry played guitar with the Senators during the early Sixties and has dedicated most of his life to compiling music lists and rock family trees, and moved to Wales some years ago. This new webpage is a 'taster', and in the near future I am hoping to spend more time in scanning every page of the main SR - the Holy Grail of Hampshire music and then uploading it to new webpages, which will need splitting into smaller alphabetically-grouped sections. If you go to my Site Map page, then you will note loads of dedicated pages to the groups, Henrys Records and many more linked pages that have grown into a massive wealth of nostalgia. It has also kick-started the annual 'Back to the Sixties' reunion shows at the Concorde Club from 2008 on - just take a look at the Site Map and enjoy. OK folks - here it is! Just remember that there was no internet back in those days and I cannot fathom how John and Terry managed to dig up so much information - I have asked John if he can write a piece for this new page which can give some idea of the Herculean task as it would be fascinating to learn how it all came about. You will note a few words on the final page at the end of these images. Please come back to this page in the near future as I hope to slot this in. Naturally, there are mistakes and omissions throughout SR, so if YOU are amongst the many inclusions below, then contact me with some info + photos so that they can be added on. There are no images in this mini-SR, but stacks of fascinating images in the main collection, so check back here in the near future for news of the BIG ONE hitting the internet. You will see a photo of the main SR files at the bottom of these pages below, and I will let the waiting world know when every page has been scanned, then added to the new pages to be uploaded. John Clare is very relieved that their labour of love is finally being 'published' after so many years and this 'fast track' route has been accomplished via the internet that has changed our lives forever. I have also had this e-mail in from Terry Hounsome, who has also moved to sunnier climes and this explains a bit more of this fascinating story.
David
I am now retired and living in Portugal, but still read your e-mails. As far as I remember (and it was a long time ago) John and I collected a load extra information for Volume 2. I typed it up on an old machine -set it out and printed them on a copier. They were done cheap and dirty as you can see from your samples! I do remember collecting a load of info from the Bournemouth area with a lot of it coming direct from Robert Fripp.
This was just a small thing we did, as we both had other main jobs, I was also compiling the Books Rock Record and Single File. I only played with the Senators for a short while as a) I was not very good, b) neither were they! I also played one gig in Bitterne with the MeddyEvils in a youth club. No practice, - short notice and away we went. I also made up the Rock Family Trees at home , and that was the most time consuming job
Back to the sunshine. Any questions get in touch
Terry Hounsome March 2016
Sadly- there are serious downsides to the web, but let's celebrate the good side.....
SOUTHERN ROOTS-SMALL VERSION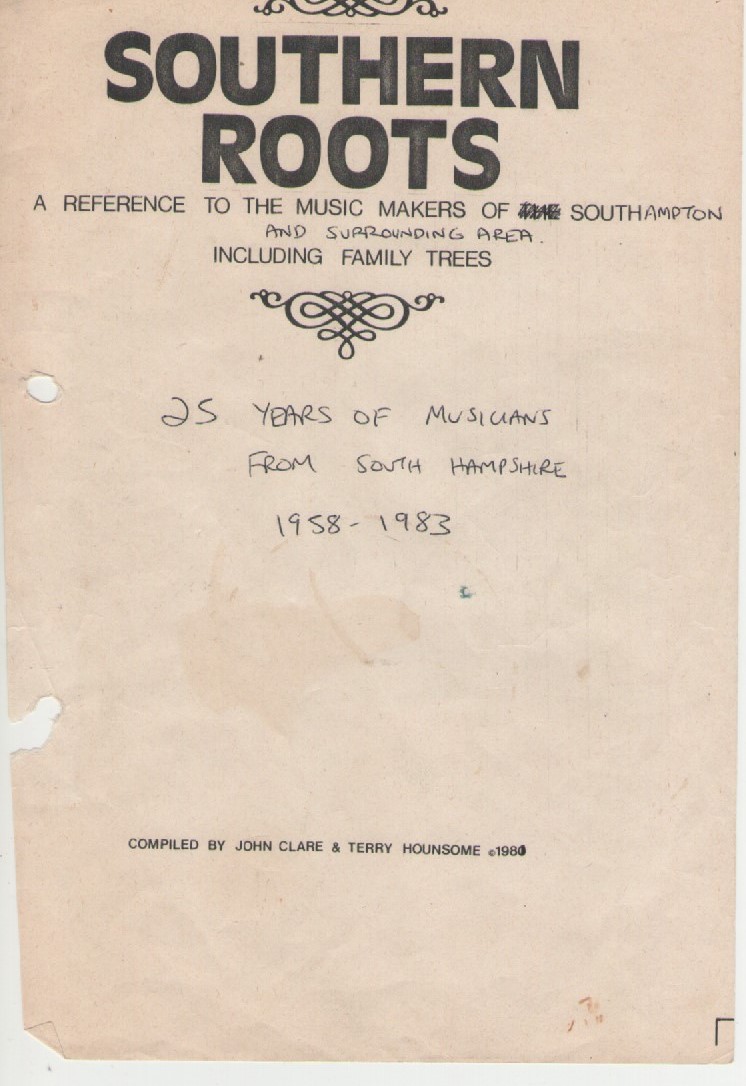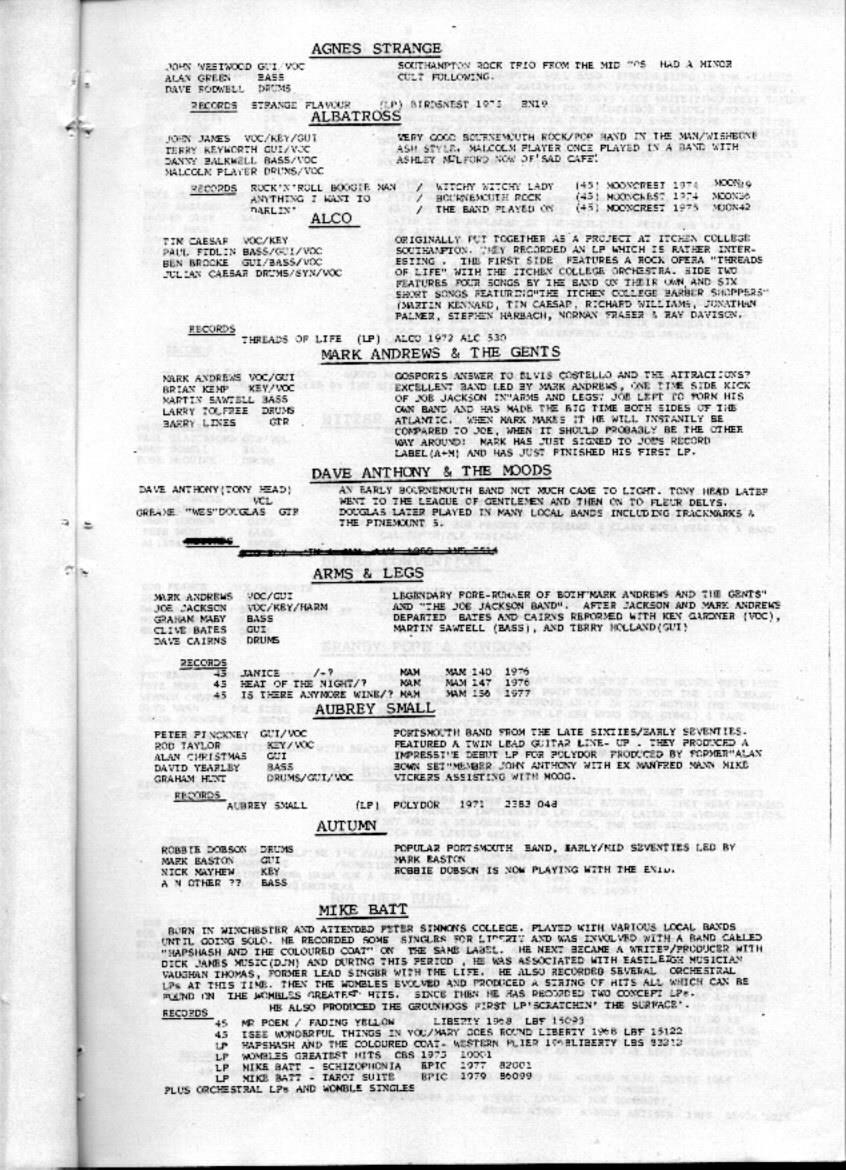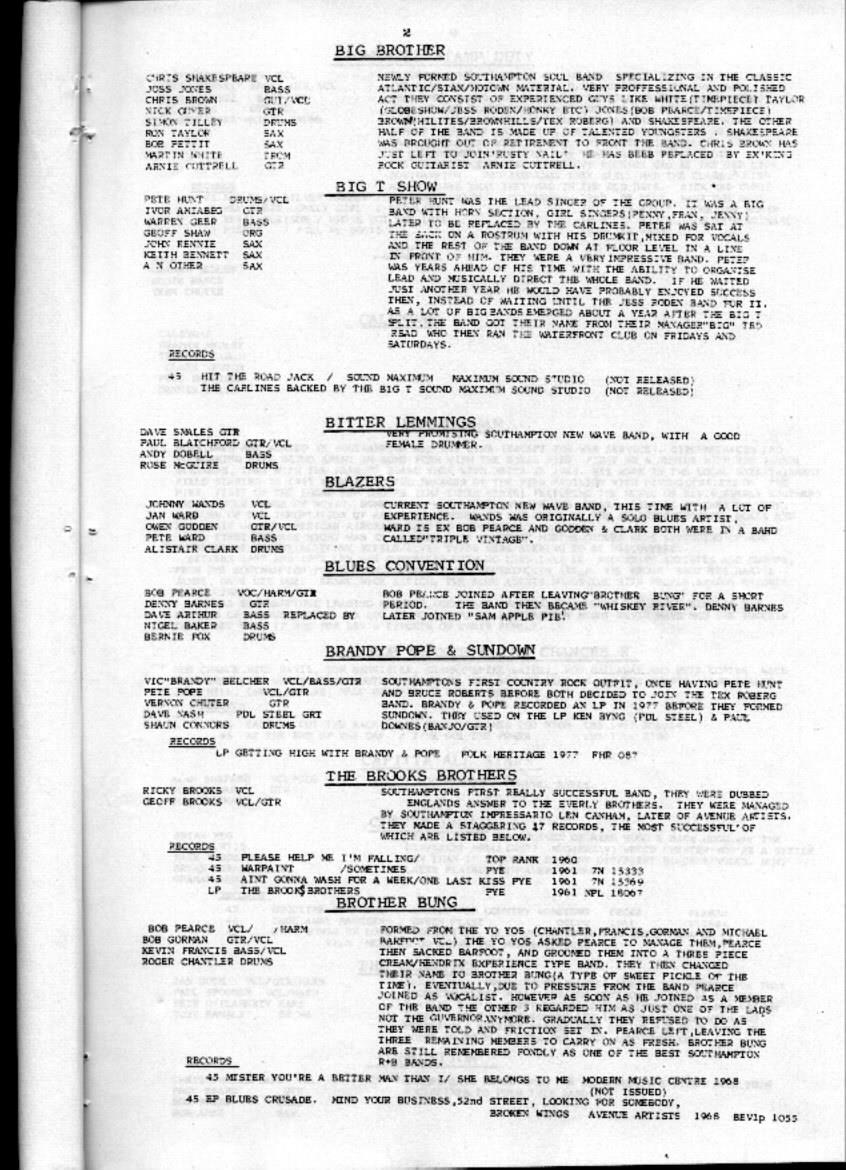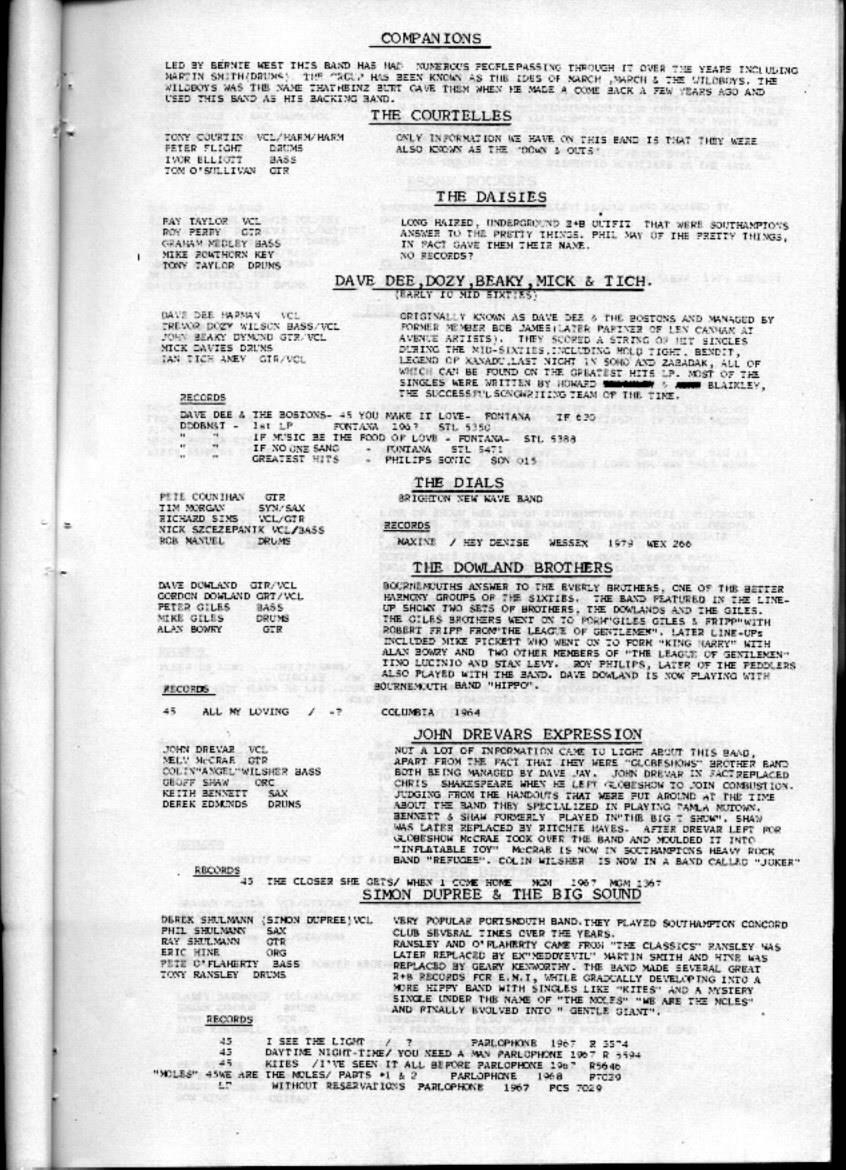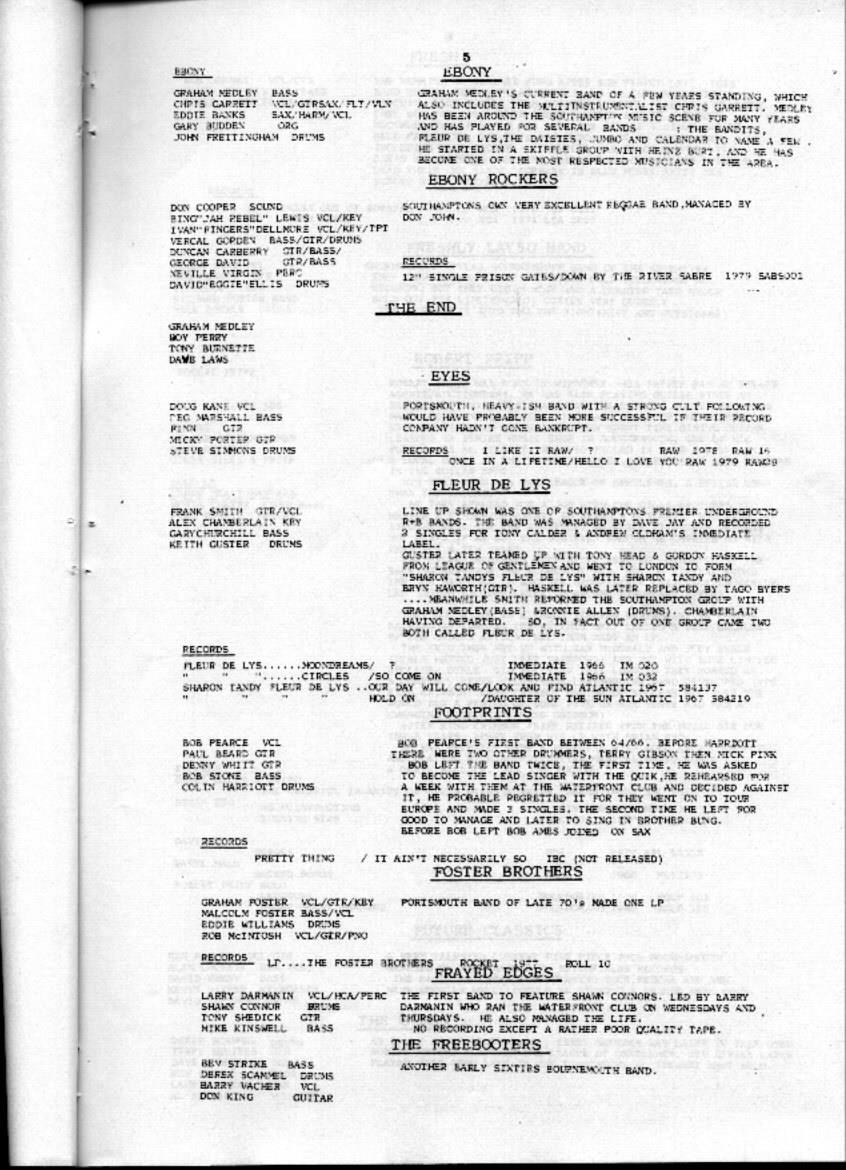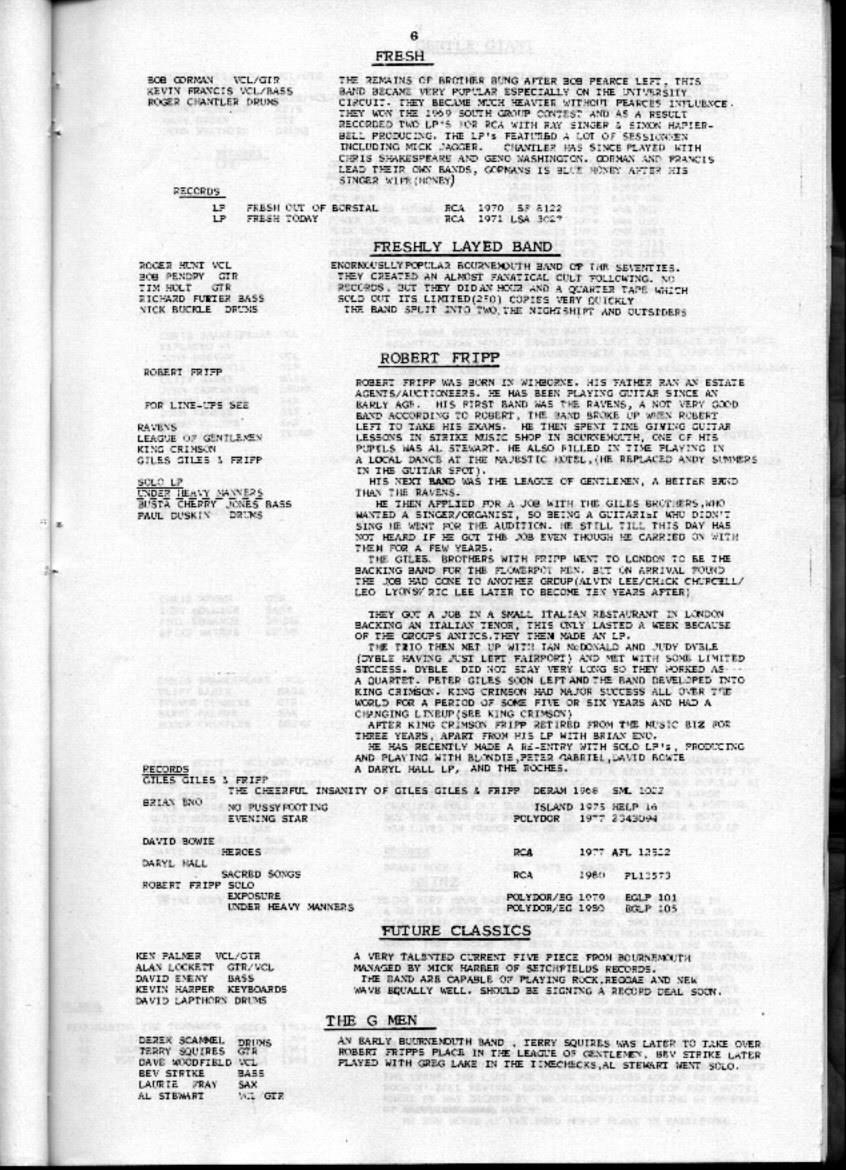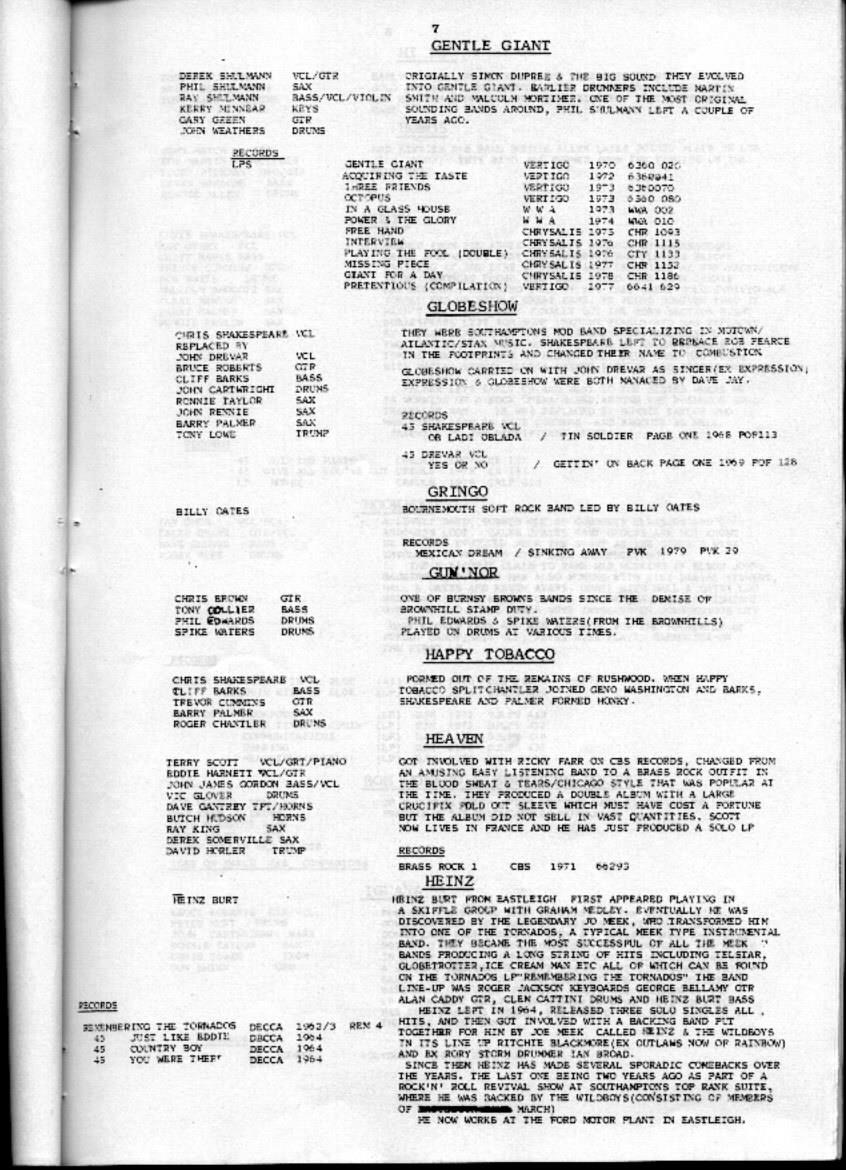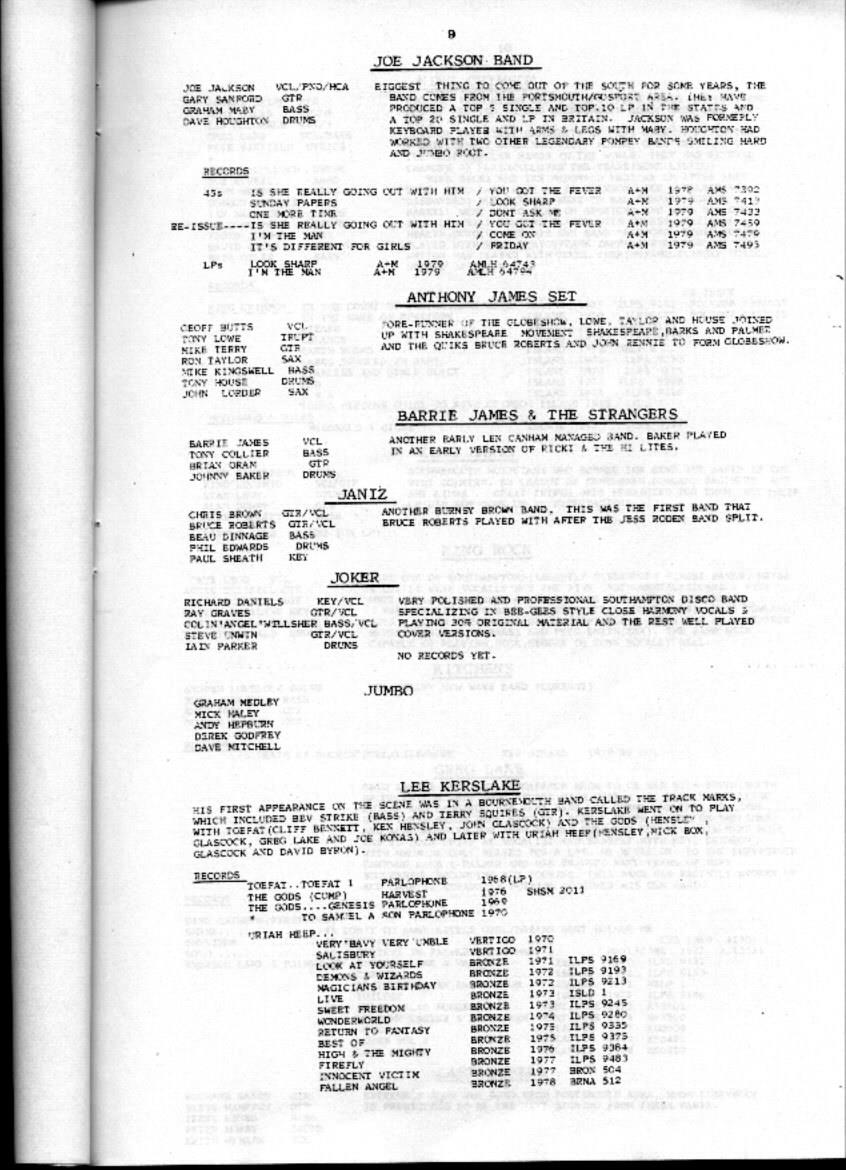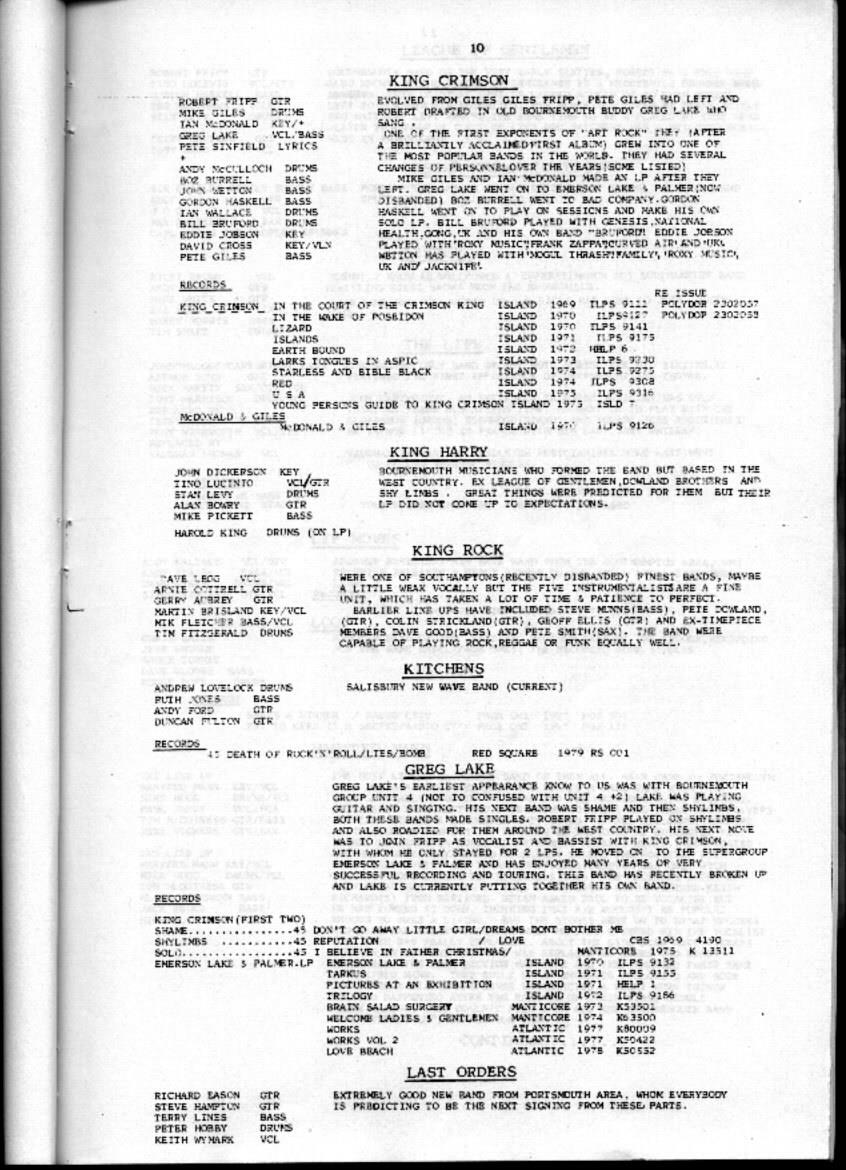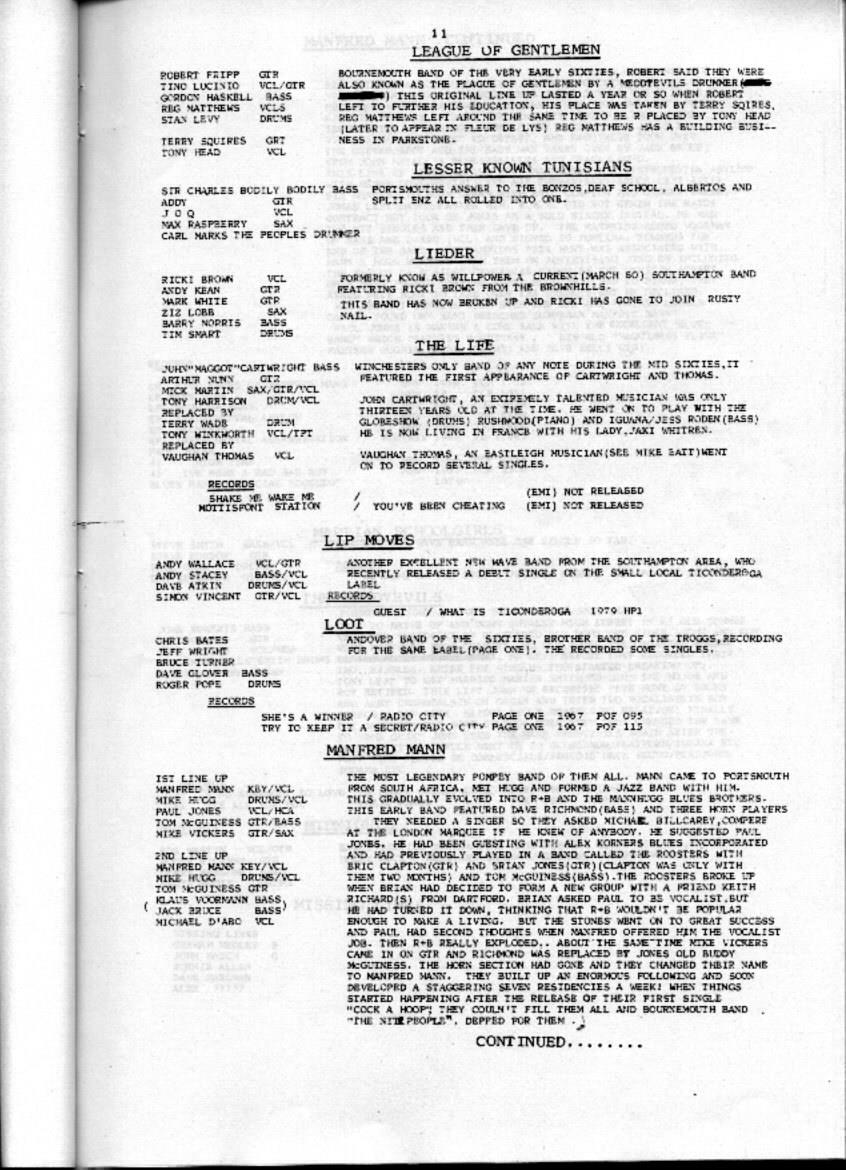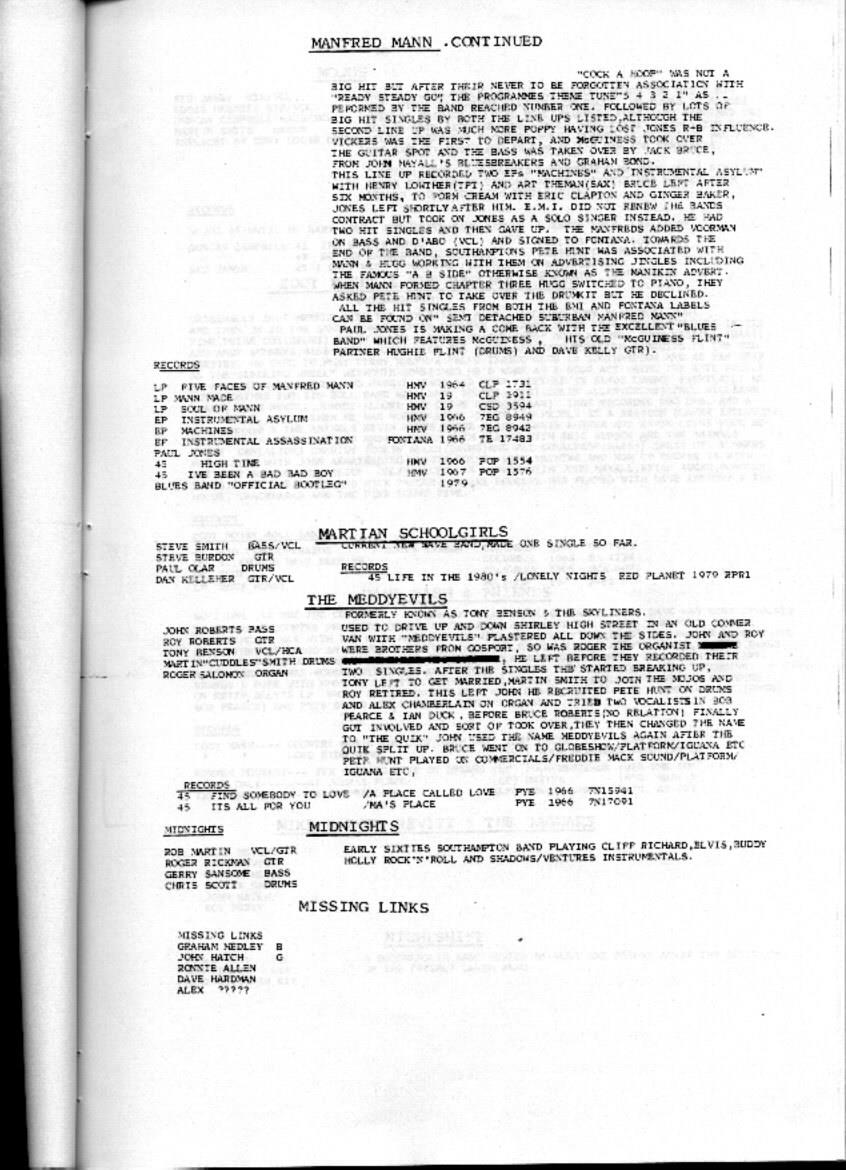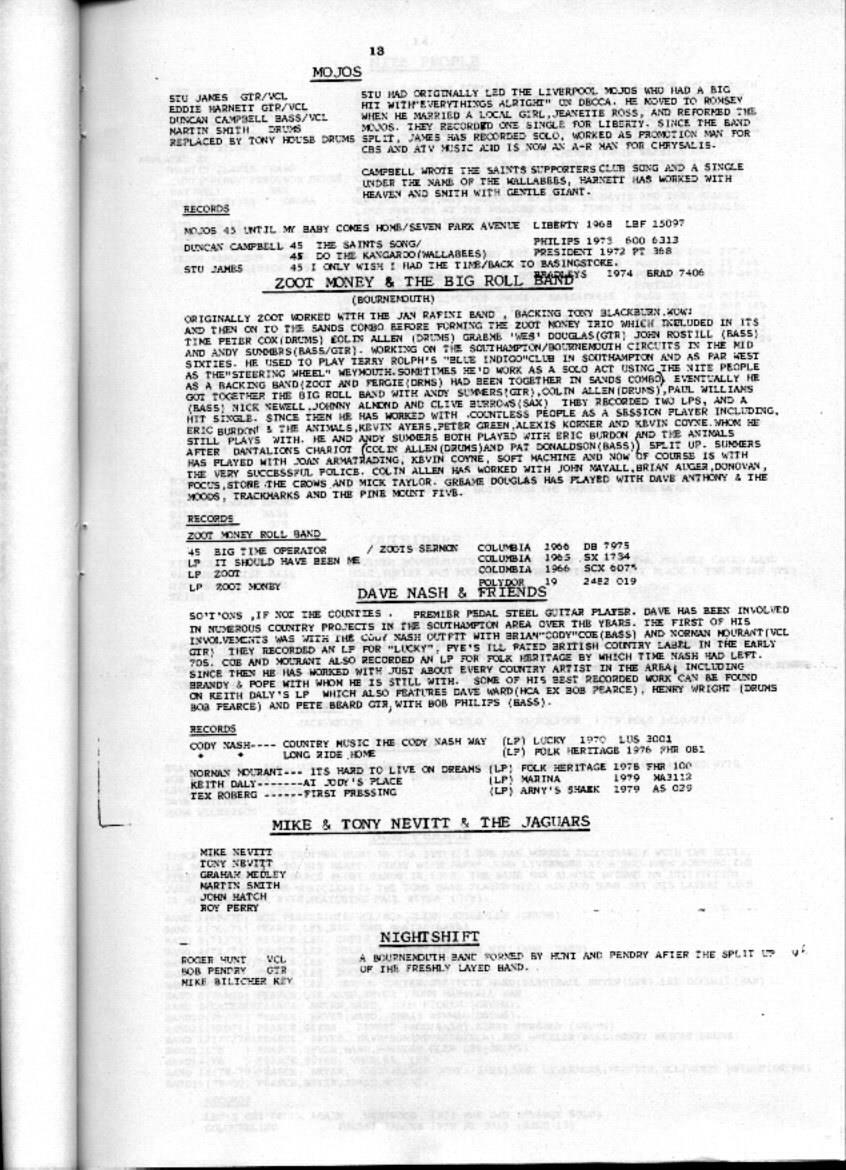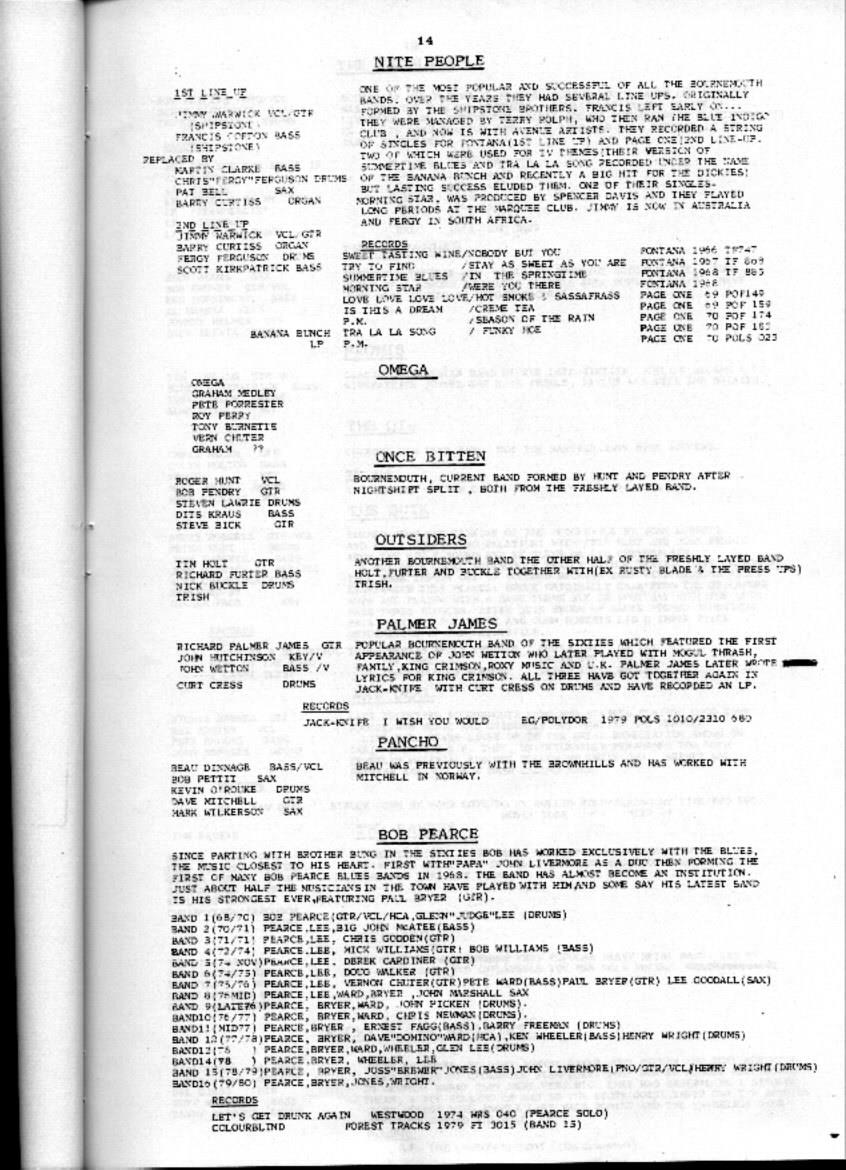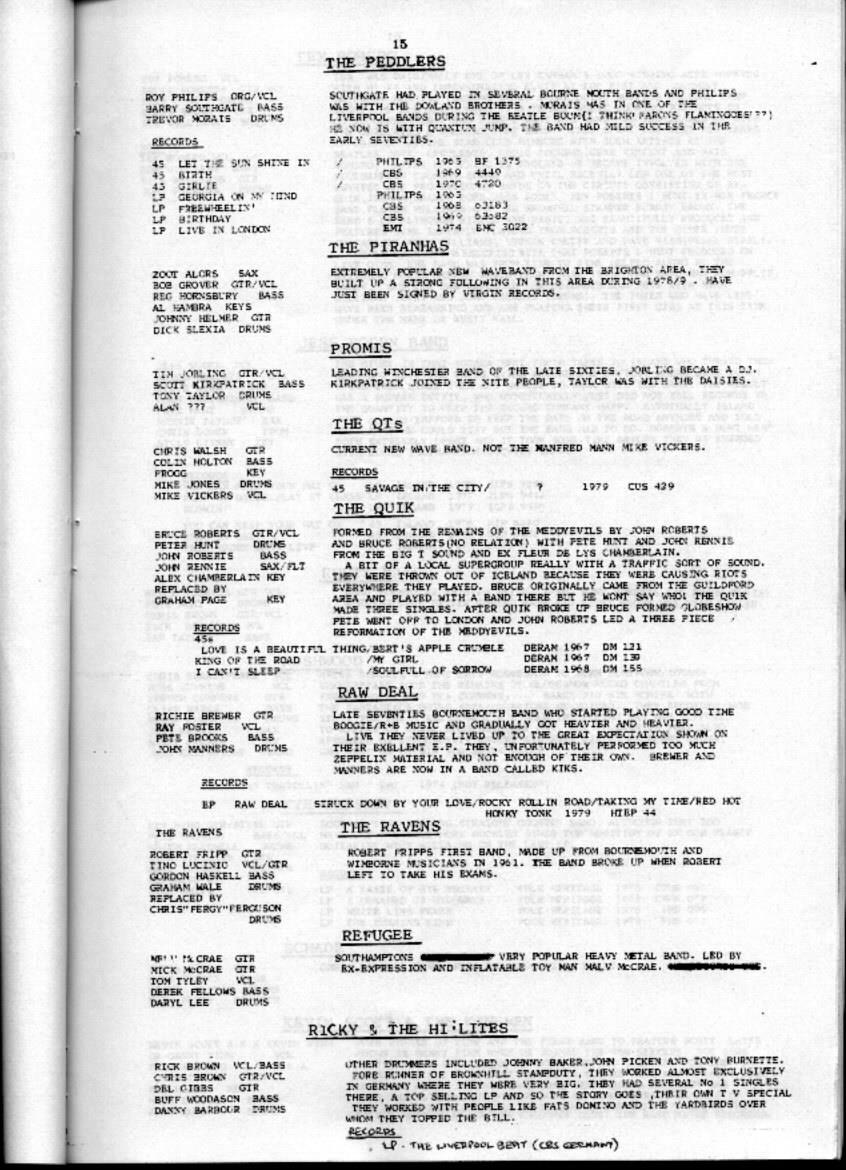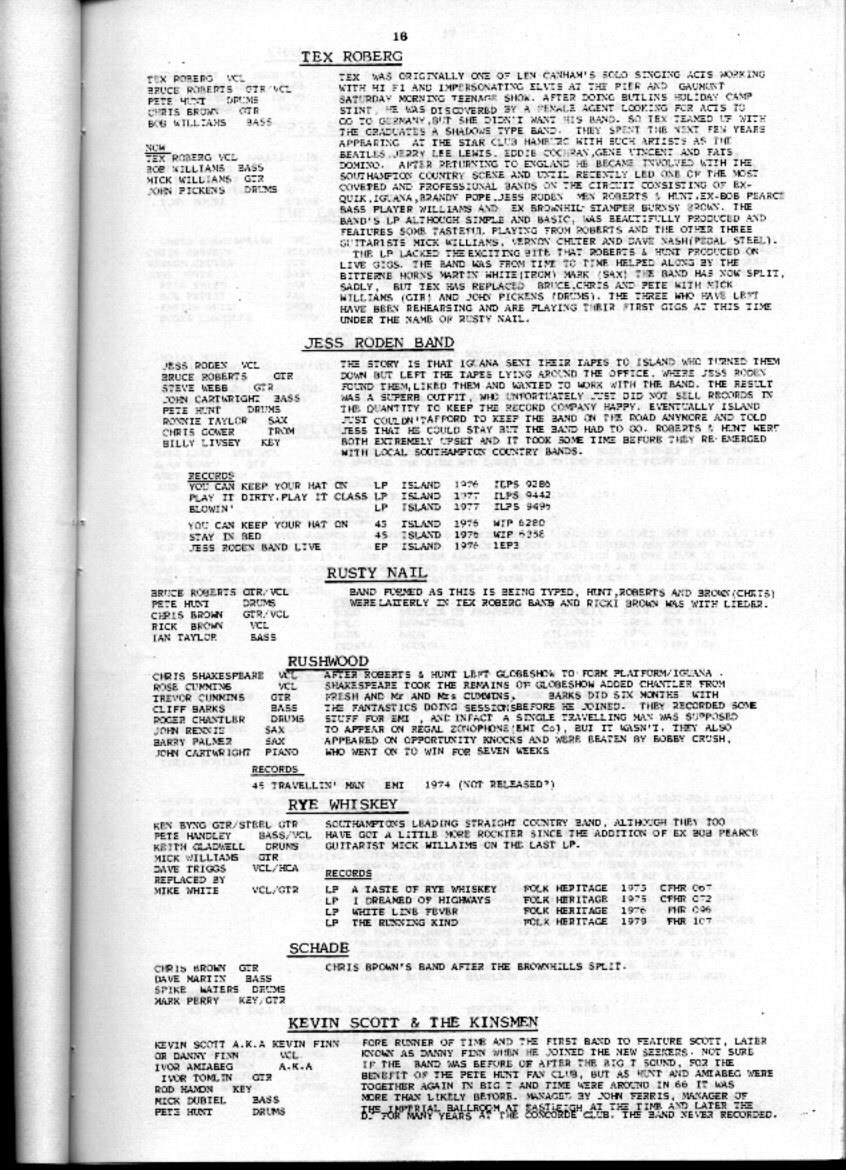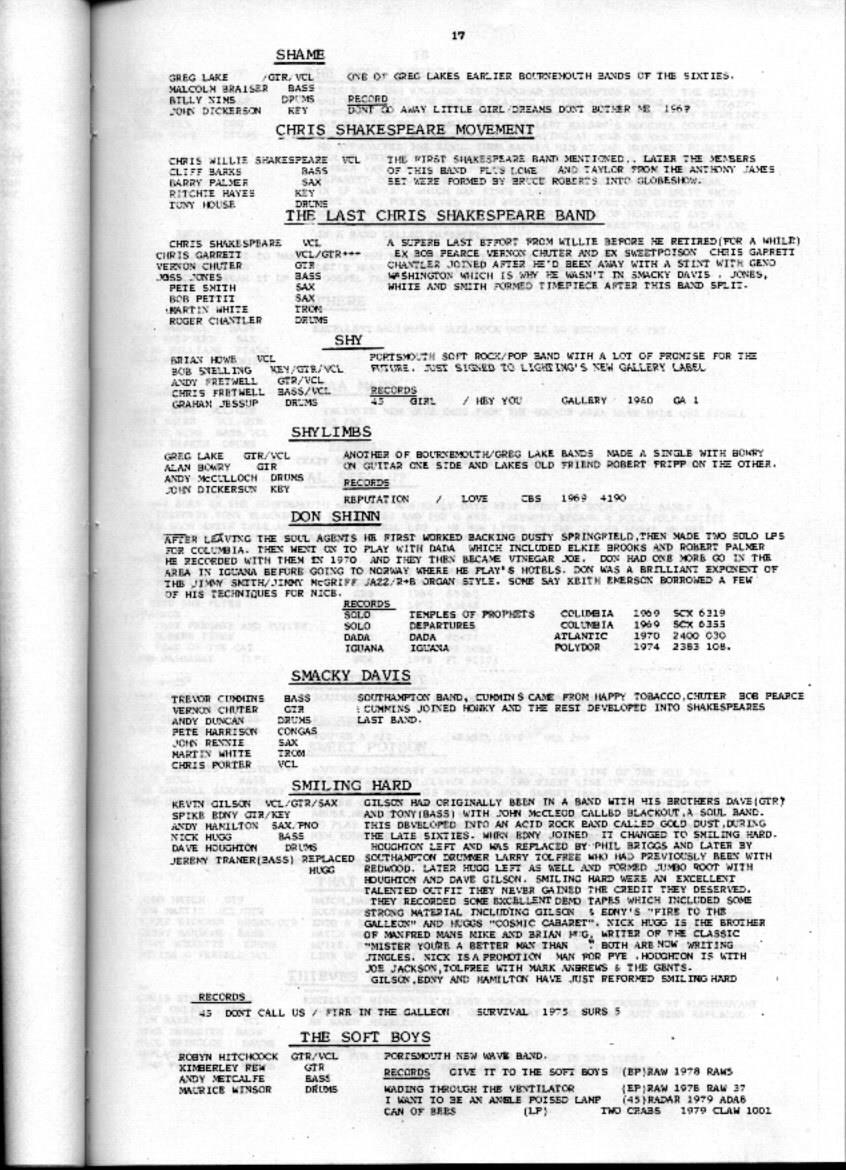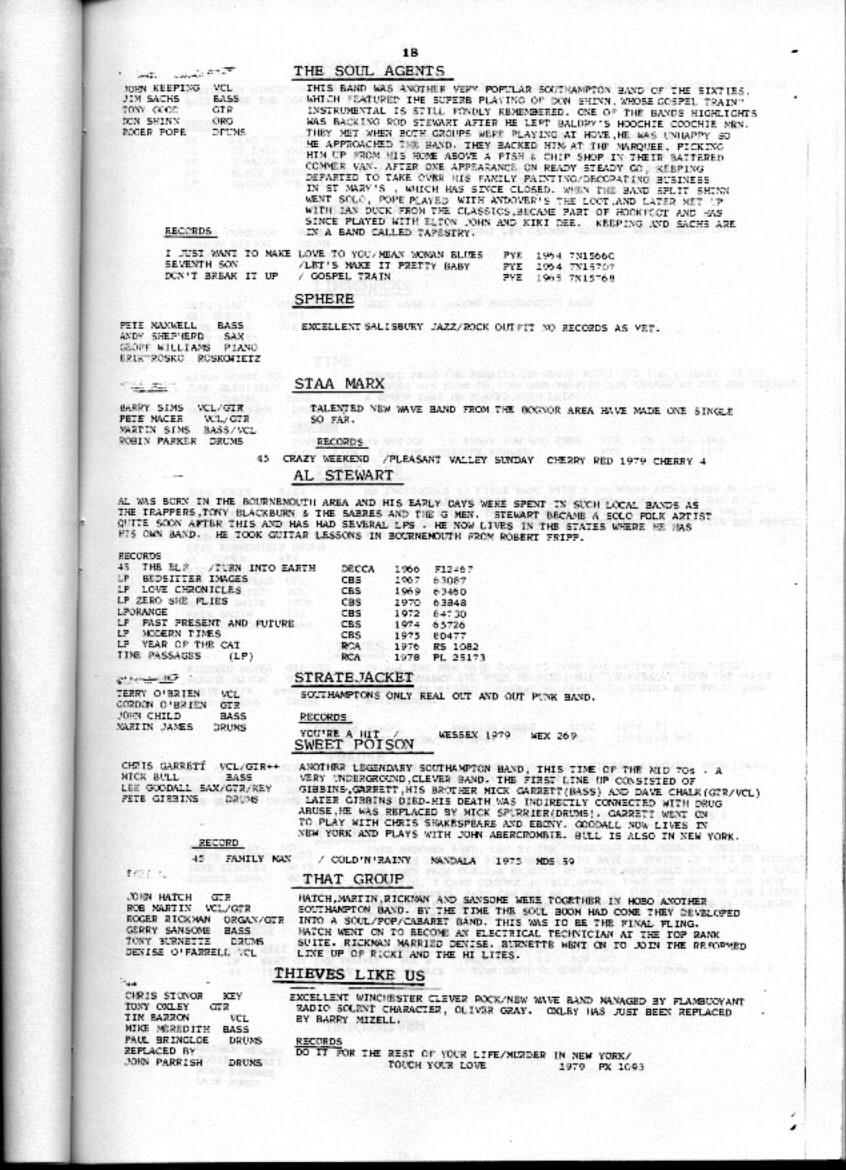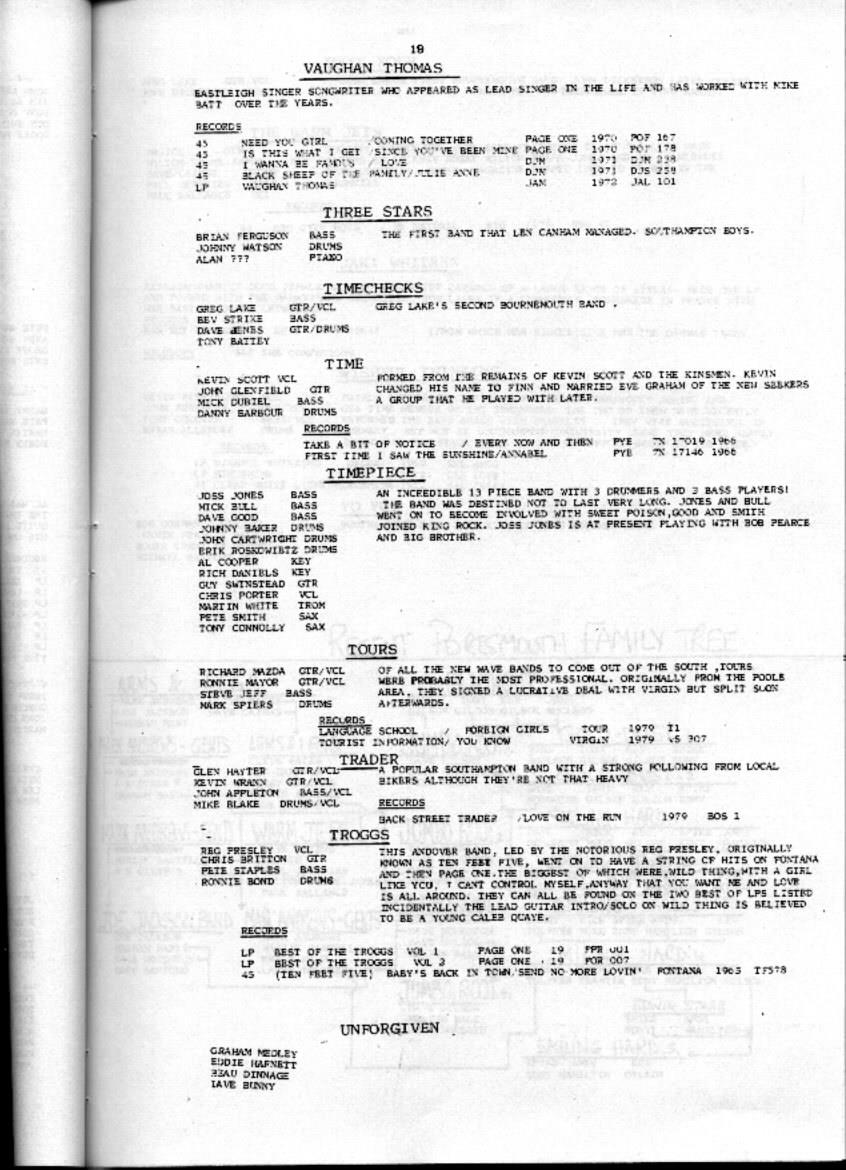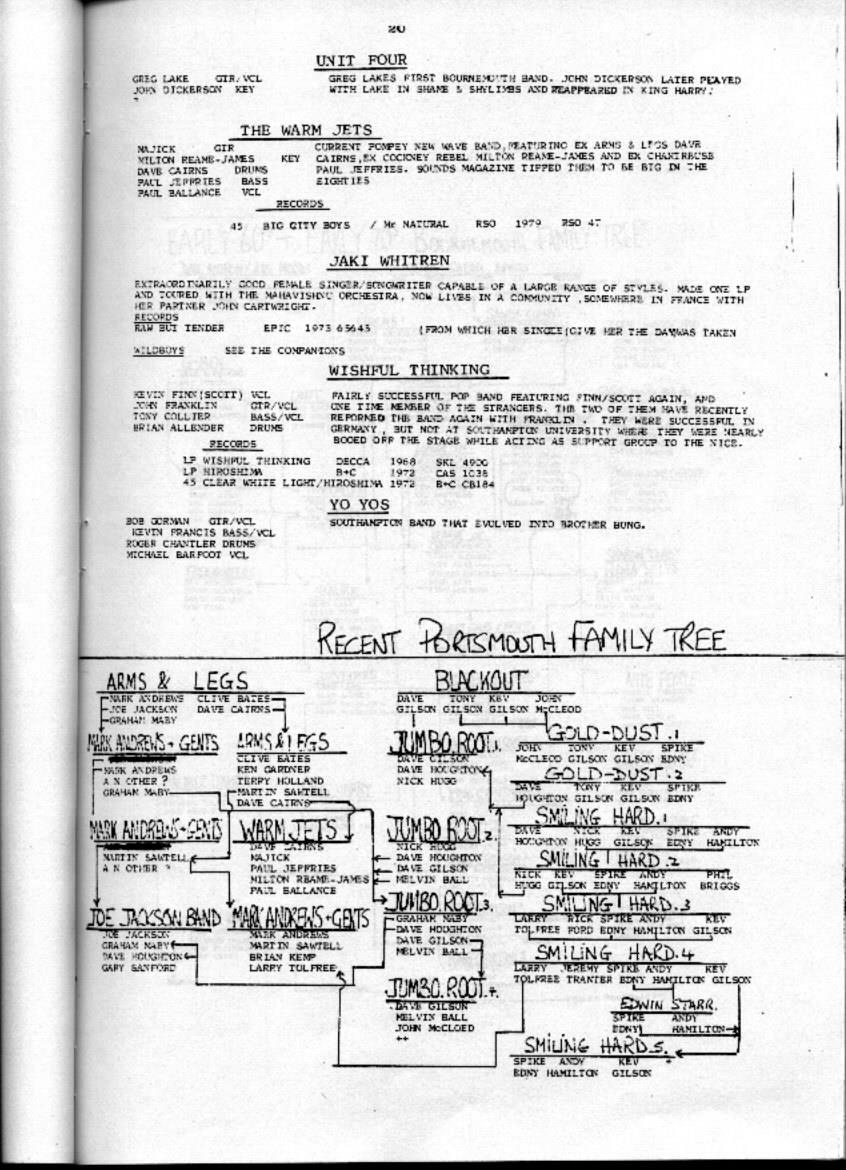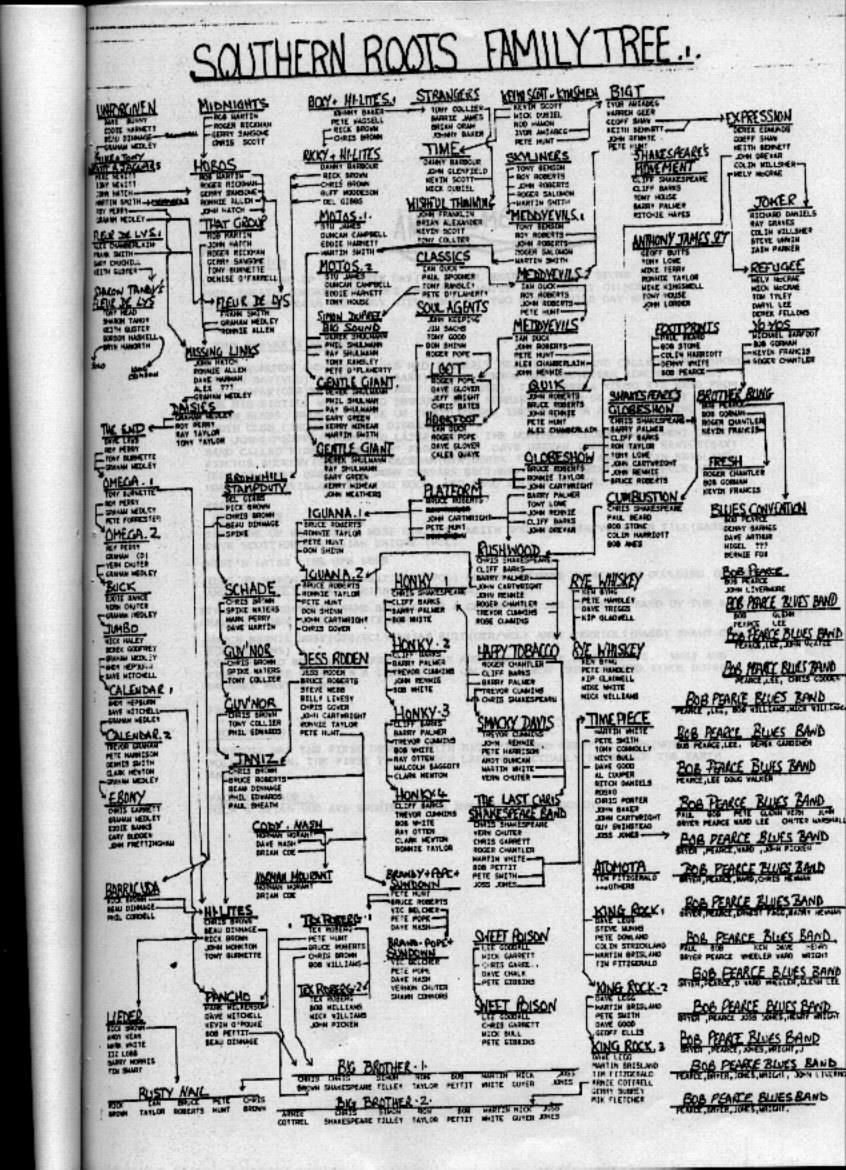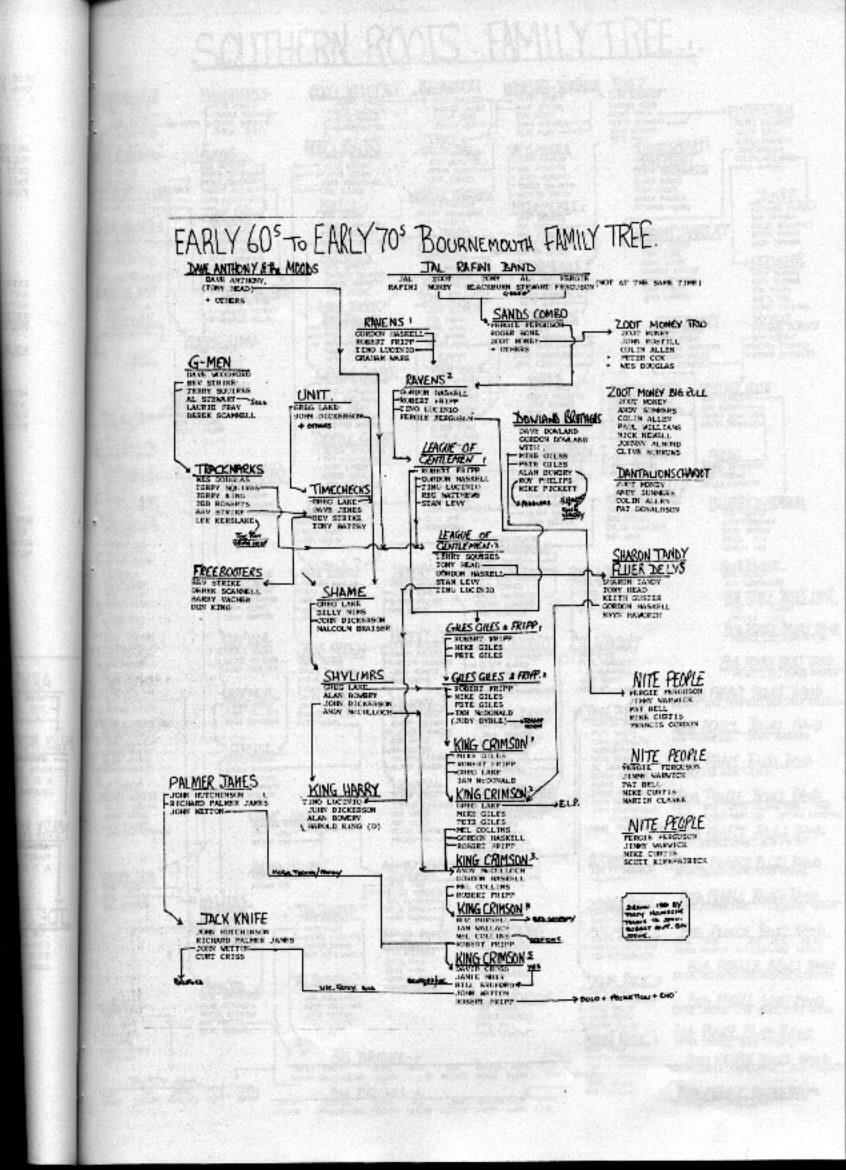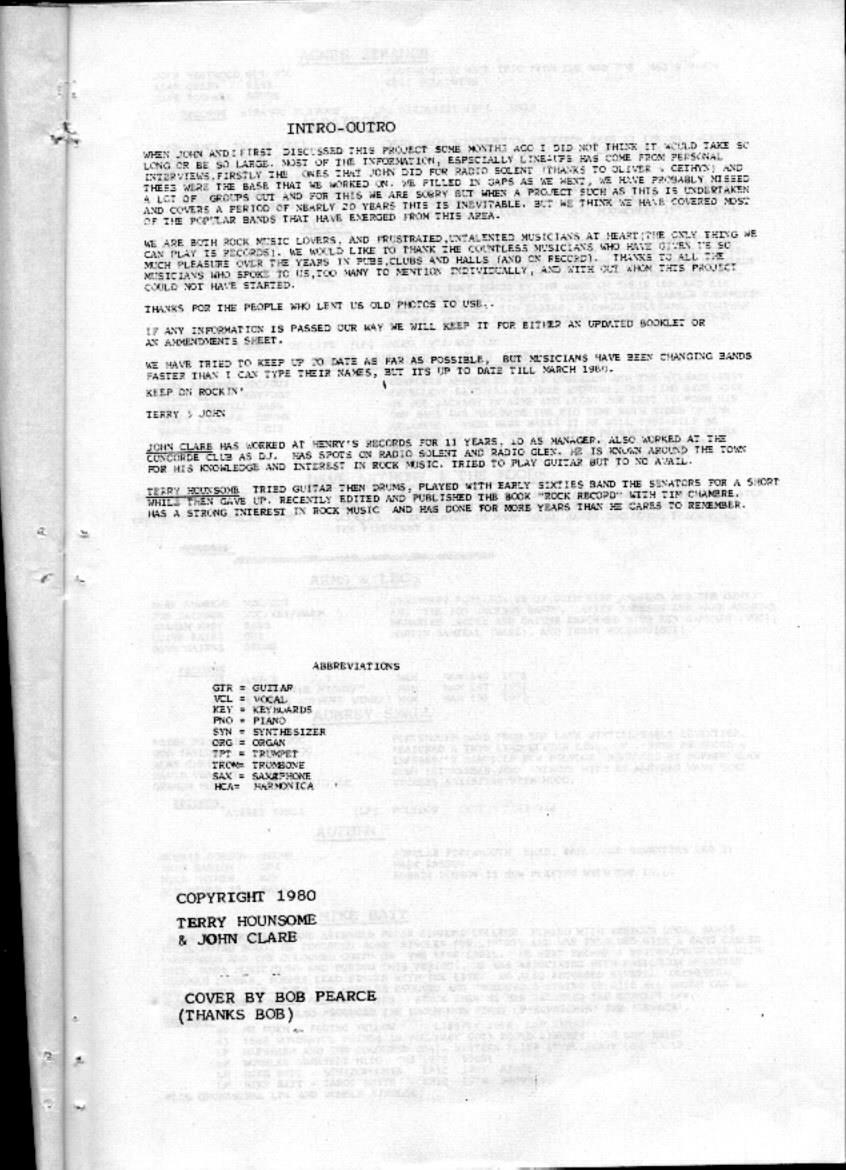 Wow! Hope you enjoyed this- especially if seeing your own name or recognise others?
This is a photo of the main SR files- a massive set of pages that need copying and will appear on this website in the near future!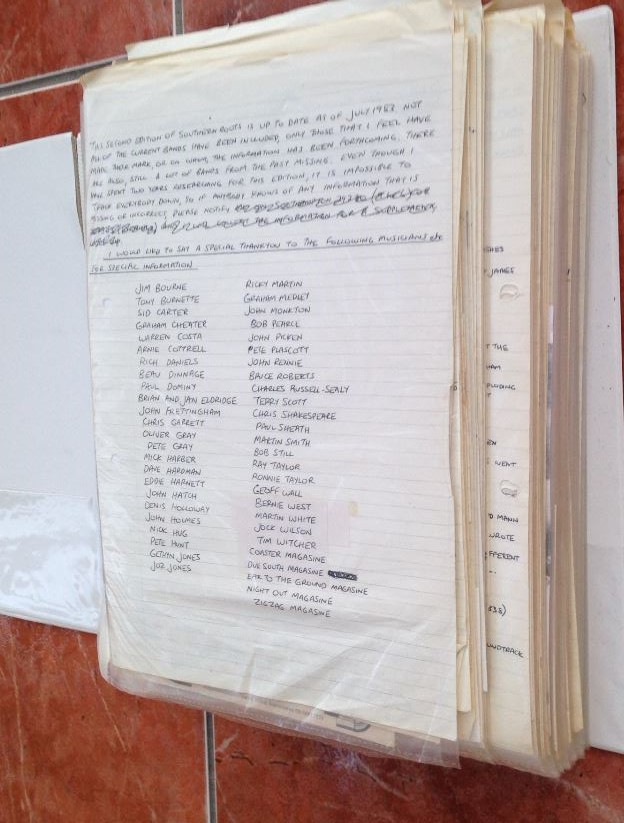 Better view of this first page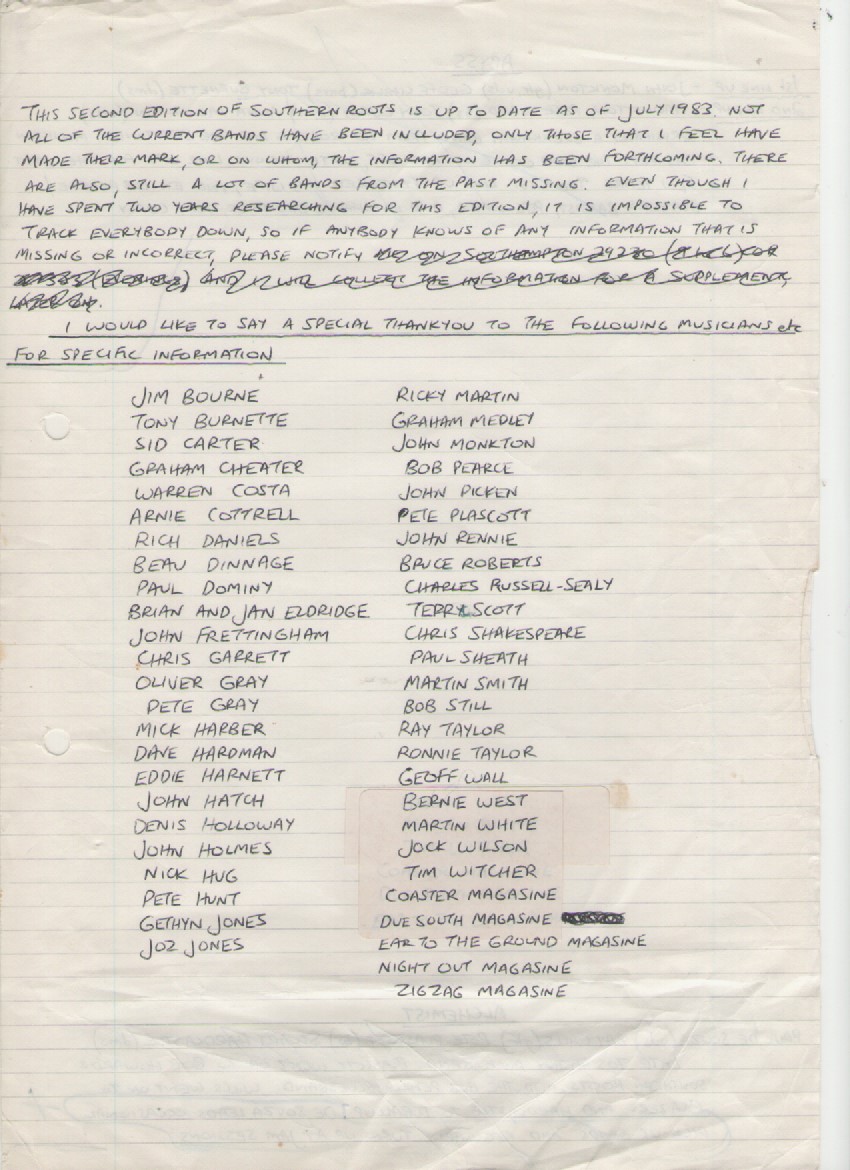 ....................................................................................................
HOME PAGE SITE MAP CONTACT DAVID ST JOHN
copyright ©davidstjohn2016