Click on SITE MAP to navigate the pages Back to Home Page Contact David
DAVID ST. JOHN - THE SOLO YEARS: Part Two
1973 - 1974
Towards the end of my first summer season at Butlins North Wales, I had a message from my manager Garry Brown who mentioned that Thomson Holidays were looking at the idea of booking UK acts into their holiday resorts. It looked as if Spain was going to be my first ever foreign trip - I hadn't even flown anywhere at that time so was quite excited at a change of direction and some decent weather for the approaching winter! At the last minute this was switched to what was to become my home for the next couple of years, with another surprise in between during 1974. I was selected to be the first ever professional resident entertainer out in Tunisia, which was fast gaining popularity through the early Seventies and I couldn't have wished for a better country to work in.
I flew out from Luton Airport and landed at Monastir near Sousse and immediately fell in love with these new exotic surroundings and friendly people who were generally very Westernised and still are. Although Arabic is the main language in Tunisia, they all speak French as their second tongue - a legacy of colonial rule. I was also lucky to have remembered my schoolboy French as it had been my best and favourite subject at Itchen Grammar School back in Southampton so this came in useful again (and still does from time to time) Having a good ear for music also helps me with other languages and I managed to learn some Arabic plus smatterings of Italian, Dutch, German and others as spoken by the international guests that visit this country. I was then driven up to the beautiful seaside resort of Hammamet and my first resident hotel - the Phenicia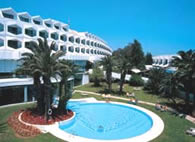 The Hotel Phenicia Hammamet
I quickly made loads of new friends with the Thomson Holiday reps and others from different countries, whose tour operators sent guests to this very modern hotel - a mix of mainly British, French, German, Dutch and Italian tourists. With the help of a multi-lingual Algerian pal called Jamal, I organised daily entertainment programme of sports and activities to suit all ages/nationalities etc. Much of this was centred around the pool and other rooms, along with the main evening shows which were based in the hotel bars and disco. I used to do my usual comedy, vocal and guitar act in the main bar as well as working alongside a terrific Italian band who did their own shows as well as backing other artistes. When I first arrived in Tunisia, the executives from Thomson head office in London came out and we had talks about a new idea of sending out UK artistes, and I gave them some of my thoughts and observations on what could possibly work. Some acts were booked on a 'free holiday' basis in return for a couple of shows whilst more established 'names' were paid a reasonable fee on top.
This formed the basis of what became a very successful run of visiting artistes and now copied by most of the major tour operators so I feel proud to have been a part of this back in the early Seventies. It also gave me the chance to meet more fellow performers from back home and I still keep in touch with some of these entertainers from those couple of years overseas. One obvious problem was with having English-speaking artistes and many of the comedy-based artistes could not cater for the foreign tourists although this was explained to them as Thomson Holidays were the only tour operator involved in this added attraction. It was alright for the vocal acts and it also meant that I had to act as musical director, sitting in with the foreign bands and adapting some of the musical arrangements to help with their backing requirements. The hotel also provided other entertainment featuring local Tunisian acts such as Folk Music Nights with the popular belly dancers who dragged many a drunken tourist up for some fun plus magicians and snake charmers! See below: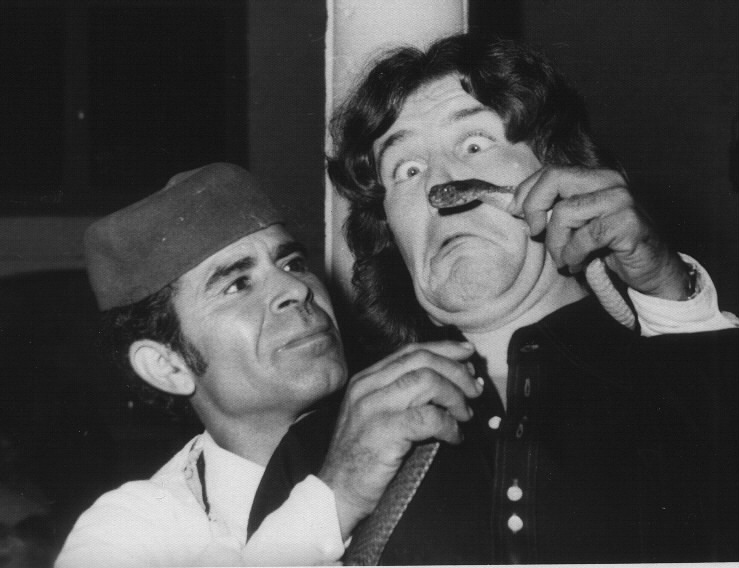 Me afraid of snakes? Nah.......
I also learned some Arabic which came in useful and I had many laughs with the local staff and those in the nearby shops and souks within the Medina - mainly geared towards the tourist trade. Like most new languages - I learnt the swearwords first and traded these with some good old Anglo Saxon ones that were often used by the Tunisians when faced with difficult customers! The winters are fairly mild in this North African country and I have fond memories of dressing up as Santa Claus on Christmas Day and riding a camel along the beach to deliver presents for the kids! Throughout this winter season I was also driven down to Sousse to appear at other hotels and found the Tunisian managers and staff to be very friendly helpful people. It has always been a fairly liberal Arab country, without any of the major problems that have arisen over recent years in other Muslim countries and has always been keen to preserve a welcoming profile for millions of tourists that visit its shores all year round.
This was a fantastic experience for me and I was then asked if I would be interested in a change of country for the approaching summer of 1974 and so I then made plans to visit another part of the Mediterranean that would change my life forever. It was goodbye to Tunisia for a few months although Thomson Holidays wanted me to return later in the year if I wished and this sounded good to me. In April of '74, I touched down in the most amazing country that I immediately fell in love with and much more.........
See you on the Solo Years part 3
Click on SITE MAP to navigate the pages Back to Home Page Contact David
ęDavid St John 2006