BACK TO HOME PAGE BACK TO SITE MAP CONTACT DAVID
David St John presents:
SIMON SCOTT- "Move It Baby"
*Loads of pics - let it load*
If you are returning to this or any other webpage - you might need to Refresh it (Press F5) in case your browser keeps original viewing
COPYRIGHT
Please note that many images contained within this website may be subject to copyright, although many have been kindly sent to me and intended to be shared on this non commercial outlet. If anybody wishes to use any of the same, then please get in touch as well as possibly giving credit where due as well as setting up reciprocal links if relevant to the actual content on any webpage. Please note that I am able to monitor any image-copying and if published on other websites. I would appreciate any contact to report broken/outdated links and any corrections to the text that accompanies any images herein. Thank you and enjoy!
Page updated 13-02-2011
Copied from my 'Chuck Berry' page
Yet again, I was e-mailed out of the blue in the shape of Simon Scott, whose name will be familiar to those who are into early Sixties hit recording artistes. I recalled him from one of several pop package tours that visited Southampton and mostly at the Gaumont (now Mayflower Theatre) on Rolling Stones and Chuck Berry shows. Simon was then managed by Robert Stigwood, who later made a fortune by looking after his fellow Antipodeans -the Bee Gees and other interests.
Simon's only hit record managed no 37 in the 1964 UK chart (see below) with a great sounding song 'Move It Baby' and the single has become collectable over the last few years. It can be heard by searching title and artiste on You Tube or just click on the sheet music copy below plus the B-Side can also be played so well worth a listen. Recorded on the Parlophone label, as were the original Beatles hits from 1963 until they launched their own Apple outlet. In fact, Simon was nearly managed by Brian Epstein as part of the well known NEMS set-up but this never quite worked out, so who knows what might have happened? Stigwood spent a lot of money in promoting this good looking lad with a great voice and had loads of 'Simon Scott' busts made and distributed all over the industry as he was hoping that many a record company desk might sport this unusual reminder but it mostly caused some derision in some quarters- especially the music press of the time.

'Move It Baby' still stands the test of time and recorded with the Leroys, with 'Big' Jim Sullivan on lead guitar- he was a very busy session musician in that era and played on a great selection of hits (and misses) The bass guitarist was Chas Hodges (of Chas n Dave fame) and I hope to find out more about the actual session. Chas was also part of the Joe Meek stable of 'house' musicians along with Mike Berry, The Tornados, Heinz, Ritchie Blackmore and many more names
Another session musician in great demand was a certain Jimmy Page, just before he joined the Yardbirds and later formed Led Zeppelin! Simon enjoyed the tours, working with the Beatles, Rolling Stones and many more top names of the Sixties but later moved into TV and film production in Canada, USA and other countries. Groups had now dominated the charts and many a solo artiste would soon disappear from the limelight although many are still touring some 45-50 years on, and to full houses on the revived package tours of late.
I spoke to Simon by calling his home in Florida and we had some really interesting chat about many aspects of the music game and much more. Who knows- perhaps he might be persuaded to hook up with some old pals and get back to the UK as he still keeps in touch with many former pals such as the ever youthful Mike Berry and others. Sadly Simon has very few mementos of his brief glory days but maybe someone, somewhere might read this and dig out some old photos, tour programmes or just memories of this good looking lad as seen below. He has raided his loft and mailed some memorabilia of his glory days when he appeared with many top names plus recalling many offstage parties around Swinging London at that exciting time. Like many solo artistes, he was eclipsed by the new wave of groups at that stage of Beatlemania and other bands who were now writing their own songs as well as getting clued up on the background side of management, publishing and much more. This was also a backlash against unscrupulous impresarios whose fraudulent activities meant that many talented people were ripped off, thus heralding in a new wave of clued-up rock stars.
Simon is now based in Florida and is a well established TV/Movie producer with an amazing CV of several top rated productions over many years, but he still retains strong links with his showbiz career that might have taken off with better management and much more. However- he has fantastic memories of mixing with so many big names and has kept in touch with many movers and shakers from one of the best times to be growing up. He now kindly shares some of these very same memories that give a flavour of those optimistic days when the young really did rule the world! Many of us never made the big time, whilst some had a few near misses and I find it fascinating to hear about the kind of stories that rarely get read about- until people like me can have fun with a website like this! Please come back for more news in the near future as I speak to Simon who could probably write his own book.........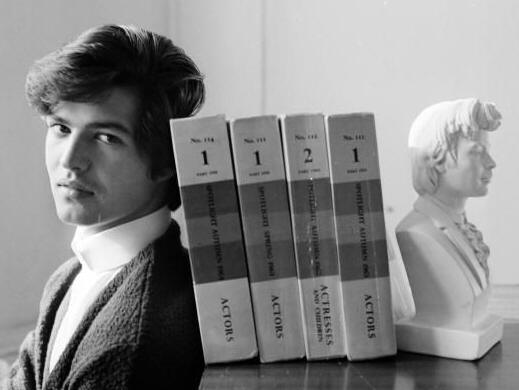 SIMON SCOTT and the Stigwood bust! Have YOU got one?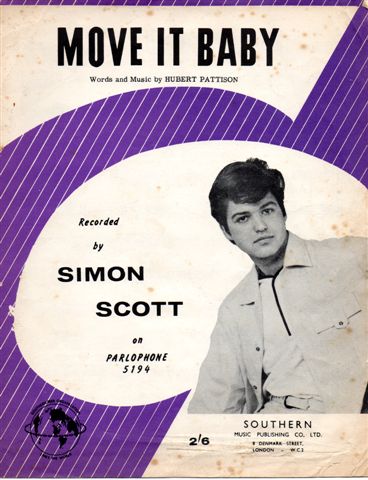 Just click on this image above for the You Tube clip
You can also find a rare clip of Simon on 'Ready Steady Go' from 1965. 'My Baby's Got Soul' at:
http://www.youtube.com/watch?v=BXEfcU7PBlA&feature=related
or 'Tell Him I'm Not Home' a demo from 1965 at:
http://www.youtube.com/watch?v=3yNLYKBhP4k&feature=related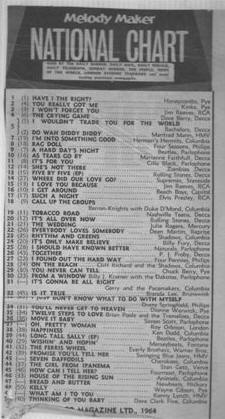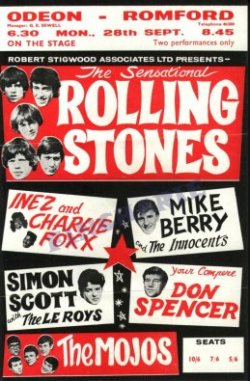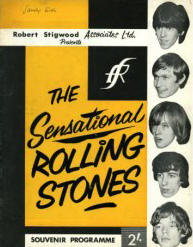 Melody Maker Chart August 1964 Rolling Stones Tour 1964 Tour programme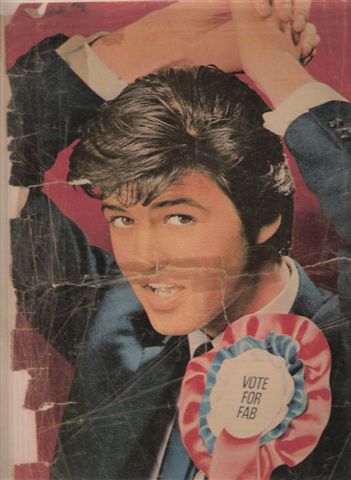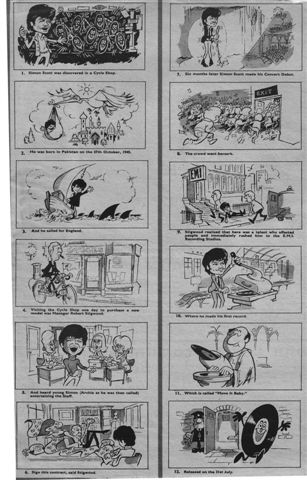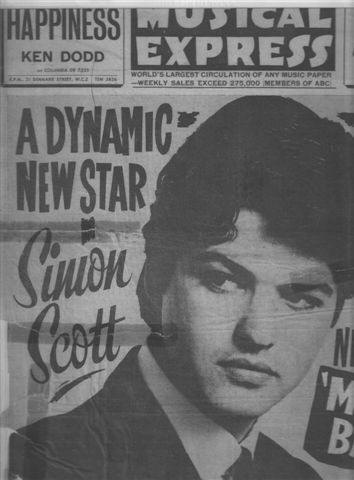 FAB magazine - top selling music Fanzine Simon achieves cartoon fame! NME Front page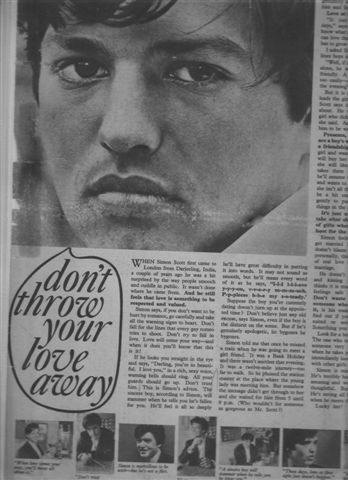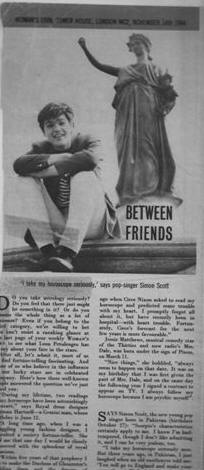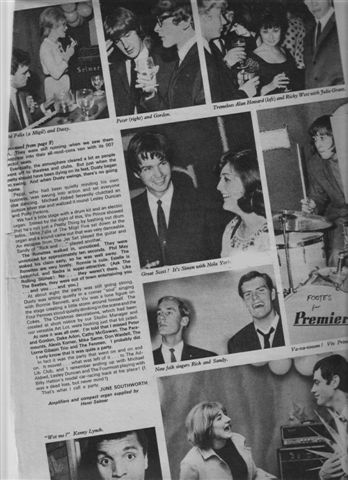 Follow-up single/write-up Horoscope interview Showbiz gossip page and celebrity news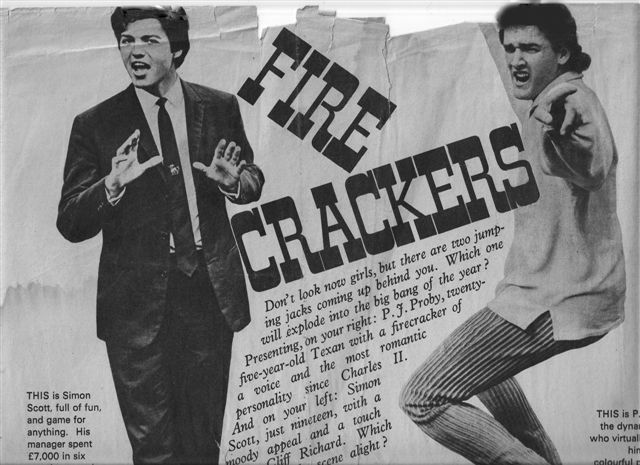 Simon Scott and P.J. Proby- the latest new stars being groomed for stardom!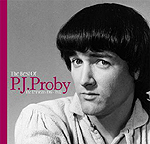 Jim Proby is still very busy these days-check his own website below: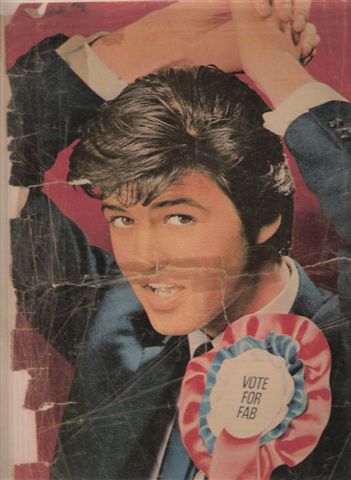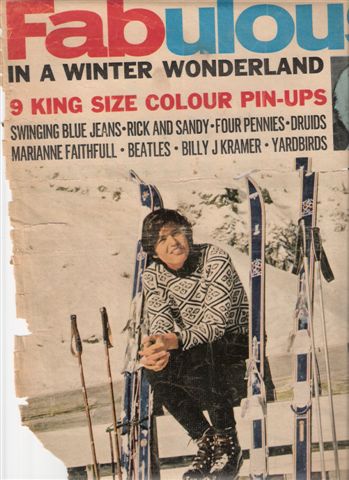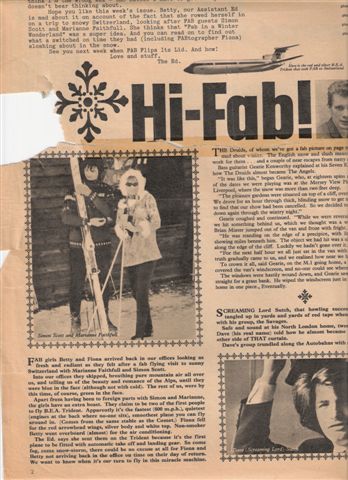 FAB magazine- front page Winter magazine -Swiss Alps photoshoot Simon and Marianne Faithfull on the piste!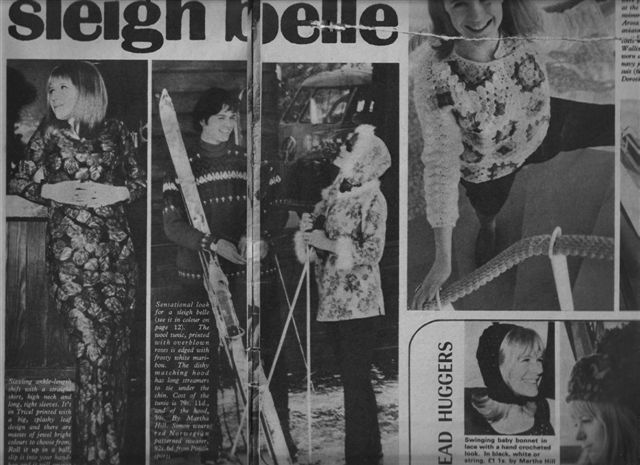 I hope that Mick Jagger wasn't jealous of Simon when seeing these pictures?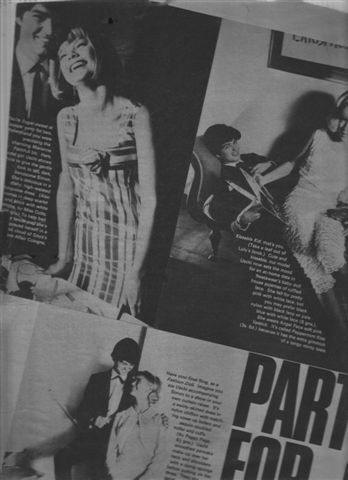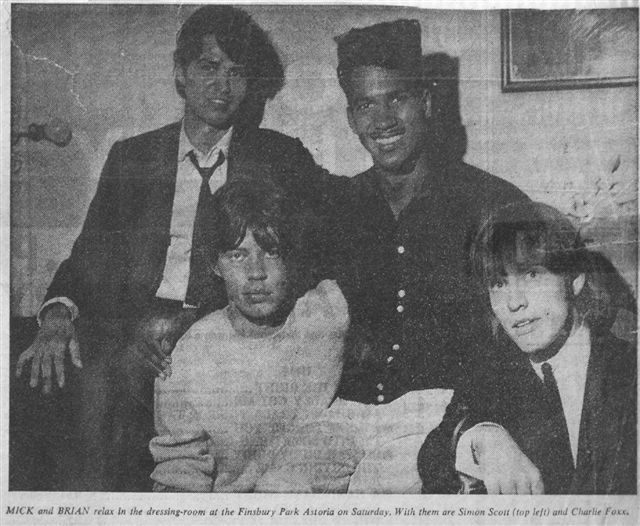 More 'Partying' with the women- tough life eh? Simon Scott-Mick Jagger-Charlie Foxx-Brian Jones at Finsbury Park Astoria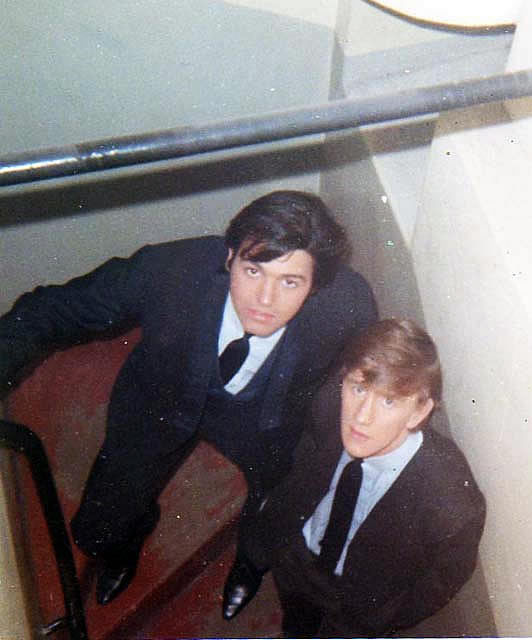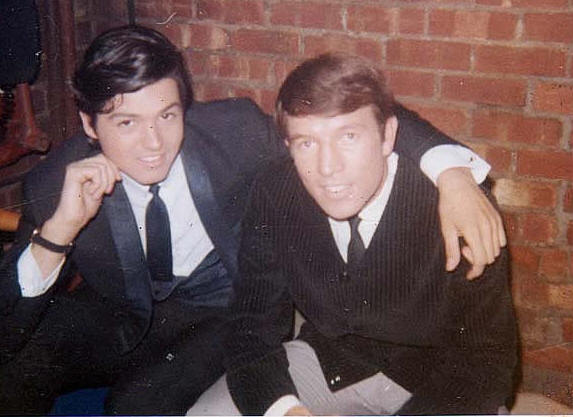 Backstage with Mike Berry (Stones tour) theatre was besieged by fans! Simon with Don Spencer- compere on this and other tours of the 60s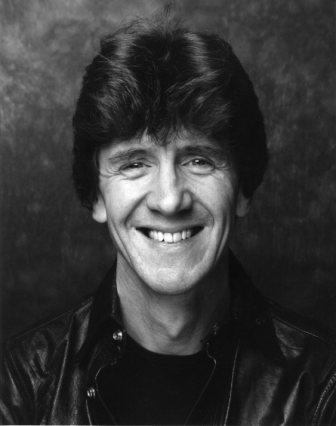 Mike Berry- still looking/sounding great!
His own website below:
Simon has fond memories of hanging out with so many top names after these crazy nights where they partied all night lonf at places such as the Playboy Club, Annabelles, Scotch of St James and many more venues where real celebrities could meet up. These were talented innovative artistes who had that thing called 'talent' unlike the vacuous overnight wannabes that have dominated showbusiness over recent years. These days- many youngsters crave immediate success but without wishing to do the groundwork that was needed way back in those exciting days. Simon carved out a very successful career when moving into TV/movie production but is quite amused to see that his old recordings have found a new audience thanks to the revolutionary changes caused by the internet. He is currently working on some ideas that might even see him make a trip back over the Atlantic, so watch this space!
Please return to this page as Simon will be updating me on some of his recent output and he keeps in touch with quite a few friends from the Sixties who are still very active in the same business. One such pal being Mike de Albuquerque-former bass player with ELO who recently e-mailed me after reading about Simon on my Chuck Berry page. I was able to put him back in touch with Simon after many years and they have had great fun in reminiscing about the good times.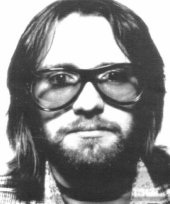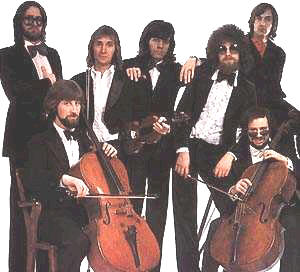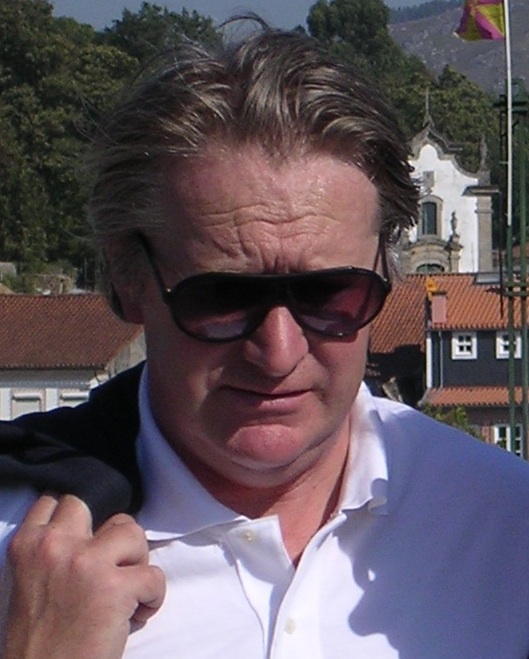 Mike de Albuquerque Electric Light Orchestra Mike in sunny Portugal
Mike recalls his first record which was produced by the late Stuart Taylor who replaced Alan Caddy in the Tornados- read all about this and Joe Meek on other pages. This is just one of Mike's entries across the internet and any ELO fansite will show more info on this talented musician who is still very active across the decades!
Check out Mike on MySpace by clicking below:
Michael de Albuquerque was born
June 24th, 1947
in Wimbledon and was
ELO
's bass player and backing vocalist. He worked more as a backing vocalist during live performances than on the albums in addition to being a bass player from July 1972 to September 1974. His first appearance was with the "28 Choir" at the Royal Albert Hall, at the age of nine. He was educated in Worth Abbey, Sussex, and Downside School, Somerset, and his first professional appearance was at the Marquee in London in 1970.
Michael had already played on two albums before his involvement with The Electric Light Orchestra. Together with Frank Ricotti he had released his first group's record, the Ricotti And Albuquerque album, "First Wind" in 1971. Michael who had written most of the material played the guitar on this album and was the lead vocalist. The album was very much influenced by blues and jazz, with a sleeve designed by Jane de Albuquerque, Michael's wife. In addition to his recording with Frank Ricotti, he also earned money as a session musician. Prior to and after the recording sessions for "ELO 2", Michael de Albuquerque recorded his first solo album "We May Be Cattle But We've All Got Names" which was released on RCA in 1973. He had written all the songs, played the piano, guitar, and co-produced the album. "Do Right" was released as a single, but unfortunately it did not make the charts.
After his departure from ELO, he released his second solo album "Stalking The Sleeper" in 1976 for Warner Brothers with the reduced name of Albuquerque. This album contained his first cover version of Ray Charles' "I Gotta Woman", and own compositions like "Walking Out On Sunny Street" and "Tonight On The Highway". The album was co-produced by Michael and contained a lot of ELO-sounding strings.
Three years later Michael de Albuquerque joined Mik Kaminski's group Violinski as lead guitarist and vocalist, with whom he recorded two LPs "No Cause For Alarm" and "Stop Cloning About" - for the latter he also wrote some material. In 1981, when Violinski were finished, he founded another band of his own called Sundance, with Mike Hurst (a well-known producer who in fact produced The Move's "Curly") and Mary Hopkins (Tony Visconti's wife, and also famous as a solo artist). They only released two singles, the great "What's Love" in the same year, and a cover version of "Walk Right In" in 1982. He played a lot of instruments and was also one of the lead vocalists. Those two singles were his last on vinyl to date.
Mike is still playing live in the UK on a semi-regular basis.
Information compiled by Marc Haines, Patrik Guttenbacher and Alexander von Petersdorff.
Shortened excerpt taken from their book "Unexpected Messages"
(C) 1996 FACE THE MUSIC GERMANY.
30th January 2011 saw Simon Scott back in action for the first time in over 40 years and back in London Town! A well known 50s/60s music promoter got in touch with Simon after reading this very webpage and this led to him flying over from the USA to appear on one of the very successful rock n roll shows that celebrates the legendary 2 1's Coffee Bar in Old Compton Street just a few hundred yards away. Any real music fan will know this 1950s landmark (sadly gone) which was the birthplace of the UK's first major pop stars- Cliff Richard, Tommy Steele and many more- just Google it!
The 2 i's No 5 Rock n Roll Reunion Show at the Borderline, Charing Cross Road London. This event is normally staged at the 100 Club in Oxford Street but this venue is also under threat of closure/redevelopment but is now attracting large protest groups so well worth checking this out and maybe adding YOUR voice to the project?
This report courtesy of 'Roots' Tales of the Woods no. 59
Contact 'Tales From The Woods' at: tftw@blueyonder.co.uk Plus website: www.tftw.org.uk
The Tales From The Woods Houseband made their first appearance of the evening with the instrumental Cotton Pickin' before compere Rockin' Ricky Stevens introduced, all the way from the USA, Simon Scott. A complete unknown as far as this scribe is concerned, although I am assured that a song he recorded in 1964 has become something of a cult classic in our Rock'n'Roll clubs.
A big fella in a smart black pinstripe shirt, his dark hair tinged with grey, Scott, fronting the houseband, kept to classic Rock'n'Roll too in the form of Johnny B Goode, Be-Bop-A-Lula (featuring a shakin' piano break courtesy of Claire Hamlin) and Blueberry Hill. The quietly confident Scott then sang What Kind Of Woman – a beaty little number which was the B-side of his popular Parlophone 45. Then it was back to standard Rock'n'Roll fare via Bye Bye Love, My Babe and the Presley threesome of All Shook Up, a moving Love Me Tender and That's All Right.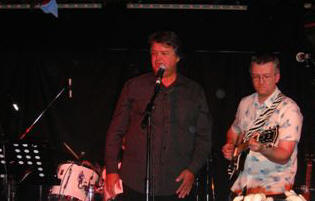 He displayed a relaxed vocal style as he closed with his biggie – Move It Baby – with lead guitarist John Spencely and bassist Robb Davis supplying atmospheric backing vocals. Prompted by calls for more, Scott reprised What Kind Of Woman after saying how pleased he was to have been invited to participate in the show.
©talesfromthewoods2011 Roots 59
BORDERLINE CLUB - 2 'i' s Coffee Bar Reunion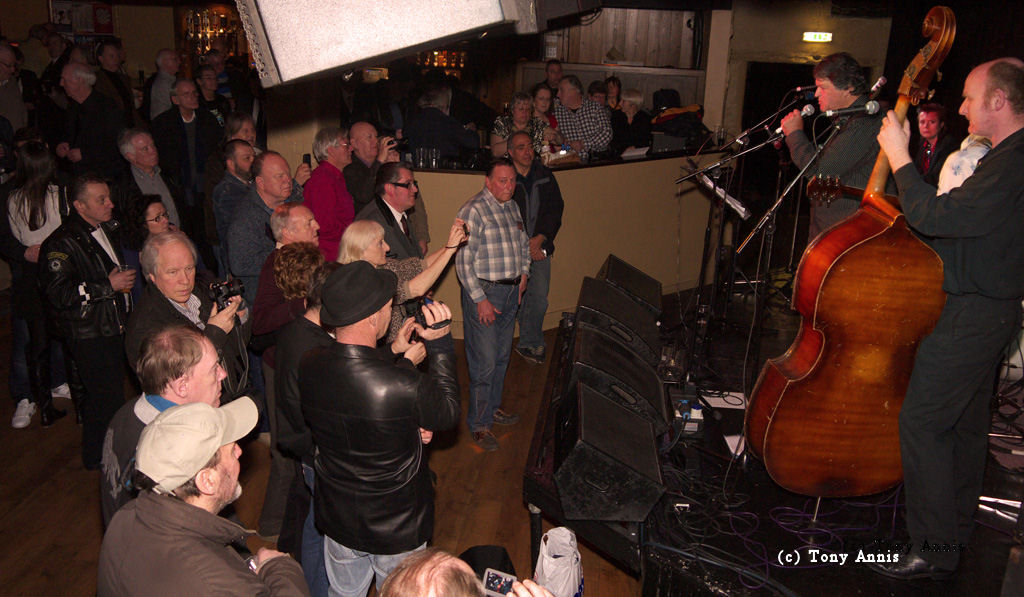 Simon Scott & TFWTW Houseband
©tonyannis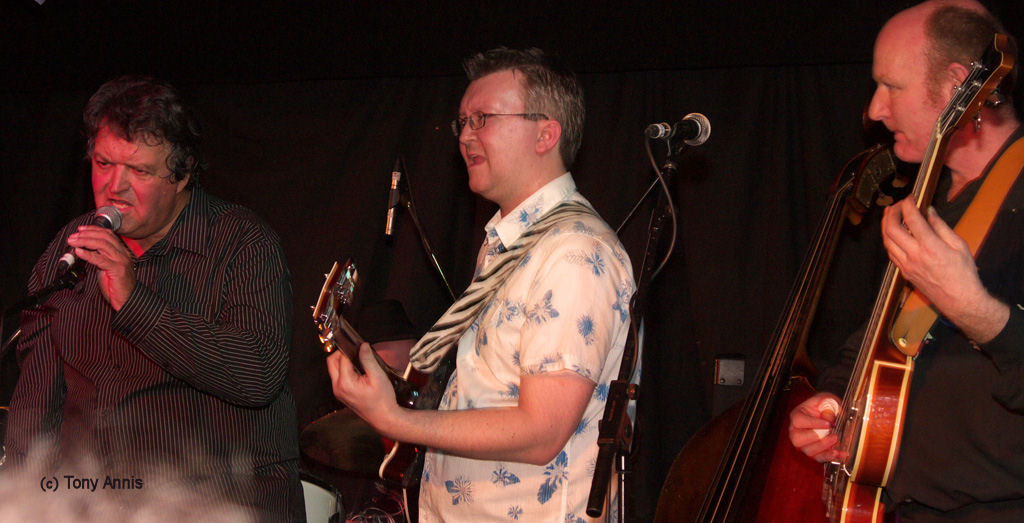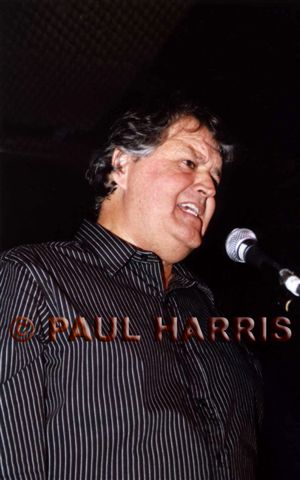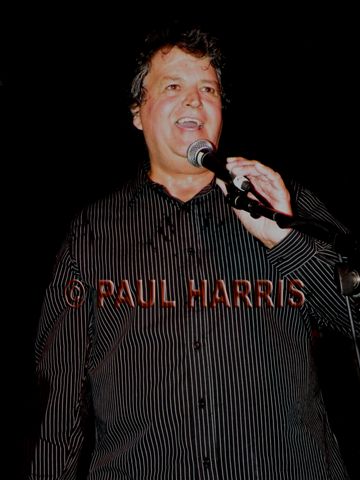 Photos courtesy of Paul Harris- see his amazing collection of music legends via:
paulharrisphotography.blogspot.com
BACK TO HOME PAGE BACK TO SITE MAP CONTACT DAVID
© copyright David St John 2011