Click on SITE MAP to navigate the pages Back to Home Page Contact David
David St John - Live from Coronation Street!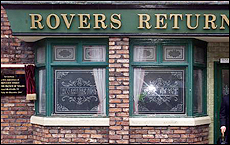 July 2006 Long time - no quiz! Despite applying for the odd TV quiz show it had been rather quiet on this front until a letter dropped on the mat and sent by Granada Television. Like many production companies they keep a database of potential contestants and like to invite 'tried and tested' players back for any new shows that are being recorded. Back in 2001 I had appeared on my first live show - The Biggest Game in Town, which you may have read about on my TV Quiz Shows page and so I was delighted to have been asked to take part in a new show with a difference!
THE ROVERS RETURN QUIZ NIGHT
Produced by ITV Granada at their Manchester studios which house the most well known address on television in the whole world since its first showing way back in 1960 - Coronation Street! This was another live quiz show and involving the new wave of phone-in viewer participation thanks to modern technology, in which the TV audience can interact with the actual contestants and possibly win quite substantial sums for the price of a phone call.
They needed teams of two, so I enlisted the help of another keen quizzer pal by the name of James Sorrie from Northampton who has himself appeared on several TV quiz shows with a good degree of success. He often pops in to see me whenever I am appearing around his area and we talk for ages about the world of quizzing. I hadn't realised that he had appeared on the same Rovers Quiz a few weeks before but they didn't mind inviting certain players back.
Monday 24th July. We both travelled up by train and arrived in Manchester around teatime, then checked into the hotel where they had provided us with rooms for the overnight stay. Had a quick wander around the city centre, a bite to eat then back to the hotel for a freshen-up and a leisurely stroll to the Granada studios where we were met by John and Mark from the production crew who then introduced us to the opposing team of David and Sarah in the Green Room. We had a good chat and a few laughs before being ushered into the small studio which stands across the way from the actual Coronation Street backdrop and can be visited on the tourist trail organised by Granada Television. The Rovers Return Quiz Night is transmitted from a replica set of the actual pub with photos of many famous street faces dotted around the walls along with Newton & Ridley beer bottles used in a spin-off bonus game. All four players took to our seats and proceeded to drink REAL beer which was topped up throughout the show! The Monday night show was scheduled for a 9-12pm slot and originally being shown on Freeview and the internet through ITV-Play channels but this particular show was now broadcast on the Sky channels but we were not aware of this, so didn't have chance to record it at home.
The Rovers Return Quiz Night teams and presenter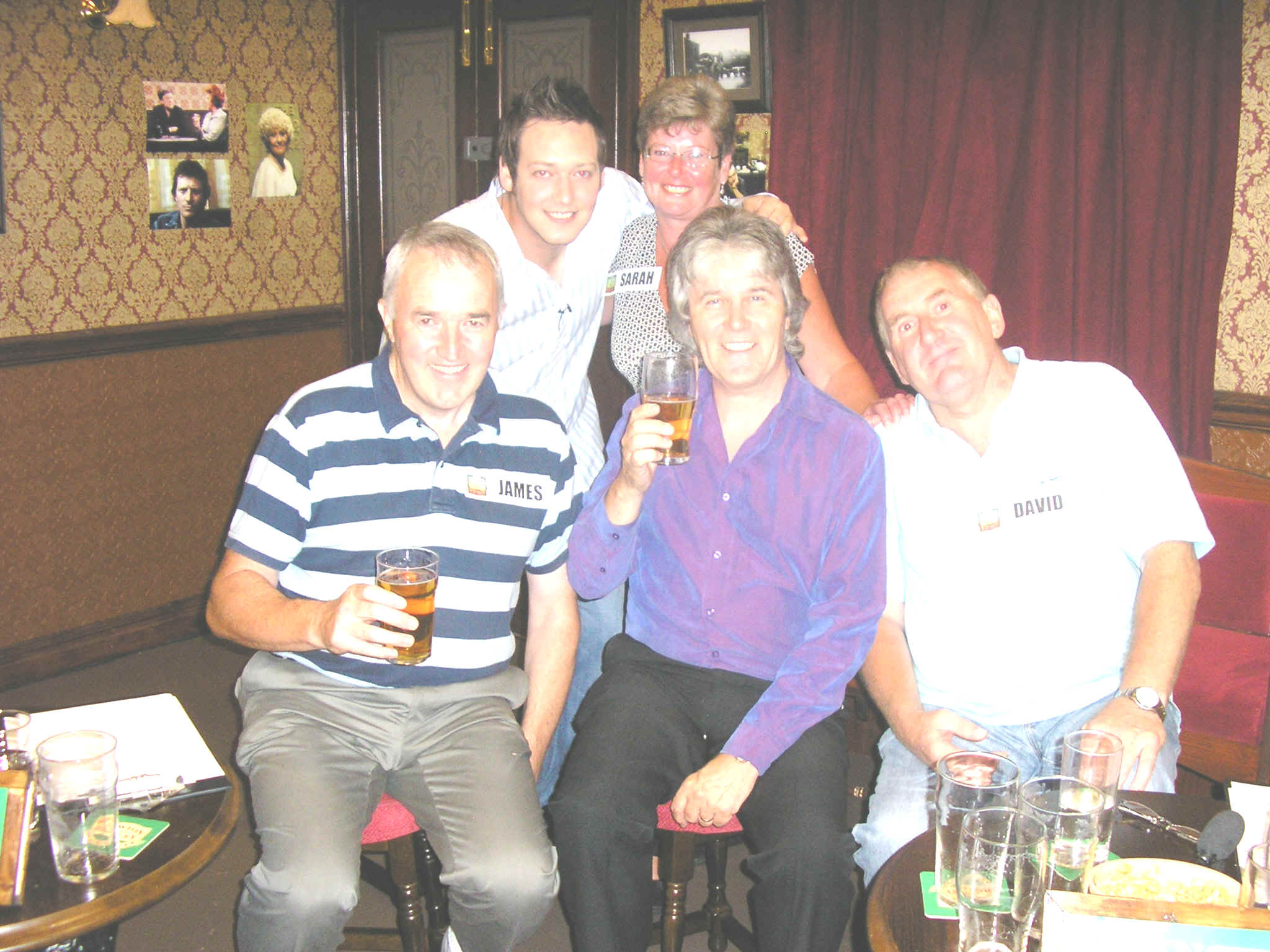 Back row: Dave O'Reilly -presenter and Sarah
Front row: James David David
The RRQN (Rovers Return Quiz Night) is mainly hosted by the excellent Paul Hendy and Terri Dwyer - cast as 'Landlord and Landlady' of this well known boozer! On our show, we had Terri enter as the first of the two presenters who covered the three hour show and she was very friendly and very professional in hosting this live show which takes some doing. Apart from a constant stream of information and cues through her earpiece, she was speaking to camera and inviting viewers to phone in and register for the interactive pub quiz shown onscreen and which we were playing in the studio. In between the main pub quiz, they were also featuring other quick quizzes just for the viewers, thus giving them a chance to win some serious money for the gamble of a few premium rate calls.
We were then joined by surprise guest Eric Potts who plays the Coronation Street baker Diggory Compton and was great fun too as he joined in the fun in the role of adjudicator sitting between us four pub quiz players. He had only just been written out of the current Coronation Street series as his bakery closed down and not helped by selling off dodgy food which had caused some food poisoning amongst the characters! We all laughed as he walked in with a tray full of cakes which we immediately refused, being aware of the story line but were soon reassured that these were safe to eat - and they were delicious!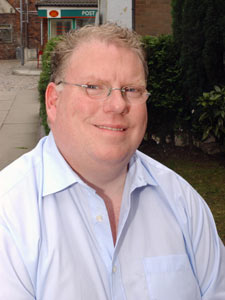 Actor Eric Potts alias 'Diggory Compton'
Teri Dwyer was terrific and we had quite a few laughs as we played the pub quiz based on five rounds. Our team name was The Sorrie Saints based on James Sorrie and David St John! We managed to creep ahead on points throughout the whole quiz and I think we only got two questions wrong so quite a good result , winning £250 between us but this jackpot was not quite in the bag! Then came the dreaded head to head in which one of the winning team takes a challenge from one of the successful phone-in viewers who are then fed live into the studio.
A 'sudden death' contest in which alternate questions are asked in the form of a nailbiting 'penalty shootout' and we were hoping for a better result than the England team own shootout at the recent World Cup against Portugal!
The phone-in viewer has the chance to 'steal' the £250 jackpot from the winning pub quiz team and a guy called 'Ian from Barnet' had already managed to get through to the show before this finale and had already won a few hundred quid so I was determined to hang onto our winnings although not a life changing amount!
Luckily the RRQN had a strict 5 second time limit and could only accept the first answer given. I had chosen to go second and Ian waited a few seconds before saying "Don't know" but then gave the correct answer after timeout! My question came and I knew the correct answer much to our relief! We then celebrated with a few more pints as we remained in the 'pub' to join in the fun of the second half of the show hosted by Dave O'Reilly as Terri Dwyer left the set. He was also a great host and we had quite a few more laughs until gone midnight which enhanced the general feel of this pub-based TV quiz show. A very young crew on this whole production and a friendly relaxed atmosphere all round despite the edge of a live show - it really was an enjoyable time plus the bonus of adding yet another win to my tally of TV quiz shows!
The Sorrie Saints celebrate their win with even more booze!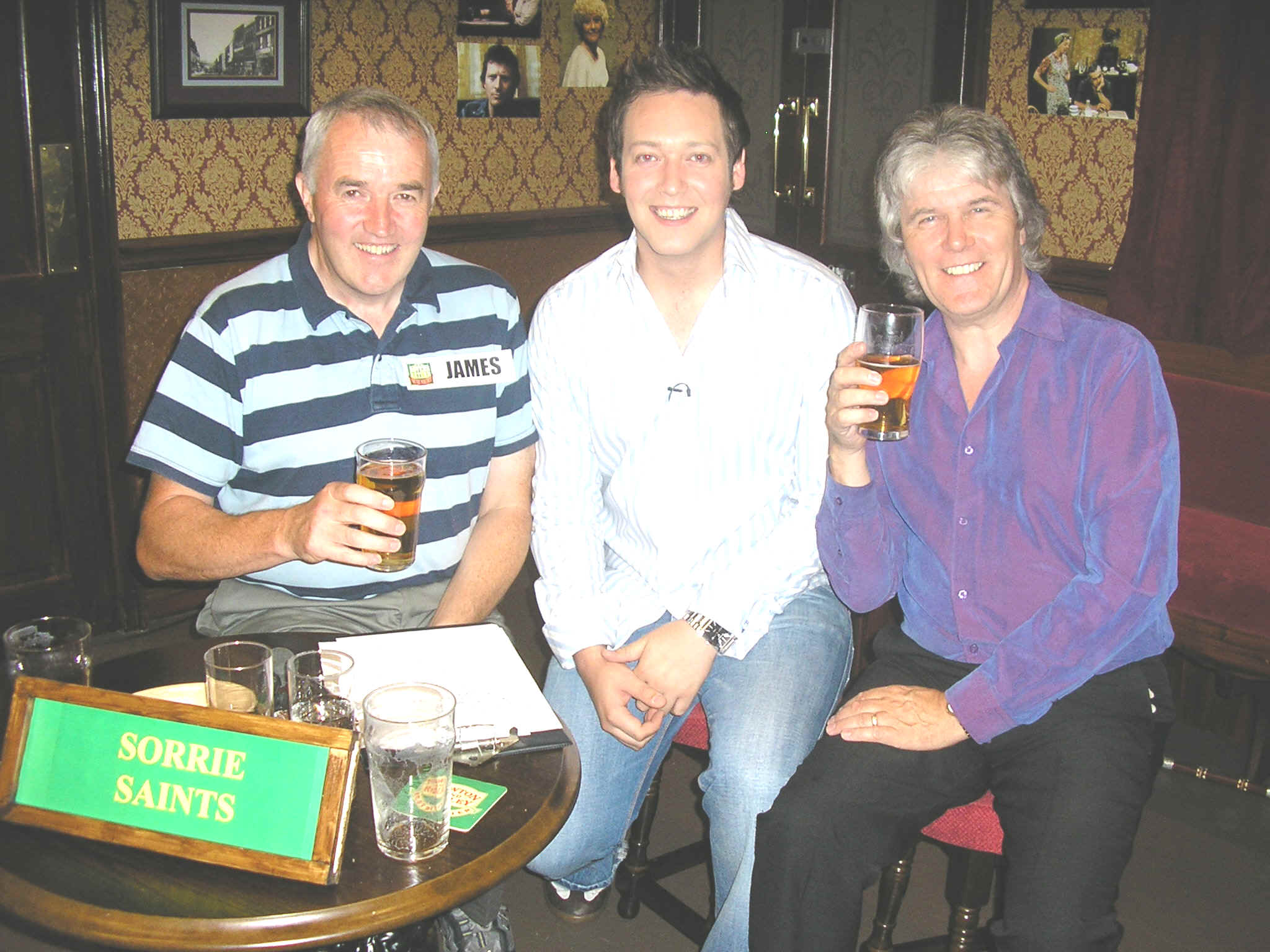 James Dave O'Reilly David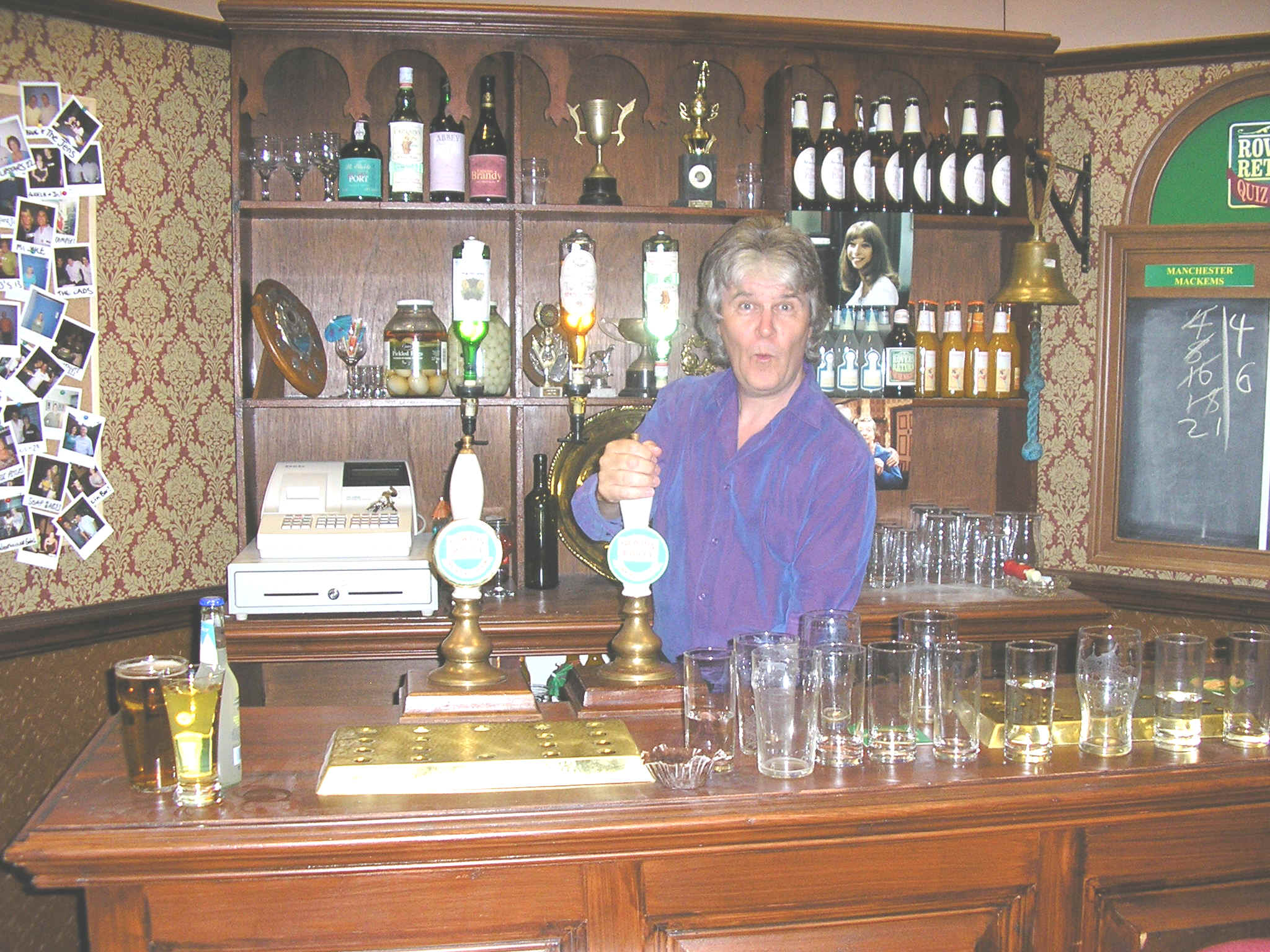 Temporary landlord of the Rovers Return!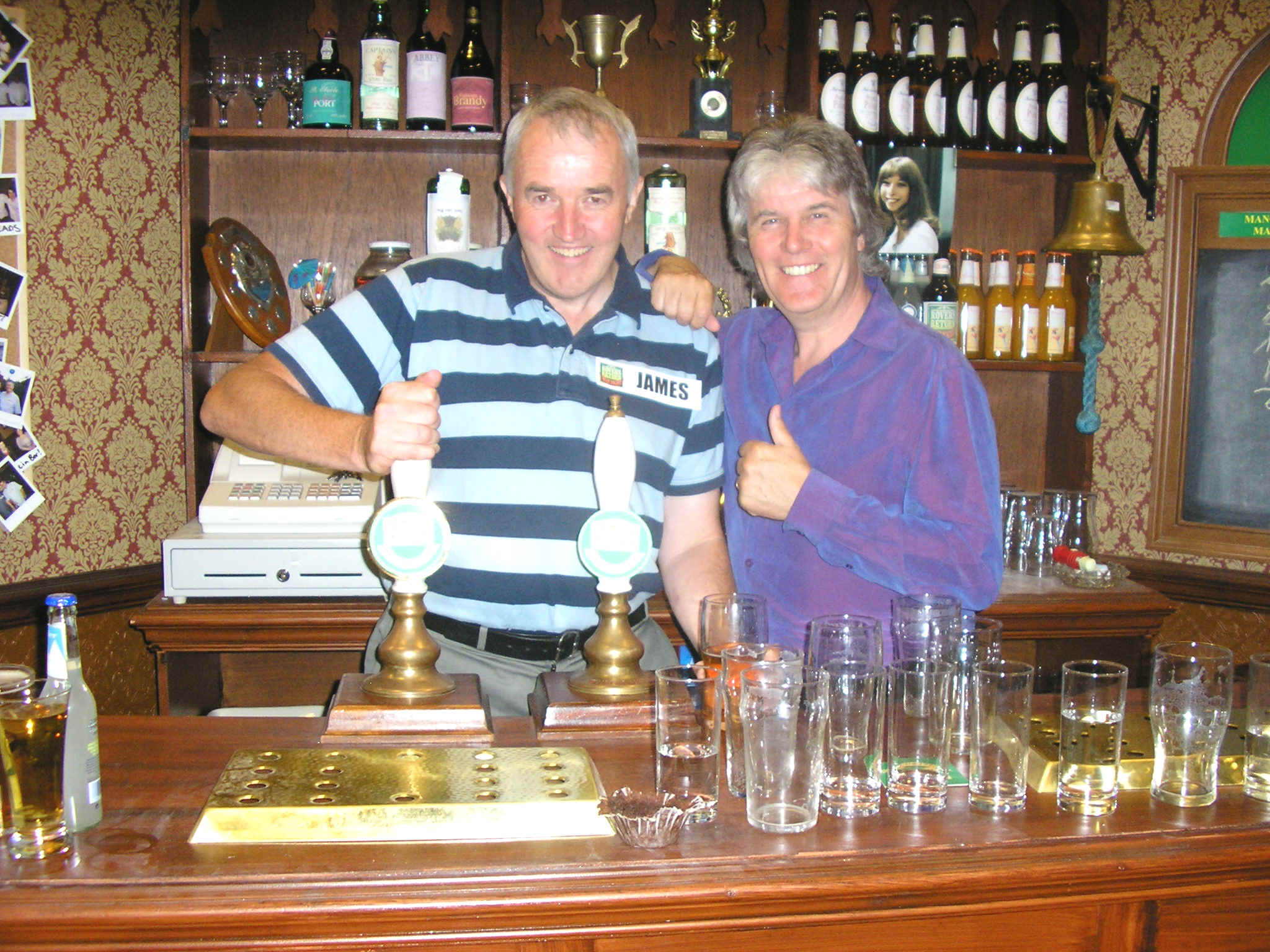 James and David - the pub's getting busy!
Just click on these images below which will take you to Teri and Dave's own websites
Terri Dwyer - click above Dave O'Reilly - click above
OK that was show no. 22 and now looking forward to the next one - Yes - I'm a TV quiz show addict!
Click on SITE MAP to navigate the pages Back to Home Page Contact David
İDavid St John 2006