Back to Home Page Back to SiteMap Contact David
*STACKS OF IMAGES-PLEASE LET IT LOAD*
HI-LITES - THE BEGINNINGS
David St John - April 2008
Welcome to a fascinating insight into a great story of the early Hilites and sent to me by Malc 'Steve' Dimmer who, like so many others, stumbled across my website when searching for info on the Southampton music scene. This whole story is in Malc's own words and I am displaying it as a stand alone webpage along with many rare photographs that convey the flavour of one of many pop groups right back to the very first attempts to break into showbusiness. Superb piece of writing and I thank him for getting in touch as well as sharing more personal memories with the world! I know that many Southampton based musicians and fans will enjoy yet another glimpse back to those great times as well as appealing to all ages who like to know what it was all about at the very early beginnings of what was to change our lives forever. Enjoy!
...................................................................................................
THE HI-LITES
'The Early Years'
By
Malc 'Steve' Dimmer
(The Hi-Lites Rhythm Guitarist 1959-1963)
My early memories of The Hi-Lites start back before the name of the Hi-Lites came to fruition, back to 1959/60.
I was, at that time, a young sixteen year old working for an optical company in Southampton who had just employed another young lad by the name of Ivor Brown. We worked side by side and very soon became friends. During our daily chats together, Ivor said he could play a bit of bass guitar (which bit I don't know!), and that he had a brother who could play guitar. Showing a lot of interest in this, having made a guitar out of one of those hobby kits for myself but having no idea how to play, Ivor invited me to visit his house to listen to them play. So one Saturday morning, I took him up on his invitation, and that is when I met Ivor's brother, Chris. After a few more visits to Ivor's house and my increasing friendship with the Browns, Chris began to show me a few chords to play (only three in those days!), on his acoustic guitar that had a fitted pickup he would plug into his amp
Quickly picking up chord playing, it wasn't long before I progressed from that old hobby kit guitar and purchased my first acoustic guitar (see picture).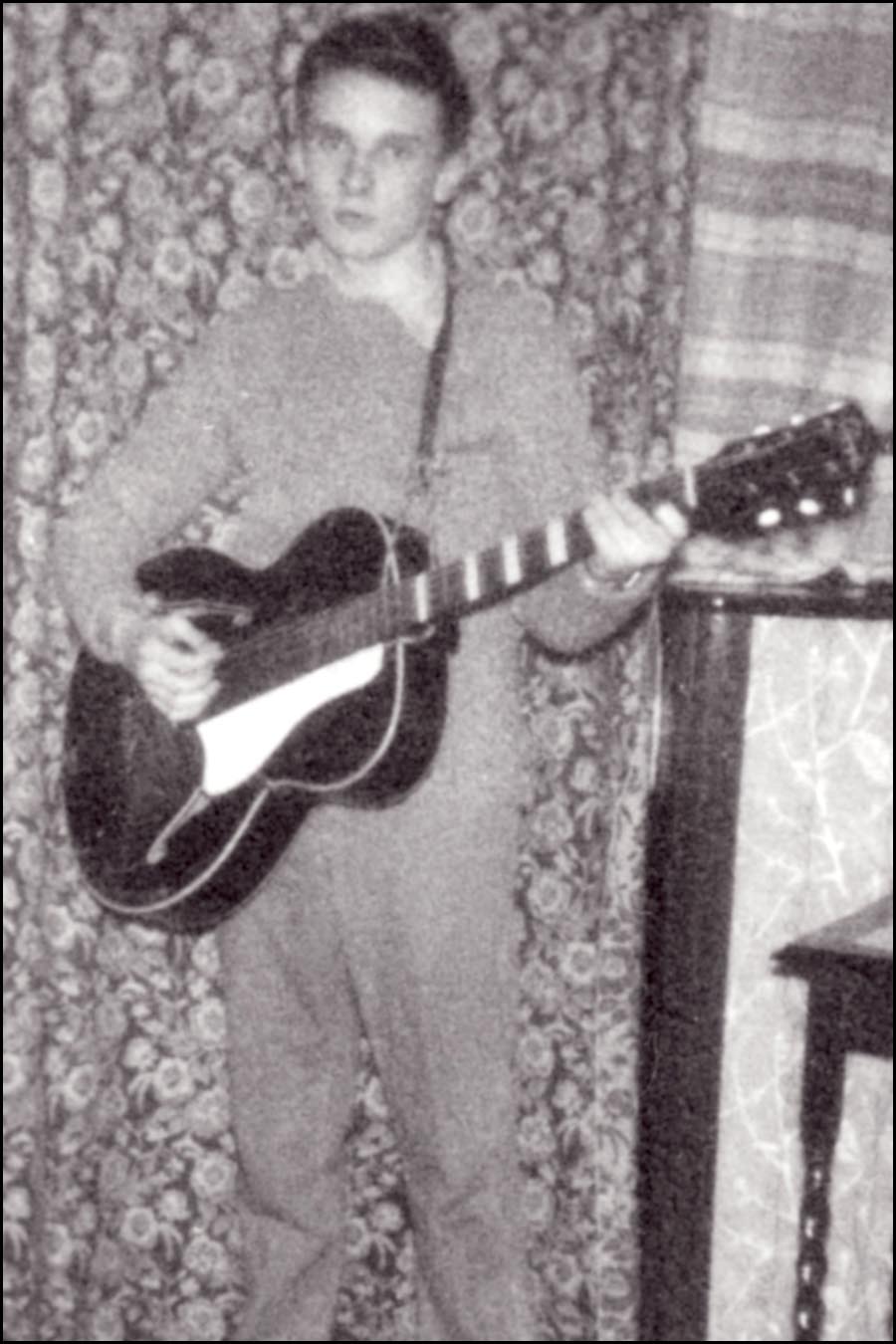 The three of us would get together and practice our favourite songs and soon built a small repertoire, with the odd instrumental, when Ivor would play bass. Back in those days pop stars would have stage names to make them sound more "rock 'n' roll" so we had to think of a name to call ourselves, Ivor chose the stage name Ricky, Chris chose Marty, and I was Steve, but what about a group name? Back then we were called groups, not bands, and I don't recall who it was that noticed the shop in Southampton selling double-glazed windows, by the name of "Hi-Lite Windows", but we liked the name (not the windows bit) and the way it was hyphenated, and so the name "The Hi-Lites" was born.
1960, and the first gig the three of us played together as a group, was at the Bulford army camp where the compère introduced us as Rocky and the boys! We went down very well and the army lads enjoyed our music, Rick sang and Marty and I backed him on our guitars, and on instrumentals Rick would play his bass.
Marty, is hiding behind the for sale board. 'Dude on the wall'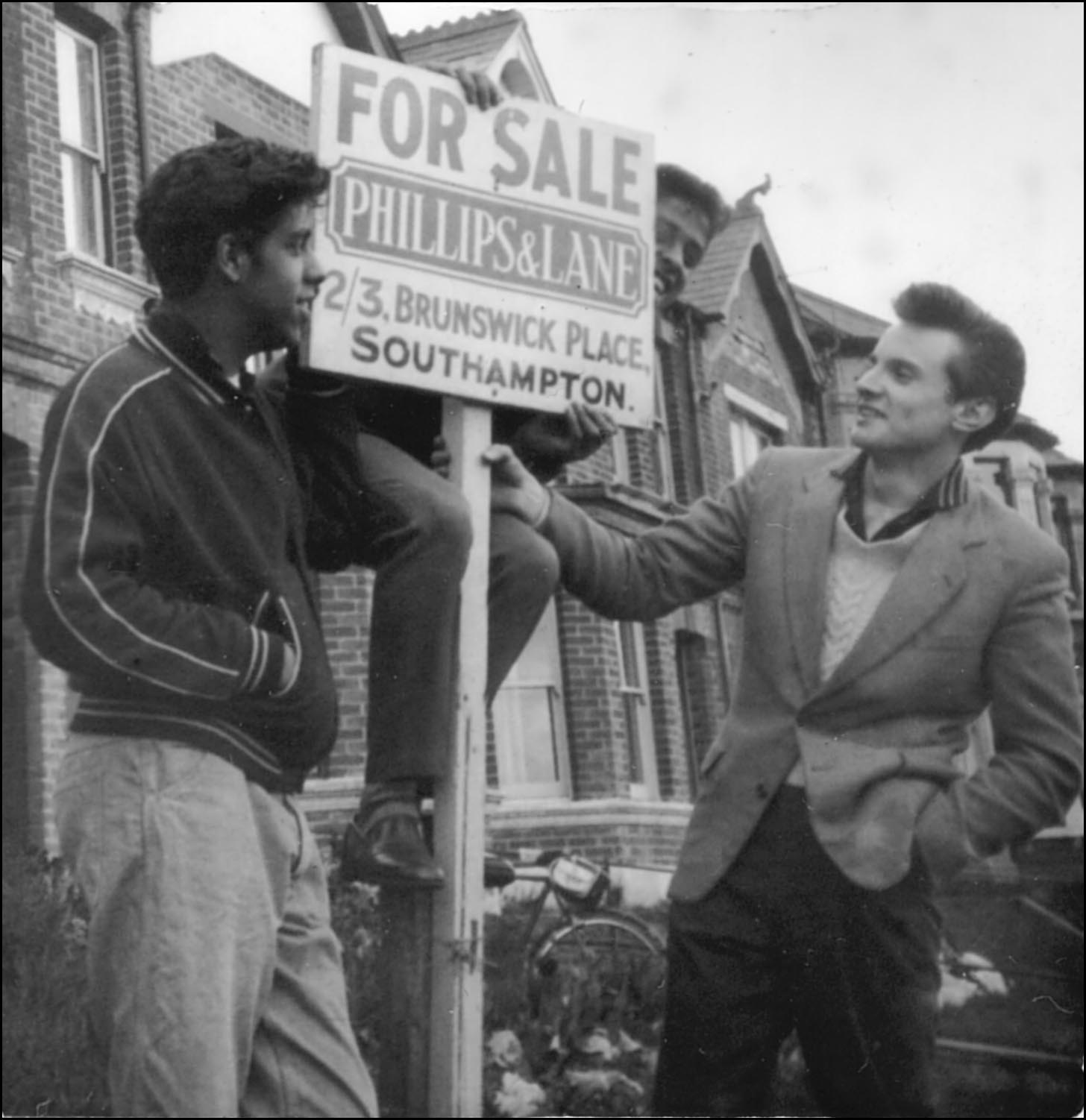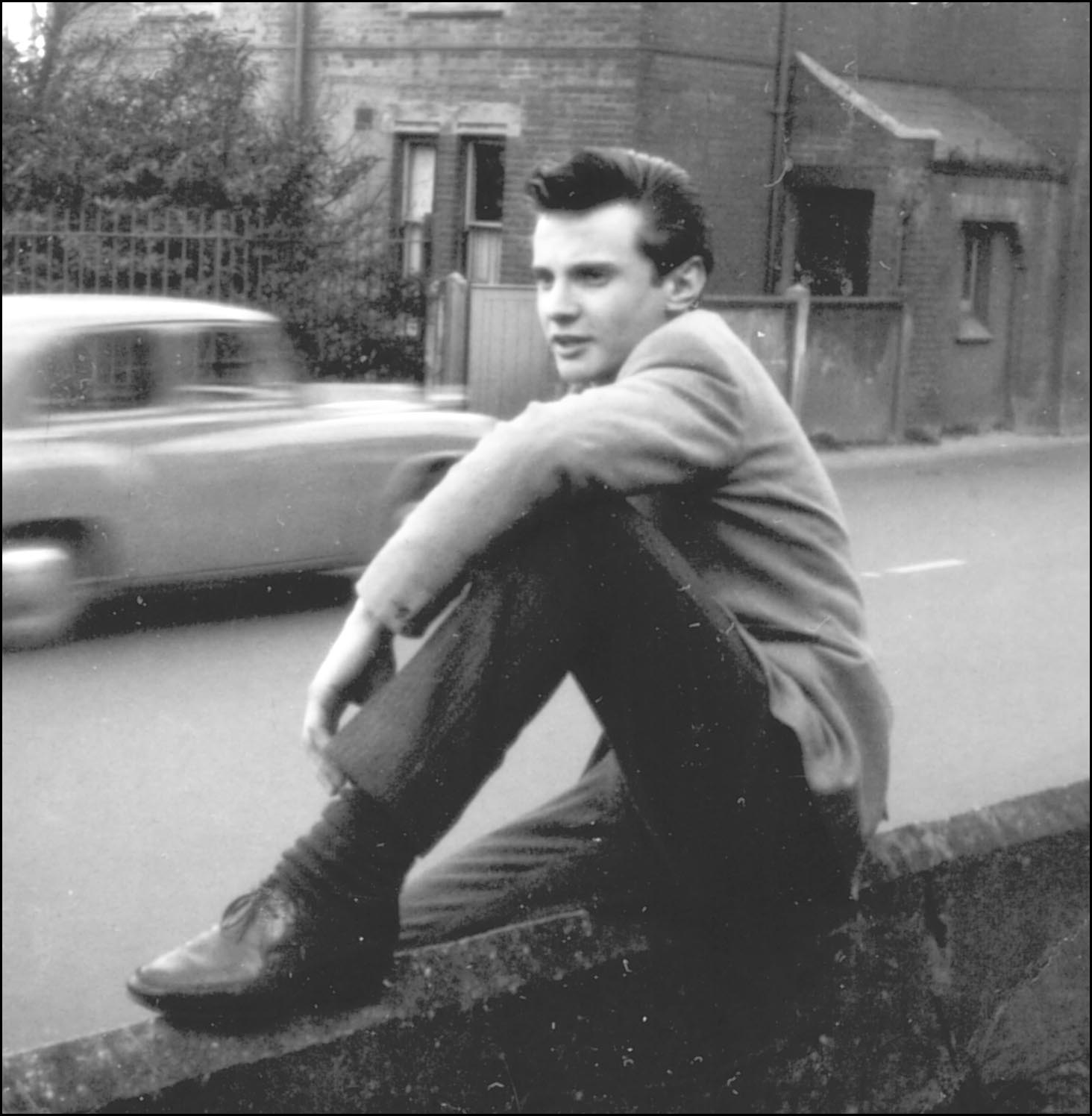 The three of us went on to play other venues and I recall playing the Guildhall, Southampton, in a talent competition for the youth rally, when a friend of ours by the name of Johnny Baker joined us on drums. By the way, we came second. We wanted to expand the group and introduce drums into the line-up, which really came by natural progression.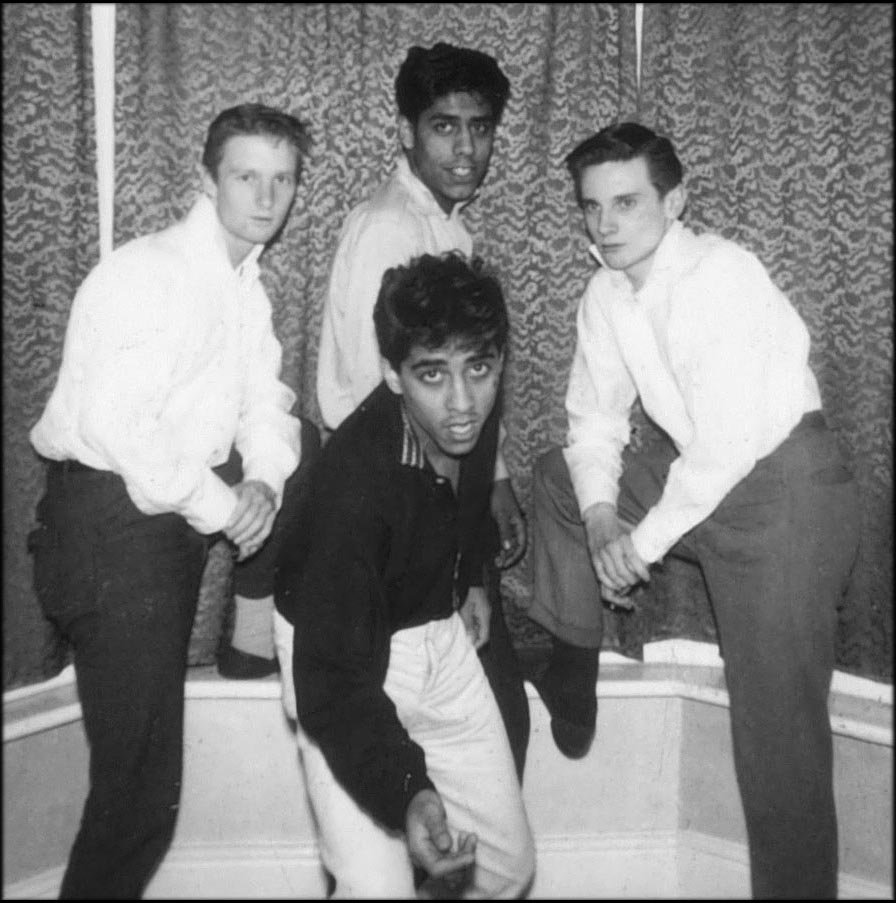 Rick's parents had taken in a lodger by the name of John Bagnall (left, in the picture above) who had an interest in drumming and owned a drum kit that comprised of…a snare drum!
We used to practice in the front room of Rick and Marty's parents house, and John would join us in our practice sessions with his snare drum, so three became four.
John built up his drum kit by purchasing a bass drum, and a cymbal (impressive), but "John Bagnall" printed on the front of a bass drum was not very rock 'n' roll, so John's name for stage became Danny Barbour.
This photograph below was taken at the end of 1960. It was a Christmas party for the employees of Raleigh Cycle Company in Southampton, and we were invited to play.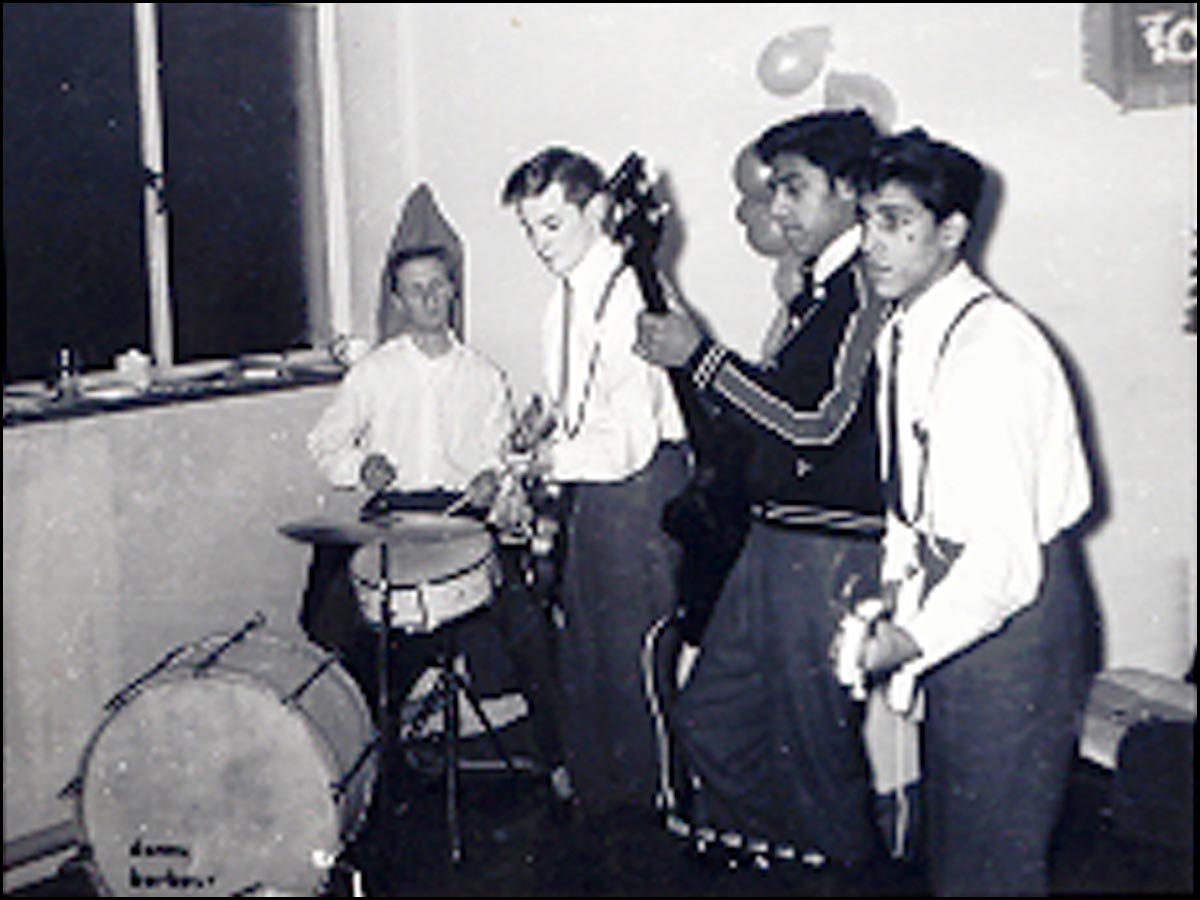 Marty was playing a white Tuxedo guitar, and I was playing a Hofner semi acoustic guitar. This photo, kindly sent to me from Australia, by my sister, shows a rare shot of Rick playing his bass guitar, and it also shows how sparse our equipment was back then.
For a short while, Rick, Marty, Danny and I played at The Capuccino which was a popular coffee bar in Shirley, Southampton.
At the back of the main coffee bar, was a small room with a dance floor and juke box where guys and gals could dance, chat with friends, or just listen to the music. It had an intimate club atmosphere and because of the limited space we had to set up our gear, I put my Selmer amp close to the edge of the dance floor, not a good place for an amp with people dancing close by, as I discovered to my misfortune when a girl put her stiletto heel through the speaker of my amp.
The picture below was taken sometime after our stint at the Cap. I can't remember what guitar I was playing when we played there, but it wasn't the Burns guitar I am holding, that came at a later date, and the hair was from rent-a-wig!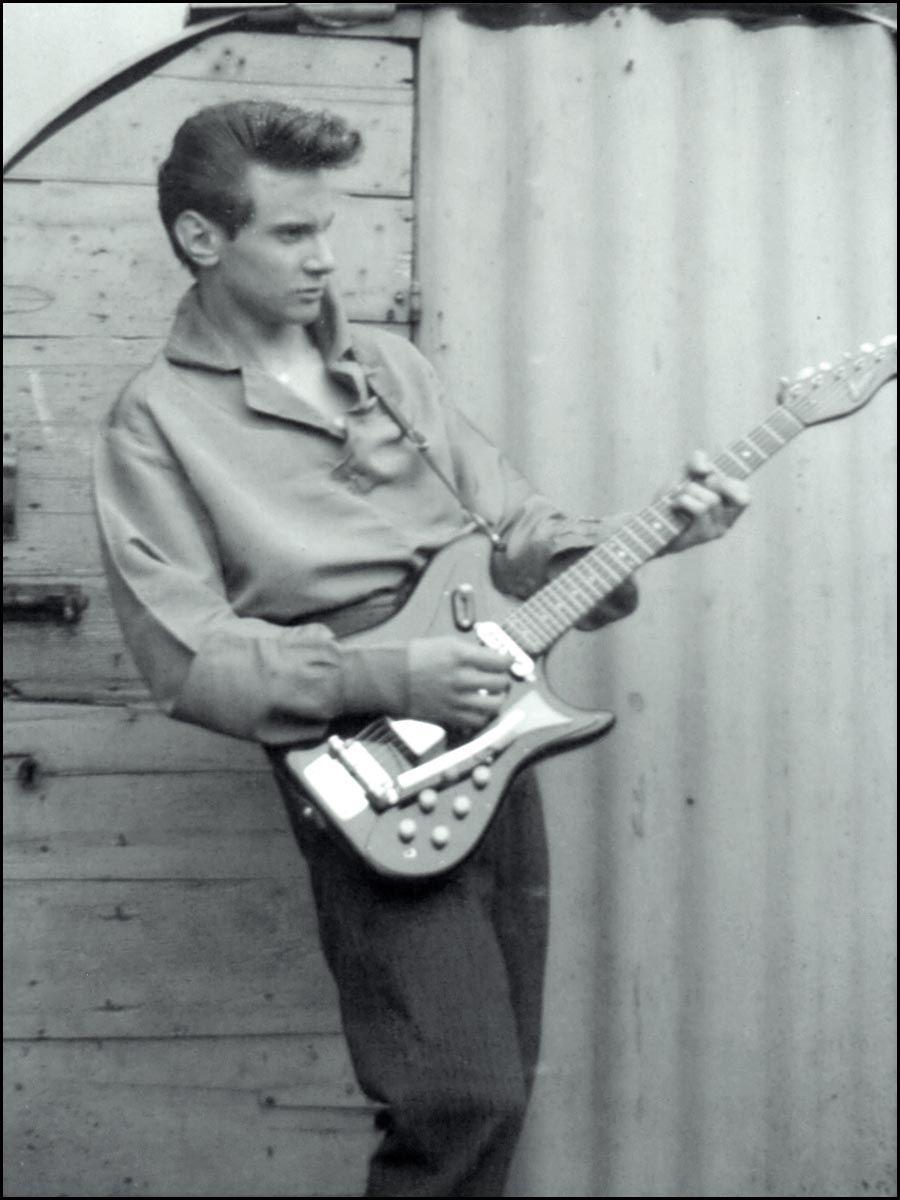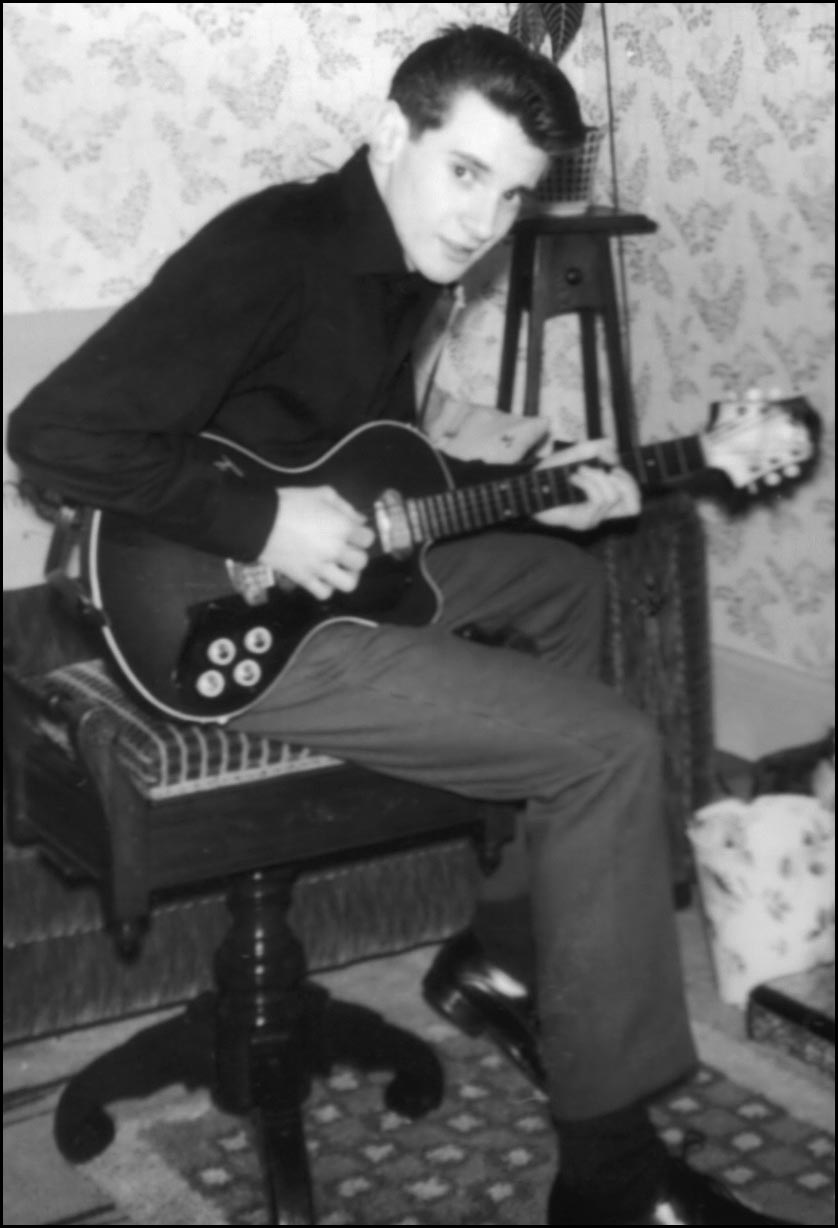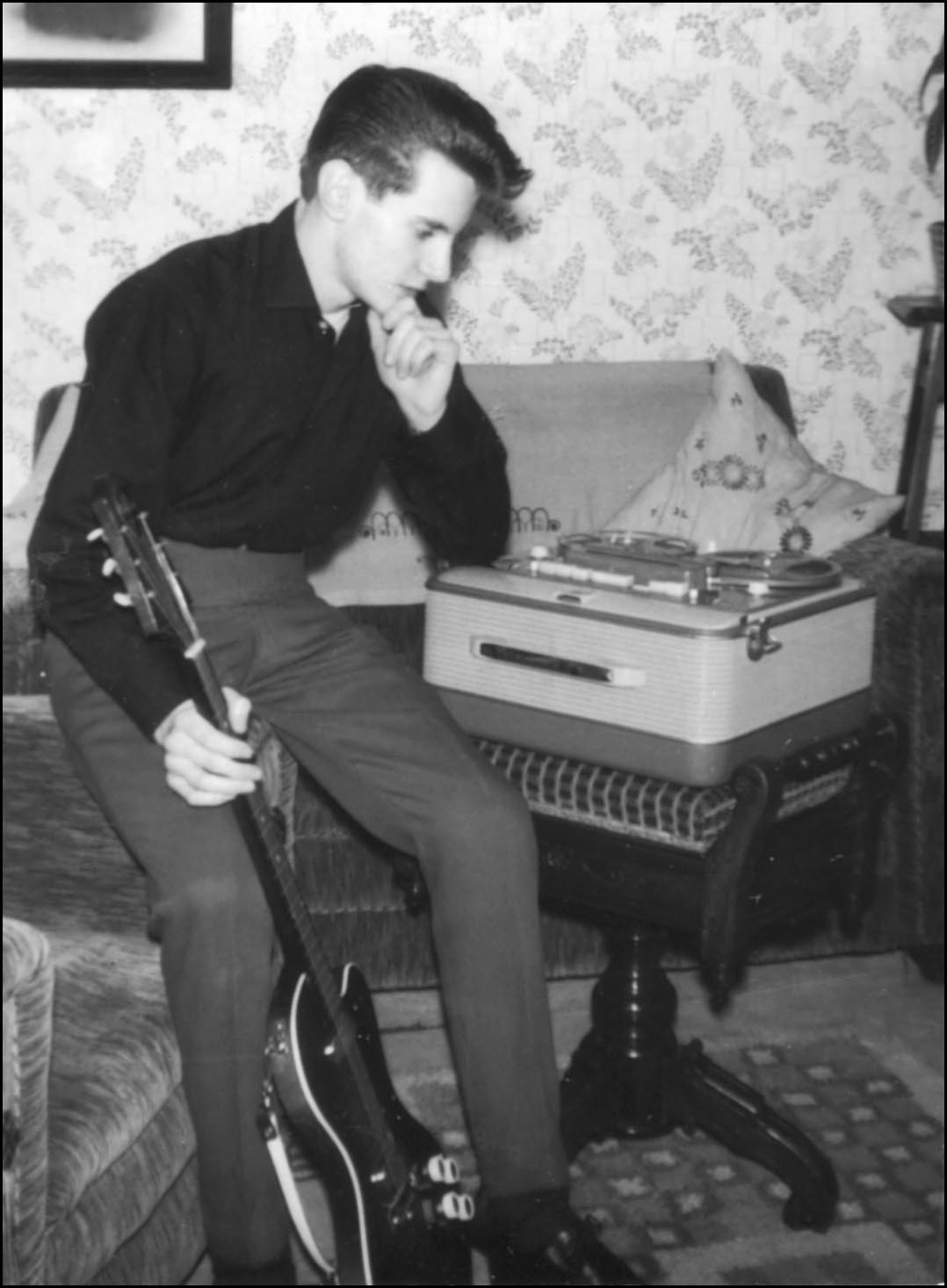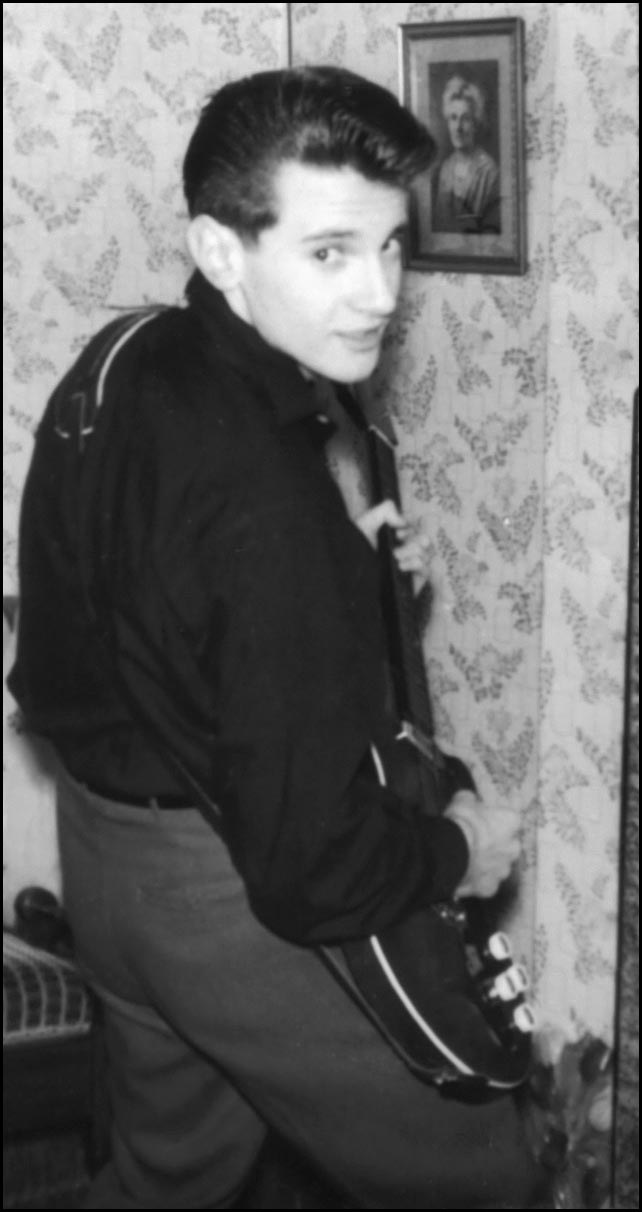 This set of pictures shows me playing a brown sunburst Tuxedo guitar, and as time went on, Marty and I had several changes of guitars, being regular visitors to John Beirne's music shop in Shirley Southampton, which soon became a popular music shop haunt for many of the local Southampton groups and was also a good place to get the speaker of my amp repaired! Cliff Harper who worked there made a great job of repairing the speaker to my amp which was still working when I later upgraded to a more powerful Selmer amp.
We reached a point when we didn't think we looked slick enough with different makes of guitars so to improve this, Marty and I decided to change our guitars and both use the same make of guitar. We opted for Burns guitars in red, and it was about this time that Danny bought his first full-sized drum kit, so now we started to look a more professional group.
The four of us continued to play venues in Southampton, such as the Park Ballroom, Marlands Hall, Banister Ballroom, the Guildhall and Royal Pier and many other venues in and outside of Southampton, the list too long to mention, topping the bill or being the support group to top recording artists/groups of the time, the names of which have been well documented.
Appearing with these artists and groups, gave us an insight into how we would hone our own style and stage act.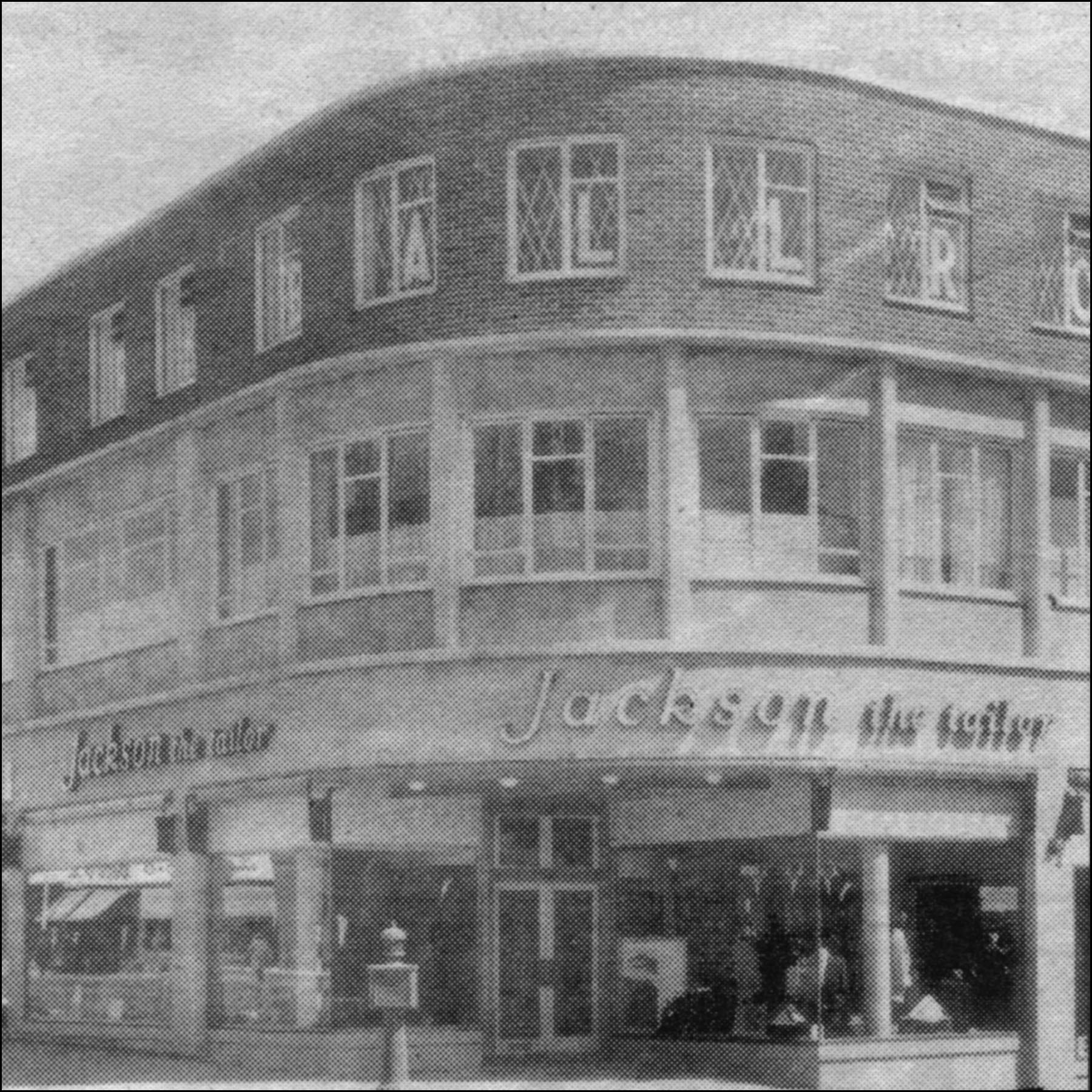 The Park Ballroom Southampton
The Park Ballroom was on the corner of Above Bar and Pound Tree Road, Southampton, above Jackson the tailor shop, with the letters, PARK BALLROOM spelt out in each of the windows. One Saturday morning when we were practicing in the ballroom, the manager of Jackson the tailor, came up and asked us to turn the volume down as it could be heard down in the shop. We didn't think we were that loud!
Picture of the group taken with Mrs Lightbody, the proprietor of The Park Ballroom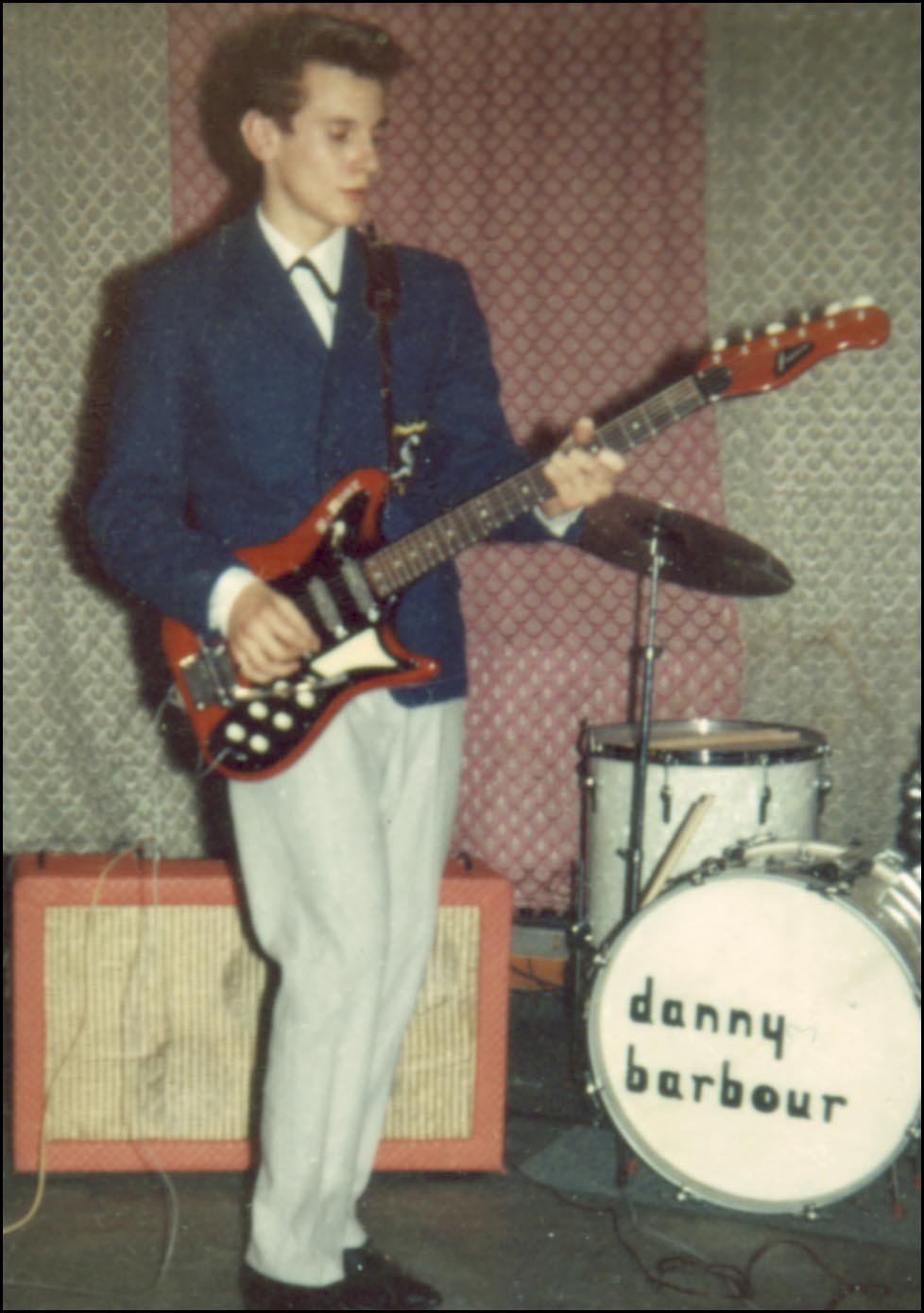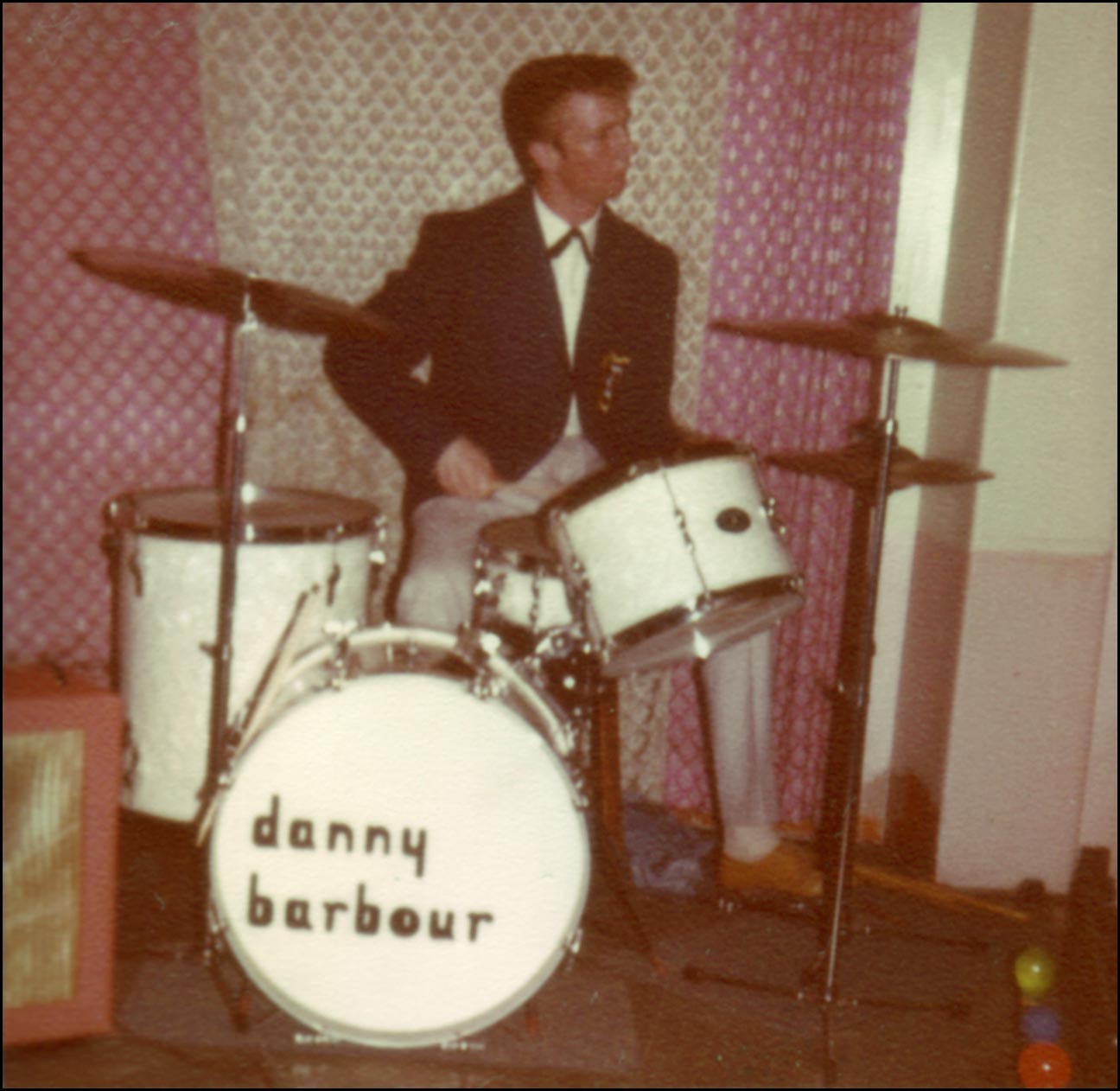 I remember The Hi-Lites setting a fashion trend with the stage gear we wore: light grey trousers and blue jackets with our initial on the breast pockets. It very soon became popular, copied, and worn by the local lads who came to our gigs. Rick wore the red jacket.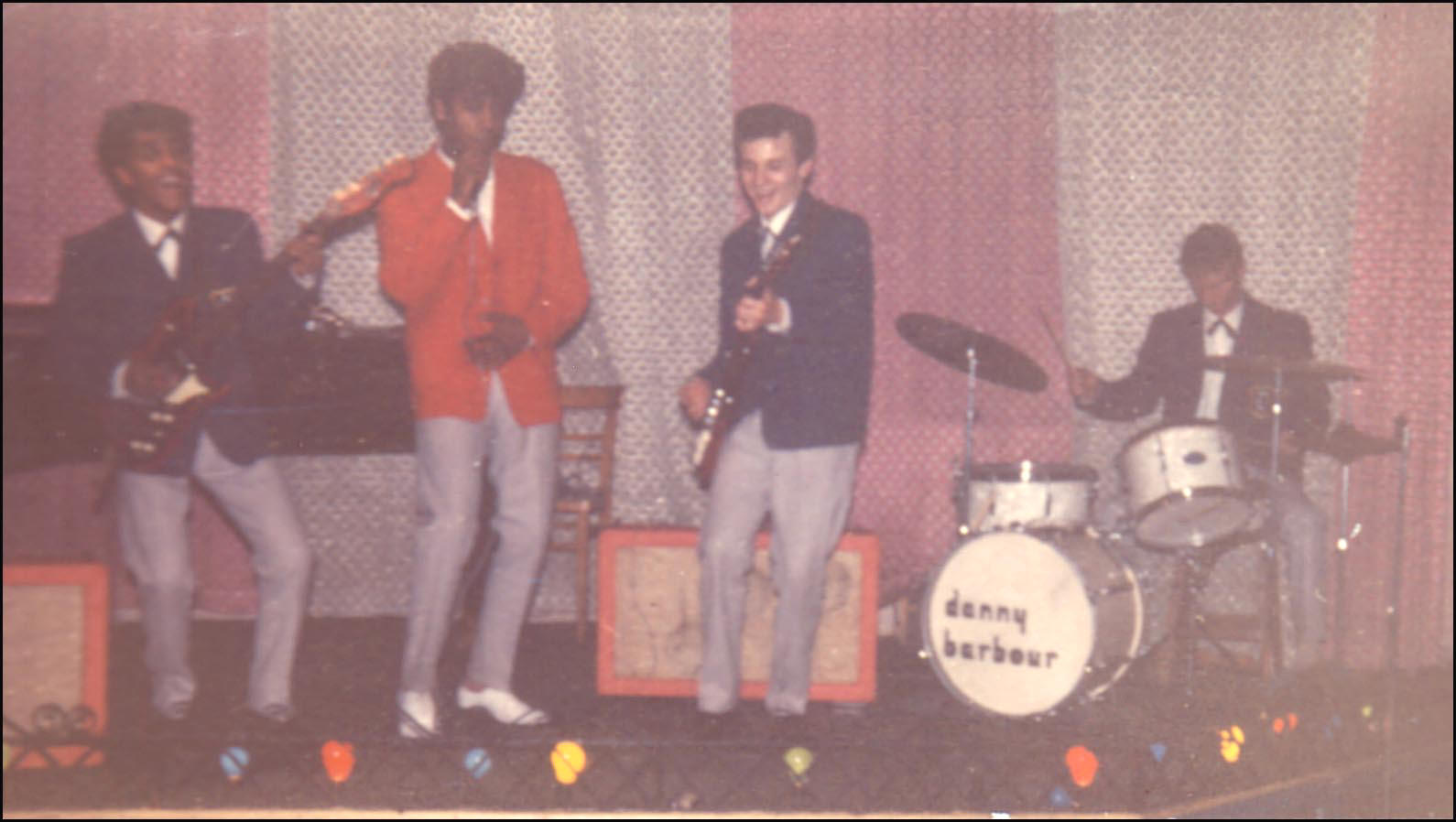 On one occasion, we played at the Two I's in London's Soho; it was a coffee bar with a downstairs room which was frequented by many of the pop world's artists who played there before they became well known recording stars, such as Tommy Steele, Hank Marvin and Bruce Welch of The Shadows and many others.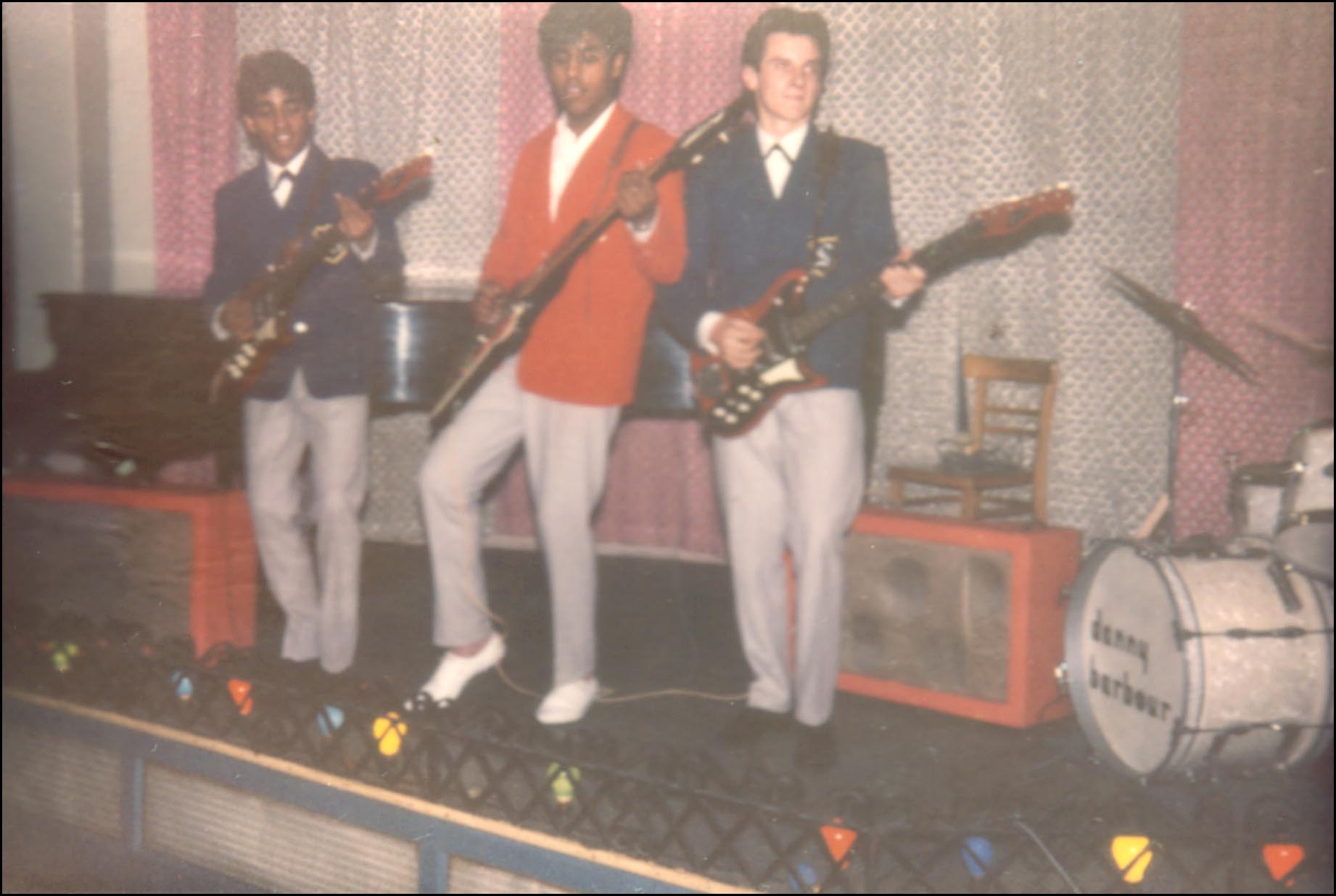 The Guildhall, Southampton.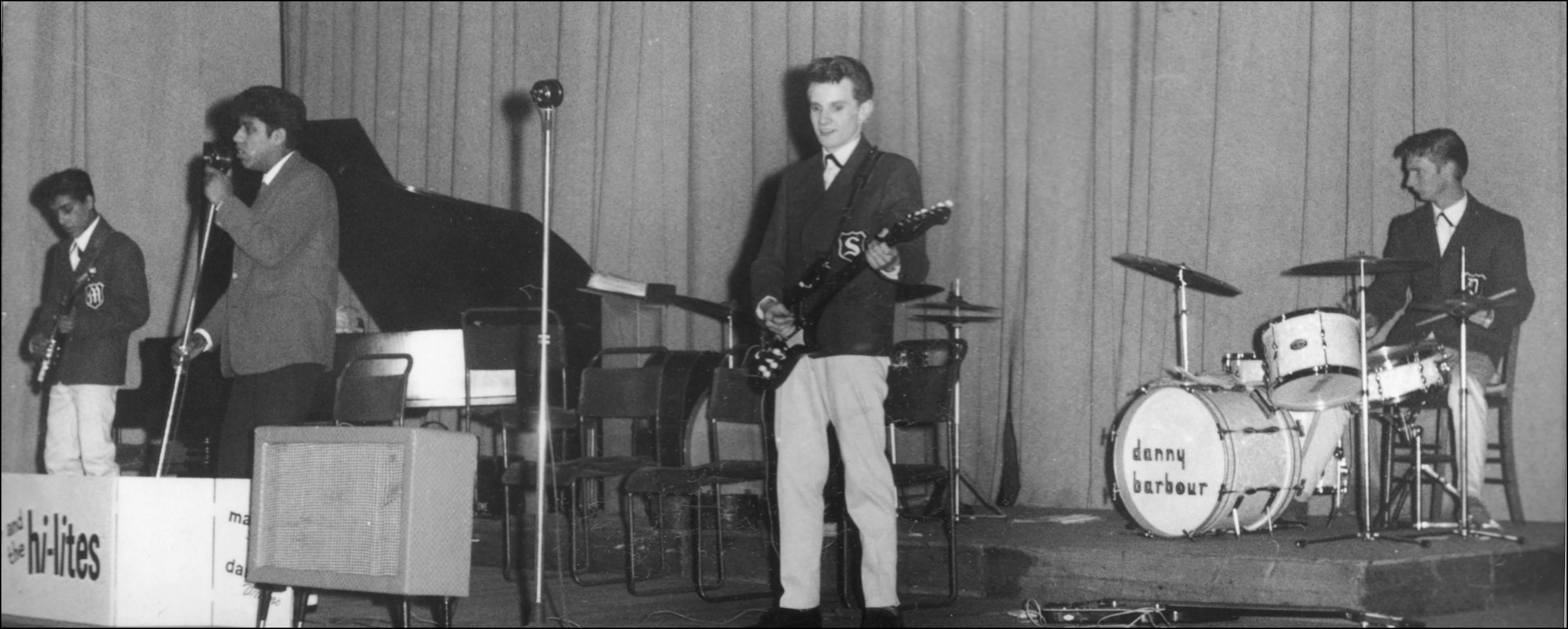 In the early sixties, a radio programme called Saturday Club hosted by Brian Mathews, used to feature all the well known recording artist/groups as well as the not so well known, so we auditioned for a spot on the programme but unfortunately did not get through being told we needed a fulltime bass player to give more depth to the groups sound.
Things were not always easy going and Rick, by his own admission, could not play bass and sing at the same time and wanted to concentrate more on his singing, so we advertised in the local newspaper for a bass guitarist interested in joining a working band, which we certainly were by then.
This was at The Royal Hotel, Southampton. February 1962.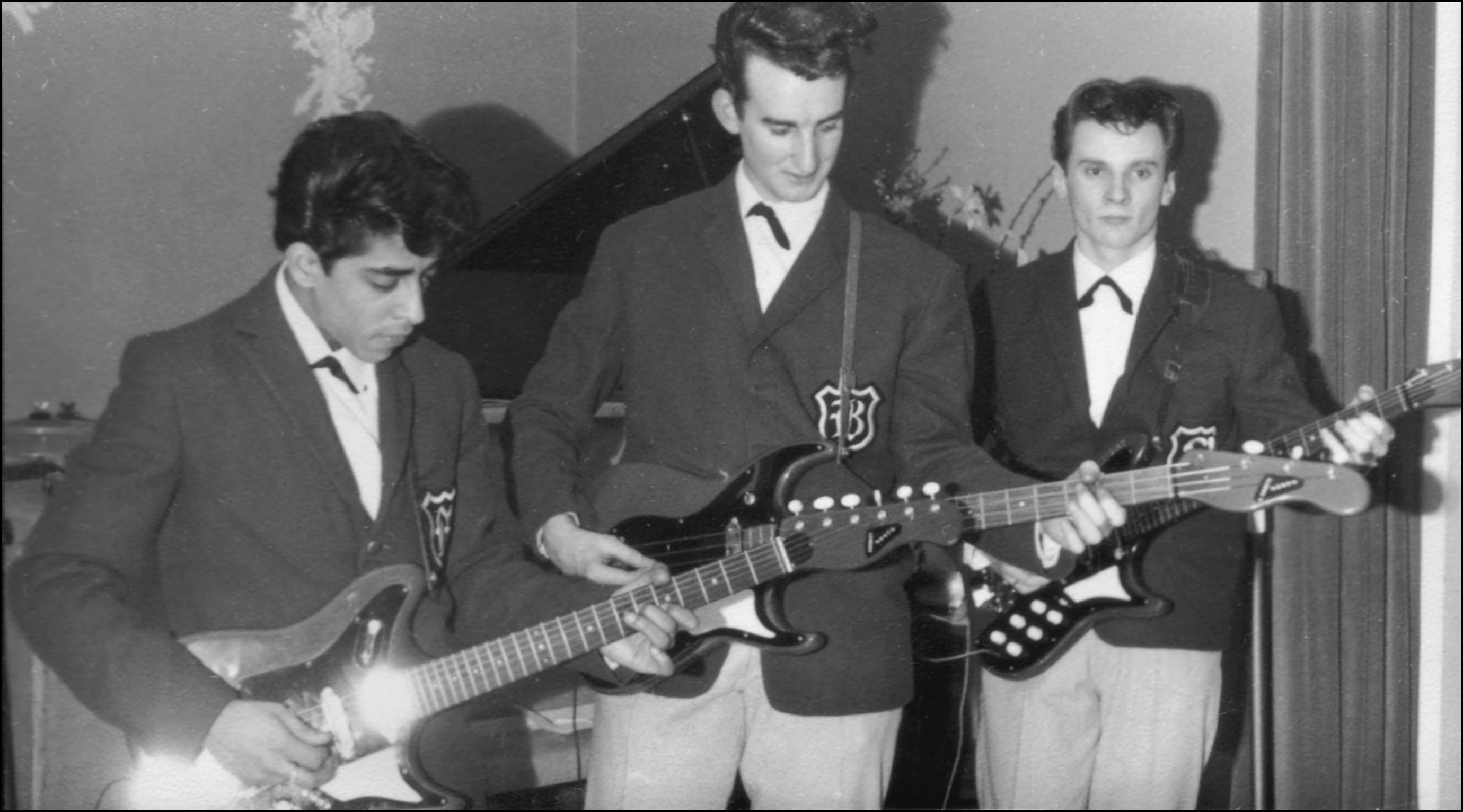 Ray Woodason (centre of picture) applied for the job and fitted in very well with our style of music and so joined and became the fifth member of the group and completed the line-up. Ray bought a red Burns bass guitar, keeping the guitar line-up uniform, and his stage name was Buff.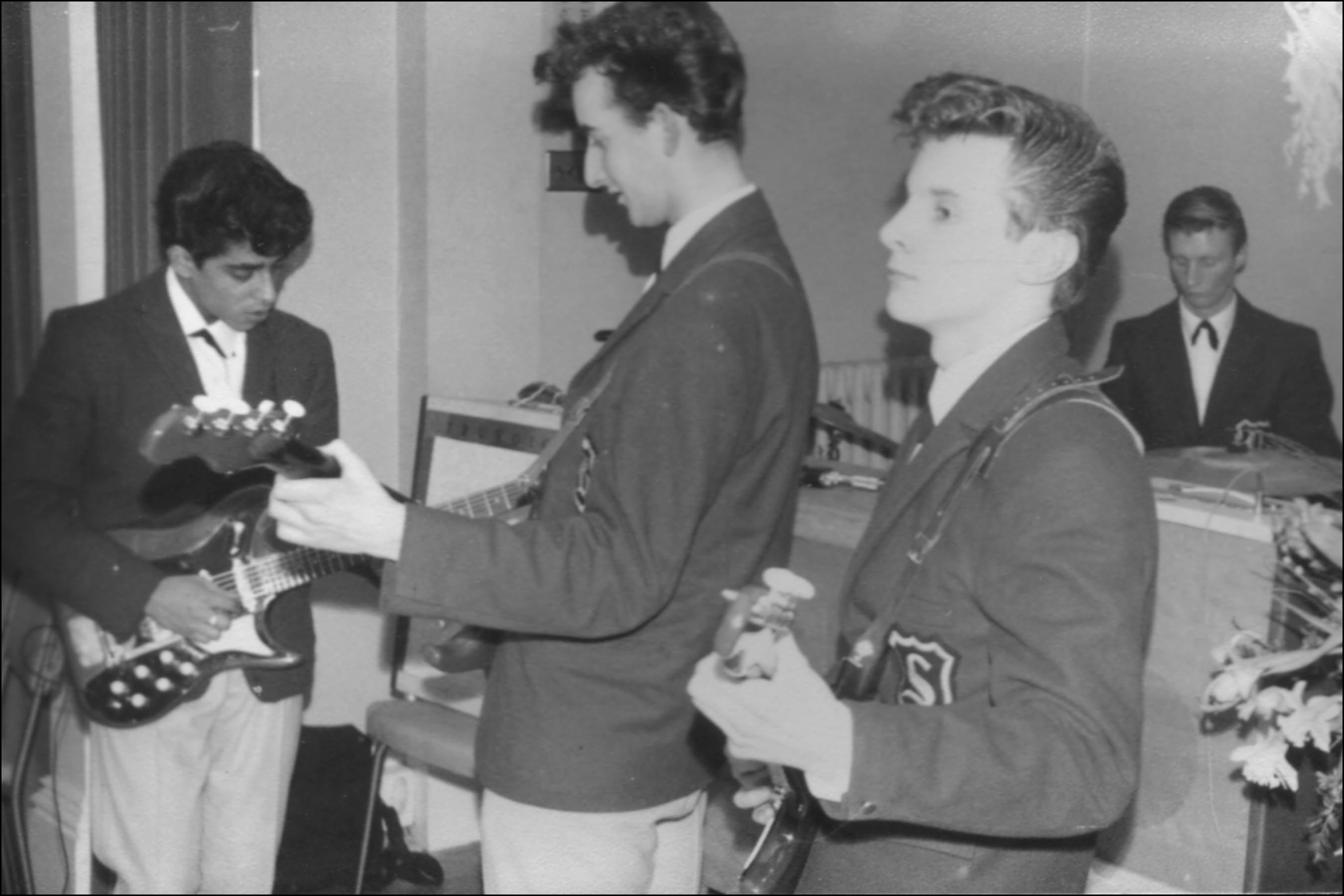 Intermission at The Royal Hotel, and it's time for nosh. Second from the right is Pete Rose who was, at this time, our transport driver. He owned a black 1949 Cadillac to which we hooked a trailer to carry our gear.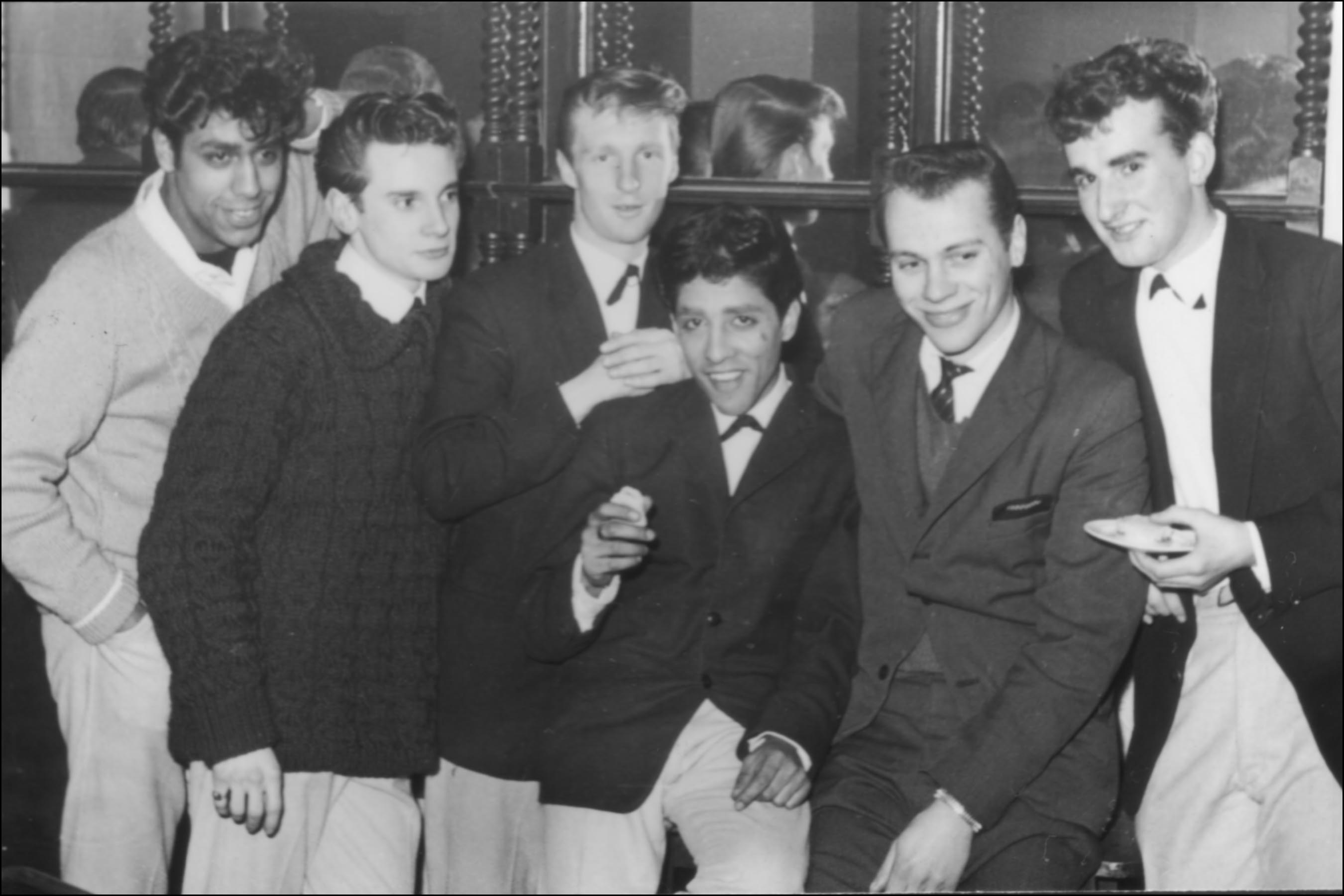 We worked hard as a semi-professional group, holding down daytime jobs and, when not out playing at a venue we would practice. So, things progressed, bookings increased, widening our venue area, covering the south of England. We increasingly became more professional, and a more polished group gaining the respect of our contemporaries at home and away.
This was our first professional promotional photograph.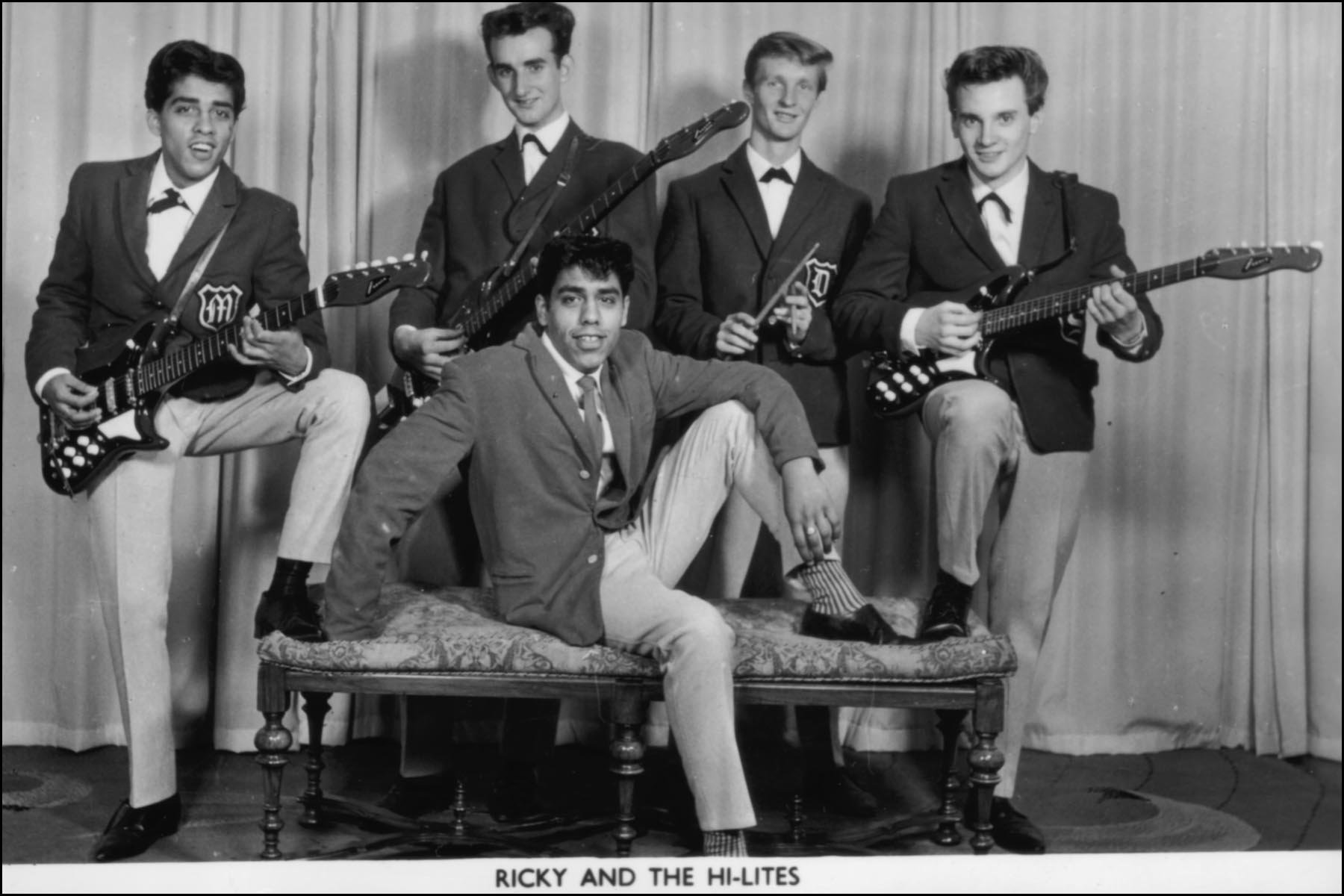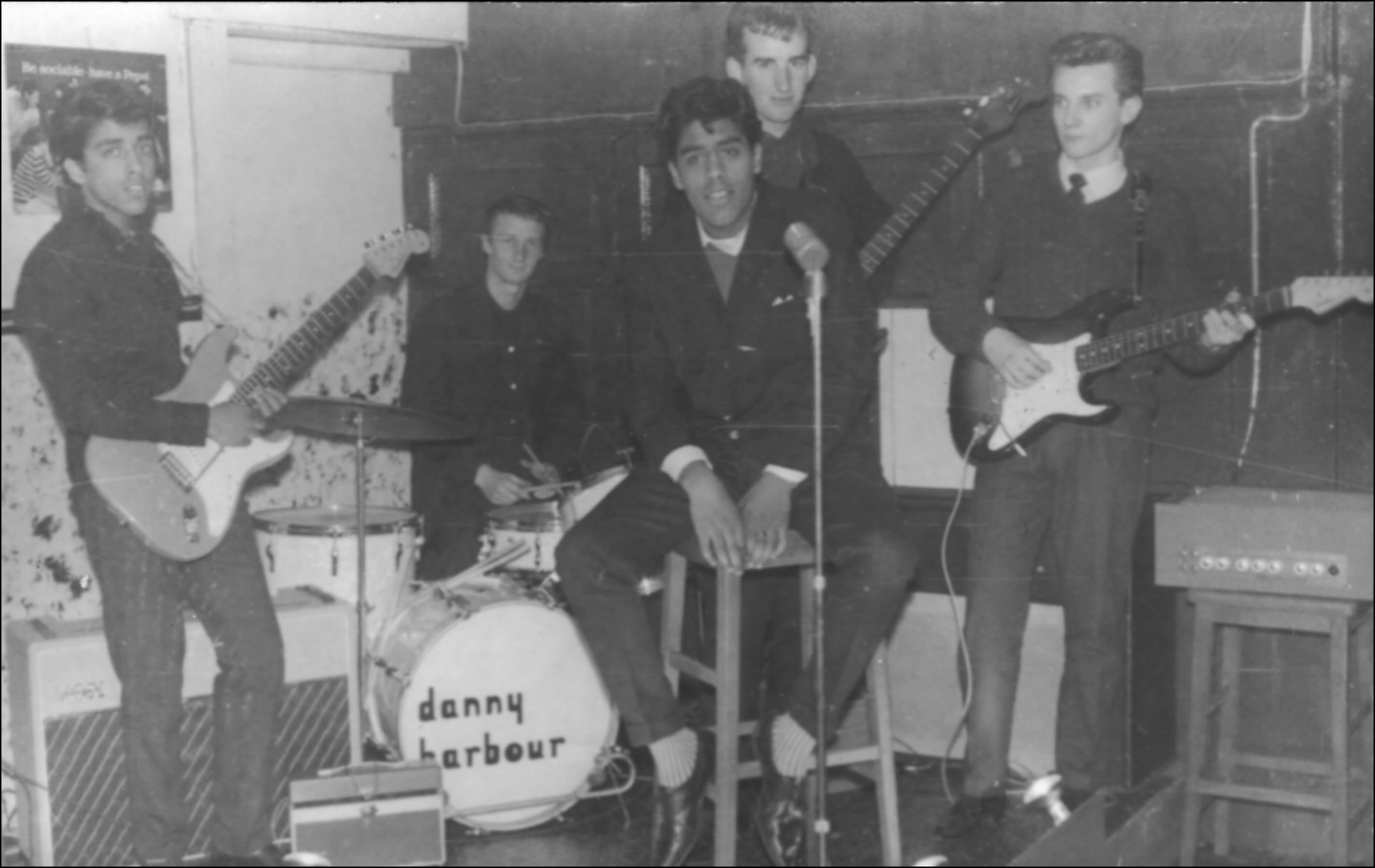 The two pictures here were taken at a practice session at The El Cabana, Shirley Southampton.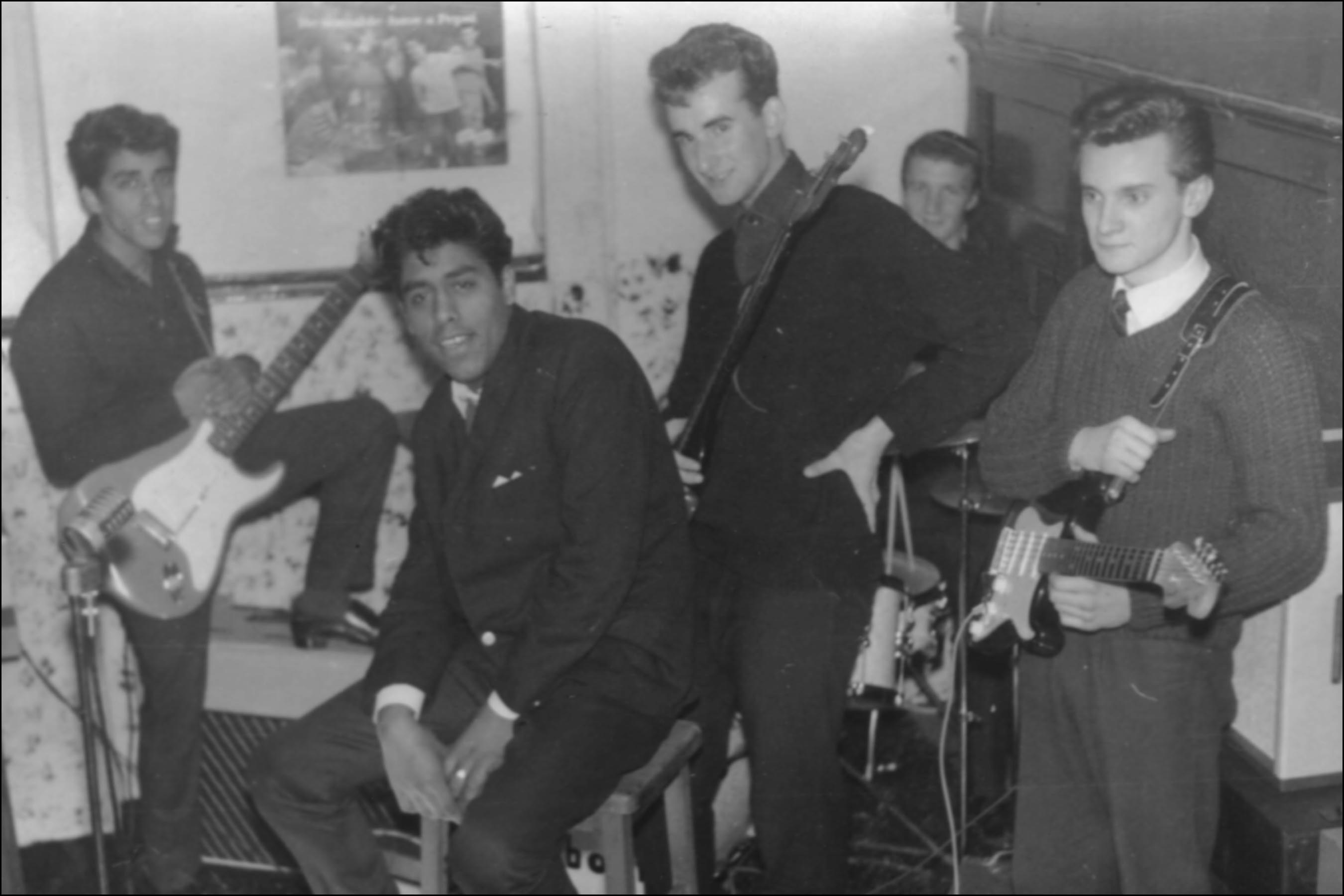 By this time Marty had changed his red Burns guitar for a flamingo pink Fender Stratocaster and the Vox AC30 amp, I changed my Burns guitar for a sunburst Stratocaster, and used a Selmer amp, but later changed to the Vox AC30 amp. Buff later changed his Burns bass guitar for a sunburst Fender Precision bass guitar.
1962 marked another change in the appearance of the group as shown in this promotional photograph. We had new stage clothes. Rick wore a black mohair suit with satin lapels, and the Hi-Lites wore black mohair trousers and dark wine mohair jackets. We all wore white shirts, and black under the collar bowties.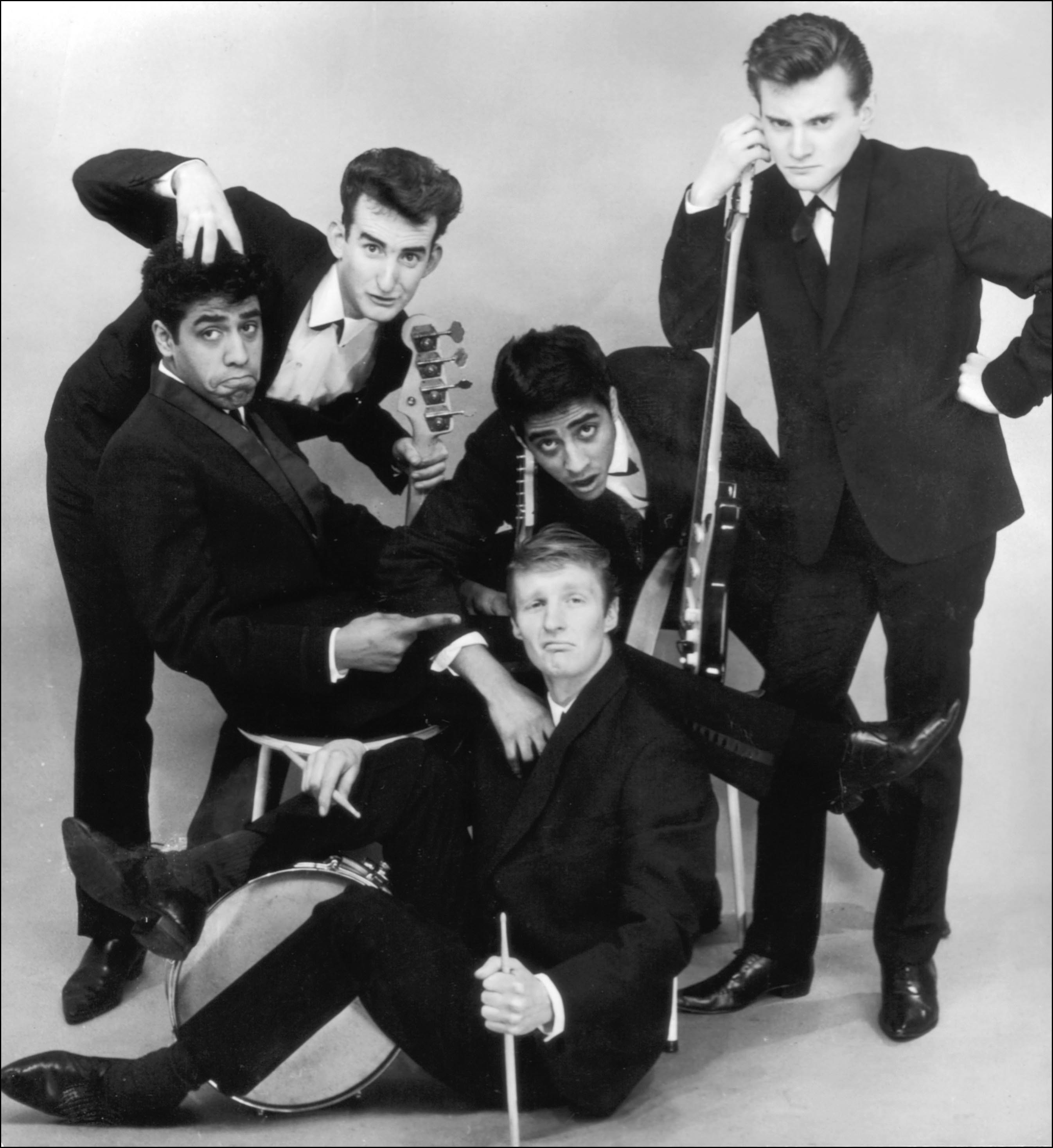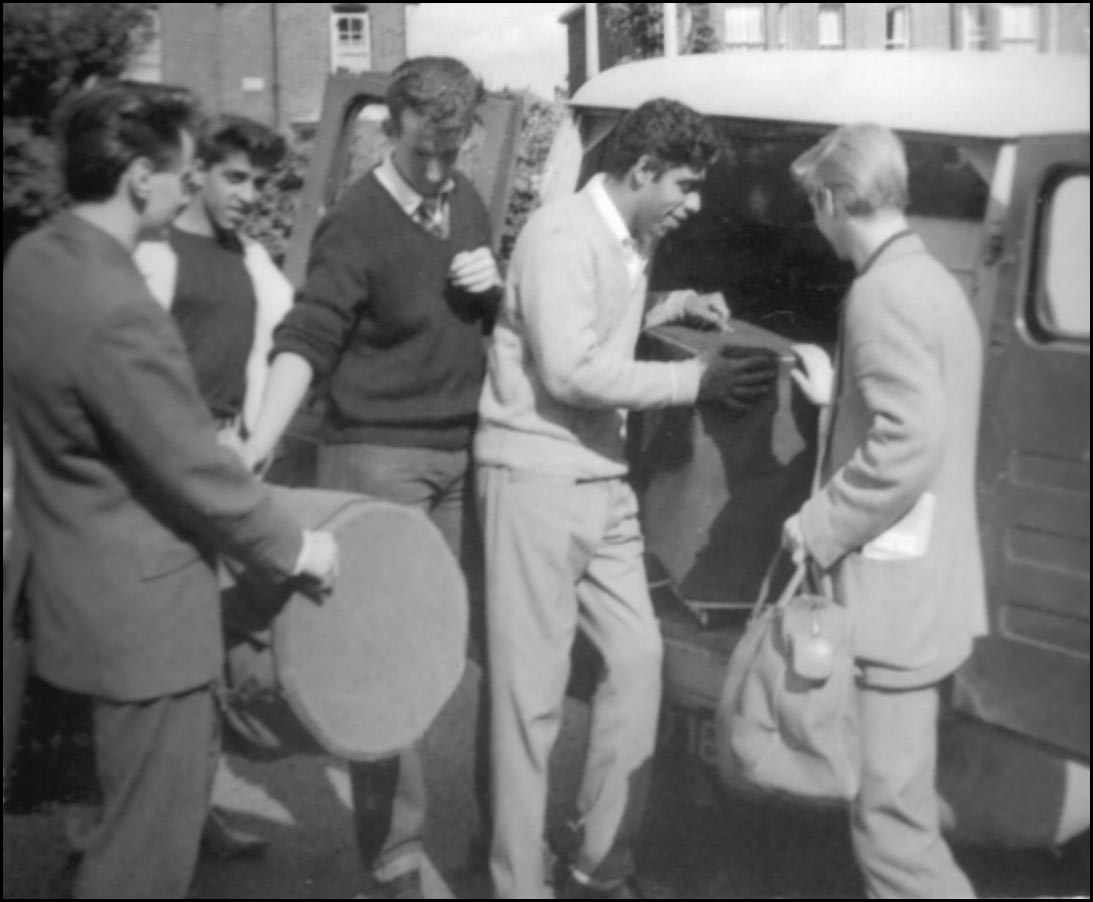 Loading the van!
We travelled to Weymouth and played at the Burdon Ballroom and while there we introduced Weymouth to The Hully Gully, a dance craze of the time. Rick, Marty, Buff and I performed a step routine to the song, "Hully Gully", and the audience would form lines across the dance floor and join in. The ballroom promoters advertised Rick in the local paper as the 'Hully Gully' man. But they could never get the spelling of the groups name correct, spelling it Highlites or High Lites.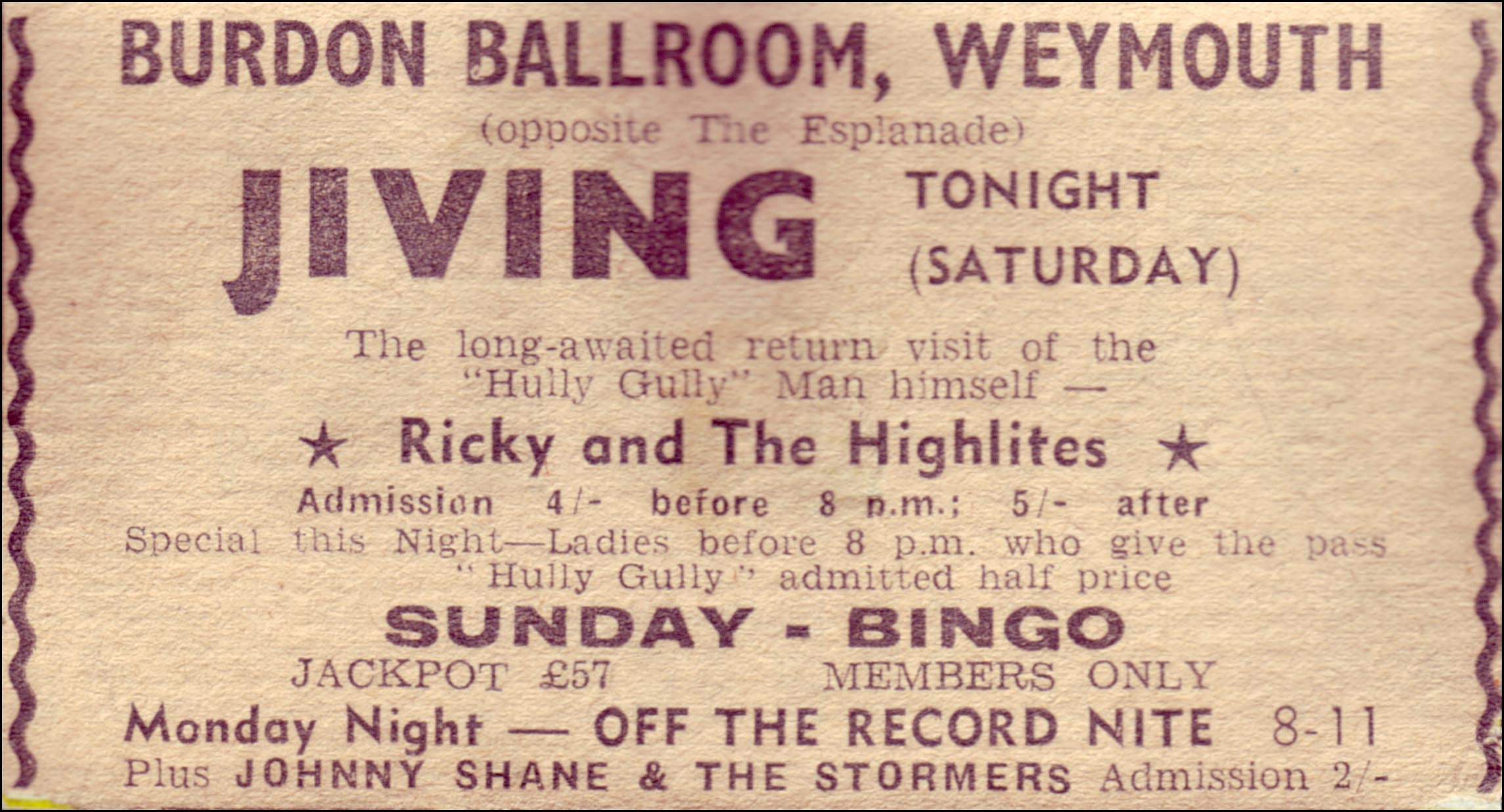 Rick Brown and The Hi-Lites, The Guildhall, Southampton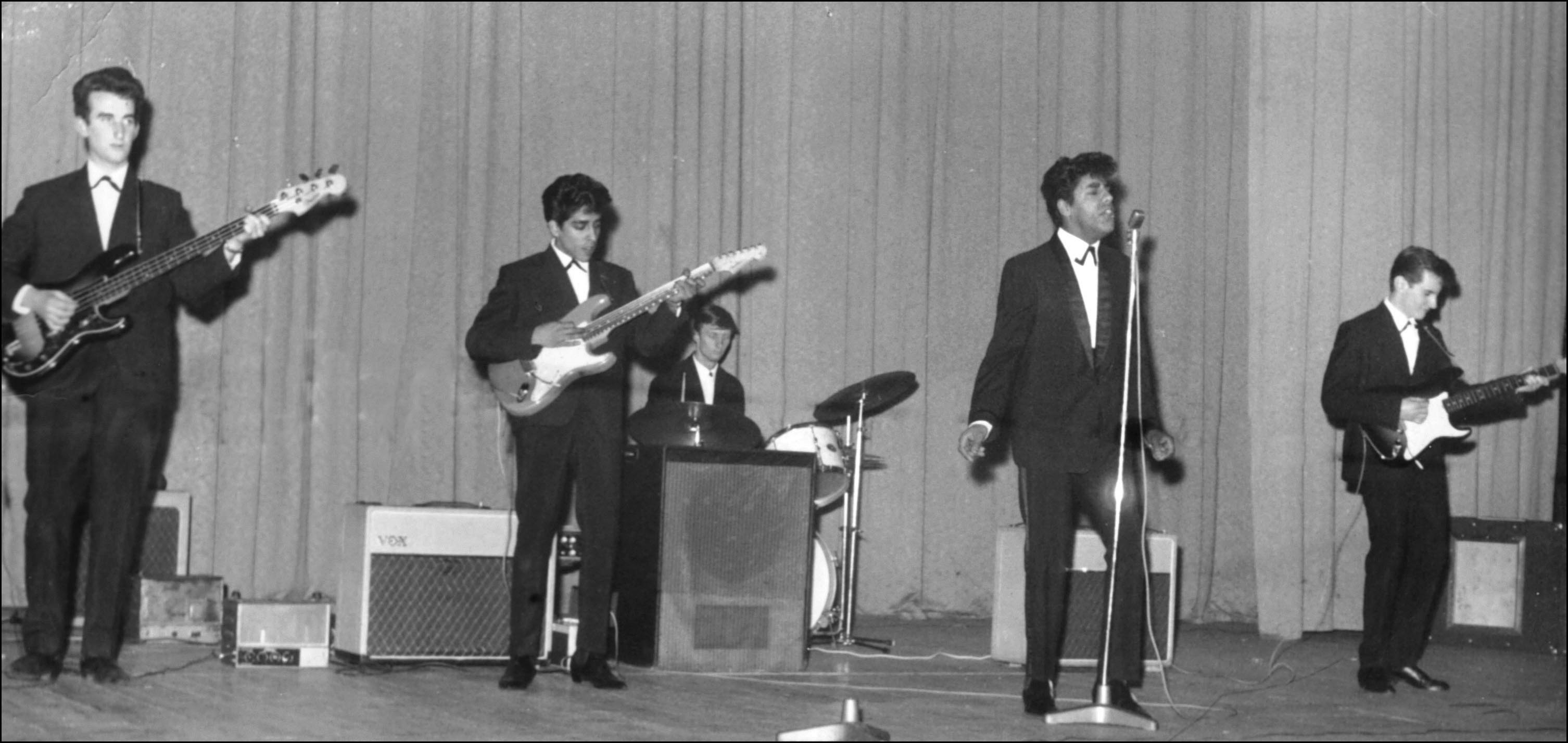 L-R: Buff (Bass Guitar), Marty (Lead Guitar), Danny (Drums), Rick (Vocals), Steve (Rhythm Guitar)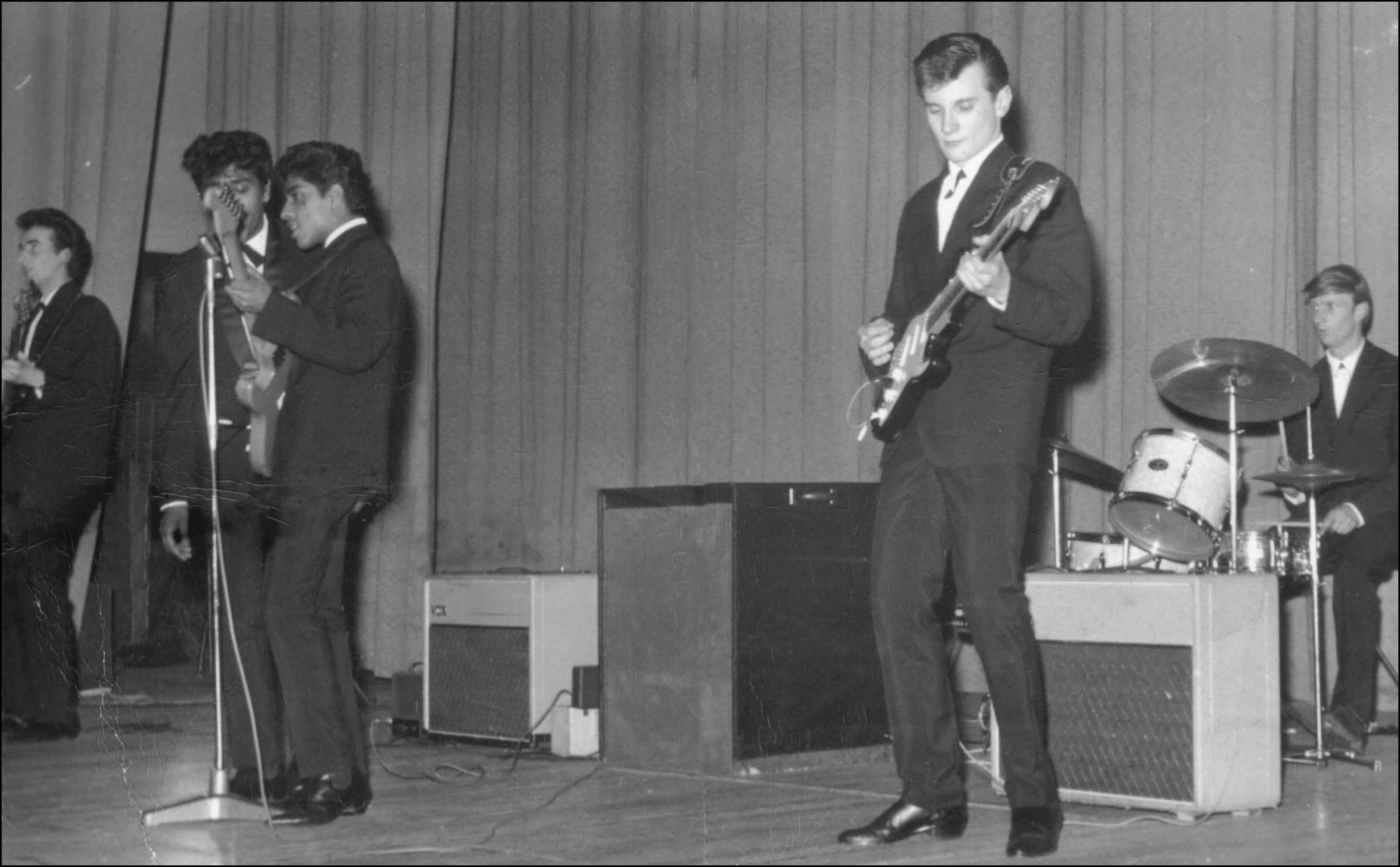 Rick and Marty sing a duet.
At a later date in '63, Marty, Buff and I had our Fender guitars customised by having the bodies sprayed white. Looking back now I don't know if that was such a good idea, judging by the prices today, of early '60s Strats. The venue here is Wimpson School, Millbrook Southampton.
That brings me to Saturday 29th June 1963, our last gig in England as a semi professional group. That night we played at Wimpson School, Southampton, before leaving the next day to travel to Germany and start work as a professional group at the Storyville clubs in Frankfurt and Cologne on the 1st July 1963.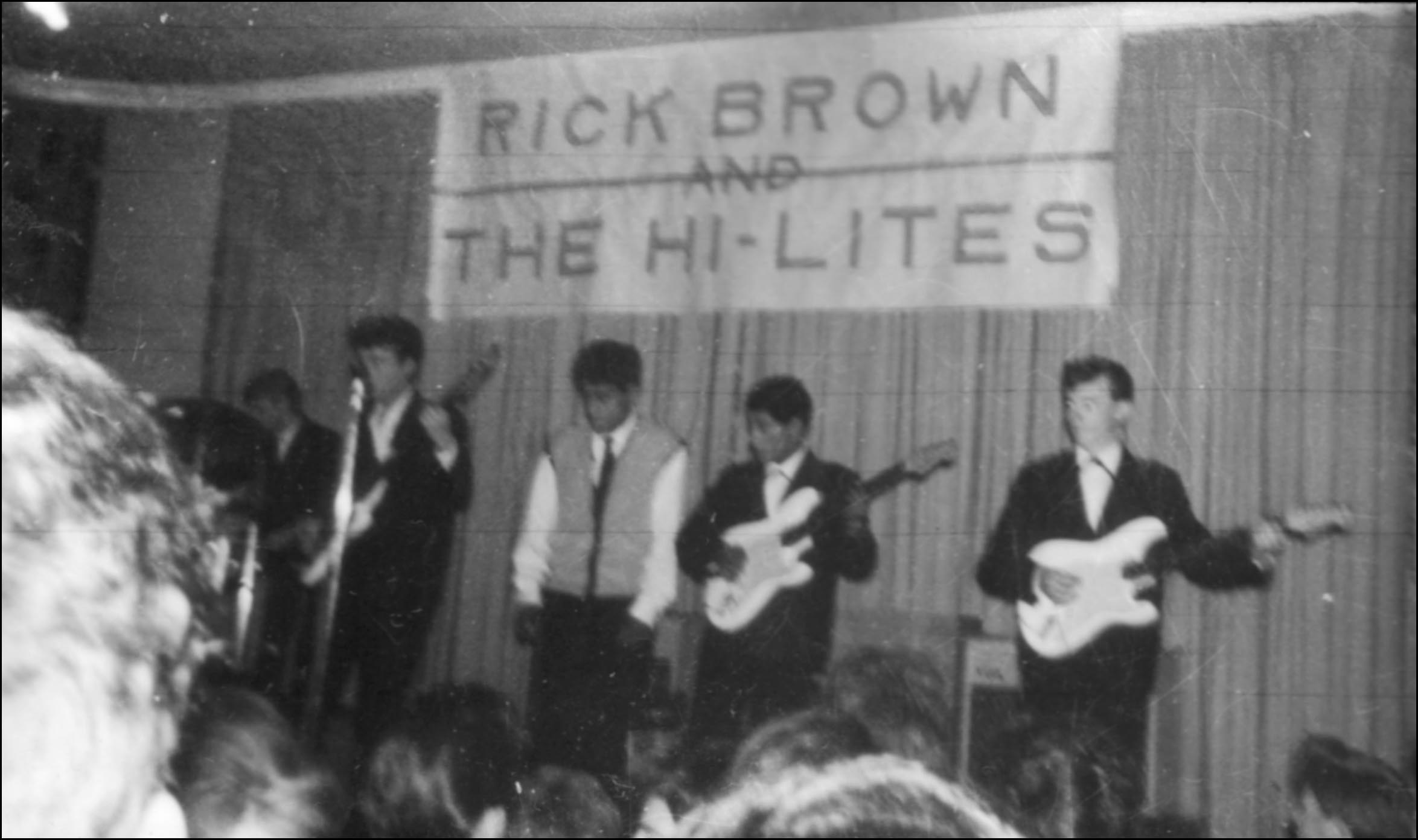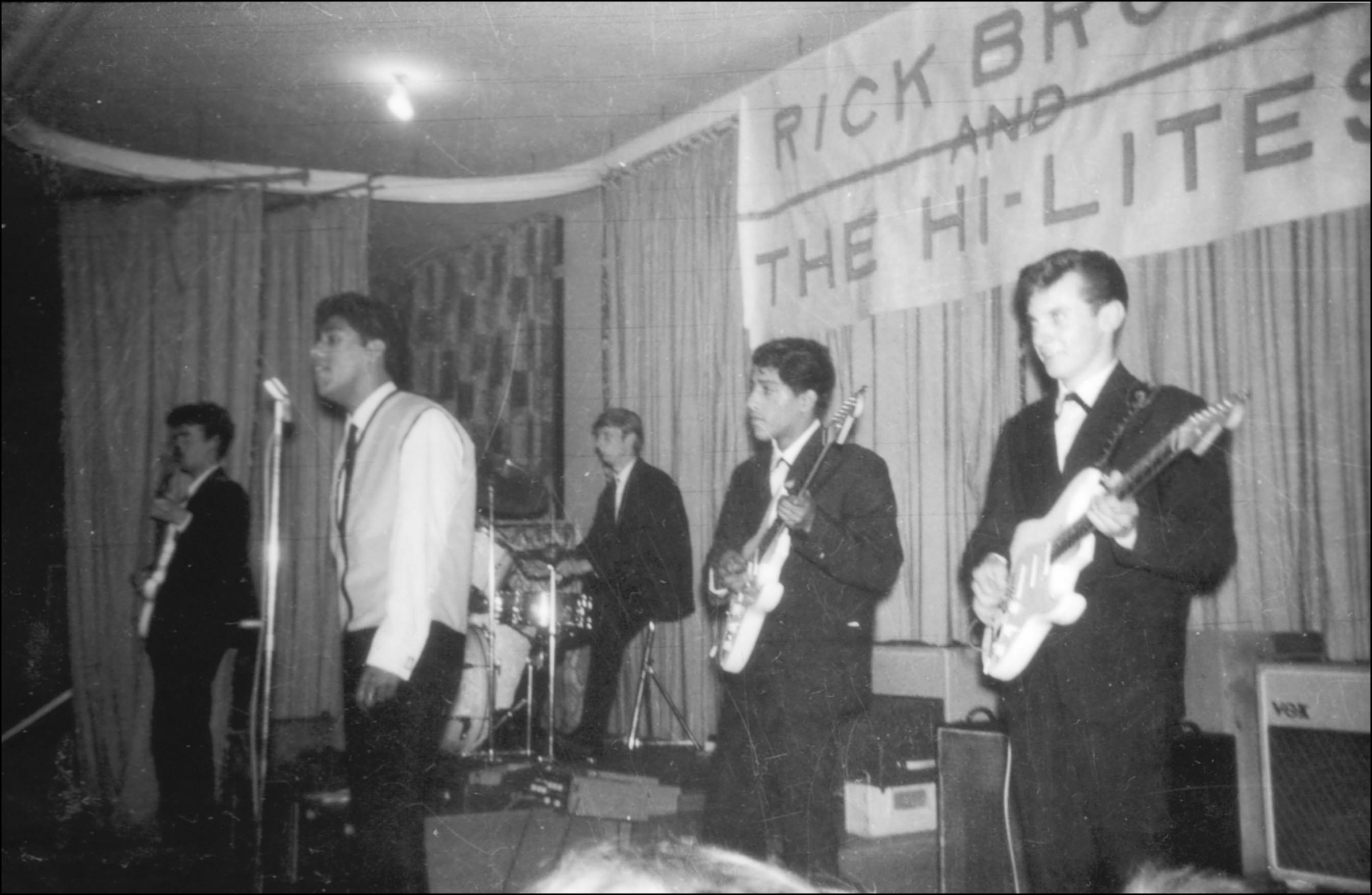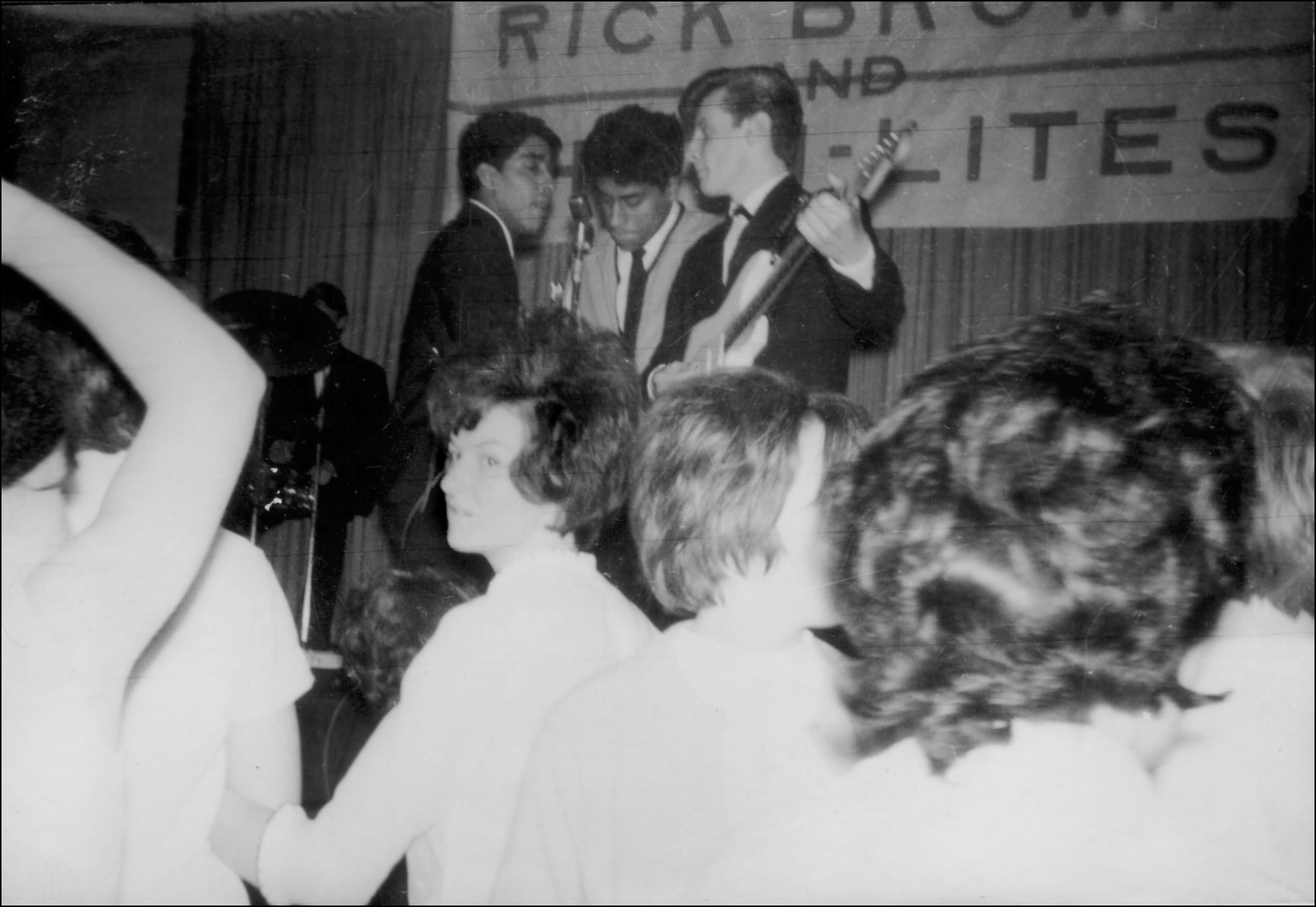 The girl in the picture looking back later became Mrs. Dimmer!
Originally, we were going to Germany to play at the Storyville clubs for one month, two weeks in Frankfurt, and two weeks in Cologne. But our contract was extended to two months, so we played two weeks in Frankfurt, one week in Cologne, and then back to Frankfurt for a further six weeks. While there, we were offered a two year contract to return to Germany to work. It was toward the end of the two months in Germany, that I made the sad decision not to return to Germany with the lads and to leave The Hi-Lites, my last gig with them being at Marlands Hall, Southampton.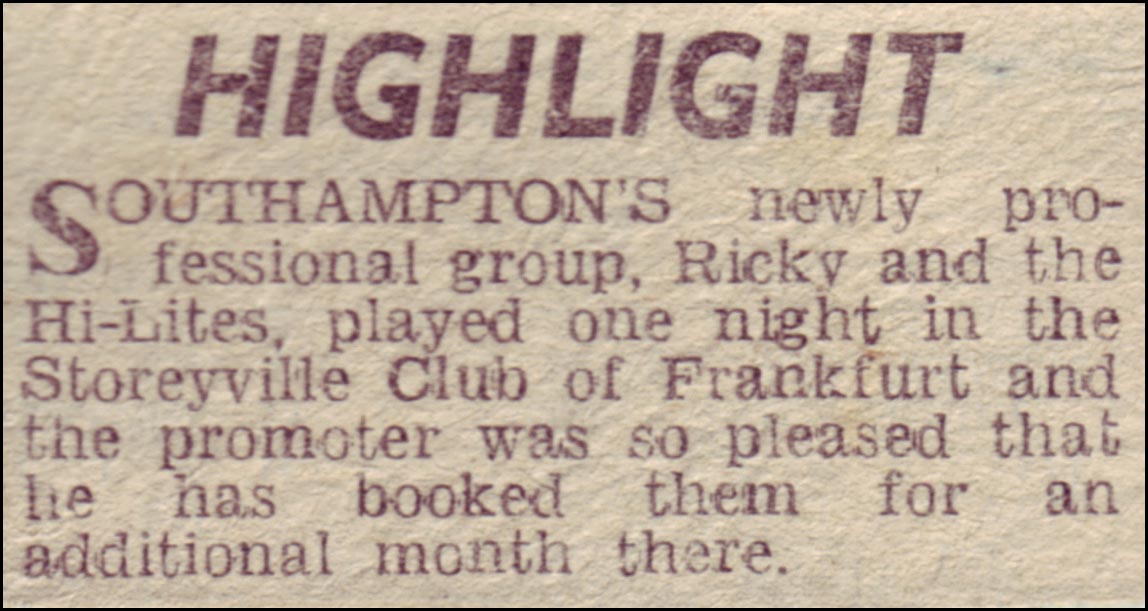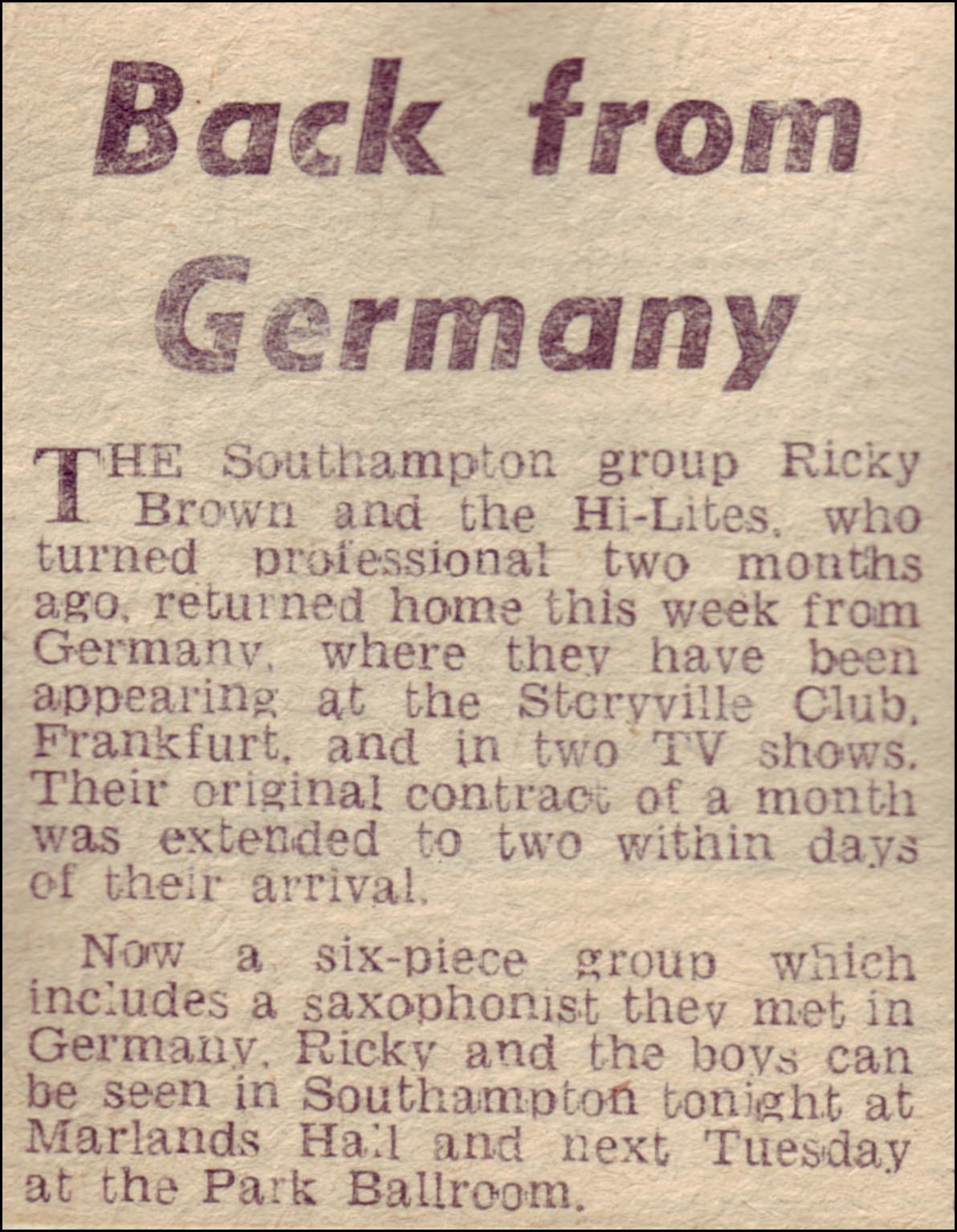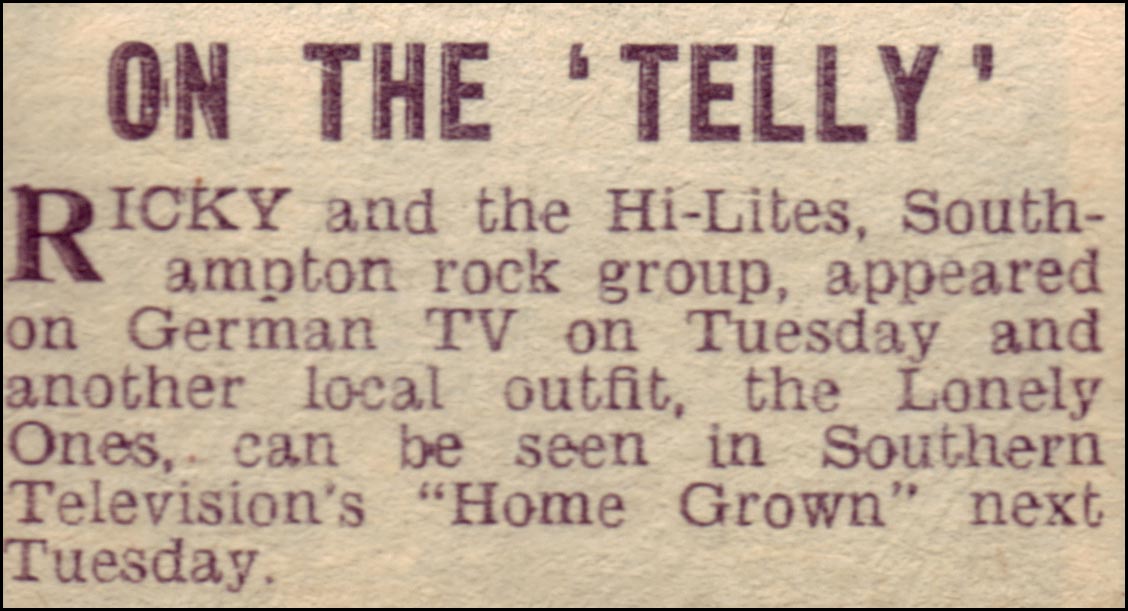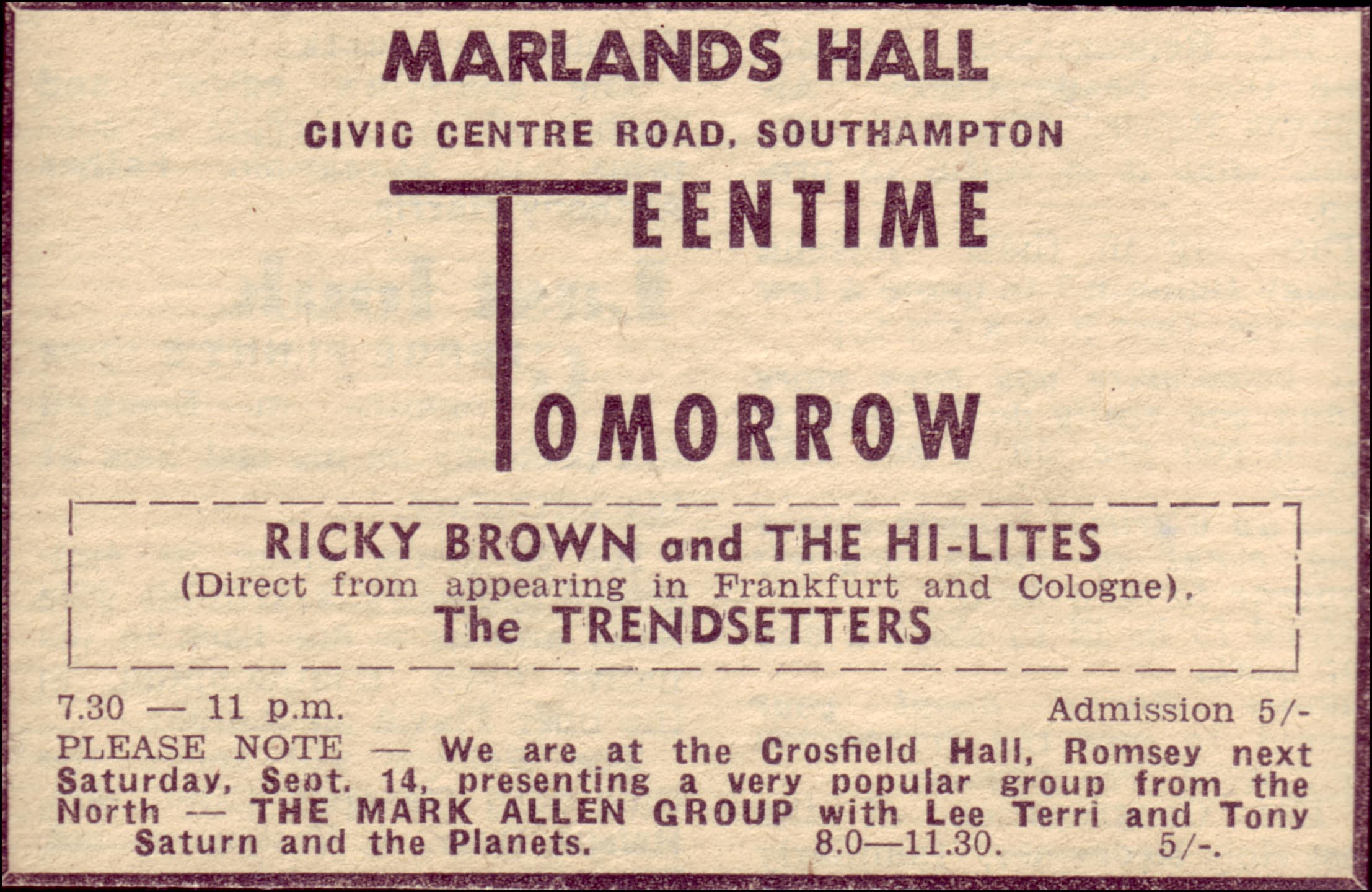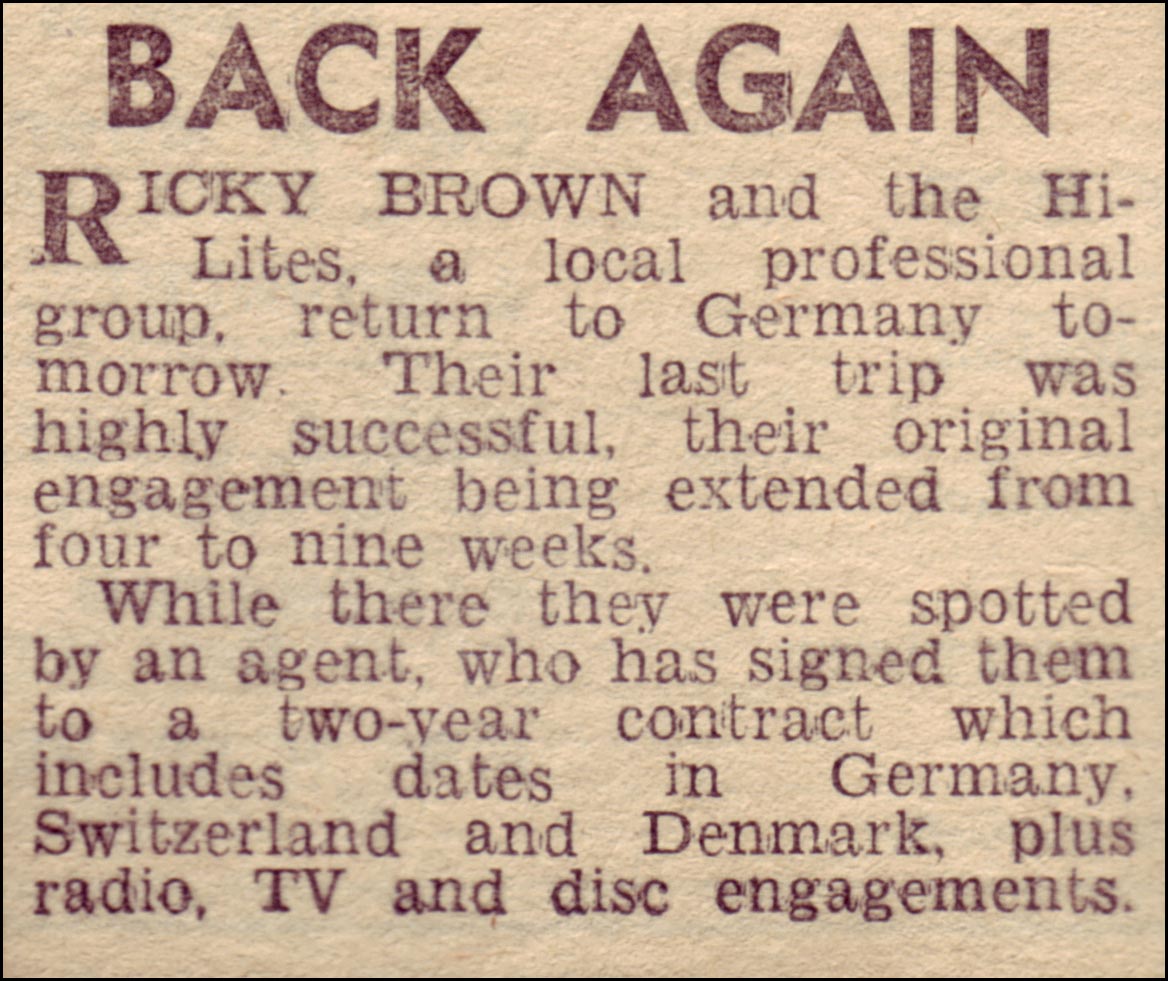 I remember after leaving The Hi-Lites, my brother-in-law asked if I would give a couple of lads from his works a few tips on playing the guitar. Always glad to help a budding guitarist, I went with him to Tom McCarthy's house with my guitar. One lad there was chuffed to bits to have a go on my Strat, and was really keen to learn the chords that I had shown him, the name of that lad was…Dave Dinnage (Beau).
How strange that a few years later, Beau would join The Hi-Lites as a bass guitarist, I hope Beau taking up the bass guitar was no reflection on my guitar tuition, but I do hope that I did have an influence on Beau pursuing his guitar playing.
Deciding to leave Rick Brown and The Hi-Lites was a very hard decision for me to make, and a decision that was not made lightly. I will always be proud of being able to say, I was a Hi-Lite, and look back with great affection to a fantastic era, being one of the pioneers if you like, of Ricky and The Hi-Lites, from 1959 to 1963, a three and a half year span working with four genuine lads, meeting some great people, having a great time and above all, being involved in the development of what was a GREAT, GREAT BAND.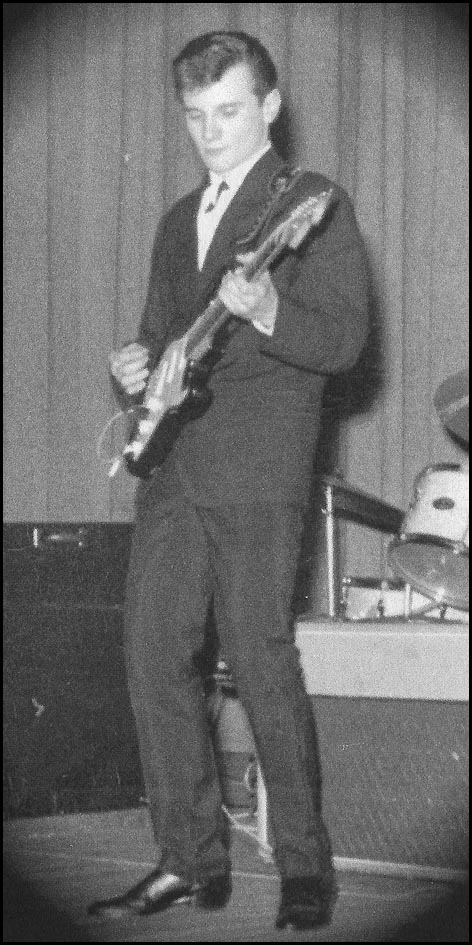 Malc 'Steve' Dimmer
The Hi-Lites Rhythm Guitarist 1959-1963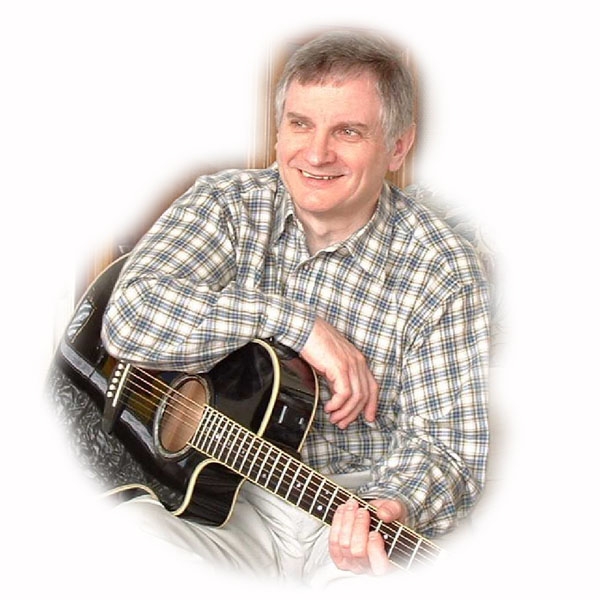 Malc 2008 - only plays for fun these days!
©Malc Dimmer 2008