Tenerife September 2009
My sister recently sent me some stuff that she had downloaded from the Internet - Call up the Groups! Very interesting, but where to start?
We went to the same school - Itchen Grammar and I remember Barrie Palmer who was a great mate of mine. I lost touch with Barrie years ago, though I did have some contact with him when he went to live in California and wrote some songs for a Ben E. King album.
Chris Shakespeare? I wasn't into soul music at that time, but still realized what a brilliant band the Globe Show were. I later even played with them, on a Ben E. King tour, when Bruce Roberts got married. The bass player (I can't remember his name) switched to guitar and I played bass. An anecdote there is when Ben E. sent a message to me through the bands manager, Dave Jay, to tell me that in one of the songs I was playing too many notes. But it wasn't Stand By Me, we all knew that one backwards, didn't we? And note for note!
What have I been doing these last thirty three years? It could fill a book, and probably one day will. The Mojos, who became Natural Birth, split up before a single produced by Simon Napier-Bell and Ray Singer was released. This was called 'Life Is What You Make It To Be' and, interestingly, a lot of people who've heard it over the years have remarked on how much the vocal harmonies - with several studio overdubs - sound very like Queen. Except this was a number of years before Queen were even formed. The split of the band can only be described as acrimonious. The greed of one of its members was to blame. And it was a shame, because at a gig with Emperor Rosko at Winchester Town Hall - to whom we gave a copy of the single - he played it on his Saturday morning radio show the following day. This was virtually unheard of in those days- the record wasn't on the BBC play list and this was six weeks before its release.
We were convinced that the record would have made it onto the BBC play list, which, as you will know, virtually guaranteed a top twenty hit. And then we thought, the sky would have been the limit. The producers thought we had what it took. There were, after all, four songwriters in the band -Stu James, Ernie Harnett, Dannie ("shame about the hair") Barbour and myself, all writing in different styles. But soon afterwards things turned sour, and bye bye 'Natural Birth' and I still believe to this day, stardom. Still, that, as they say, is the way the cookie (sometimes) crumbles... When the band split up, I was so disillusioned with the industry that I became a DJ.
I had been in the Mojos/Natural Birth something like five years, never earning any money, travelling all over the the UK and parts of Europe, sometimes sleeping in the van to save money on B&Bs. Not exactly a glamorous lifestyle, but you'll probably know all about that. Still, the groupies were some consolation...
A chain of circumstances, which I won't go into here, brought me to the godforsaken rock of Tenerife. In a three-piece acoustic group with Eddie Harnett and Glen Conway- the James Dean look-alike. While here at that time, I got to know the manager of the complex we were working in, and some six months after returning to the UK he rang me and offered me the DJ's job in the complex's discotheque.
I jumped at the opportunity. Sun, fun and free drinks and all that. I was pretty fed up with the UK as I had witnessed a society that was becoming every day more violent and selfish. The job as a DJ lasted for about a year, and then I had problems with my work permit, or lack of it, so I ended up becoming a tour operator's rep for British Airways Holidays. I looked lovely in my dress and high heels, waving my clipboard around in the airport, as I am sure you can imagine.
I continued to write and record songs on my little Tascam 4 track and basically for my own pleasure. But one of these ditties - "Love Machine", with Bruce Roberts kind of rapping - was included on a cassette which the Bruce Roberts Band used to sell at gigs. The group at that time featured Bruce on guitar, Roger Pope on drums, Ronnie Taylor on saxophone, and Fred Brown on bass.
I was particularly proud of this as also on the cassette were songs not only by the Bruce Roberts Band, but Neil Young (still one of my many heroes), Otis Redding, and John Lennon - once one of my heroes, but after an incident which I am about to describe, he ceased to belong to this club.
In the early sixties, the Beatles were playing at the Gaumont Southampton. A friend of mine and I bunked off school, and went to wait with autograph books in sweaty hands at the stage door of the theatre. The tour bus rolled up and the Beatles got off. I approached Lennon and politely asked him for his signature, he pushed me in the chest and told me to f**k off! Nice, eh? And it was this man who later wrote Imagine and All You Need Is Love??? Hypocritical ****!
Incidentally, on that same package show bill, was Roy Orbison. My friend and I were hanging around the Gaumont car park after the Beatles had arrived, and up rolled this huge American car. Roy was behind the wheel. Compared with John Lennon, he was a gentleman. He signed autographs and chatted happily for five minutes or more, before rushing off to practice his high notes. Civility, as they say, costing nothing.
Once, on a holiday back in the UK from Tenerife, I played congas with Bruce's band at a gig somewhere in Ocean Village. My fingers swelled up like bananas.
I first started my "part-time conga playing career" with Platform, remember them? Bruce, Pete Hunt - one of my all time favourite drummers - and Maggot (John Cartwright) one of my all time favourite bass players, guitar players, keyboard players, and songwriters, on bass. A brilliant little three piece! Well, four, when I was whacking out funky conga beats, too, and adding the odd harmony vocal. Their/our version of Sugar Sugar was something else! At the time I was still working as a DJ at the Adam and Eve, amongst other joints and also had my "mini, mono, mobile, mostly-soul discotheque, but whenever I had a night off I'd be there with Platform. I remember some gigs at the Sir Walter Tyrell, especially, which should have been recorded for posterity. They were that good.
Oh yes, and Bruce, Pete, and Maggot were The Wallabees, too. Well, my backing band actually, on that great (?) single on President records- "Do The Kangaroo"which sold about 80 copies nationwide, after being pilloried on his record review show by Noel Edmonds. Twat! I mean, how can you possibly respect the judgement of a man who invented Mr. f*****g Blobby??? I've always imagined that it was him who stopped it reaching the BBC play list, because it would have done well. How do I know this? I shall tell you.
At that stage of my 'career' I was working Saturday afternoons for the kids' session, and Saturday nights for the adults, at the ballroom on the end of the Royal Pier. One Saturday afternoon, the kids starting to get a bit out of control as they often did, and I told them I had invented a new dance called the Kangaroo, which consisted of, well, jumping up and down like a kangaroo. They loved it. They jumped up and down so much that I thought some of them were going to go through the ballroom floor and into the sea below
After the kids session, I went home before returning for the evening session. I sat down at my battered, old upright piano and wrote the song in about fifteen minutes. One evening during the week, Maggot and I did a demo of it in the little recording studio at the ramshackle cottage in the New Forest in which he lived in at the time. The following Saturday I played it to the kids, and they thought it was brilliant. It was subsequently recorded and released, only for Noel Edmonds to put his spanner in the works.
I'm leaping around all the place here, but to go back to Roger Pope - he and I actually played in our first group together- "The Countdowns" with Roger on drums, me on lead guitar (?), Chris Tappin on rhythm guitar, and John "Rubber Lips" Bickle on bass. We were really pretty awful, except for Roger.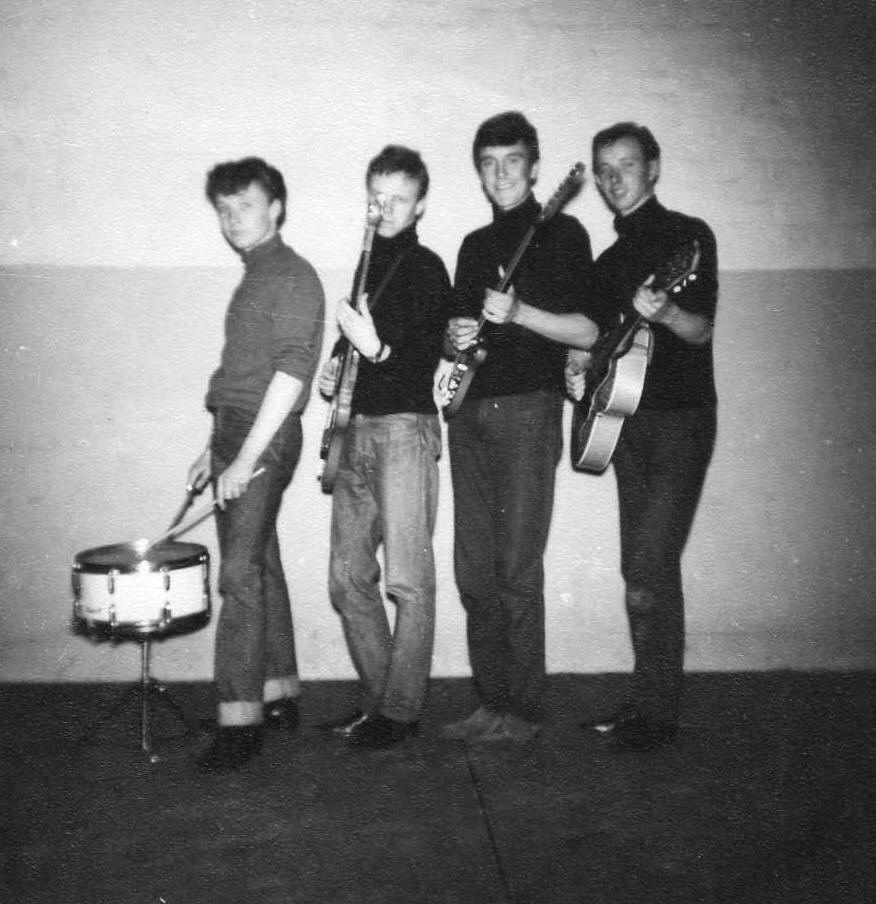 THE COUNTDOWNS
St Marks Youth Club Woolston Southampton
One Saturday night, supporting Johnny Keeping and the Lonely Ones at a dance in the school hall at Itchen Grammar, I suspected that Roger was going to be poached by them, so good was he. And he was. The rest, as you know, is history. The Soul Agents etc. And as far as I'm concerned, one of the best pop/rock drummers ever. I mean, Elton and Daryl Hall and John Oates don't just use any old skin beater, do they? Of course they don't.
Here's another amusing anecdote concerning the Southampton FC song/record from 1973. It was first written - at Bob James of Avenue Artistes suggestion - as: "We're All Off To Munich (To Take Part In The Games)" the idea being that the Olympic athletes would sing it and it would be on Top Of he Pops and we'd all make loads of money. Ho! Ho! Ho! The A.A.A., which was very amateur in those days, wanted nothing to do with it. So we were stuck with a backing track that had cost a good deal of money. It was Bob who suggested re-writing the words for Soton FC. which I subsequently did.
The club agreed to make the record, and acetates (remember them?) with me singing the song, were sent to all the players so they could learn the ditty. On the big day I went up to London in a car with Bob James, a producer from Southern TV and 'Saints' legend Mick Channon - one of my footballing heroes. A lovely guy but let's just say that his academic level didn't quite match his skills on the pitch during his glory days………
At the studio, we discovered that none of the players knew the song. The only player who had a record player (?) was Terry Paine and he didn't bother to turn up. He was too busy practising his dribbling - you should have seen the state of his shirt afterwards.
So, there I was, hair halfway down my back, the scruffiest person for miles around, teaching the players the song by playing it on the huge grand piano in Phillips studio. The recording completed, Dave Dee walked into the studio and commented "Who wrote this f******g crap?" I had to own up. I mean, I knew it was f****g crap, but I didn't need him telling me, did I? I was just glad he didn't have his whip with him!
Anyway, I made a bit of dosh out of that "f*****g crap" and became fairly friendly with several of the players, Hugh Fisher in particular. Just to end a truly wonderful day, Bob James was staying the night in London, he hadn't told me this earlier, so, being broke, as always, I had to get him to lend me the train fare home. Back to reality as it were... Oh, and if it helps, The Wallabees single came out in 1972.
Anyway- to the present. I now teach English, and am writing a lot of stories, not songs. Stuff for older children mostly, but a bit cutting edge, and I'm crossing my fingers that a literary agent a friend of mine knows will be able to help me to get some of these stories published. I have in fact written five books. You have to, to learn how to write.
Well, that's enough for now, except to say that if you go on the Internet and punch in The Sh*t Song, you'll be able to hear the song and watch the video, which a friend of mine in the UK made initially without my knowledge. (The * in the title of the ditty on Internet is actually an "i"). This was another ditty recorded on my small, four-track Tascam. I hope some of these memories are of interest to you, there are of course many more
Regards,
Duncan Campbell