BACK TO HOME PAGE BACK TO SITE MAP CONTACT DAVID
David St John presents:
CALL UP THE GROUPS 7
*Loads of pics - let it load*
COPYRIGHT
Please note that many images contained within this website may be subject to copyright, although many have been kindly sent to me and intended to be shared on this non commercial outlet. If anybody wishes to use any of the same, then please get in touch as well as possibly giving credit where due as well as setting up reciprocal links if relevant to the actual content on any webpage. Please note that I am able to monitor any image-copying and if published on other websites. I would appreciate any contact to report broken/outdated links and any corrections to the text that accompanies any images herein. Thank you and enjoy!
July 1 2009
Here we go again! If you are familiar with my website and its Southampton music based pages you will probably know that it has been a never ending update over the last few years. Time after time, I get old friends digging up rare photos and background info on all aspects of the 60s music scene as well as new 'old' contacts who surface and make their own contribution. Please enjoy this latest page and keep coming back to see what new stuff crops up as it's like the old cliche about painting the Forth Road Bridge.
Another old pal Tony Collier is another in a long line of Southampton based musicians who has been playing with many bands across many years including one of the finest 'Wishful Thinking.' Classy group with terrific musicianship and fronted by the former Kevin Scott (and the Kinsmen) who changed his name to Danny Finn when joining million selling act The New Seekers during their 70s period. Danny also married original lead vocalist Eve Graham ( long dark hair) and they are still both active in the business, from their base up in Scotland.
Check out this link for more info: http://www.thenewseekers.com/new_seekers_web_site_251.htm
I received this e-mail from Tony Collier along with some more amazing photos, posters and info on many people so it's a pleasure to share these via this webpage. As usual- if YOU have any info/pics then please get in touch with me.
Hi Dave, Tony Collier 'ere,
Just a long short medium note that may be of interest to some old gits like me. Me myself and I from "The Strangers" and young Kevin (Finn) Scott, from "The Whirlwinds" and "The Kinsmen" and "The Time" are actually back working together again. Yup, along with John Franklin,our guitarist, we have got "Wishful Thinking" going again after being apart for more than 150 years. Being serious, we are very often in touch with each other. Just last year, we all met up together at a beautiful villa down in the Dordogne, in France, and kicked a few ideas around and the outcome is, that we are writing and recording some new material along with some older stuff. Being down there gave us just the inspiration to really get something done. Brian, our drummer was with us, but unfortunately, he has since decided to duck out of the fun. The three of us are really havin' a ball. It's just like " The last of the summer wine".
Three old gits getting back our youth....How much fun is that ? I'll tell you.. It's bloody fantastic....John and me and our wives, Sue and Teresa, went up to Scotland to stay with Kevin and Eve in January and not only did we have a great time, we got a lot of good material sorted out which we are in the middle of recording at John's 'Lakeside Studios'. I'm still heavily into photography, which is quite handy, although most of the pictures are of John and Kev, because I find it difficult to press the shutter and then get the Zimmer going quick enough to get in the photo myself. Maybe if I use a slower shutter speed..... I thought that you would appreciate that, being a lensman yourself....
We also have a website under construction and although it's not quite finished, there is already a lot of info and photos on there, including some music soundbytes that can be played with the Gallery. www.wishfulthinkinggroup.co.uk It should be ready in about a month..
About 2 or 3 years ago, I promised to send some old pix and posters. Well here they are. I don't like rushing things. They include old muso's and some of the gigs that we used to do. Use or dump whatever you wish. I will contact you again in less than three years, hopefuly. Regards to any of the 'Old gits'.
Best wishes. Tony Collier.
Once again - a great collection of old photos sent to me and I'm sure you will enjoy more tantalising glimpses as we go back to that great time when life was so much more fun and care-free! Tony Collier first 'real' group was The Strangers who played their own gigs as well as backing many solo acts such as Barrie James (see Groups 1 page) and many more, such was their musicianship and versatility. Like so many acts, they appeared at the Royal Pier and many more local and national shows across the country as well as appearing alongside many top names of the era. These are just some of the early photos and memories and I'm sure they will jog a few memories of your own if you were lucky enough to have been part of it all from either side of the footlights!
THE STRANGERS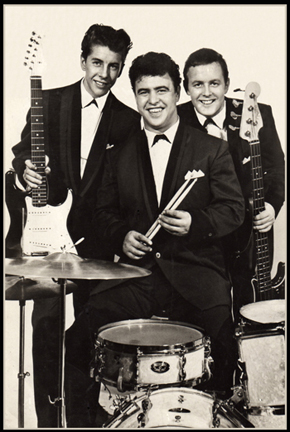 Tony Collier 'Fergy' Brian Oram
The drummer was Brian Ferguson but always known as 'Fergy' and was one of the Three Stars who backed me at the Royal Pier in 1958 as I started out as a ten year old rock n roll singer thanks to their manager Len Canham. A terrific musician and nice guy but sadly died a few years later in a freak accident when falling off a decorating ladder.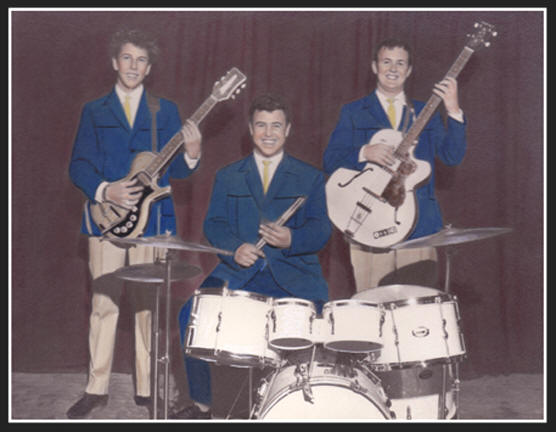 The Strangers 1961 - a hand painted photograph!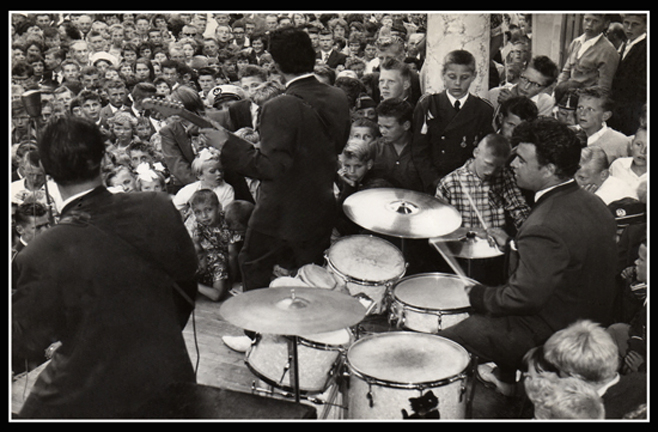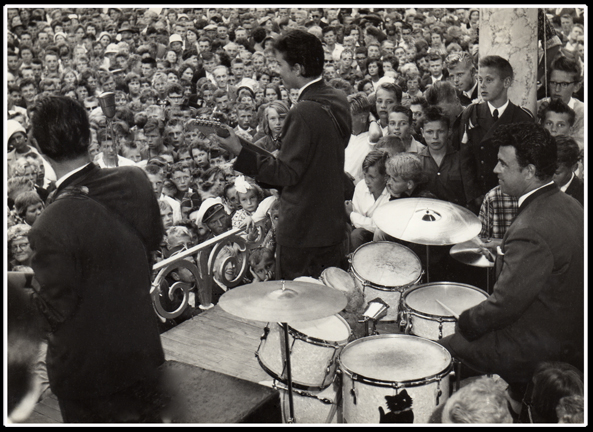 DANNY HUNTER/THE STRANGERS - TOUR OF NORWAY 1961 some 15,000 people!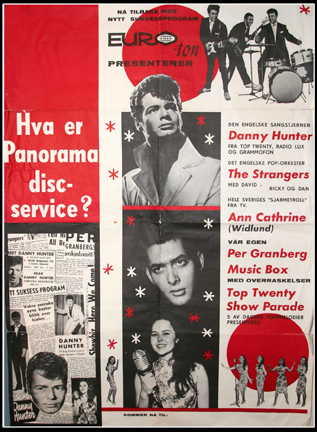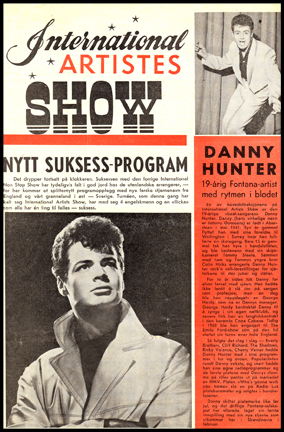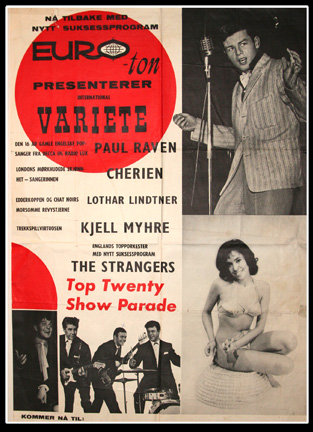 Note singer Paul Raven- do you recognise him? See bottom of the page and see what happened to him!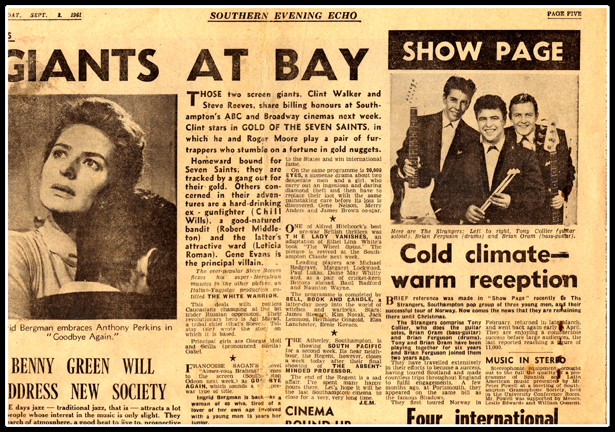 Local Echo press cutting about Norway tour
The Strangers with Shirley Gaye and Barrie James 1961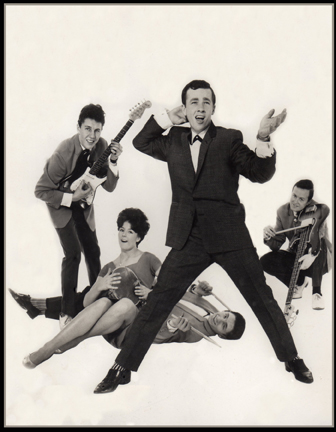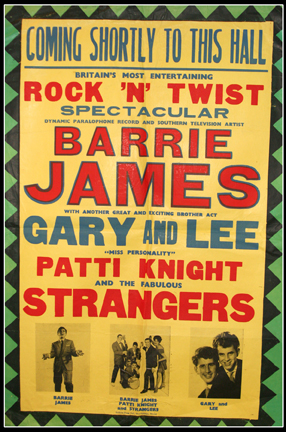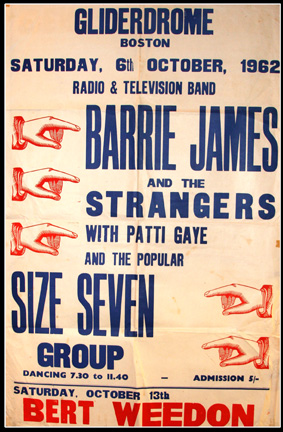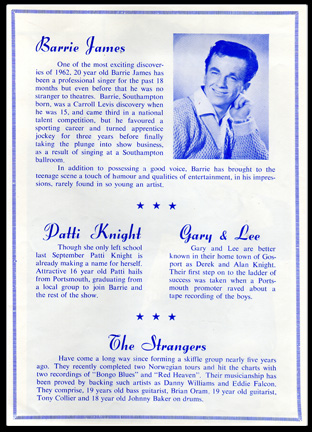 Programme - Jet Harris Tour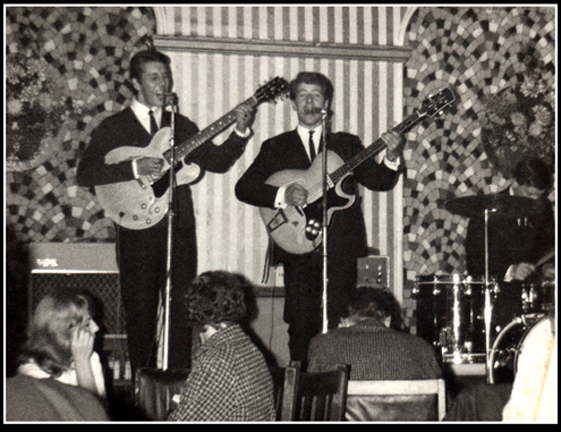 The Railway Hotel Woolston Southampton early 60s
(later The Woolston, then Bridge Inn)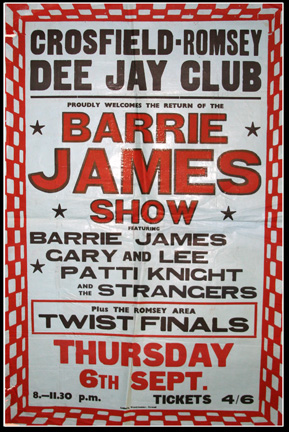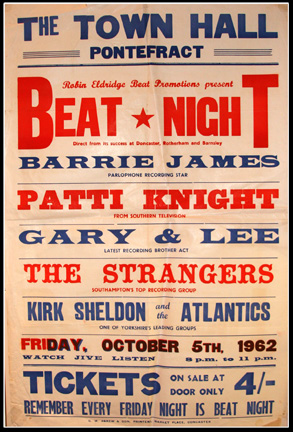 Hampshire Yorkshire!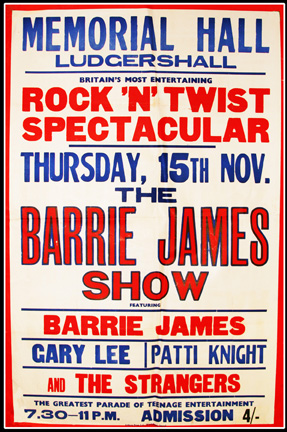 The group also featured Fred Funnel (great name for a Southampton lad!)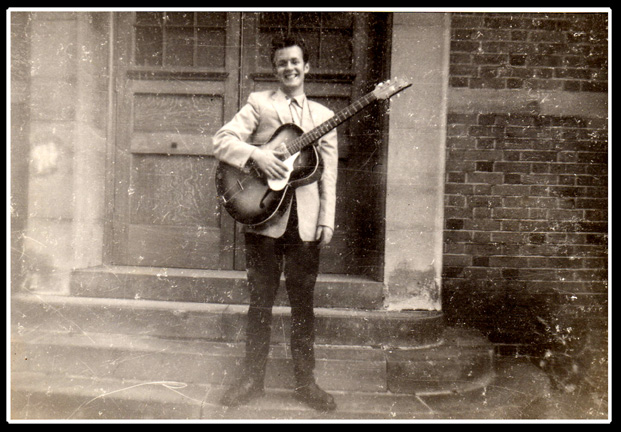 Fred Funnel- Eastleigh Town Hall 1959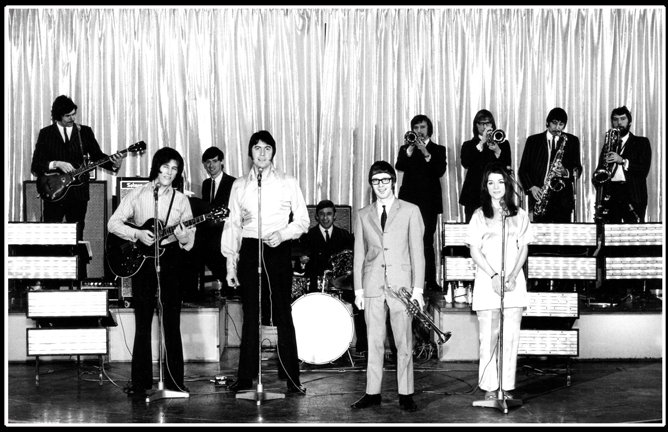 Top Rank Suite Southampton House Band 1968- front line-Tony, Tony Averne, Pete James Janice Ross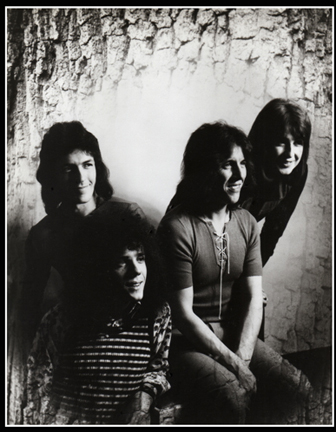 WISHFUL THINKING
Pete Ridley John Franklin Tony Collier Kevin Scott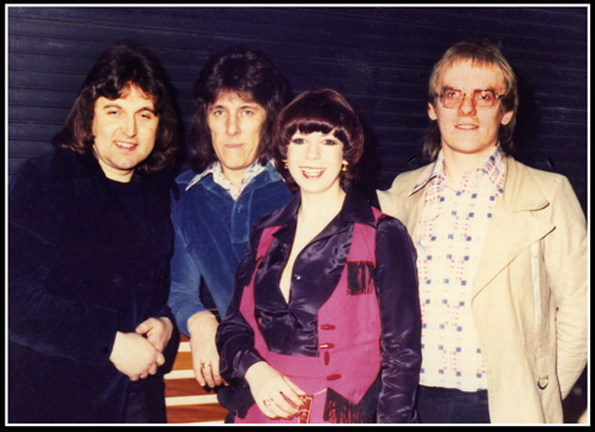 'CRYSTAL'
Mick Dubiel Tony C Lyn Barber Brian Wright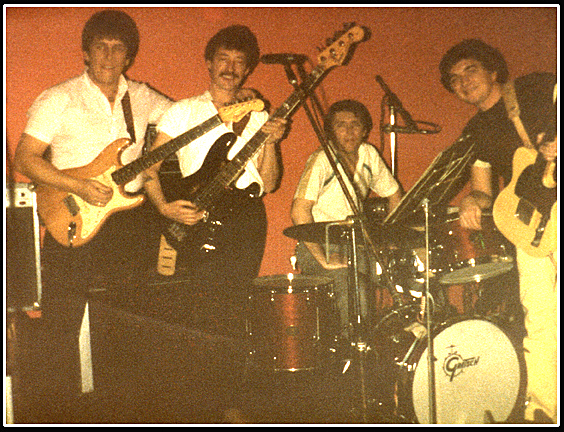 GOLDRUSH
Tony Alan Mick Roy Perry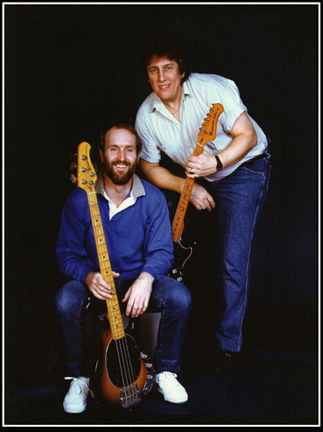 'BILLY WHIZZ' DUO
Bob Phillips Tony
.............................................................................
Thanks to Tony for supplying these old photos and I'm sure that more info will be added to this page as and when more people read it and maybe contact me in the near future. He is very keen on taking photos and I have forced him to send a current picture and it's a self portrait! Please return to this page now and then as news of the reformed Wishful Thinking takes shape and maybe we will see them performing back in Southampton after some 40 odd years.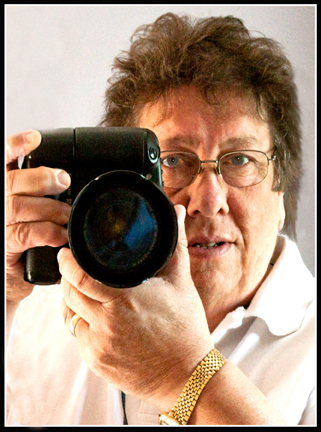 TONY COLLIER 2009
David Bailey - eat your heart out!
Pop poser: PAUL RAVEN (Norway 1961) Playing to all those kids. Changed his name in the Seventies to...................................................................................................GARY GLITTER!!
BACK TO HOME PAGE BACK TO SITE MAP CONTACT DAVID
© copyright David St John 2009