BACK TO HOME PAGE BACK TO SITE MAP CONTACT DAVID
David St John presents:
CALL UP THE GROUPS 6
*Loads of pics - let it load*
COPYRIGHT
Please note that many images contained within this website may be subject to copyright, although many have been kindly sent to me and intended to be shared on this non commercial outlet. If anybody wishes to use any of the same, then please get in touch as well as possibly giving credit where due as well as setting up reciprocal links if relevant to the actual content on any webpage. Please note that I am able to monitor any image-copying and if published on other websites. I would appreciate any contact to report broken/outdated links and any corrections to the text that accompanies any images herein. Thank you and enjoy!
QUIZ QUESTION: Can you identify this photo?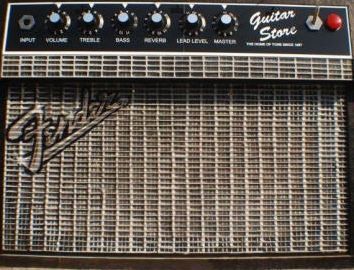 Answer - see bottom of this page
May 2008
Yes folks - another new page of memories which take us all back to those far off days of the Swinging Sixties! This is yet another webpage containing info and photos sent by a wide variety of people from all over the world as more and more surfers find this website which started life as a one page promotional effort to publicise my main professional comedy career! Over the years, it has grown into a modern history archive of the Southampton area and its music makers of yesteryear so it has provided so many people with the chance to wallow in nostalgia. Please have a good read across this whole website and perhaps YOU have just discovered it and maybe involved in some way? If so, please get in touch and I may be able to add your own contribution at a later stage?
Also, I have often had mail from many people who have kindly corrected or added more info to whatever band I have featured so please keep it all coming! A major spin-off from my website can be looked at on the new 'Movie' webpage- just go to Site Map to learn about an exciting documentary project now in pre-production.
I have been adding info on so many Southampton based groups over the years and I hope you have enjoyed reading these various pages. It's been hard work but worth it when getting feedback from fellow musicians and new contacts who find this new way to hook up with former band members and long lost pals. You will have hopefully read my pages based on the legendary Concorde Club and this top venue hosts many great acts of all varieties, including a recent visit by one of the very first r&b bands to perform at the old Bassett Hotel during the early 60s. None other than the Manfreds, although no longer associated with Manfred Mann but fronted by the multi-talented Paul Jones who was born in Portsmouth. Paul used to sing and play blues harmonica with several jamming bands on the London scene including the seminal Alexis Korner band from which the Rolling Stones sprang from - in fact Brian Jones wanted Paul as their frontman but Mick Jagger was finally chosen!
Fellow members of the early Manfred Mann line-up were Mike Hugg from Andover and Mike Vickers from Southampton so at least Southampton could boast some success along with local lad Paul Jones! You can find loads of info by clicking on this photo-link:
The Manfreds 2009!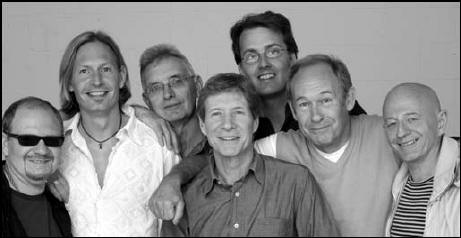 L-R Rob Townsend Marcus Cliffe Tom McGuinness Paul Jones Simon Currie Mike D'Abo Mike Hugg
photo-courtesy-themanfreds.com
or
Paul Jones website: http://www.pauljones.eu
The Manfreds 'Let 'em Roll' tour visited my local theatre and I managed to contact Paul Jones as I was hoping to have a quick chat about my Southampton music project as well as catching the show. He very kindly called me and arranged a visit so I was able to meet up with him during the interval - here are a couple of photos: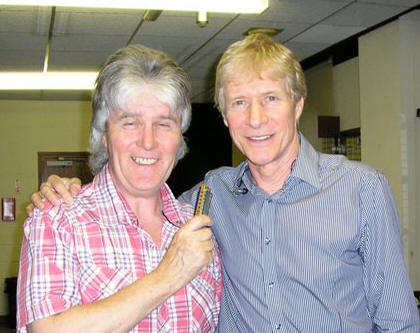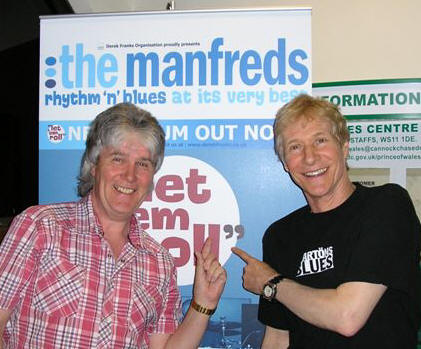 Backstage + harmonica! 'Let 'em Roll' tour poster
The show featured a great mix of classic Manfred Mann hits plus terrific blues tracks which got the whole place jumping - the musicians were superb plus Paul's showmanship and harmonica work to the fore. We chatted about the early days around the Southampton music scene although Paul had moved up to London to make headway and the rest is history. He looks and sounds great - it's amazing how much enthusiasm and passion he exudes after some 45 year at the top but this business keeps some of us young, whilst others fall by the wayside and become victims of the excesses that go with the job! It was also great to meet with Shirley who runs the Manfreds merchandising side on their tours and she was kept busy with selling the CDs, DVDs posters which were all signed by the band as soon as they came offstage. They stayed for some while, chatting with many fans and posing for photos - many of them bringing old LPs to sign, not having had a chance all those years ago when the band had to be smuggled out of venues to avoid being mobbed!
I also saw the Manfreds Autumn Tour back in 2008 on a fantastic tour, featuring Paul Jones and Mike D'Abo plus guests Alan Price with Maggie Bell at the Birmingham Town Hall! The audience was a great mix of ages and the atmosphere was amazing as well as proving that the Sixties is still valid in these modern times. Great commercial hits plus authentic blues - what more could you want? This is the autographed programme: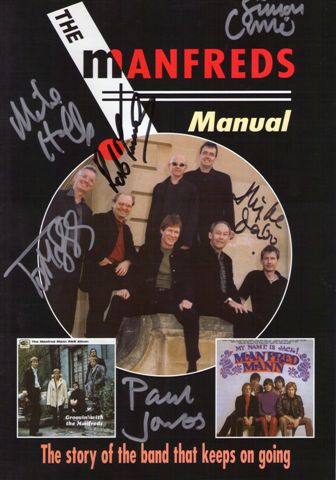 MANFREDS 2008 TOUR
Paul Jones also hosts his own Radio Two Blues show on Mondays at 7pm and well worth catching it - anywhere in the world via the BBC website if you are not in the UK. The show can also be heard for seven days through the same site.

27 May 2009
Received this e-mail from John Bickell and copying it straight onto this page as it revives memories of one of Southampton's finest 60s bands The Countdowns/Daisies. Many will recall the Daisies' old jalopy of a van painted with the flowery emblems that advertised the long haired lads as they cruised around the local streets! The basic information from my copy of 'Southern Roots' that amazing compendium of information started back in 1980 shows the following information on this popular band.
The S.R lineup shows:
Ray Taylor (vocal/harmonica)
Roy Perry (gtr)
Graham Medley (bass)
Mike Rowthorn (keys)
Tony Taylor (drms)
'Formed from the remains of the old Countdowns by Taylor,Perry and Medley- they were a long haired 'underground' outfit that were Southampton's answer to the Pretty Things! In fact, Phil May of this terrific London based r&b band gave them their name. Taylor later went on TV and had his flowing locks shorn off for a publicity stunt"
Here is John's mail:
Hi David
Brilliant website, great work! It's brought back some memories I can tell you! I came across the site while trying to trace what happened to Roger Pope since I last saw him at the Mojo Club in Sheffield when the Steam Packet were just starting up. As you'll see, Rog & I go back a long way. I'm sure you and I must have crossed paths at some time as I also used to hang out with Rog at his Julian Road bungalow. I can clearly remember Diane and their Dad who I think had been a dance band drummer in his day. Anyway, reading your comprehensive notes has prompted me to provide some additions & corrections to the Groups 2 page: The Countdowns started life in 1960/61 when I was still at school . The line up was Rog Pope, me, Duncan Campbell, and Chris Tappin. I remember playing (mostly free) at St Mark's Institute in Woolston and some Bitterne / Sholing venues - mainly instrumentals only as we only had one mike and couldn't sing anyway!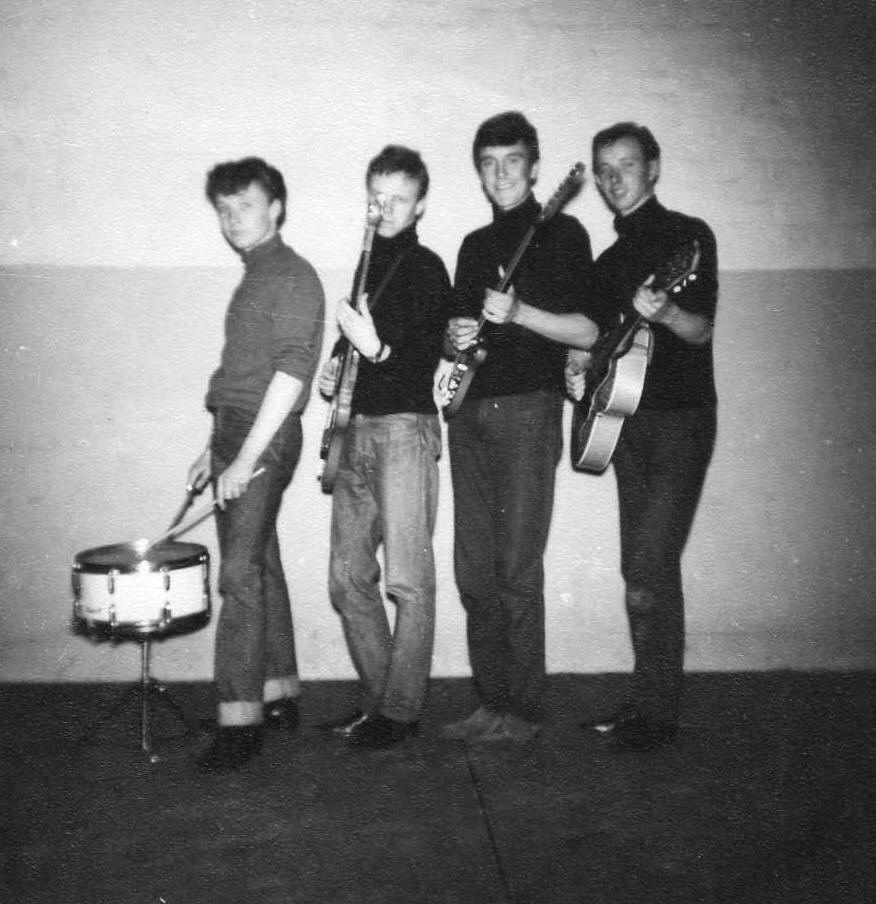 The Countdowns (early days)
Around 1962 we evolved into the smarter line up with suits and vocals in the other photos: Ray Taylor (vocals - don't recall him being able to blow a harmonica!), Rog Pope (drums of course), John Hatch (guitar), Mike Rowthorn (electric piano) and me on bass (not Graham Medley). Like most, we ended up on Avenue Artistes' books. We eventually rebelled against the suits and went for the paisley shirt / leather waistcoat look as The Daisies.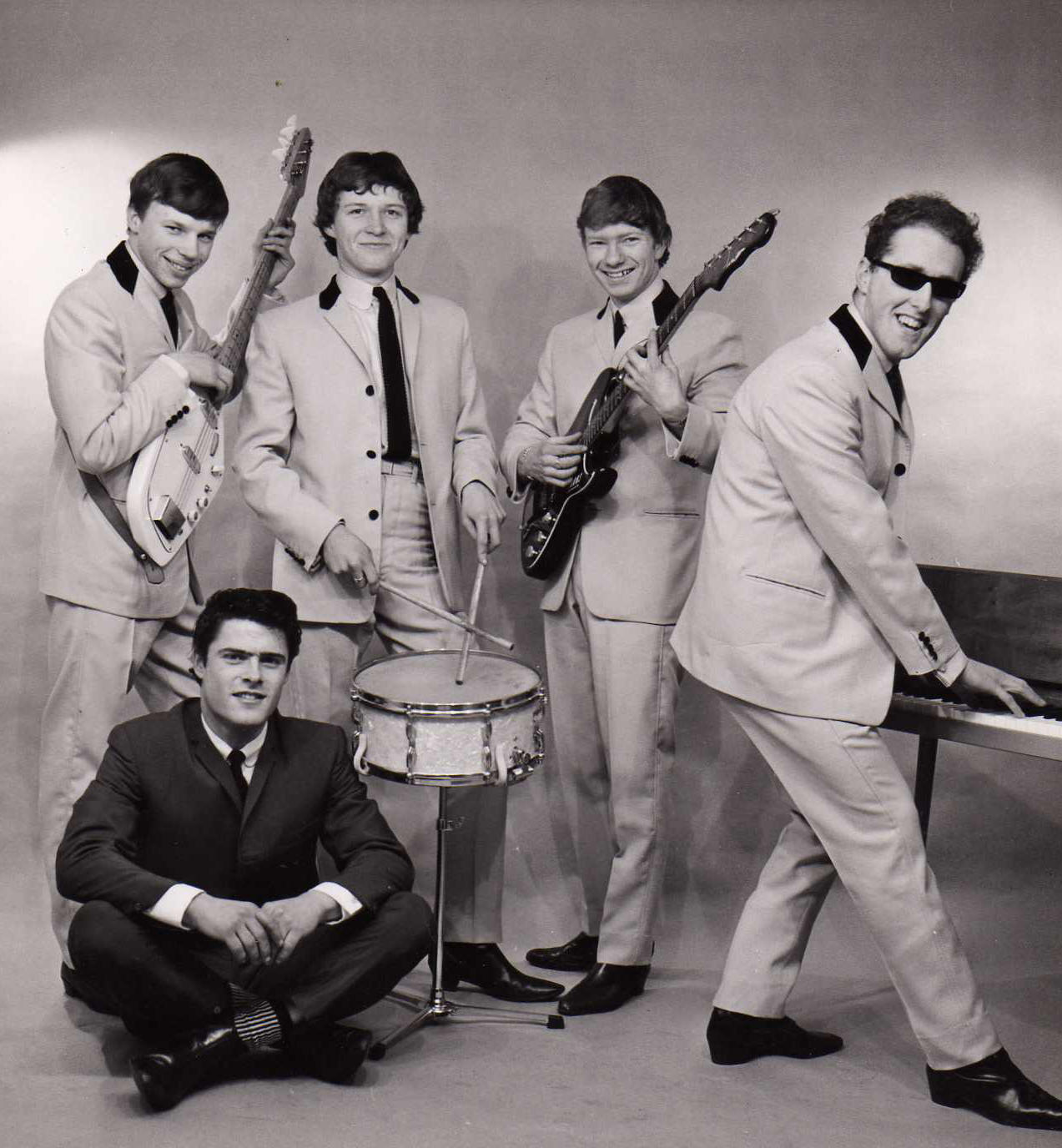 Countdowns 1962 (Avenue Artistes Management)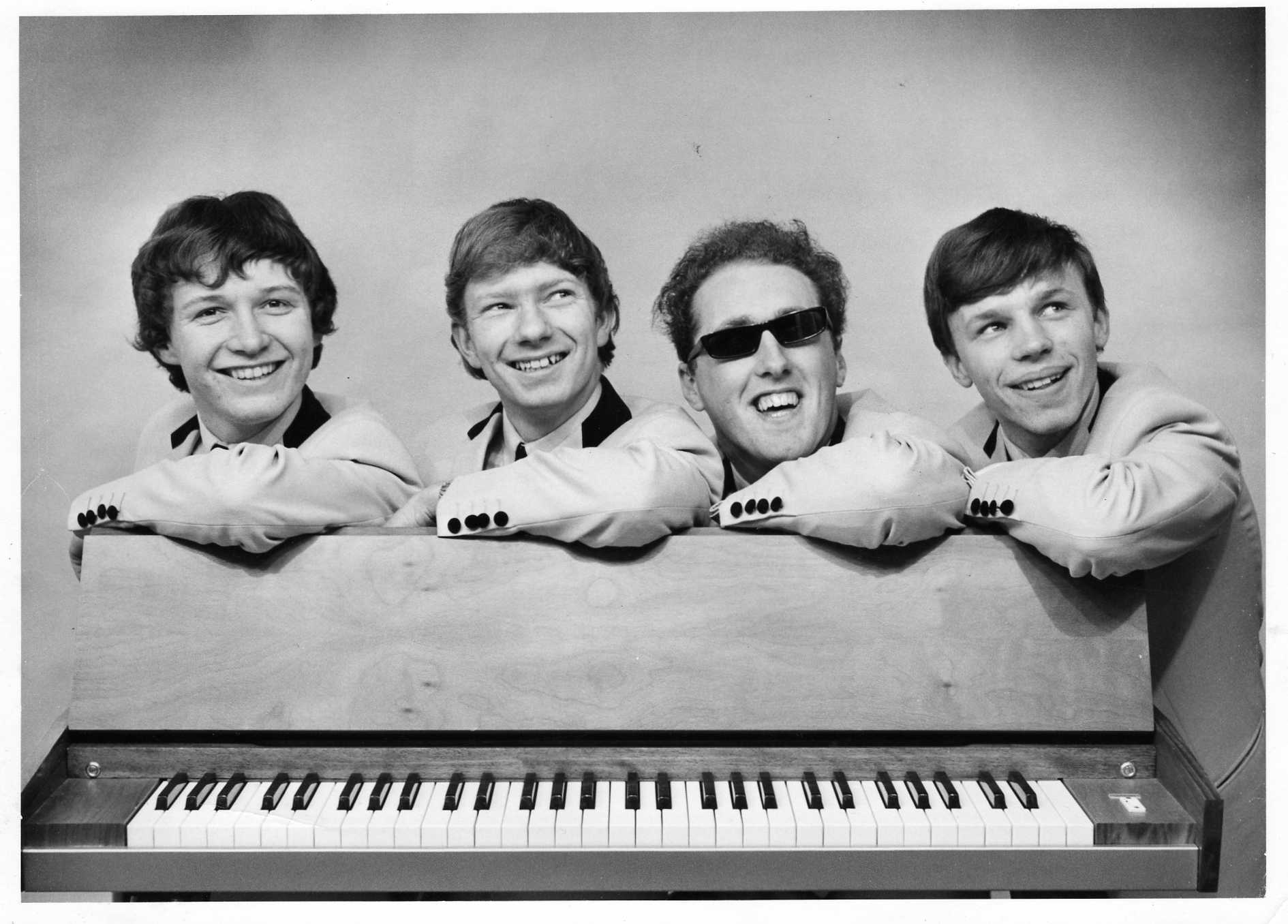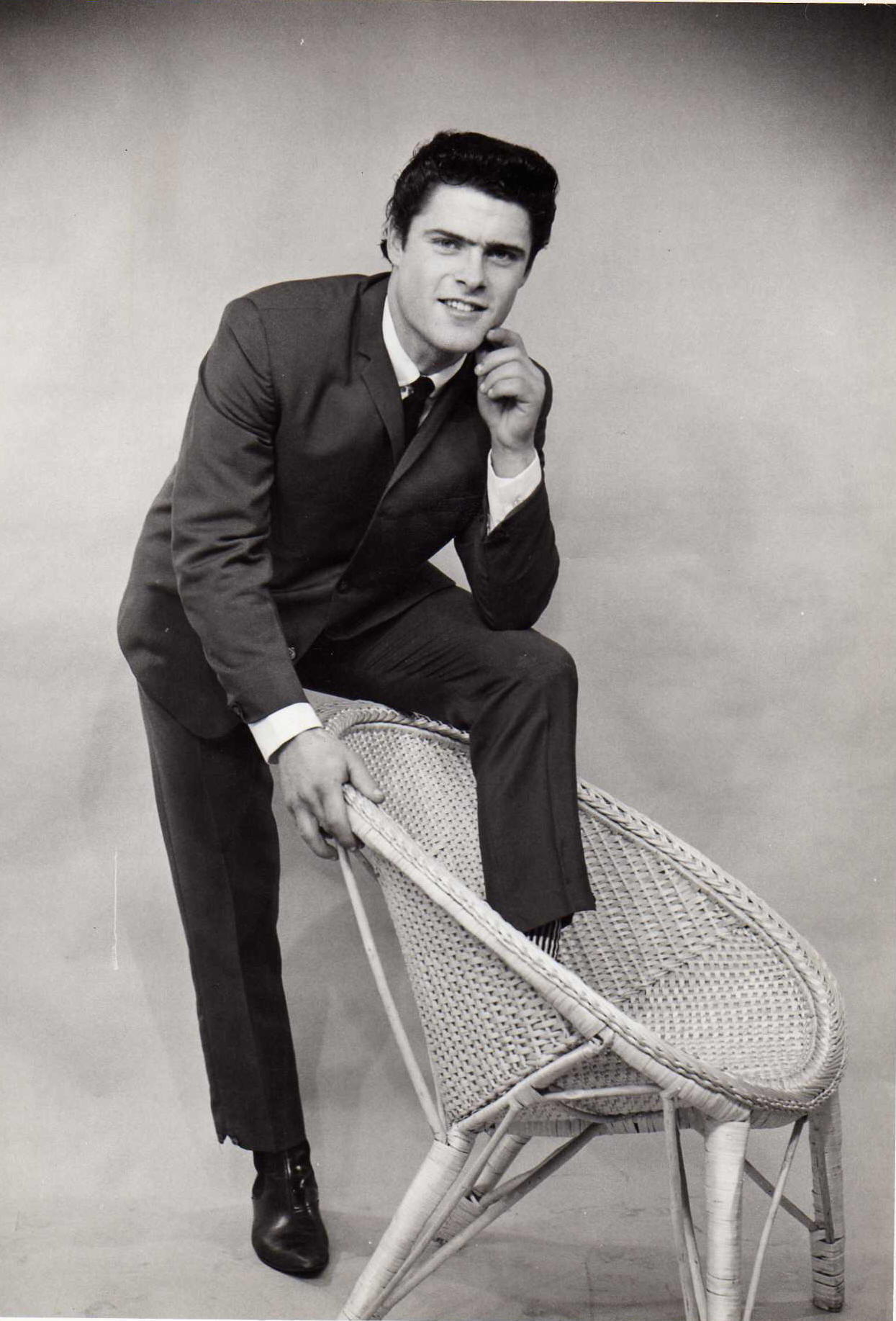 The 1964 poster in your biography page reminded me that I think Ray Taylor wanted us to be The Fairies but the name was already in use - just as well, "Daisies" was bad enough. Around this time Rog Pope was nabbed by the Soul Agents (backed Rod Stewart) Also Johnny Hatch left, possibly to join The Missing Links as in the 2nd photo on your page - he's 2nd from left in that. Johnny Hatch was replaced by Roy Perry (sad to read that he died). Rog Pope was replaced by Tony Taylor from Winchester, although I think we must have had some guest drummers in the meantime - hence Ron Allen in 1st photo (can't remember him at all) and I'm sure Cuddles (Martin Smith) did some gigs with us. So the lineup in the Avenue Artistes photo is: (Sitting:) Mike Rowthorn, Roy Perry, Tony Taylor. (Standing:) me, Ray Taylor (who must have been feeling the cold that day). As noted somewhere, the highlight of the Daisies' brief existence was supporting the Pretty Things at the Bure Club in Mudeford and getting encouragement from them. I'm not sure that Phil May gave us the name - I think we were already using it by then......but hell it's a long time ago!
I left the Daisies eventually to turn "pro" (a misnomer if ever there was one) with a Guildford based group called (very originally) the Surreys. It's possible that Graham Medley took my place in The Daisies or that they broke up around then - I certainly remember Graham being around. The Surreys spent a couple of years driving up and down the M1 from the London / Guildford area to the Sheffield / Doncaster clubs and then in Germany before I decided to call it a day and rejoin (or maybe leave) the real world after coming back home to watch the World Cup in 1966.
As an aside, Ray Taylor was affectionately known as "Banana Fingers" reputedly because he had worked for Brown & Harrison washing milk bottles and his fingers had adapted to the shape of the bottles.More when and if I can remember it.
Cheers
John (Bickell)
PS Yes, I met my wife at the Pier too (1974)
Within days of John Bickell's great e-mail, I received another amazing message so have copied it straight into this page
Hi David
My name is Mike Hanks and I have recently discovered your excellent websites on Southampton's Royal Pier and the bands and groups and venues of the 50s and 60s. I must congratulate you on compiling such a wonderfully informative and nostalgic look back at the music scene of that time. Makes great reading and brings back terrific memories, so I thought I would send you a contribution recounting my memories of the Royal Pier from a slightly different angle. Hope it is of interest to you.
I am a musician, and played in several bands during the 60s and 70s (more of which later) but also had a particular connection with the Pier from the age of about 7 as my father worked down there. Whilst my name might not be familiar to you from the band scene, you might possibly remember my dad, Alf Hanks, as he was in the Southampton Harbour Board Police, the country's oldest private police force consisting of 6 constables and a sergeant and whose jurisdiction included the Town Quay and Royal Pier. My father joined them in about 1950 and served until the force was eventually disbanded in 1980.
The police patrolled the pier and Town Quay and were always present at the Royal Pier gate whenever there was a dance in the ballroom. In the days before Mecca took over the running of the Pavilion and employed their own bouncers to deal with any trouble in the ballroom, it was part of the job of the SHB Police to keep the peace. So my father knew Len Canham and all the staff of the Pier very well and was often called in to deal with any incidents in the dancehall. There was rarely anything serious, usually nothing more than a couple of blokes fighting over a girl, or someone trying to get into the dance after having had rather too much to drink at the Sun Inn opposite the Town Quay. There was no alcohol in the pavilion in those early days so the young lads had to get their "Dutch courage" at the pub before going to the dance and of course if the police on the gate thought they had had too much they were turned away!
In the course of his duties my Dad came in contact with many of the local performers on the Pier and some of the more famous names such as The Chris Barber Jazz Band when they had Lonnie Donegan on banjo and of course he was great friends with Gil Hulme, the resident bandleader at the pier for over 40 years, and many of the members of his band and the his singer, a then teenage, Shirley Morgan. Shirley still sings in the Mouldy Fig at the Concorde Club on a Tuesday night and occasionally fronts a big band led by pianist and arranger Tony Day.
One story my father used to tell involved one of the teenage idols of the time; the star of the show on this night was Billy Fury and dad had gone into the pavilion at the end of the gig to check that every one was gone and to lock up for the night. There was just one person left in the building and that was Billy still up on stage tinkling away on the piano and apparently in no hurry to leave. After some attempts to persuade Billy that the evening was over and that he wanted to lock up, my father lost patience and had no option but to give Billy a helping hand off the stage and out of the dancehall. My father was never a great fan of Billy Fury's anyway although they did have one thing in common; they both suffered from asthma!
On occasions, I used to go down to the police office (which was at the head of the Town Quay) when my father was on duty and he would take me across to the pier to watch the wrestling. As he knew all the staff, they used to take me up a steep wooden staircase into the limelight room (where the stage spotlights were) so that I could watch from there. Preferential treatment for me! I also used to see the Gil Hulme Band play occasionally and later when I was 13 and pestered my parents to learn to play the clarinet he naturally got Gil to give me lessons for a couple of years.
Dad would often take me with him when he did his rounds on the pier, checking security etc. Another duty of theirs was to switch on the transit beacon on the end of the pier (and on the end of the Town Quay) when the big liners were coming up to the Ocean Terminal. The pilots navigating the ships used the beacons to line themselves up for the turn into the dock. Naturally I got to throw the switch on many occasions!
When I got married for the first time in 1968 naturally I had my reception in the Mecca function room adjacent to the Pavilion.
The SHB Police were eventually disbanded and its five remaining constables were "retired" in 1980 soon after the final closure of the pier. Without the pier, half their jurisdiction had gone and the responsibility for the rest was taken over by the Docks police. Between them, the constables had a combined total of 150 years of service with the Force, the youngest being 58 and the oldest 64. It was the demise of a private police force that had been in existence since 1847.
A few words about the pier itself:
I have two pictures of the pier that I took in 1954 when I was 10 with a Brownie 127 camera (remember them – the original point and shoot camera, just a box with a button on top)! You might like to include them in your Royal Pier site so I have managed to digitally clean them up a bit!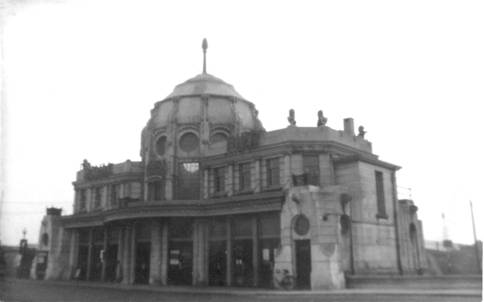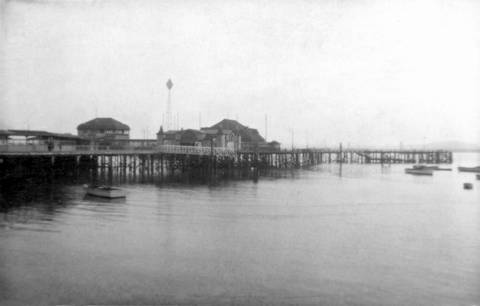 Incidentally, the entrance fee to go on the pier in those days was 3d. (for those who don't remember pre-decimalisation that is just over 1p)
You may be interested in this piece of information regarding the longevity of the pier structure.
Although the pier is indeed a sorry sight today it is interesting to note that even after the fires and the ravages of the weather during the years of neglect since the pier closed, the decking itself by and large still survives. The reason for this is that it is made of Jarra, an Australian hardwood which is indeed one of the hardest woods in the world. I know this for a fact as my father brought a piece of the spare decking home once. I decided to use it as a gatepost and it turned out to be anything but a simple job. It was only 4" x 3" in cross section but I remember it took me about an hour to saw it to length (one cut) with a handsaw after which the saw was useless, and to put the hinges on I had to drill perfectly accurate pilot holes otherwise it was impossible to tighten the screws, and in the process of doing this I burnt out three twist drills and there was a lot of smoke! Tough stuff indeed the Royal Pier decking! Not surprising then that it is still there.
Like you I think it is a pity the old pier was not preserved as it was a superb example of its type and would still have had appeal today if it had kept up with the times.At least the gatehouse remains and has a new lease of life.
My musical history goes like this:
As I said I am a musician originally learning clarinet (with Gil Hulme) and later taking up tenor sax and baritone and soprano saxes and also flute for a time.
On your CALL UP THE GROUPS 3 site there is a contribution from Sid Carter in which he gives a mention to the Bert Turner Quintet, his first band. Well, when Sid left them I took over from him in that band in I think 1962, which then became the Cliff Turner Quartet with personnel as follows:
Cliff Turner……………..Drums/guitar/vocals
Paul Baker…………..…Piano
Mark Mullins……………Alto Sax/Clarinet/bass guitar
Mike Hanks…………….Clarinet/Tenor Sax/drums/vocals
Although we were not professional you may be interested in a bit of information about us.
We were not a "group" in the pop sense but a rather unusual phenomenon – a teenage dance quartet! Strict tempo that is! And an unusual line-up to boot – two sax/clarinet leads and no bass! We were only ever semi pro, playing at weekends, as we all had jobs and music was a hobby and a bonus. Anyway the line-up worked as we played in this format for about 8 years. In those days the Clubs and other establishments still held a "dance" on a Saturday night (in the days before discos). We must have played all the local Working Men's Clubs and Social Clubs as well as hotel dinner dances and the usual weddings, birthdays and Bar Mitzvahs etc etc. Not that we missed out on the pop scene. As you know the early 60s was a great time for pop music and our leader Cliff was a guitar player and vocalist as well as drummer and used to do Elvis, Cliff Richard, Shadows etc numbers. There was nothing for me to do on clarinet for those things so I sat in on the drums and did harmony vocals and eventually Mark, not wanting to be left out, bought a bass guitar and hey presto we turned into a group able to cover most of the current pop stuff. I think this was why we were so popular with the clubs because we were so versatile and could do anything from the St Bernard's Waltz to the current top of the pops with a swap round of instruments and so cover dances for the oldies and pop music for the youngsters. I remember we even played some gigs purely as a pop band when required, and all we used was a 25 watt Vox and a 15 watt Watkins amplifier!!! How times have changed!
The Cliff Turner Quartet at one of our regular gigs Bitterne Park Social Club in 1963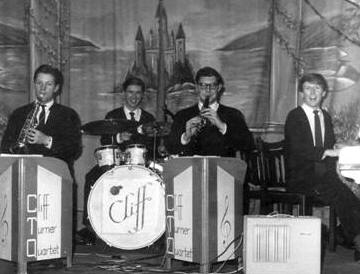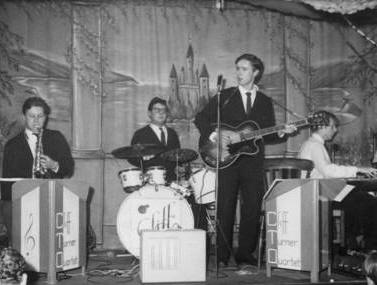 L to R Mark Mullins, Cliff Turner, Mike Hanks, Paul Baker Here Cliff is on guitar and I have swapped to the drums Note the 15 watt Watkins amp!
When Paul Baker left the band (not sure exactly when) I roped in a chap that worked with me called Adrian Taylor who was in fact a classically trained pianist who could read anything but couldn't busk or improvise. What he had to say about some of the pop music was scathing but he would often surprise audiences especially in the social clubs by treating them to an impromptu concert of Beethoven or Rachmaninov whilst the rest of us took a break. Not always appreciated but very entertaining. Adrian would eventually audition to play on the boats and did as far as I am aware spend several years on the cruise liners as a lounge and concert pianist. I don't know of his whereabouts these days but the last I heard of him (many years ago) he was driving a van for the Southern Evening Echo. I hope he is still playing the piano.
In 1965 Mark left the band to go to catering college and we needed a new alto player. Another Gil Hulme pupil at the time was Jim Beckett (Junior). He was working in Beckett's other branch in Bedford Place at the time so I went to see him. He took a bit of persuading but eventually decided to join us and was with the band until we went our separate ways in 1968. As well as alto sax and clarinet Jim acquired a baritone sax which added a different bass voice to the band for much of the pop music. Years later I would buy the baritone from Jim and still have it now.
Here is a picture of the band at a gig in the Mecca Ballroom in about 1967? (not sure of date)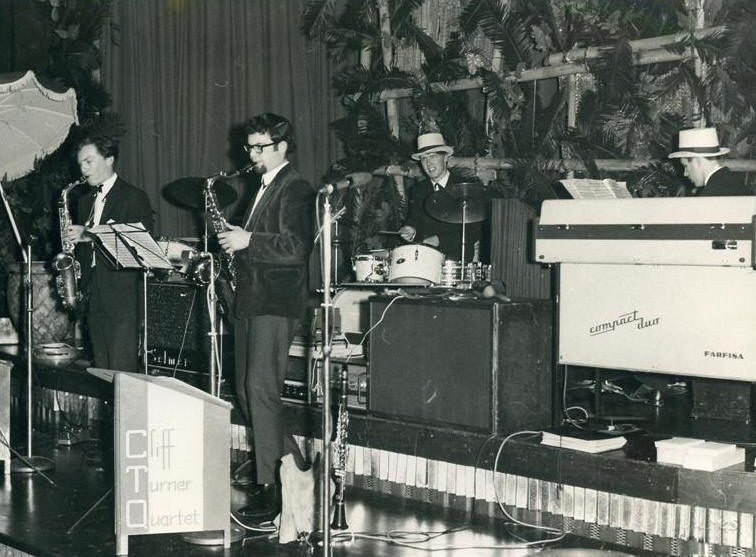 I have recently renewed my acquaintance with Jim after not seeing him for many years, as a result of a different activity altogether, a walking group. He has now sold the music shop but still does brass and woodwind instrument repairs.
I would later play at the Mecca again in the mid 70's with the Ron Jones Set where we were resident support band to the John Peters Progression on a Tuesday evening for the Over 21s Night (or sometimes rather unkindly referred to as Grab a Granny night) where again we provided the strict tempo sessions at the beginning, middle and end of the night.
Incidentally I always thought the Mecca was a great place to play. I thought the acoustics were better than any of the later venues including the Top Rank which was a purpose built dance hall and certainly better than the Guildhall which was awful. I don't suppose acoustics were much thought of in 1833 when the pier was built but it certainly turned out fine. It must be something about the design of pier buildings because another place with fine acoustics is South Parade Pier, Southsea. Perhaps it is the fact that they were/are wooden buildings.
The Ron Jones Set photographed at the Mecca Ballroom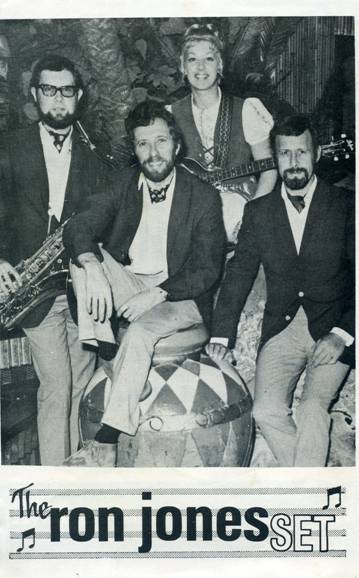 L to R Mike Hanks, Kenny Harrison/drums, Hazel Bell/bass guitar, Ron Jones/Hammond Organ, vocals
I played in several bands in the 1970s including a twelve piece showband, the Jeff Thomas Selection, and an IBM based jazz rock band called Baroque
before getting involved with the Southampton Jazz Society and turning my attention to playing jazz including running my own jazz quartet called Forum.
I don't play now but wouldn't dream of parting with my clarinet and saxes.I hope you find the above interesting. I shall keep watching your web pages for any more additions. Keep up the good work.
Regards
Mike Hanks
Ps. By the way, reading about the Brooks Brothers reminded me that I have their two hit 45s "Warpaint" and "Ain't Gonna Wash for a Week" given to my dad by Len Canham!
I've also had a mail from Soton DJ Chris Golden who emigrated to Canada many years ago but often makes the trip back home - including the first Concorde bash. He recalls Jon Peters and co plus the Ron Jones Set and their regular Tuesday 'Grab A Granny' nights! Chris stood in a few occasions when they were unavailable and had to play strict tempo discs to start off but then managed to slide into light pop stuff later in the evening!
What a fantastic piece! Please keep coming back to this and other webpages as I'm getting 'hits' everyday and am sure that many more memories will come flooding in- especially with the 2009 developments as outlined on the 'Movie' page. A 90 minute film is now in pre-production and much of the archive material has been gleaned from across my many webpages and illustrate the wealth of musical talent that sprung up around the mid Fifties.
Yet again, within days of the above piece being uploaded, I received the following e-mail from drummer Cliff Turner who is featured, grinning out to the camera!
David
After reading the entries by Sid Carter (Bert Turner Quintet), I thought you might like to add these two photographs of the band from around 1958.
We were all around 15 at the time, so my father (Bert Turner) offered to manage us. In the photographs, as Sid has already stated, the band consisted of Peter Dawkins (acoustic guitar, later alto sax), Sid Carter (clarinet and vocals for skiffle numbers), Cliff Turner (drums and guitar for skiffle numbers), Paul Baker (piano and washboard for skiffle numbers), John Betts (Trumpet and skiffle bass [tea chest with a bass string]) and my father, Bert Turner who attempted to keep us in order! The first photograph was taken in our back garden in Totton and the second taken when we played at the 1958 Eling Fair in Totton. Did we ever look that young?
Cliff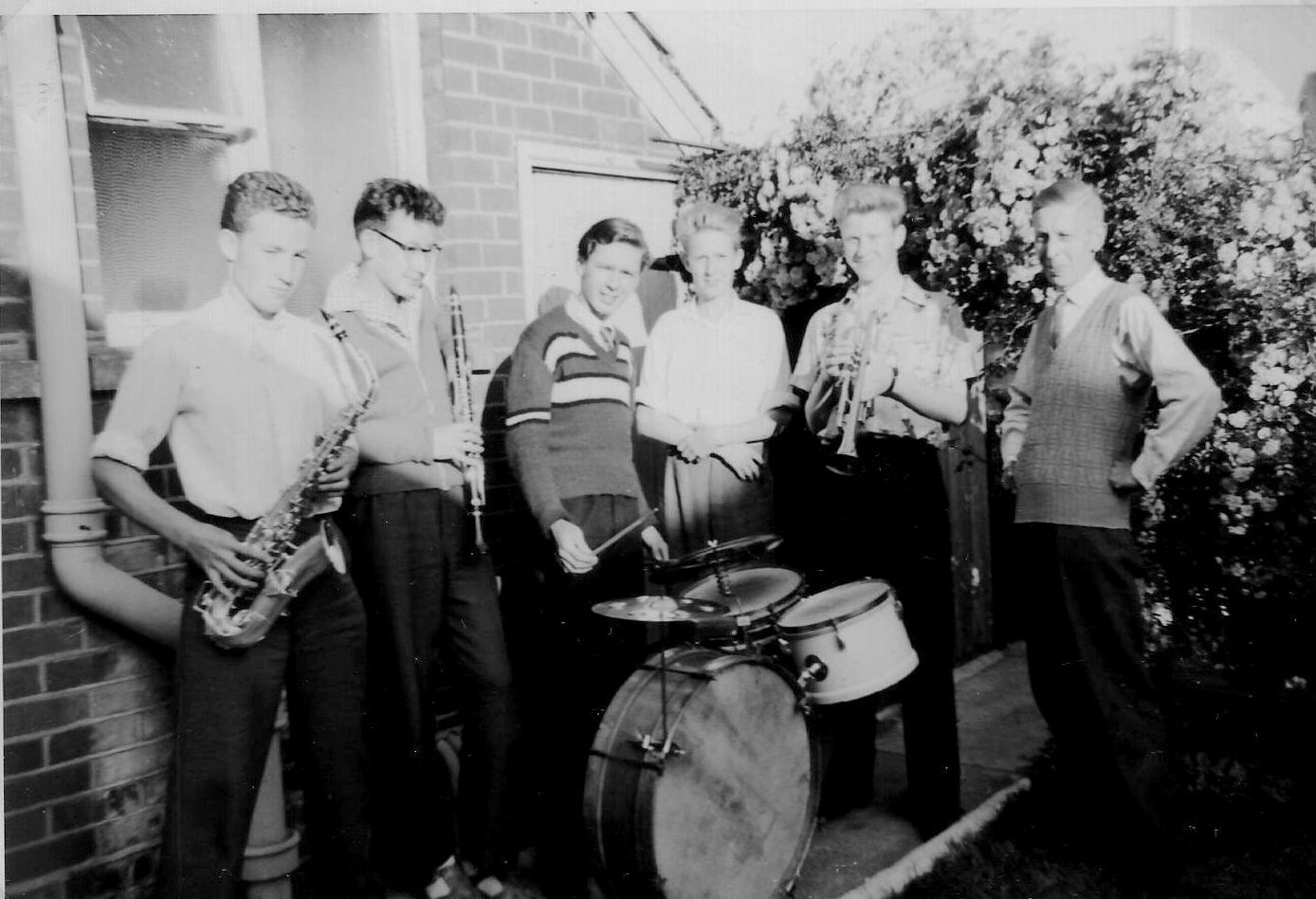 THE BERT TURNER QUINTET 1958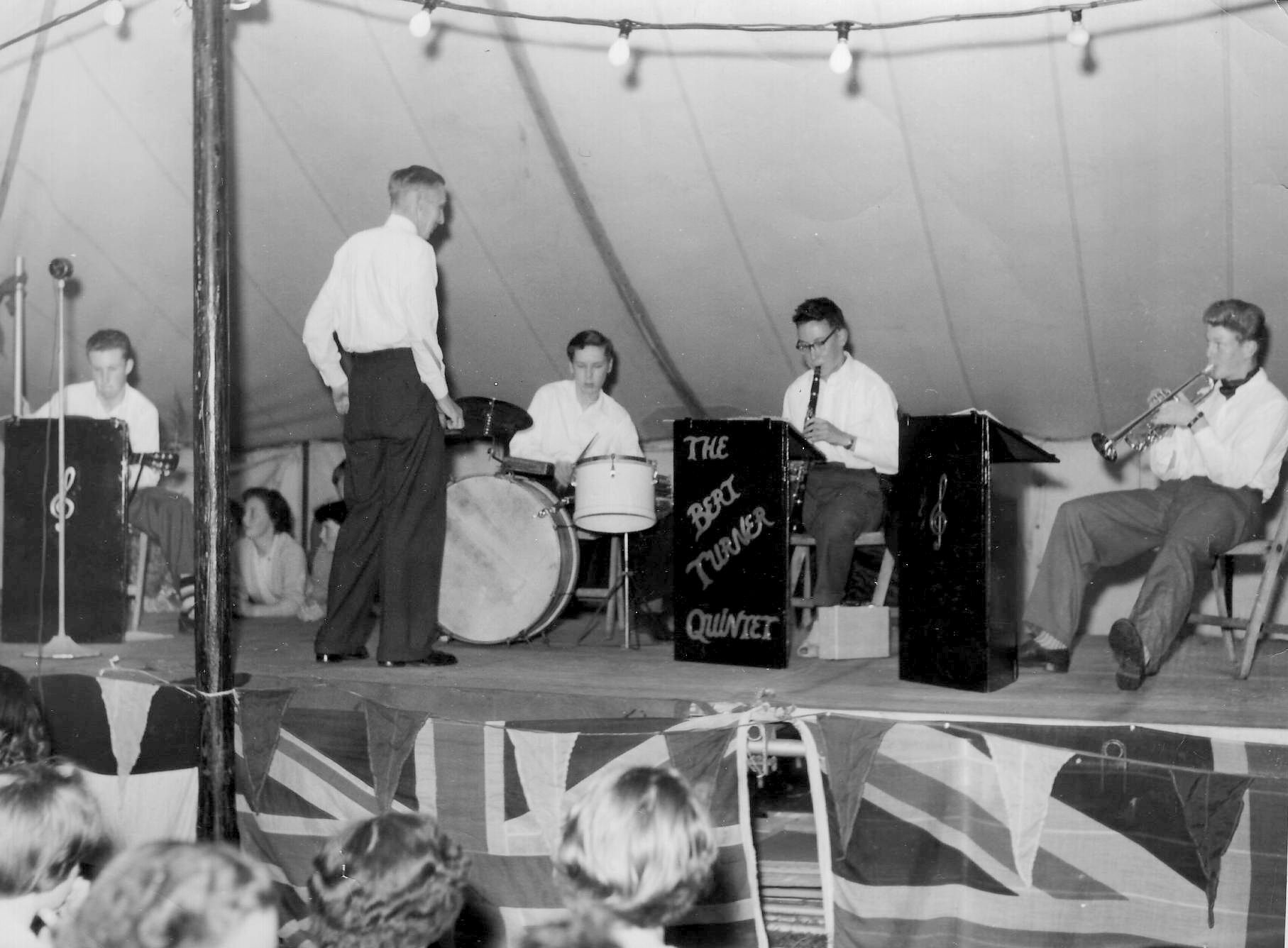 After the Cliff Turner Quartet broke up I joined a trio in Fareham called "Les Bonamis" (The Good Friends in French) However, one not very bright club committee member asked us once "Which one of you is Les?" which tickled us. After that, in around 1974, I joined a band called "The J4 Set", formed by 3 members of the old Peter Medsen Band who were resident at the Pier for many years. We consisted of Ted on tenor saxophone and flute, Dave Slaughter on drums and vocals, Peter Pemble on Trumpet, Flugelhorn and conga drums, Me on Bass or Guitar and Denis Price on keyboards.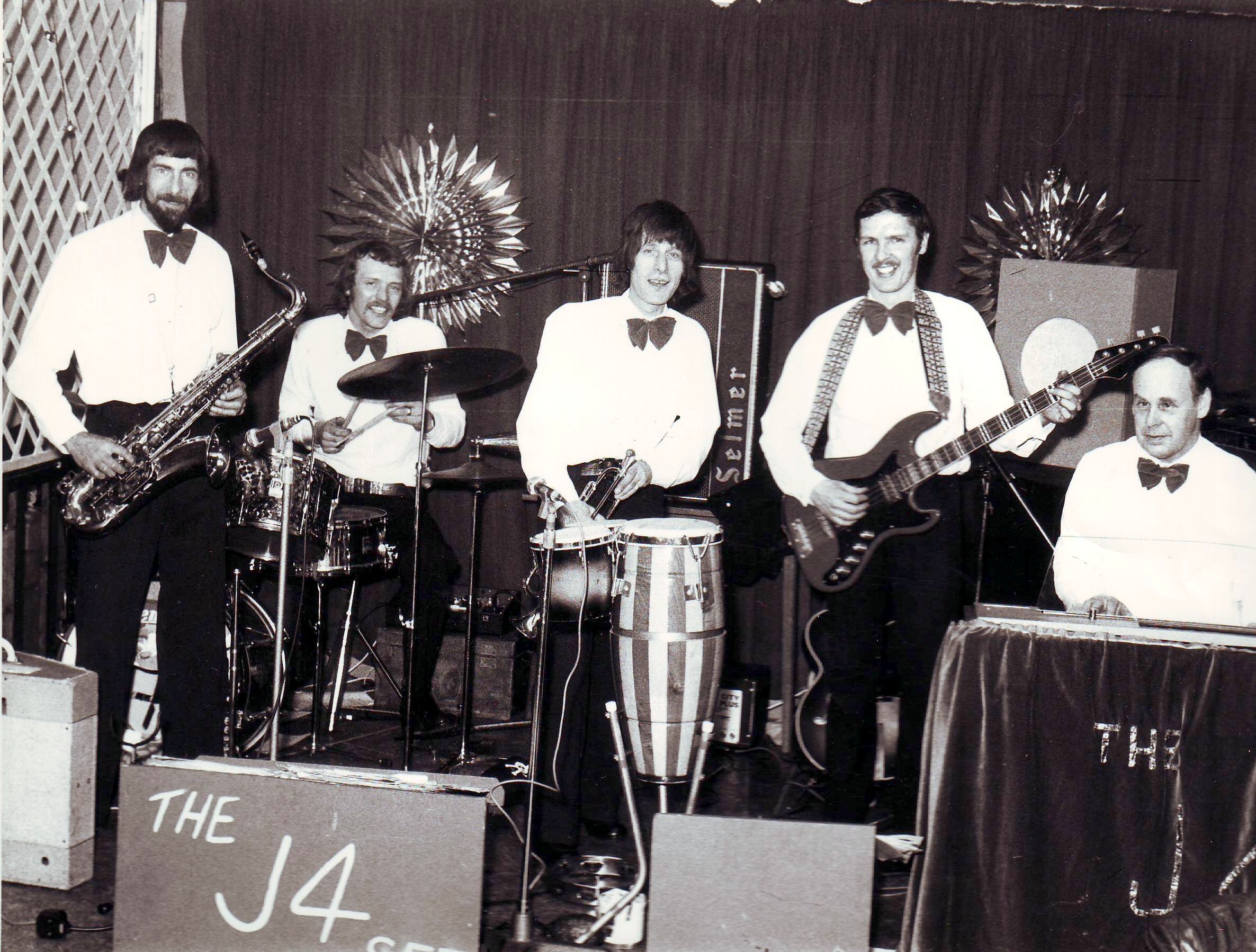 The J4 Set
After a couple of years we decided to get a girl singer and rename the band "Spectre" after the band members' initials. The colour photo was taken at the Top Rank ballroom. We went through 4 girl singers up to 1978, when the band broke up.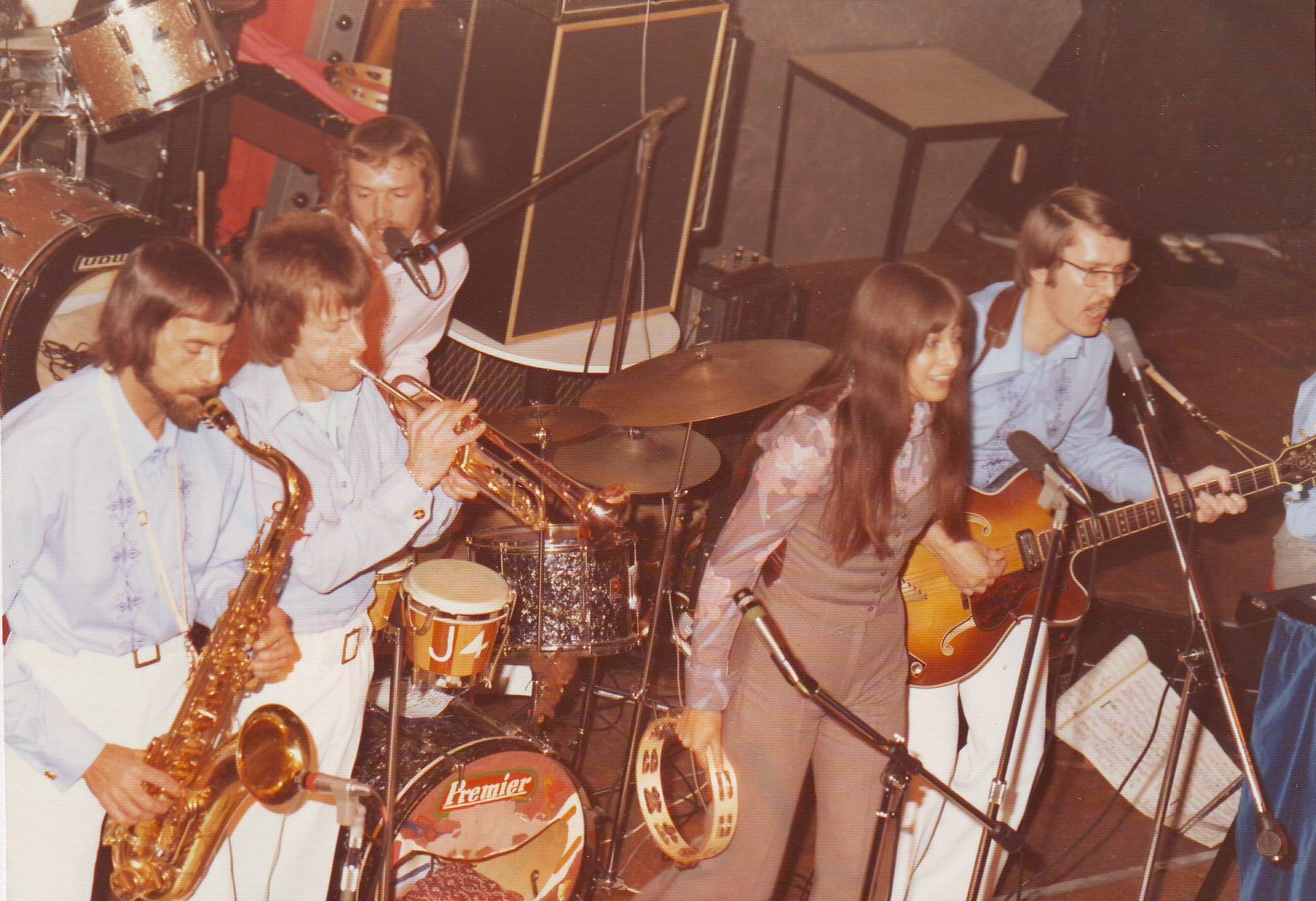 SPECTRE
I then formed my own band, called "Solid Gold" which were doing gigs up to 1990. As I said in a previous e-mail, I now play keyboards, rhythm guitar and vocals in a charity band called "Mid Life Crisis".
Hope you find this interesting.
A good pal Pete Broyd was one of the first Royal Pier singers and has been another good source of info, photos as well as taking part in the Concorde ReUnion shows. I have outlined the fact that many venues sprung up to accommodate the mid Fifties surge in live bands around the city, including the cinemas such as the Gaumont and then the Atherley Cinema in Shirley. Recent research led me to tracing Arthur Hawkins who was the manager from 1958 to 1974 and he has a wealth of memories (see my Venues page)
Pete B did have an old handwritten account of his early days when skiffle came along and was the precursor to later groups such as the Shadows followed by the Merseybeat boom and much more. Despite attempts to dig it out, he has racked his brains and come up with yet another great piece and I have reprinted it here. Once again - enjoy!
Hi David.
I promised to try to find my story of the Atherley Skiffle Competition for you but so far I can't find the hand written piece of rock history. I will try to remember what I can: As far fetched as it may seem every part is as true as I can remember.
The Atherley Skiffle Competition must have been held back in the 1958/9 period. The necessary elements had come together to provide the birth of amateur bands. First the ability:
Lonnie Donegan put together a 'Skiffle Group' with members of the Chris Barber Jazz Band. They played this 'home made music' from the Southern States with the simplest of instruments, guitar, washboard, tea chest bass. We heard such records as 'Rock Island Line',John Henry' etc., and realised that we could produce a similar sound at little cost or the need for music lessons.
At the same time Bert Weedon brought out his 'Play in a Day' guitar tutor, which inspired every struggling guitarist from Hank Marvin through to John Lennon and Paul McCartney in later years. Now we could do it.
Rock 'n Roll had burst on the scene led by Bill Haley and followed by Elvis who brought the glamour and introduced the desire aspect for the budding beginner - screaming girls!
Now we had the ability and the desire.
What we needed was the opportunity and the need.
When Rock 'n Roll appeared on the scene it was viewed with contempt and ridicule by the established musicians of the time. The polished, strict tempo dance bands, their middle aged leaders looking like models from a Littlewoods catalogue, immaculate, safe .... and boring, came to realise that perhaps there was a demand for this new American Jive stuff.
The top twenty at that time was based entirely on the sale of sheet music. Amazing as it seems the sale of records didn't enter into it. The dance bands bought the music and produced a safe and clinical version for the approval of the proper dancers.
Our weakness became our strength. We couldn't read music so we bought the records, listened to them and reproduced the sound as closely as we could.
Now the public was getting what they really wanted to hear and dance to - the raw and rough atmosphere of the original record, often recorded almost live - mistakes and all.
The third element was in place, the need.
How could we get out and break into the stronghold of the Dance Bands? We had played at the Youth Club Social evenings, at birthdays and parties but how could we get into the big time? In our case it came through the enterprise of the manager of a cinema in Shirley, the Atherley. He had run a couple of Talent Competitions in between films on a Sunday night and now looked towards the new craze. This was also in line with the cinemas being able to reduce their Entertainment Tax bill by featuring 'live' entertainment so quite a shrewd business move too!
My guitarist noticed a poster outside the cinema advertising a 'Skiffle Competition' and inviting entries. We went along and put our name down. No worries at that point because that's what we were - a skiffle group with a drummer. It was spread over three weeks with a final on the fourth. We went along on the first night to see what the competition would be. A couple of skiffle groups, 3 or 4 piece, (not very good), a five piece group with two Indian lads very young but full of energy and enthusiasm none other than 'Ricky and the Hi-Lites' - the Brown Brothers with their own first venture into the spotlight). The heat finished with a band from Portsmouth called The Leopards.
These boys had it all, the flash clothes, the latest instruments, electric guitars, this wasn't skiffle - this was Rock 'n Roll and they walked it! We came away totally dejected and called into the managers office to withdraw our group from the competition. He talked to us for some time, gently reassuring us, encouraging us, building us up until we agreed to stay in. I was impressed at the time, thinking he was being supportive but I realise now that he was protecting his shows - no group/no show.
It was obvious that we couldn't survive as a skiffle group so we went to an electrical shop in Shirley, told them of our plight, and they gave us a home made amplifier which we could pay for over a period of many weeks. Many thanks to them. We all had black trousers so by buying black shirts we than had outfits and a name - The Blackjacks. A change of songs from the genuine skiffle to the out and out Rock numbers, two Elvis and two Buddy Holly, much rehearsing and two weeks later we were ready. The second heat had been won by another Southampton group Brian Fisher and the Strangers, equally dressed up and electrified.

The Blackjacks
The arrangement was for groups to show up in the morning, rehearse on stage and get the feel of the theatre. The term 'stage' is a bit grand for the 3 foot walkway between the footlights and the pit which separated us from the screen. This pit allowed the curtains to sweep in front of the screen at the end of the film - we didn't have the luxury of curtains and had to carry our instruments down the gangway at the side of the cinema seats and up the narrow steps to the stage.
I honestly can't remember any of the other groups with us apart from a trio called 'The Worried Men' I have never heard of a more appropriate name for a group because not only did they only have one song 'It takes a worried man to sing a worried song', but they obviously hadn't done the research that we had and realised that they were totally out of their depth.
We rehearsed, packed up and went home for dinner. I arranged to meet up with my guitarist in the pub opposite the cinema to have a drink before we went in.
When we went into the bar we found that the Worried Men had been drinking there since the rehearsals and were far from worried now, in fact they couldn't give a **** !.
The crowds gathered, the manager announced the first group and one by one we filed onto the stage, performed and filed off again. Several times he called the Worried Men but they failed to answer. He was just about to call it a day when there was the sound of crashing and shouting from the back and the Worried Men ran down the aisle carrying guitars and tea chest bass. They climbed onto he stage, set up were introduced and started to play their song. It consisted of one verse, repeated over and over.
As if that wasn't bad enough they started very slowly but the drink and the cheers of the audience inspired them and the tempo increased and increased, hands were becoming a blur and words were running into each other. Lord knows what would have happened if the bass player had not had a rush of blood to the head and tried to emulate Bill Haleys bass player by leaping onto his tea chest. The result was inevitable. He went straight over the top and disappeared into the pit!
All thoughts of the competition went out the window as the manager was more worried than the Worried Men in case he had damaged the screen. They fished him out and the Worried Men left the building. The judging was conducted by the audience. One representative from each band stood on the stage and the manager asked for applause for each group in order. It was my job to stand there and receive the accolade of the audience. Not only did we receive the vocal acclaim and clapping but also a hail of ice-cream cartons, cigarette packets, drink cartons and anything else that came to hand!
It was absolute carnage and in the wisest decision of his career the manager picked on the biggest youth in the crowd and asked him to pick the winner. Looking up and down he pointed to me. We won. The final was a similar story in respect of the missiles and ultimate judge but we were soundly beaten by the Strangers.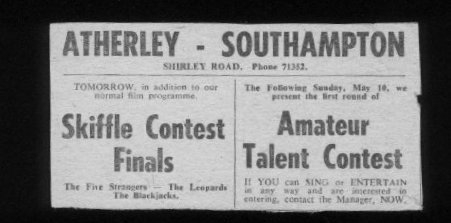 The Strangers decided to capitalise on their success and went down to see Len Canham at the Royal Pier. He was trying to introduce the Teenager Party Nights on Wednesdays and Saturdays. They were immediately taken on as one of the featured bands. If they could do it so could we so after a visit to Len we also appeared on stage at the Wednesday Party Night. He seemed impressed and told us to learn some more numbers and go back and see him again.
Again it was only later that I realised he needed groups more than we needed venues. We now had the opportunity.
All elements were now in place and away we went on the roller coaster ride of a lifetime.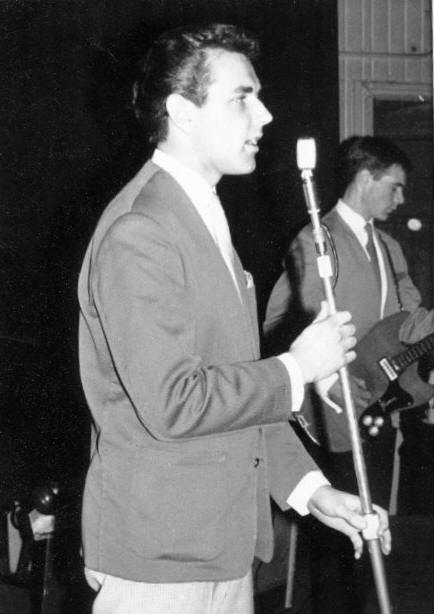 Pete Broyd -Royal Pier
What a terrific piece that offers another great insight into the birth of rock n roll bands in the late Fifties! My thanks to Pete and everybody who enhances this website which can be shared with the world! Keep 'em coming!
ANSWER TO THE QUIZ:
The photograph at the top of the page? No- not a Fender amp but this is the actual store front of the Guitar Store in Commercial Road Southampton - very clever idea but has resulted in a few near collisions as passing motorists (usually musicians) spot this image for the first time! If you go back to the photo, then click on the image for a link to their own website
BACK TO HOME PAGE BACK TO SITE MAP CONTACT DAVID
© copyright David St John 2009