Home page Contact David Click on SITE MAP to navigate rest of website
David St. John
Call up the Groups 4
BIG PAGE - LET IT LOAD!
COPYRIGHT
Please note that many images contained within this website may be subject to copyright, although many have been kindly sent to me and intended to be shared on this non commercial outlet. If anybody wishes to use any of the same, then please get in touch as well as possibly giving credit where due as well as setting up reciprocal links if relevant to the actual content on any webpage. Please note that I am able to monitor any image-copying and if published on other websites. I would appreciate any contact to report broken/outdated links and any corrections to the text that accompanies any images herein. Thank you and enjoy!
October 2008
Just a few years ago, I bought a PC and taught myself how to use it then progressed to building a website which was primarily concerned with promoting my professional comedy work. I then added a short biography page and was later contacted by a few old Southampton based pals from the music business as I had started out my career way back in 1958 then some memorable ten years on the pop group scene. With the advent of broadband, my website has expanded so much due to getting hits from all over the world, mainly by those interested in the Sixties and I hope you have enjoyed reading through my various pages which are being updated on a regular basis so please come back.
Most of my music memories all stemmed from my good mate Dave 'Beau' Dinnage who features across many pages and who shared some great times in my first 'proper' groups in 1964/65 as he sent me an old photo of 'The Unforgiven' plus a tattered photocopy of 'Southern Roots' This was a compilation of various line-ups of Hampshire based bands and singers, laid out in a 'Rock Family Tree' style by a couple of music fans- Terry Hounsome and John Clare. This inspired me to start writing a little piece on a few bands, putting it on my website which resulted in more people looking, enjoying and sending me their own memories to be shared with the world! My site has exploded into a potted history of the Southampton music scene and it has brought back so much nostalgia to me plus those that keep coming back for more fixes! This new page of Call Up The Groups follows a series in which I have tried to place photos alongside relevant stories although so many musicians played with so many groups over many years so please excuse any confusion!
Once again- I welcome any input and will endeavour to include as much as I can but it takes a lot of my time but it's all worthwhile to know that it is appreciated as well as giving me a great kick to put old pals back in touch - even if spread across the planet. It also serves as a kind of genealogical website in which family members might type in a relative's name and then discover that a loved one had some great times back in the Fifties and Sixties plus reading nice comments or finding rare photos that they may not have seen before. I have had some very touching mail from many a delighted surfer who just happened to stumble across this very site - I will have some good Karma to carry through to wherever I end up!
OK pop-pickers- here we go again on the fourth collection of personal memories as kindly sent to me on a regular basis and opening with some more e-mails sent to me that bring back more nostalgia with names and places.
OCTOBER 2008. E-mail from Lionel Yexley:
Many many years ago, when I were a lad of 16 (1962) I frequented Shirley's best known musical instrument emporium (as well as others around Southampton, like Jim Beckett's) and drooled over the beautiful guitars and amps there. This was John Beirne's Music shop, just down the road from the High Street entrance of the Regent Cinema.
After my first instrument - a mail order guitar from Bell's Music (!) I managed to purchase, again on the "never-never", a second hand Burns Artiste from Cliff Harper who ran Beirne's Music Shop. It cost me £60 - plus H.P. (hire purchase credit) interest! He told that it had belonged to "Ricky and The Hi-Lites". This was a band I'd never seen and, at the time wasn't into that kind of music – not since I bought The Shadows" Apache" in 1960! I had heard of them as they were frequently advertised for dances in the Local "Southern Daily Echo". I never did get to see them even though I started playing blues a couple of years later. Meanwhile, back then I was strictly instrumental.
I last saw Cliff Harper in around 1964 when I (temporarily) stopped buying music kit and concentrated my money more on motor bikes and girls! I had thought him as a quite "old" guy and more recently presumed that he had long since passed away – I had thought of him in recent years but didn't do anything about it. This is until yesterday when I bumped into him at an old school reunion! I was flabbergasted to see that A) He was still alive and B) He wasn't nearly as old as I'd thought in my tender youth! ( I really WAS "sweet 16 and never been 'kissed'"!) I was also very pleased and had a short chat with him about the old shop and my guitar. He confirmed that "Burnsy" DID get his original nickname from the Burns guitar he used and – YES – it was the same guitar I bought in 1962!! I still have it as I almost never sell anything or throw it away! My wife will happily confirm that! It might be nice to be able to contact Ricky or any of the old "Hi-Lites" I was sad to read about him passing away as it was in the local Echo. If you, or anyone else, wants a photo or two of the guitar I'd be happy to email them.
I now have 15 usable guitars although I last played live at The Joiners in 1995 – in my son's Gothic band! I'm hoping to get back into it again one day and was doing the pubs & clubs around Southampton with a mate and a drum machine in 1988. (we were called "Graylion" – an amalgamation I came up with of his name – Graham - and mine - Lionel). We mostly played old R&B and rock. The Burns was used for around 3 years in Southampton coffee bars (The Kasbah in London Road – we were the first "group" ever to play there!) and clubs around Southampton (the first to play live music at The Silhouette when it was in St. Michaels' Square in 1964) and Christchurch. Then later with a blues band "Big T and the Guarantees" when we regularly gigged at The Cliff Hotel in Woolston, near the floating bridge. It was then irregularly used until 1982 when I bought my first Strat – that's how long it took before I could afford one! In 1961 & 1962 they cost 160 Guineas – that's £168 which is the equivalent to about £2,700 to day! My Burns was £60 = £960 today! Scary eh?
Regards
Lionel
Brilliant piece! I replied to Lionel as well as passing his mail to Rick Brown and family who were, once again, knocked out to enjoy yet another blast from the past as well as the poignant story of Burnsy's well known Burns guitar which is still around after some 46 years and in Southampton where it belongs! His mail also mentions many venues that we all played if around in the early days - read about some on my Venues page via the Site Map if you haven't yet done so.
The Burns Artiste guitar

Lionel then followed up with more great info and here it is:
I didn't actually read the pages of your site until AFTER I sent the email! I then noticed that both Chris AND 'Steve' Dimmer had a Burns Artiste so I can't be sure whose guitar my Burns was! I suspect Chris's because in one photo it looks like there's a slight ding on the top right headstock which I'm sure mine's got – it's still in the original Burns case that came with the guitar, which hasn't seen the light of day for a few years. It's under a stack of guitars in cases – remember I have 15 which are in my 'study' which is only 10ft x 7ft and also has 4 guitar amps, a large fridge for the booze, a computer, rack units, multi-track and mixing desk on shelves, full-size office filing cabinet plus a few other floor standing bookshelves, hi-fi speakers and the front driver's door from a Jaguar XJ6 Series 2 (don't ask!).
The case has an extra covering of red/pink bubble-quilted vinyl held on with black tape – that should give someone a clue! Sadly it got damaged by a pet dog around 1964 when I was still living at home (married in 1968) so it's a bit worse for wear!I'm happy to get emails from anyone and I'll sort out some photos for you to pass on and/or post on the website. Fancy Ricky back in Shirley! I'll mention him next time I speak to Cliff Harper, who still plays in a jazz band.
Bear in mind that I never saw Ricky & The Hi-Lites so wasn't a fan as such. Until late 1963/64 it was almost solely instrumental stuff for me. My band was "The Meteors" and we were residen at the Kasbah in the winter of 1962/63. It was run by a Yank then and we got £10 a night plus free burgers, coffee & coke (that's Coca-Cola, NOT the other stuff!). That was more than I was getting in my first job!! Worth about £160 in today's money!!! There were only 3 of us so we got £3-6s-8d each. We were the first live band to play there. Later I was in a few small rock & R&B bands ("Groups" of course!) like "Nicky & the Niteraves" (with a girl singer), "Topliners" (who were very average but got the most bookings EVER!). By 1965 I wasn't playing in any group that I can recall – bikes & girls!! I had played at the Park Ballroom and "Battle of the Bands" at the Banister Ballroom once with "Big T and The Guarantees". Plus the obligatory weddings, school halls, pubs & Bar Mitzvahs!
I will definitely look up Rick Brown, although I now live on the other side of Southampton – Sholing. I'm not sure about letting anyone else play the guitar though! I have never let anyone outside of my family (both sons play) EVER play my guitars! I'll think about it though.
I'm happy for you to pass my email address to anyone associated with them or the Southampton music scene from the 1960s to the 1970s. I once did a 'jam' with Roger Pope and a couple of other guys who were going form a bluesy-style group. I think it was at a house in Shaftsbury Avenue and Roger was well impressed with my version of "Cardasz" ! They went on to form the Meddy Evils, which might be why I was there – I can't remember! I haven't seen Roger since 1988 when he was with Bruce Roberts' blues band - I saw them at The Swan in Woolston
Followed by:
My name is Lionel Yexley – I had no stage name – it was just a fun hobby. My first group at the Kasbah was "The Meteors" once advertised for a dance in the Echo I think, but I don't have a copy. When were you there? I still have a diary somewhere with the dates and payments in it! I met and eventually got engaged to the sister of my bass player (Dave Last) – who wasn't around for the earlier Kasbah bookings – we just had lead, rhythm & drums.
I was with "Topliners" for the most concentrated set of gigs in 1963-64. Just 3 of us – lead bass & drums and we played at The Regency Club (?) on Six Dials regularly as well as a night club in Christchurch whose name escapes me. We also played the Silhouette Club in St. Michael's Square once, where I managed to knock over my glass of beer stood on top of my amp! (a 25 watt Bird Golden Eagle) It poured through the top inputs and destroyed just one of the EL34 valves! It doesn't work with just one output valve though, so I think I shared the bass amp for the rest of the night. We were told that we were the first live band to play there. It was my first gig with the 2 other guys after just one practice I think. I was on crutches after a motorbike accident! We also did Working Men's clubs, pubs, school dances, weddings etc. mostly. I might have played the Banister Ballroom with them once. Mostly old rock and R & B covers.
I was with "Nicky and the Niteraves" for just a few months in 1964 (at the same time as the Topliners) and we played at the Archer's Road Working Men's Club. With "Big T and The Guarantees" it was rock, blues and R&B at the Cliff Hotel and Banister Ballroom - The Park too I think. We practiced at the youth club in the Nissen huts of Ludlow School! (Small world eh?) There was a group out at Hythe for a while, but all I can remember is going there to practice. I can't even remember the name! One of the members lived at The Frost Lane Hotel so it was great for practice! My younger brother went out with the sister of one of the band for a while. She broke his heart of course!
I was with a traditional line-up of bass, rhythm, lead & drums in 1974/75 with a mate of my youngest brother's and his brother (Bass & rhythm) plus an older dance-band style drummer (Ugh!!!!). We seemed to play mostly Eagles covers and I don't think we had a name. We were resident band at a working men's club in Burgess Road. (name??) Then a long gap until 1988 when I teamed up with another long running, old school mate of my youngest brother (Graham Smith) who played bass and sort of sung, and we recruited a drum machine! We did mostly pubs around Shirley, Millbrook and Freemantle plus a few out of town and The Manor in Woolston (not the one in Portsmouth Road). We were called "Graylion" and we split up late that year after he decided to go on a "hippy trail" thing with some other players around northern France in a converted bus!
Since then there's just been one gig at The Joiners with my 2 sons - the youngest is a Goth bass-player and writes all his own music – something I've hardly ever done. His guitarist was away and he'd had several gigs there with his band "Methedreame". "Mint" was the sound man of course – sadly passed away a short while ago. That was 8th March 1995. Me and my eldest lad shared lead & rhythm. It was the first and, so far, the only time we have played together seriously as a family! They both had their own young bands with their OWN schoolmates – obviously! I hope to do a live "family" gig playing a selection of all our favourite music from 1962 to present, one day soon! I had intended to organise it for my 60th birthday but that was 2 years ago! We're getting closer to it!
I wouldn't completely rule out the possibility of someone else playing my guitar but I might like to join in too! There isn't anyone from the old days I could look up. Just my two sons, who would probably be interested in coming along anyway. Maybe we could do a set – if we have enough time to practice something before then. Not so easy because the youngest (Goth and punk bass, 'IT' and MIDI expert!) lives in Bristol! The eldest is in Woolston though. Perhaps I could get Cliff Harper to come along as string bass player!!
I've sent a pic of my Burns to Andy Brown – also enclosed with this mail. It was taken a few years ago but hasn't been used since. It needs a clean and I intend to restore the brightwork, make a custom trem (but keep and re-chrome the old one) and do a little light restoration of parts of the paintwork – definitely NOT a re-finish though! That would be sacrilege. I'll also check out, clean up and rewire the electrics as much as necessary as I've never EVER had the scratchplate off to look at them! Perhaps someone might like me to make a repro trem arm with "Burnsy" stamped on it instead of just "Burns"? Don't hold your breath though! I still work full-time (can't afford not to!) and have loads of other domestic and hobby projects on the go! I'm fitting a gold Bigsby and roller bridge to an ES 335 repro and upgrading the pickups, as well as converting a sunburst modern Strat into a Roland guitar Synth, with tortoise scratchplate and gold hardware. With my Roland Juno 60, Casio CZ 1000 keyboards, MIDI drums, rack units and foot controller I could be a whole band – once my youngest son has taught me how it all works – I don't speak "MIDI" !!
Mail from Gerry Hayne:
Hi David
What an amazing site - well done - I haven't seen/heard of so many of my former mates etc for ages and am filled with admiration for the work you have done.
I was with the Star Combo when it was based at the Blue Indigo Club (the pub at 6 Dials that was) with Colin Melander (Crawley), Brian Carr, Mike Lewis, and of course Johnny Watson on drums and a.n.other - the band had sort of come from the Star Club Hamburg post Beatles discovery. As well as doing the odd support gig at the Concorde when it was at the old Bassett Hotel for Graham Bond, Manfred Mann etc we supported Brian Auger, Tony Knight, Moody Blues, Sounds Incorporated etc etc . What an era. Even Southampton boasted several dozen really great bands....... As well as all the usual gigs we played the Guildhall and the Park Ballroom (God those stairs!) in the former city centre above a tailors and opposite the cinema. Stood in the wings at the old Gaumont when Beatles, Gerry etc etc were there of course.
Before that I was with the Comancheros (Winchester) led by Mick Bright, the 007's from Totton (led by Dave Chalk) and various other hopefuls that never made anything much but were probably of a higher standard of performance than so many of today's put-together "stars".
Was present at the Waterfront Club (Woolston) when the Soul Agents were backing Long John Baldry who had a young gardener'gravedigger from Scotland singing - Rod Stewart! Worked regularly at the pier when it was under Len's management and did regular gigs at the City Hall Salisbury with Dave Dee etc but with us usually appearing as made-up "U.S.A. bands" and told not to speak unless sounding American!
Further west we appeared at the Bure Club Mudeford as run by the amazing Dave Stickley and there I supported everyone ranging from the Nashville Teens to Cilla Black. As I recall she had freckles everywhere bless her!
As for Tex Roberg, how great that he is still working since he is even older than I am methinks! Enough of my rambling - there is the odd Star Combo reunion and if ever we meet up again I shall get some details, photo etc should this be of interest.
If you ever organise anything of this nature do please keep me informed My most recent bad was Stax of Soul (S).Am now off to the Pigs Nose in S Devon to see the Animals II perform - you couldn't make it up but they are still going even though only the drummer is an original!
cheers
Gerry
(Gerald D Hayne - formerly from Winchester & now in Sidmouth, Devon)
Since I started off this website, I have been constantly touched by so many stories that have been shared over the net. I have managed to pay some small tributes to those musicians and singers who have sadly not been around these days - we know how much they would be enjoying the nostalgia and various hook-ups that have been made possible.
Dave 'Beau' Dinnage mailed me a couple of photos and some info on a very dear friend who passed away a few years ago. Although my webpages are mainly centred on the Sixties, I thought it nice to mention Ray Graves who formed the highly respected 'Tramp' back in 1980 after leaving 'Joker' and Beau often sat in with this group on several gigs. I never knew him personally but know how much he was loved and respected by those lucky enough to have known him - he looks a great guy in these photos
From Beau:
Just a little piece about my mate Ray Graves... We had some great times together in "Tramp"...Ray formed the band after he left "Joker" in Around 1980, I'd sat in with the band on numerous occasions, but after my German tour with "Mungo Jerry", who (Dave Mitchell and Glen Lee also played with) in 1988, I joined the band permanently. We had many line-ups over the years, but we always stayed together to keep it going... Ray was so proud of the band, but sadly, in August 2003, Ray died from a brain tumour... It's a shame you never met him,
He was very special and I still miss him very much... I've attached a couple of pix for you, one of me and Ray, and the other is of Ray, myself,Mark Wilkinson and my other great mate, Paul Sheath...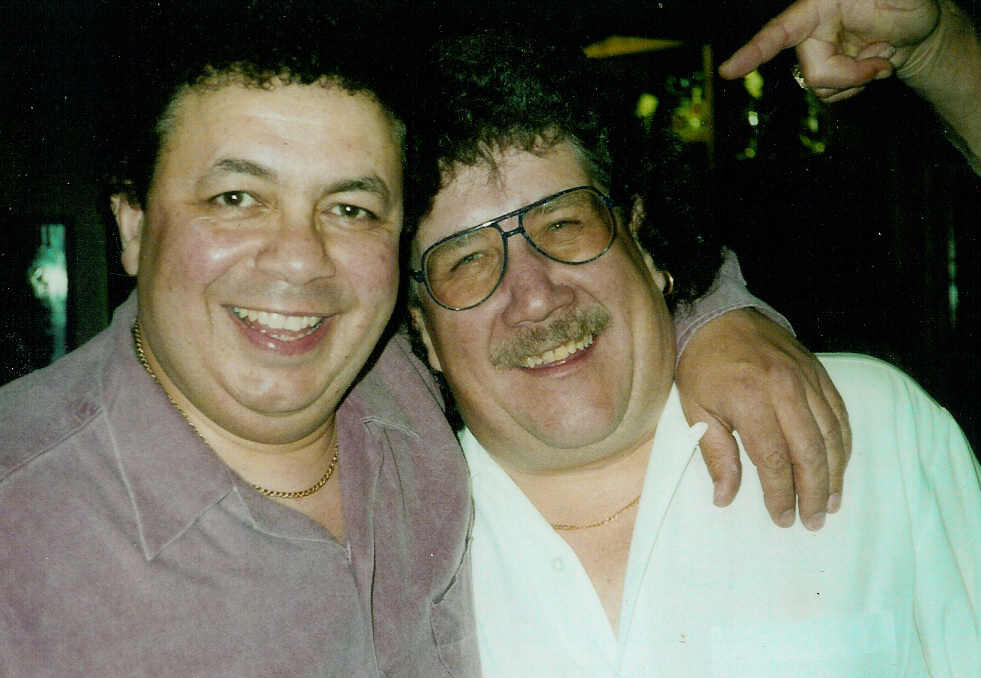 Beau and Ray - whose finger??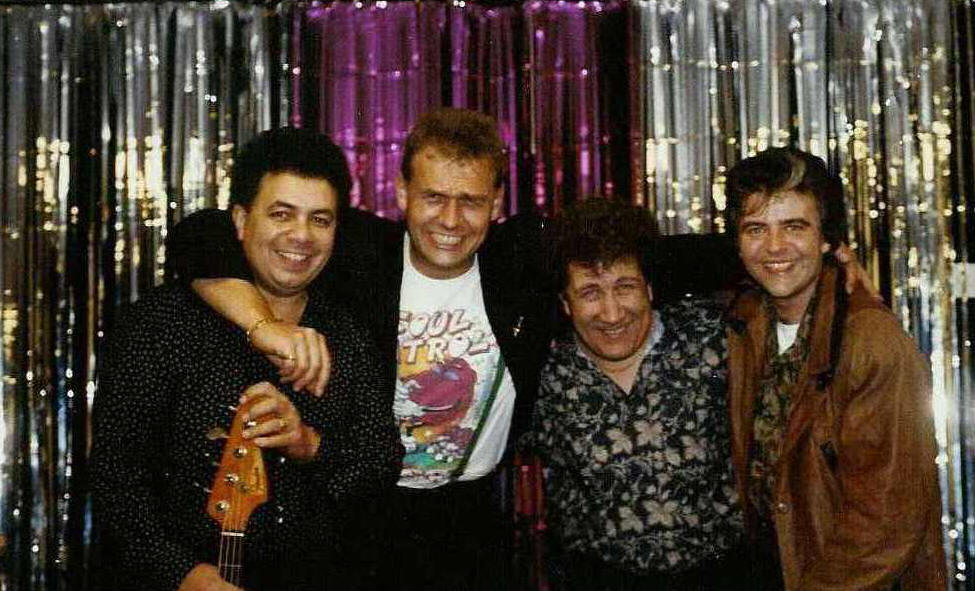 Tramp played at the Concorde 'Back To The Sixties' ReUnion in February 2008 and were amazing. Early line-ups shows that the band were formed when 'Joker' split up with Ray Graves (gtr/voc) Colin 'Angel' Wilsher (bass/voc) Ian Parker (drums) and Tony Wright (sax/clarinet/flute/keys) forming the new group.
Many people are discovering my website all the time and I received some great e-mails from Patrick Vinet - a French guy from Normandy who is really into classic rock n roll and Sixties music. He sent a very rare photograph of a young Johnny Watson who had just moved from playing superb guitar onto the drum stool and rapidly became one of the best in the business! If you have read my Biography page you will note that I started out my singing career way back in 1958 at the Royal Pier Pavilion Ballroom and just ten years old - here is my first ever publicity shot!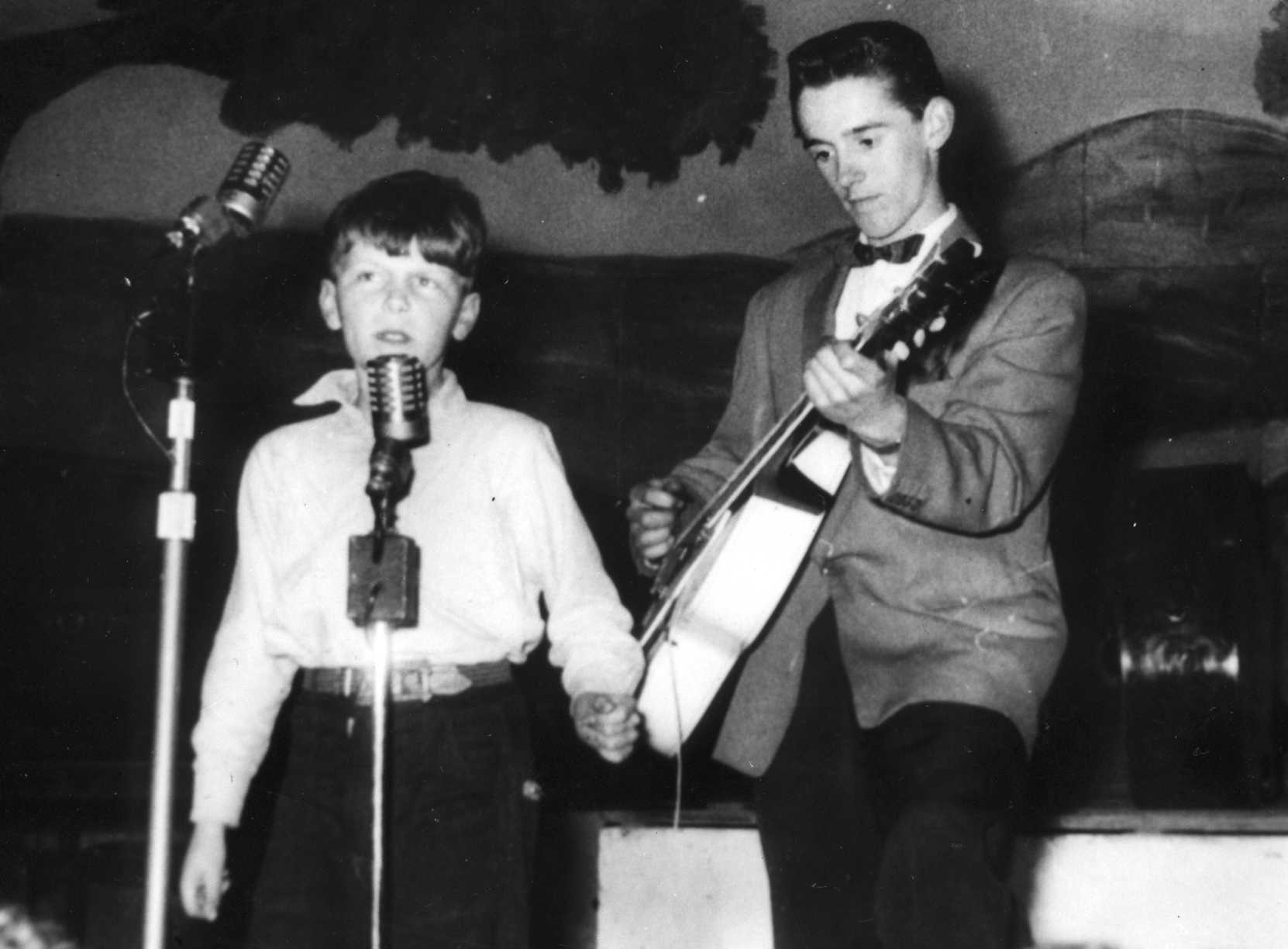 David Johnny
Part of the Three Stars rock n roll group
1959 saw Johnny playing drums with this new band pictured at Butlins Filey-playing with a young Joe Brown!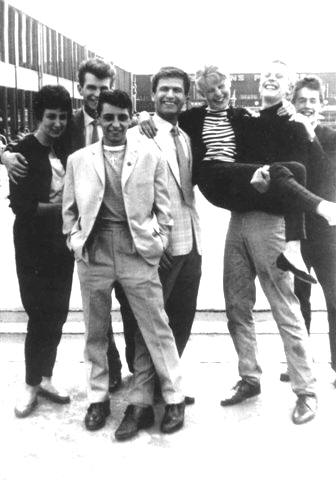 Clay Nicholls and the Blue Flames (Johnny on right-next to Joe Brown!)
December 20th 2008.
Just received an e-mail from former Blue Flame Pete Wharton! He kindly adds this info:
Hi David,
Re the picture of Johnny Watson and Joe Brown at Butlins Filey 1959. This photograph was taken about 2 hours after we arrived at the camp on a Saturday morning.
The girls were two holiday makers, the L to R of the boys..Pete Wharton, Bass Player ( myself ), Clay Nichols, Singer ( in front ), Rick Hardy, Singer/Rhythm guitar, ( then known as Rick Richards ), Joe Brown, Lead Guitar, and Johnny Watson, Drummer
When he left, Joe Brown was replaced by Tony Harvey. Tony later went out to France with Vince Taylor and the Playboys. Ricks history can be found on a website, just type.."The Jets, The Beatles and Hamburg"...into Google and search. Hope the additional info' helps you in completing your pages.
Keep adding bits and bobs, makes interesting reading. Feel free to contact me if I can help in other search or any other queries.
Pete.
A member of this band was a much respected musician Rick Hardy and Patrick tells me that Rick was a good pal of 50s Skiffle legend Chas McDevitt and many other pioneers of the new pop scene. Rick was guitarist for the likes of The Worried Men and the early Drifters who backed a young singer called Harry Webb and legend has it that Harry took the Rick (Rich) Hardy name and added Cliff to become Cliff Richards- then dropped the 's'. Rick also played with the Jets over in Germany followed by a few more decades in the business - his latter years were spent as a 'Cockney' act and here is a picture of the lad himself: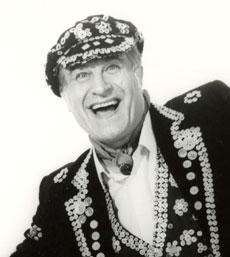 Rick Hardy
Sadly, he died in a tragic car crash some 2 or 3 years ago but I need to do some more searching on this much-missed musician who must have had so many of his own memories of these early days. Again, if YOU can help, then please get in touch with me
Patrick mentions that Johnny later went across to the early Sixties beat boom in Germany and played drums for Vince Taylor and the Playboys plus the Beat Brothers at the legendary Star Club Hamburg. The story goes that he was nearly poached by the Beatles who had just landed in Germany and were looking for a new drummer to replace original Pete Best. Johnny was quite happy with his current pals and didn't want to return to England or even Liverpool so John Paul and George came home and recruited one Ringo Starr - the rest is history......
Patrick also thinks that Johnny Vance and Brian Marshall -both from Southampton were also part of the Playboys and no doubt I can verify some of this new info as and when former musicians can tell me. Patrick read some of these stories in a French magazine and that Johnny Watson left Vince Taylor to back veteran rock n roller Wee Willie Harris who started out as a piano player and backing Screaming Lord Sutch in his early days
Willie then started dressing up in crazy clothes and was part of Tony Crombie's Rockets - possibly the first real UK rock n roll group and played at the famous 2 Is Coffee Bar in Old Compton Street Soho London. This small venue was the launching pad of many new pop stars such as Cliff Richard backed by the Drifters (Shadows) Marty Wilde and many more - just do a Google search on this incredible location. Not sure if Johnny played at the 2 Is so I will check these facts out with him on my next phone call to Australia where he has lived for many years
Click on SITE MAP to navigate the pages Back to Home Page Contact David
Copyright © David St John 2008