BACK TO HOME PAGE BACK TO SITE MAP CONTACT DAVID
Page updated 10 September 2014
David St John presents:
CALL UP THE GROUPS 17
*Loads of pics - let it load*
If you are returning to this or any other webpage - you might need to Refresh it (Press F5) in case your browser keeps original viewing
COPYRIGHT
Please note that many images contained within this website may be subject to copyright, although many have been kindly sent to me and intended to be shared on this non commercial outlet. If anybody wishes to use any of the same, then please get in touch as well as possibly giving credit where due as well as setting up reciprocal links if relevant to the actual content on any webpage. Please note that I am able to monitor any image-copying and if published on other websites. I would appreciate any contact to report broken/outdated links and any corrections to the text that accompanies any images herein. Thank you and enjoy!
*As with every new webpage, I shall be adding more information as it trickles in, so please come on back to check it again in the near future. I also add other stuff to previous webpages to slot in with existing profiles but often find it difficult to keep track due to the volume of material sent in from all over the world! If anyone has sent me info but not yet published, then let me know or resend it*
......................................................................................................................................
Many will know of the MeddyEvils- top Southampton 60s group and they reformed for one of the annual 'Back To The Sixties' shows at the Concorde Club( see Site Map for links) and I am constant touch with Roy Roberts of that very band! Roy has been in the maritime business for many years as befits a local lad and often over in Spain where he calls by at Beakys Gig in Benavista El Paraiso Costa del Sol. Yes the very same Beaky of Dave Dee and co- one of the biggest names during the Swinging Sixties with massive chart success. Roy has sent a few pics and if you are ever in the area then pop in to see and hear Beaky in action- still performing those great songs and many classic 50s/60s hits that bring the house down on very occasion! Many star names often drop by and even get up to play which surprises anyone lucky enough to be in the audience- you never know who will guesting!
Although DDDBM&T were a Salisbury based outfit, Southampton always claimed them as they were managed by Avenue Artistes under Len Canham and Bob James in the early days of Dave Dee & The Bostons. Fantastic band plus a comedy side that came through when they hit the big time and they played the usual local dance halls around the South Coast before their expected chart runs etc. Again, you will find more info and images on the group throughout my webpages. Sadly Dave Dee passed away a short while ago and Tich & Dozy are still keeping the band's name alive with regular tours here and abroad. 2014- Beaky has now rejoined his old pals and currently touring all over Europe plus UK dates.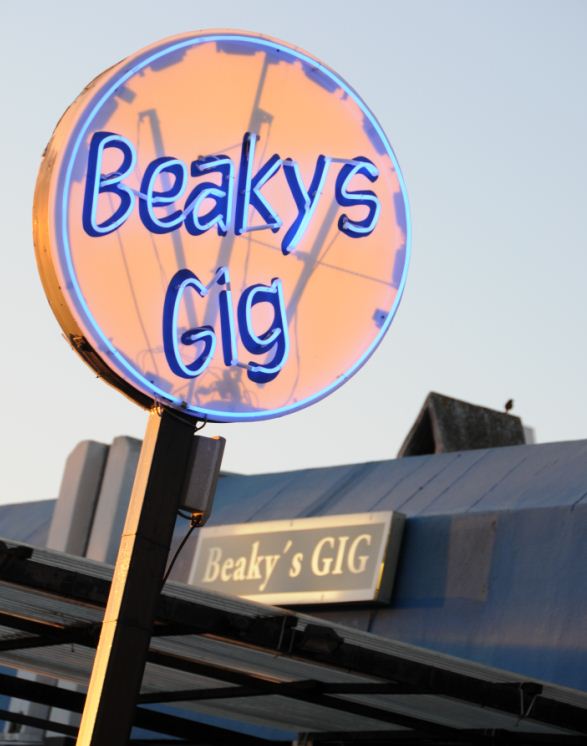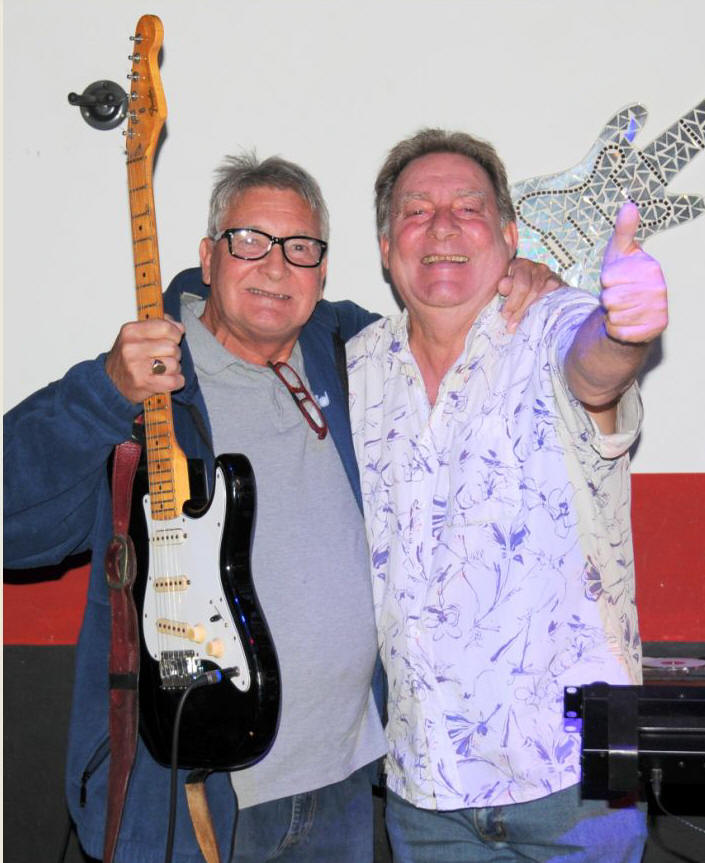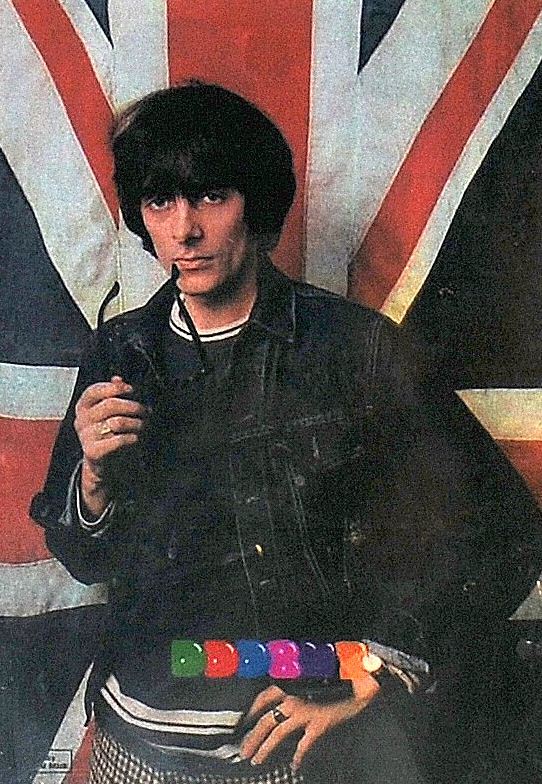 Beakys Gig Roy Roberts and Beaky Beaky 1960s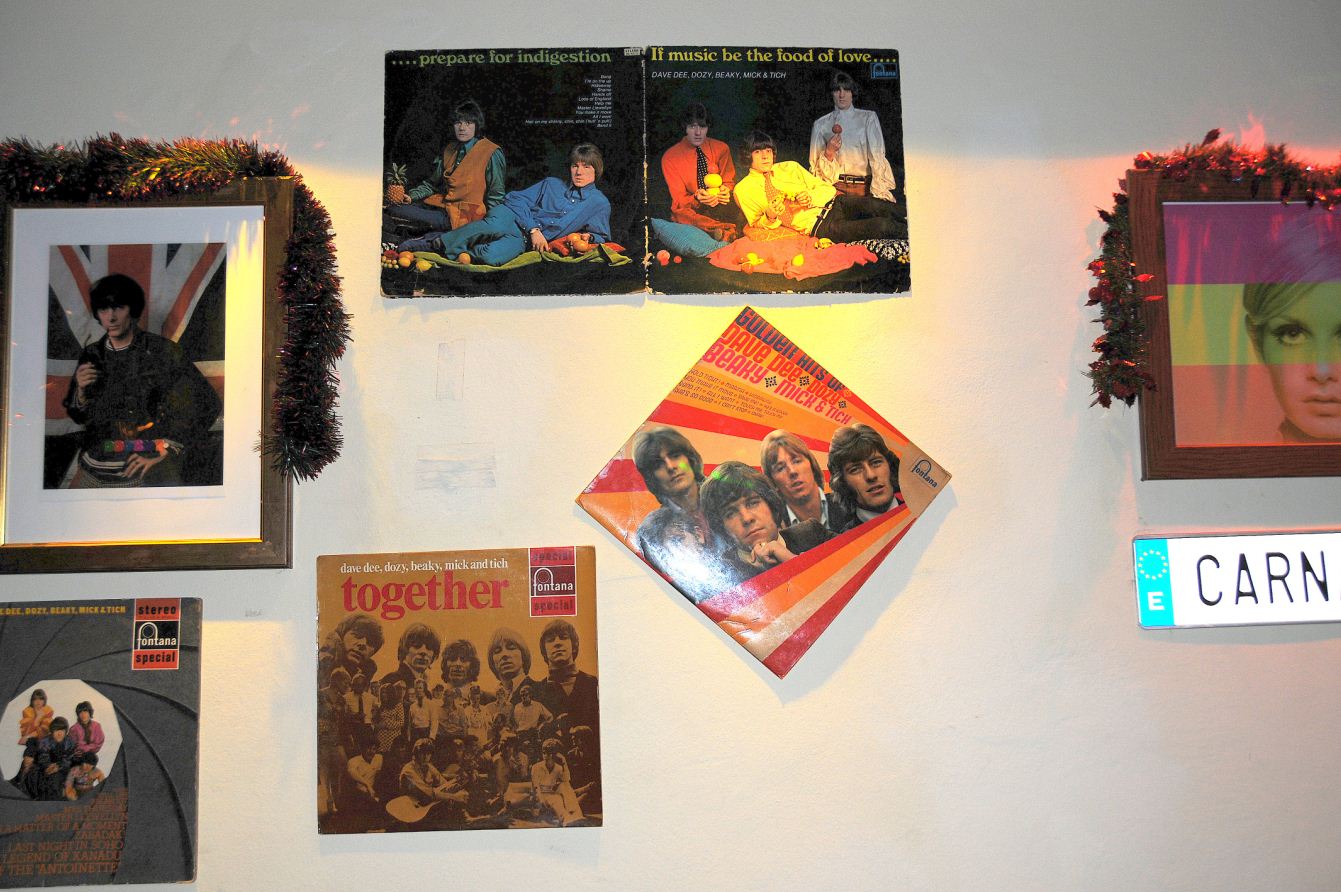 Beakys Gig- two of the walls!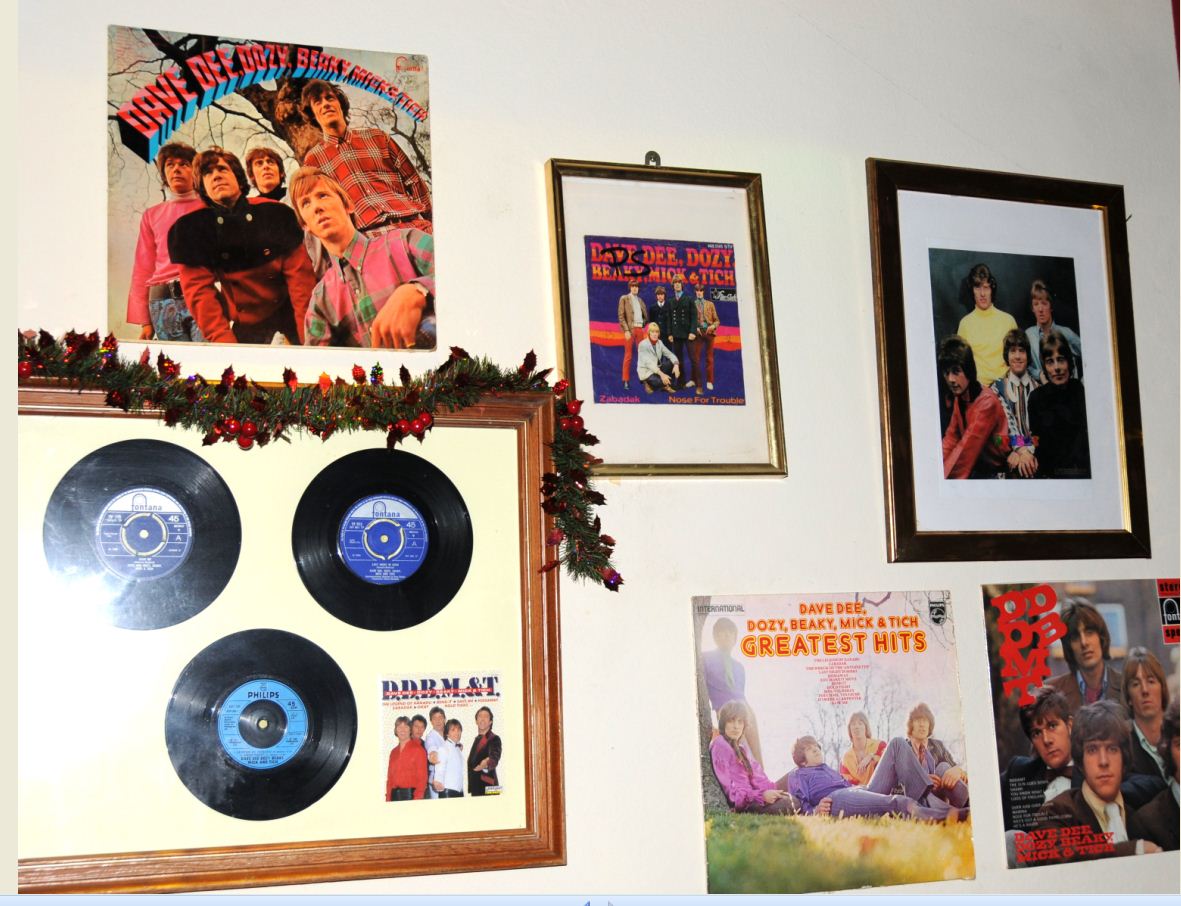 ...........................................................................................................................................
E-mail from Malcolm Cross (April 2013)- more great memories of the Sixties and beyond:
Hello David
I have spent many an hour reminiscing over your WebPages, with still more to go. Brilliant job. Keep it going please. I don't believe that we have met, so let me introduce myself. My name is Malcolm Cross and I am yet another old ex-muso' of the Sixties.Having recently read the submission from Graham Sherin regarding the 60's band; The 'WHEELS of FORTUNE'; (Call up the Groups 16) I have some additional follow on information and memories that might be of interest. It does skirt beyond the Sixties, but there is a Sixties link and a Sixties re-union.
The story really starts for me in the late fifties when schoolmate Mike Sherin and me became hooked on the early Rock and Roll music. We took our guitars to school and were allowed to play them in the school hall during free periods. A first for this school at least. We followed that on Thursday evenings attending the 'Rock and Roll Shows' at the Town Hall in Eastleigh, watching and listening to visiting bands, and the musicians that I believe were from the 'Band Box' stable in St Mary's Street Southampton. They also sort of 'impersonated' the big stars, including Gene Vincent, Buddy Holly, Presley, Eddie Cochran, Cliff Richard and some others. This was the place to be for the music, the dancing and the fashions of the day. All relatively new and exciting.
This was the time when Rock and Roll really meant Rock and Roll, and not perhaps the ignorant mis-use of the name used for some of the music today. Anyway, I think it was 'Mad' Dave DaCosta; who took on the Eddie Cochran songs, and whose guitar I bought from the Band Box in 1959, and which I still have. Then in 1960, Mike, his brother Graham Sherin, Graham's mate Dave Barrett and myself; all four of us on guitars, met up to practice songs for our own pleasure, but it didn't really come to anything, so we sort of went our own way for a time
Then as Graham says; in late 1963, Mike and Graham Sherin, Chris Aldis and me now on drums, came together as the 'WHEELS of FORTUNE'. In 1966, Mike left the band and later went to Australia, so Graham, myself and Chris decided to continue on as the 'GENERATION', with new additions; Derek Primmer, who was an old friend on rhythm guitar, and John Fisher on lead vocals. We were lucky to find John as good versatile singers were very hard to find at the time. We had some bad experiences with a so called 'Agent' with promises of help, and we lost money. Derek and Chris were also 'diddled' out of valuable equipment and a car, in a deal that went badly wrong, but that is a whole other story. Chris then also left the band and went to Canada, and with Mike having previously gone to Australia, perhaps there was a message there somewhere? However; we persevered But Graham was poached first by the 'Unforgiven' and then the 'Forbidden Fruit', so Derek took on lead guitar and we en-listed Alan Filmer on bass and Russell Rowe on rhythm guitar and keyboards. Alan and Russell became available when their band the 'Curlews' broke up.
Now, as the 'VISION', together with a manager; Denny Evans, we took work from several of the local agencies; Avenue Artists, Carlton Entertainments and others, although like most bands, our 'bread and butter' gigs were the Social and Working Men's clubs and some private functions. We played all the Naval Shore Stations in the area, (great memories of HMS Collingwood's PO's Mess) and Southampton's Top Rank Suite and the Pier Ballroom in the very peak of their hay days before the bulldozers and fire destroyed them. Amongst many great gigs, we supported Billy Fury, strangely backed by the Dakotas at the time, then Billy J Kramer, and The Bystanders, at the 'White Buck' Burley in the New Forest. Another great atmospheric place for bands in the Sixties.
John Fisher left in 1970. (I believe for a residency with Top Rank) Derek now took over the lead vocals with Alan and Russell assisting on harmonies with some solos. After just a couple of years the band broke up with Derek retiring, and Alan and Russell continuing with Phil Champion and my brother Peter Cross on drums. In the early Seventies I worked with other bands until meeting up again with Graham Sherin who was starting the band 'FLARE'. Roger Lewis joined on Bass. But in 1975, I left to join Mick Haley and Derek Godfrey in 'FROST', doing largely Sixties numbers; later renamed as 'MERLIN', and joined again by Russell Rowe, and then Wally Brewer on Bass. Graham Medley and Paul Wheeler were 'stand ins' in the early days. As most people who knew Mick will know, Mick Haley, Derek Godfrey and Peter Cross also started out back in the mid- Sixties, originally as the 'Envoys' . I do recall Mick probably had the largest record collection outside of 'Jack Hobbs' or 'Henrys'; if you are old enough to remember those shops?
Having built up a large list of Sixties numbers, in 1982 we started specialising in Sixties revival gigs, initially at the 'Home Tavern' in Eastleigh on Friday evenings, which proved very popular. So we then did these and other specific Sixties gigs under the name of 'RECOLLECTION' alongside the normal gigs as 'MERLIN' After another two years the band split, but this had been the proving ground for Mick Haley and Wally Brewer to expand on this, and form 'Peter Pod and the Peas'. Mick was a very hard working and charismatic guy who sadly passed away a couple of years ago. It was a great experience to have been a part of his previous bands.Then I joined up with Graham Sherin for the third time, and Roger Lewis again, for the last two years of 'SNAPSHOT', and that was it for me.Finally though, in 1992 myself and Graham organised a re-union for some of our Sixties musician friends (including Chris Aldis who was visiting the UK) to replay some of the Sixties sets to an audience of family and friends, joined by Graham's band 'Poky' for the final set. The original four of us from 'The Wheels' still remain in touch fifty years later. Graham and myself meet often, and we catch up with Mike and Chris when we can.
Keep up the good work. Regards
Malcolm Cross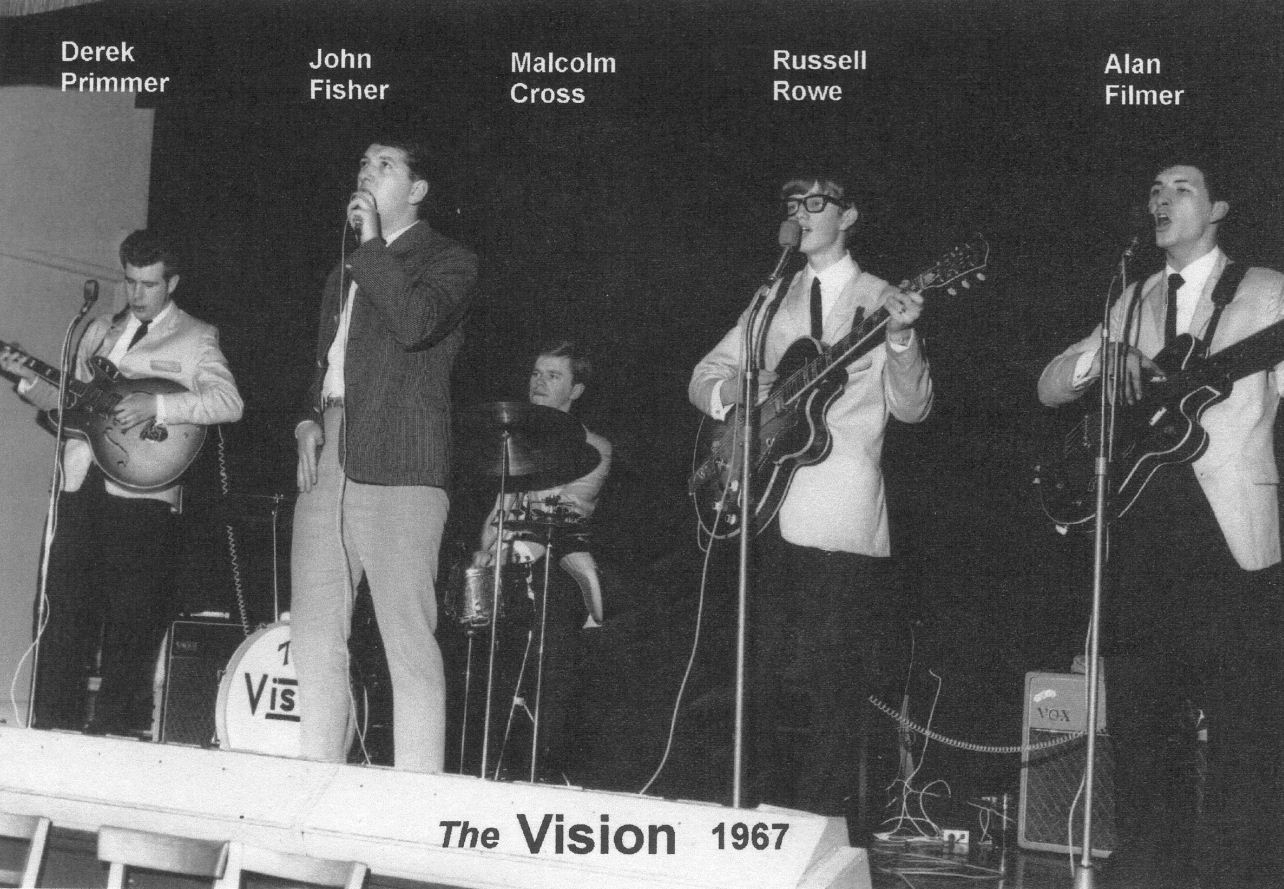 Riverside Park Woodmill (River Itchen)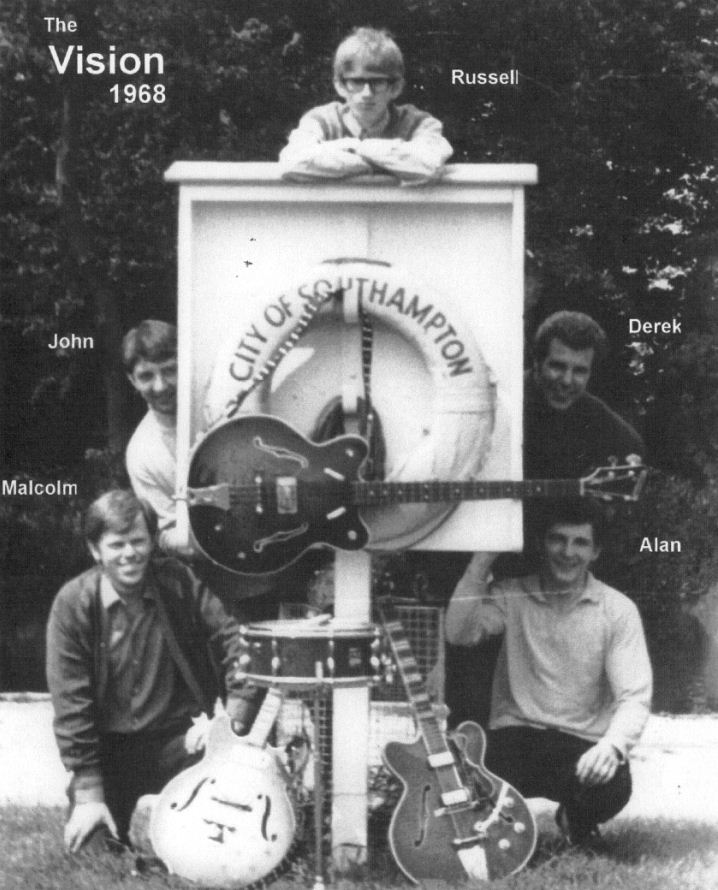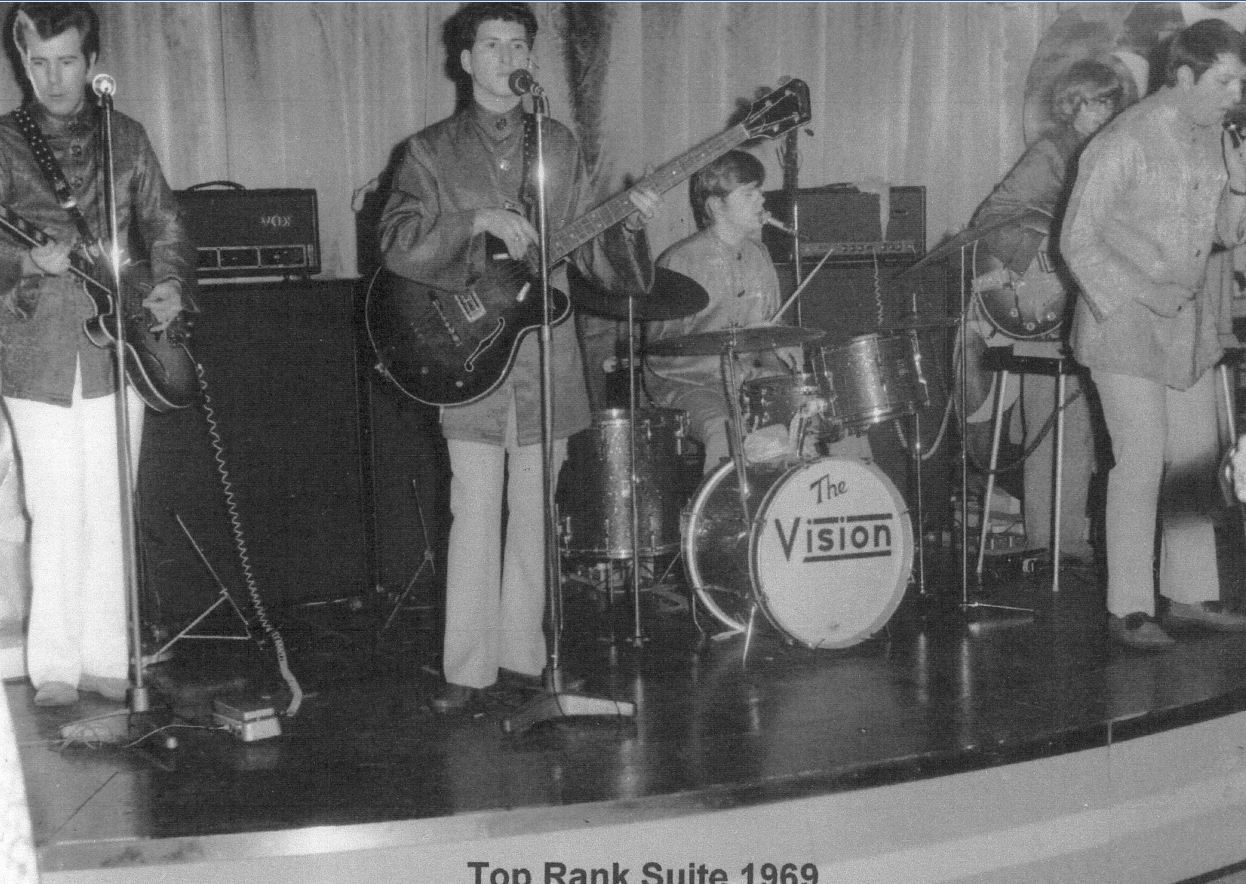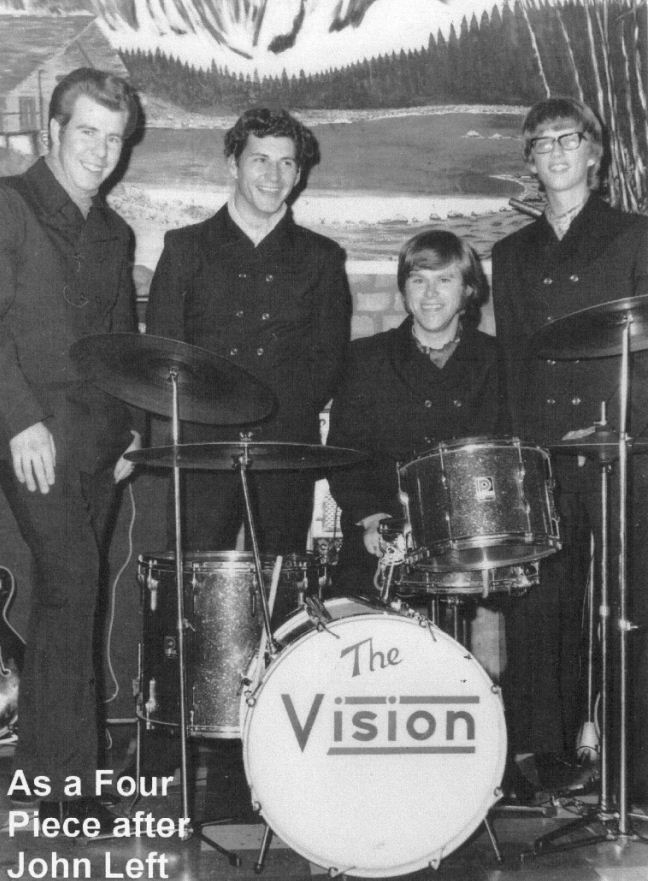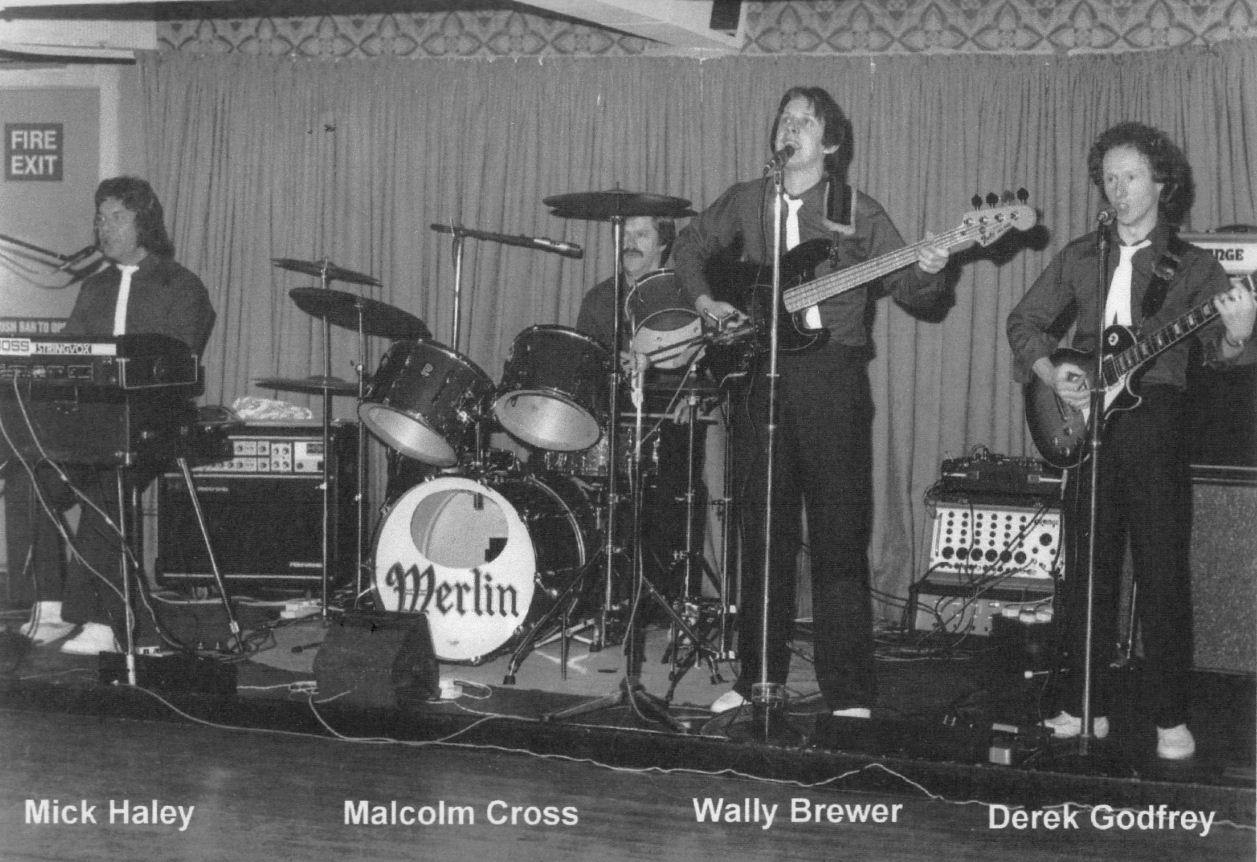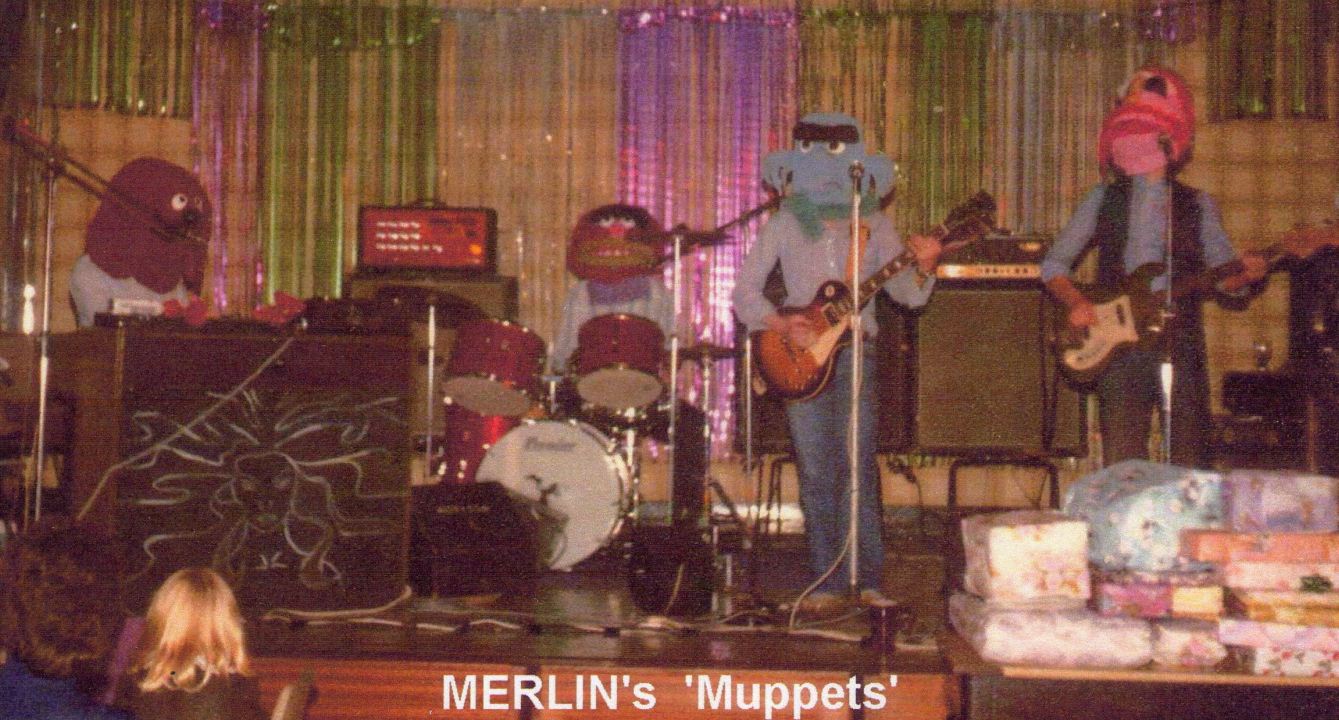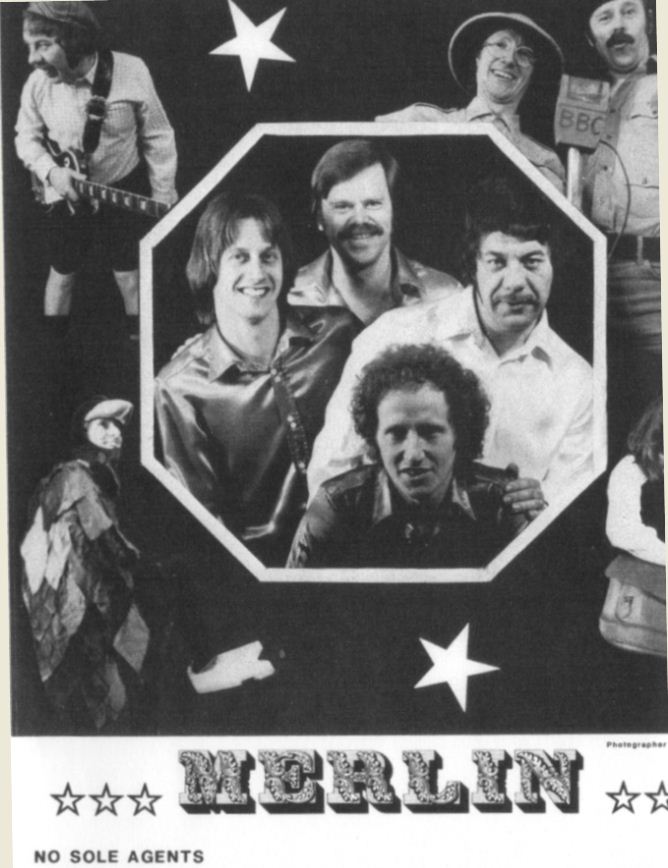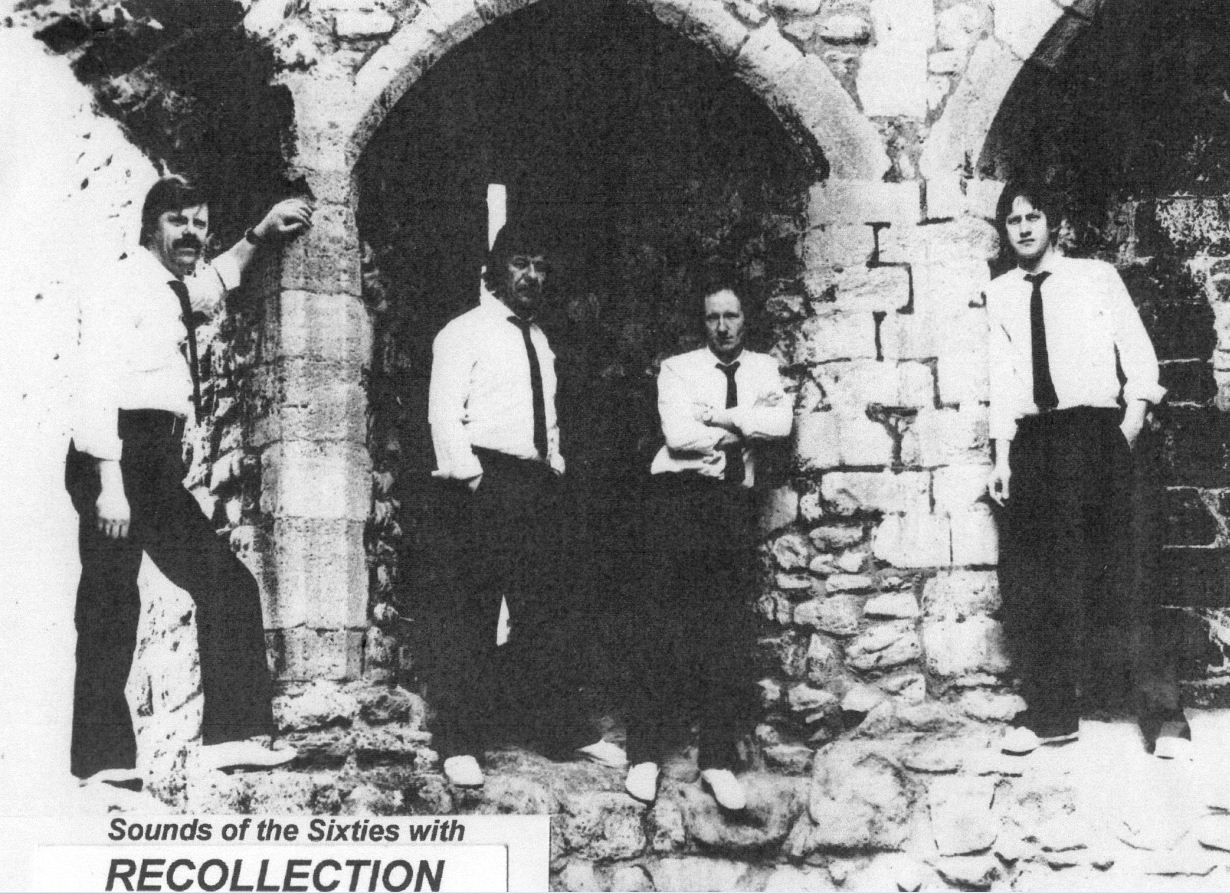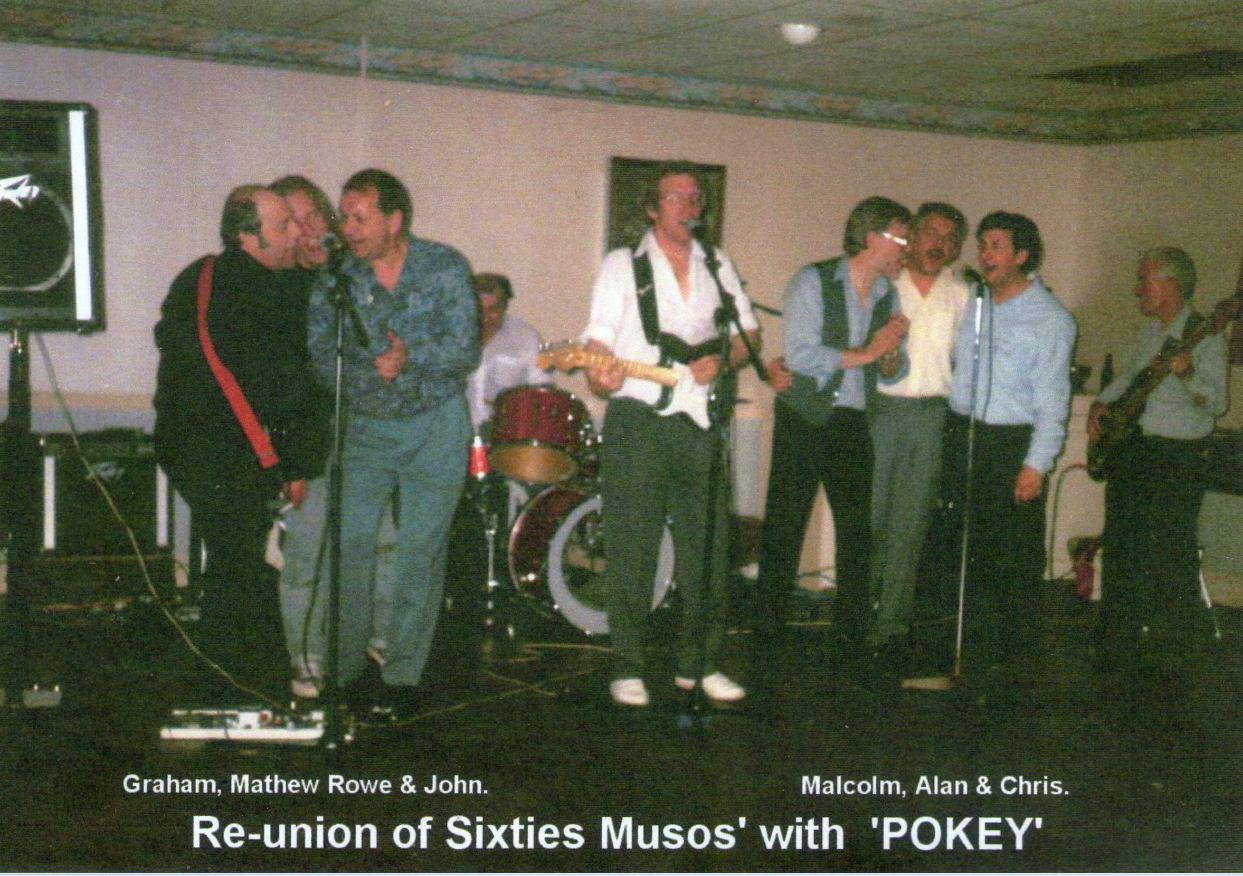 ...........................................................................................................................................
Isle Of Wight Festival 1969- check the line-up and prices - Man!
The blonde hippy chick on the left is Southampton's own Pat 'Yum' Othen
Photo courtesy Magnum Photos
As you will probably know- my website has been growing over the last few years and mostly based on the Southampton area but not forgetting that many of us local groups played all over the South. We have good links with PompeyPop, run by Dave Allen and Mick Cooper and covers the Portsmouth area just a few miles down the old A27 if nostalgic- otherwise use the M27! Many of criss-crossed as we performed on other patches and always great nights as all audiences just loved listening/dancing to us all without any 'territorial' nonsense that has crept in over recent years (often football related-yawn....) We also 'crossed the border' into West/East Sussex and they also had a thriving music scene, which is covered by the excellent Brighton Beat website and worth a look. http://www.brightonbeat.com/
The Southampton Echo recently published a great article on an early 60s Brighton group- The Hustlers but having a couple of Southampton musicians onboard so worthy of a mention here! I've just got in touch with Peter Dresch and he kindly sent some info and pics, with maybe more to come soon. Peter is 2nd from the left and- yes- he does look like a certain well known guitarist whose own late 50s instrumental group who inspired a generation of new young 'beat groups' as we were labelled. Check out the Echo article at: http://www.dailyecho.co.uk/news/10417424.Rock_group_reunited_after_50_years_with_all_its_original_members/
Peter is the guitarist with glasses and - yes- he was inspired by Buddy Holly and actually saw him in concert at the Southampton Gaumont on the 1958 tour. Not forgetting that Hank B. Marvin was also influenced by the glasses and red Fender Stratocaster- I believe the first one in the UK?
Peter writes:
The black & white pic was taken by a pro photographer for publicity in the singers mum's pub in Brighton. The colour one was taken at a large youth club in Uckfield, East Sussex. We would get over 200 teenagers there. We did every Wednesday night there for eighteen months and that was where we played our last gig together in 1965. We did travel west twice to play at the Royal Marines barracks in Portsmouth, but all the other gigs we did from 1960 to 1965 were in Sussex, Kent and Surrey. Great days with many lovely memories. Wish I could go back there. I have just opened a web site for us that you may like to take a look at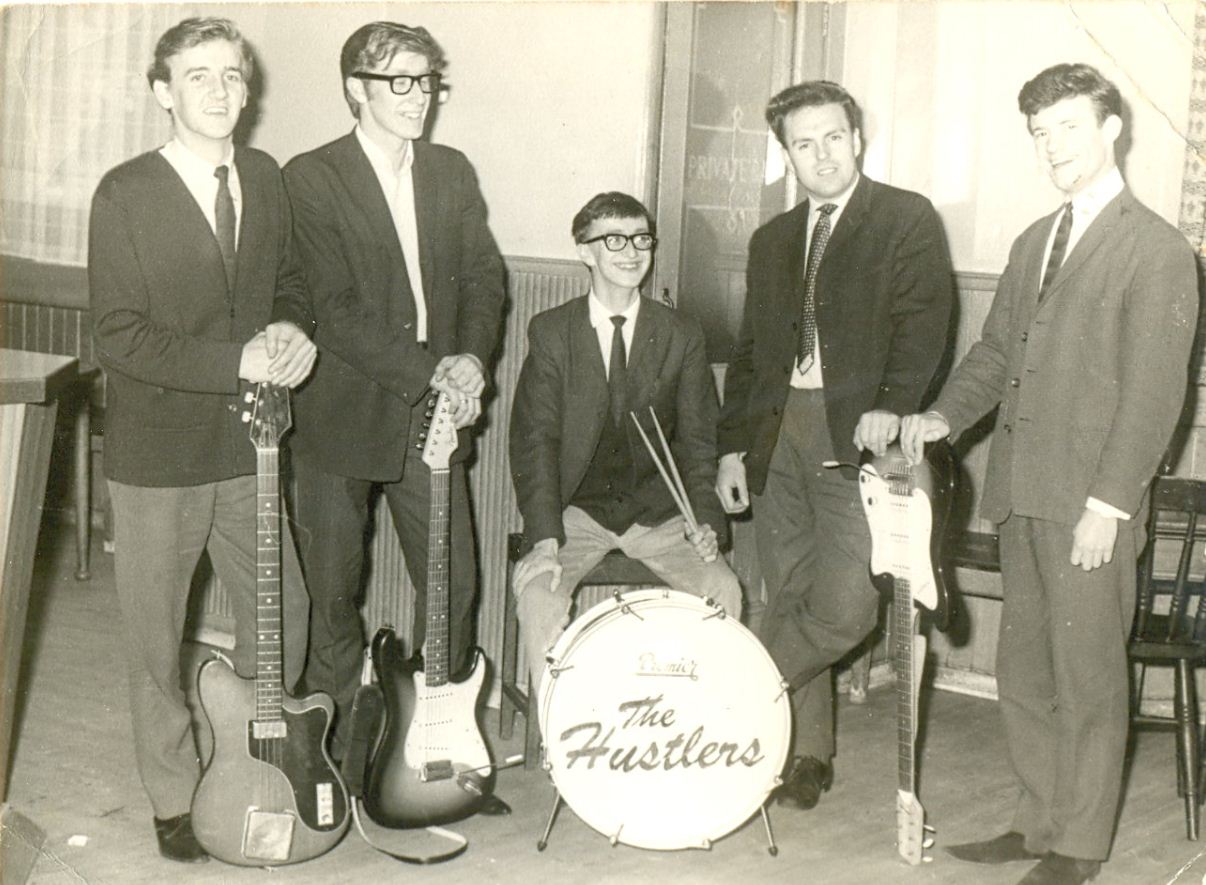 THE HUSTLERS 1961
L-R Barry Gillam Tony Burchell Malvin Chapman Richard Pearce Pete Dresch
Hello David.
As promised, here are another couple of photos of the Hustlers. The black & white one was taken just before Christmas 1961 with the original five members. Note the 'giants' hanging on the wall for their pantomime. One fell on the drummer as we were playing! The coloured photo was take at a care home in Worthing last year. We did five gigs there for the old folk at no charge. It was great seeing them singing along to all the songs.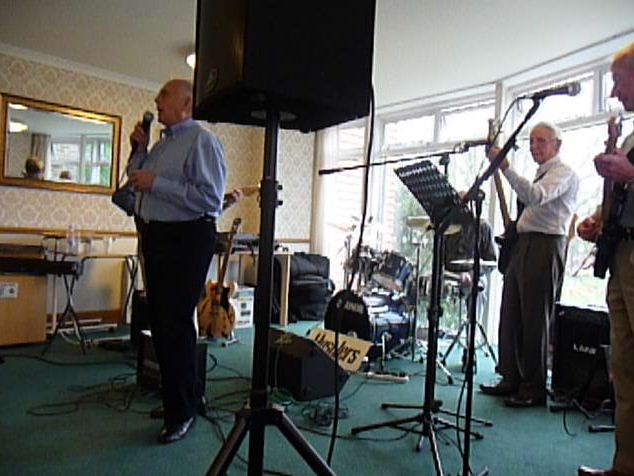 THE HUSTLERS 2012
(DSJ: " Compare the equipment to 1961!")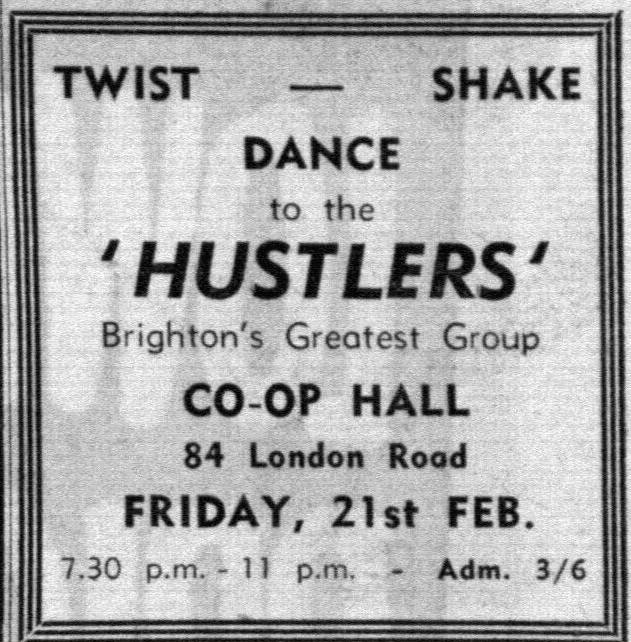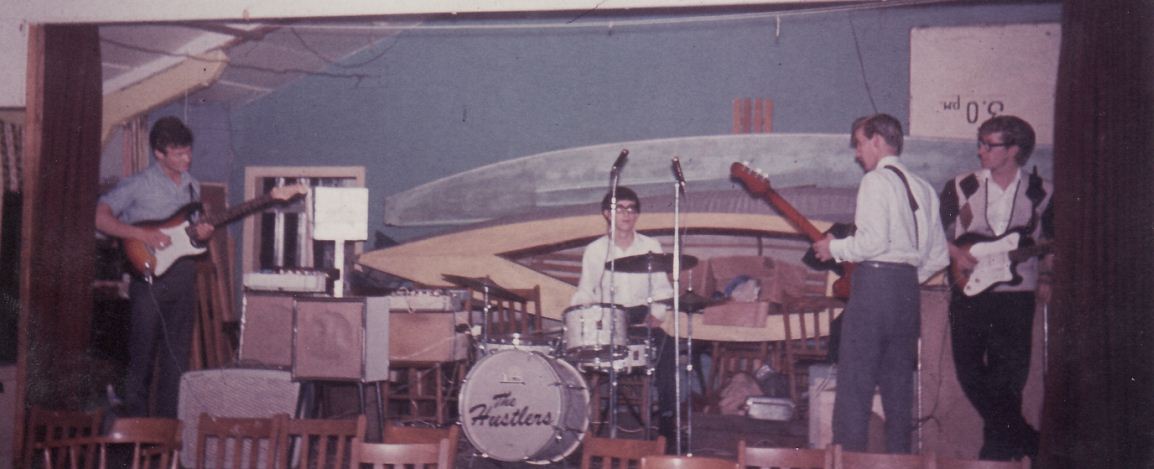 I gather that some more old photos might surface soon and I look forward to adding them in the near future
...........................................................................................................................................
I get loads of mail and these 'fab' photos from all over the world, often resulting in follow-ups as they jog more memories, but some get blurred in the passage of time. Many of us Southampton bands played at gigs in the beautiful New Forest which is right on the city's doorstep- our 'back garden' and I had this mail in from John Cauley (Pete Mystery and the Strangers) as featured on Groups 10 page)
Hi David... been scouring your outstanding website again, It really is a fantastic resource. When Pete Mystery and the Strangers (call up the groups 10) disbanded 1964 -like an idiot I sold all my gear Vox AC 30s and Burns Splitsonic guitar and didnt touch a guitar until the 1990s. Instead of being part of the live music scene I became just another Joe going to gigs around local area. Just out of curiosity I remember going to see a popular group called Wishful Thinking, the lead singer Danny Finn went on to join the New Seekers. The venue was in the New Forest area and I thought it was Burley Manor Hotel. To cut this short before I start rambling on... I went to this big old house today but couldnt find a room that fitted my memory as the venue. Maybe it wasnt Burley Manor Hotel...Can you throw light on this...like I said its just curiosity.? regards John Cauley.
Many will know that Wishful Thinking were one of the top local groups featuring lead vocalist Kevin Scott (of early Kinsmen fame) along with Tony Collier and co- see other webpages. Kevin did become Danny Finn and joined a later line-up of the New Seekers who sold millions of records in the 1970s. Danny also married the beautiful Eve Graham (shared vocals with Lyn Paul) and been settled in Scotland for many years. Had a flurry of e-mails and here are a couple:
I believe that it was of course at the Burley Manor but we played there when it was also called the White Buck – with the 007s I backed several bands like Lulu & the Luvvers, etc; also played at the Bure Club with many "names" plus even Cilla Black (White) who had the doubtful pleasure of sharing our dressing room. After 007s and Commancheros I joined Johnny (Tich) Watson's Star Combo (fresh from Hamburg) then concentrated on my career in the NHS until twenty years ago when I escaped (early retirement) and moved to Devon playing with Hard Times, and Stax of Soul etc. There are so many of us and the DSJ website is a real blessing so we can indeed (re) Call up the groups...
Take care
Gerry (Hayne) [keyboards]
I remember the 007's, I saw the band play at a club in Lyndhurst. I worked with the bass guitarist David Chalk, I sold my Harmony H75 guitar to the 007's guitarist.
John Goodwin
ZAC AND THE ZEROS
Hi Dave,
Just an update on this one, The Burley Manor Hotel is still there and thriving, and so is the White Buck Inn, and also still going strong... These are two different venues, in fact the guy who ran The White Buck was John Loose, and this is more likely to have been the gig in question, as we all played there many times, it was a great gig... I always wondered what ever happened to John Loose... Hope this helps...
Take care,
Beau...
Only the Bure Club for me David. Played there several times with Ten Feet Five - once with Brian Poole & The Tremeloes! In fact, we were down to play there with an emerging band called The Beatles but, they broke big and bought themselves out of their club/dance hall contracts. Ironic to think Brian Poole & The Trems were the band Decca signed up instead of The Beatles!!As far as were concerned, The Bure Club was one of the better venues on the 'circuit'.
Also, being a former member of Pete Mystery & The Strangers, my best wishes to John Cauley. I am still in regular contact with our lead guitarist. Just to make him feel even worse, one of the guys I play with over here has 1961 and 1963 Fender Strats. and his brother has a 1958 Precision bass!! Sorry John.
Cheers,
John Walker (Ten Feet Five/Troggs)
The Venue was more likely to be the White Buck at Burley, Wishful Thinking played there. Memories of the Sir Walter Tyrell. It was always packed to the hilt Friday , Saturday and Sunday. Len Baker was the manager in 1968 and his assistant was Tony. Len put up the money for Brownhill Stamp duty to record the Beatles Song Maxwell's Silver Hammer.
Our Drummer Derek Griffiths fell off the back of the stage out through the french windows while playing there one evening with the Group called Jigsaw later to become Aquarius led by Rod Chainey Southampton's number one covers band, always very well rehearsed, playing in those days at least three or four times a week, Happy Days!!
In those days the Cinema at Ringwood (Regal) had been turned into a dance hall and used to book bands on Mondays.
Chas (Charles Lamb)
Hi David,
I remember the Bure club very well. We had opened for Crispian St. Peters back in the mid 60's. Pied Piper era. While packing up the equipment on stage, I spotted this hot little number checking me out. Well, When I did the same, I tripped over one of the mic cords and literally fell for her. Married her and still together after 48 years. So the Bure Club has special memories for us.

I've attached a few more pictures of our bands back in the mid 60's.
John Langford (Four Hits and a Miss)
These are the latest great photos sent by John Langford and more nostalgic images that give the flavour of how we dressed plus a mix of equipment- some basic and some with classic guitars, Vox AC30s etc.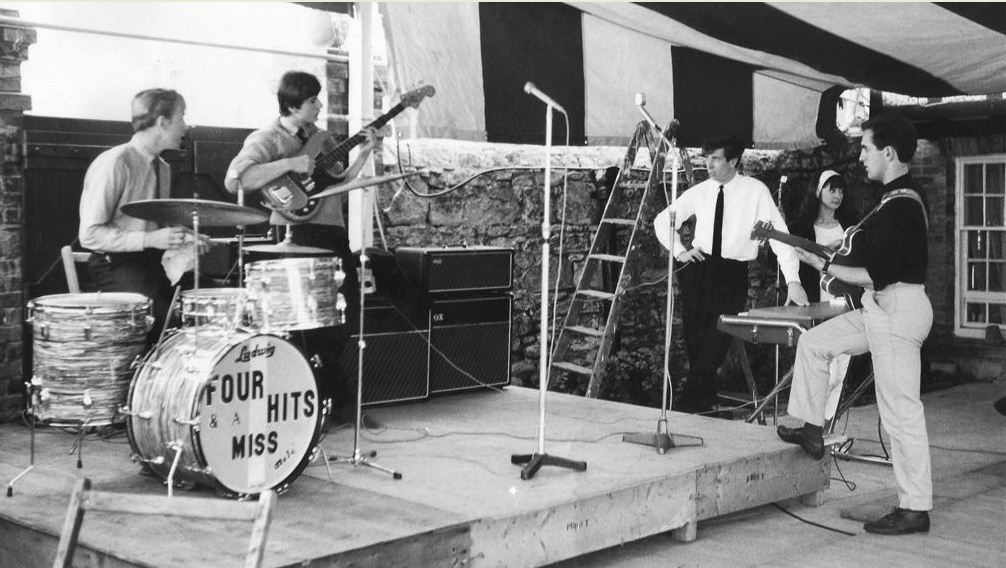 FOUR HITS AND A MISS- setting up!
L-R: Malcolm Collier Terry Collier Phil Blenkarn Nicky James John Langford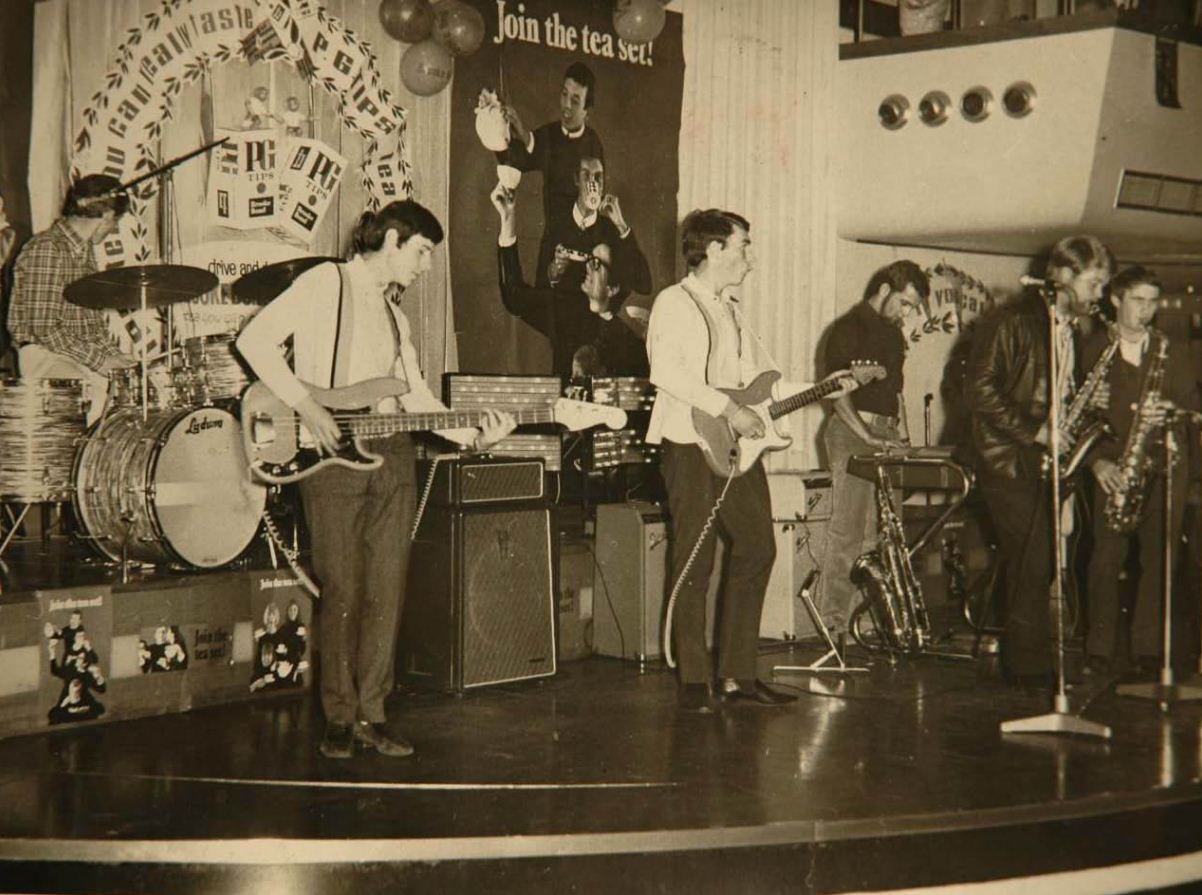 TOP RANK SUITE- on the revolving stage! Other acts set up behind and ready to swivel round
L-R: Malcolm Collier Terry Collier John Rawlins John Langford (on keys). ?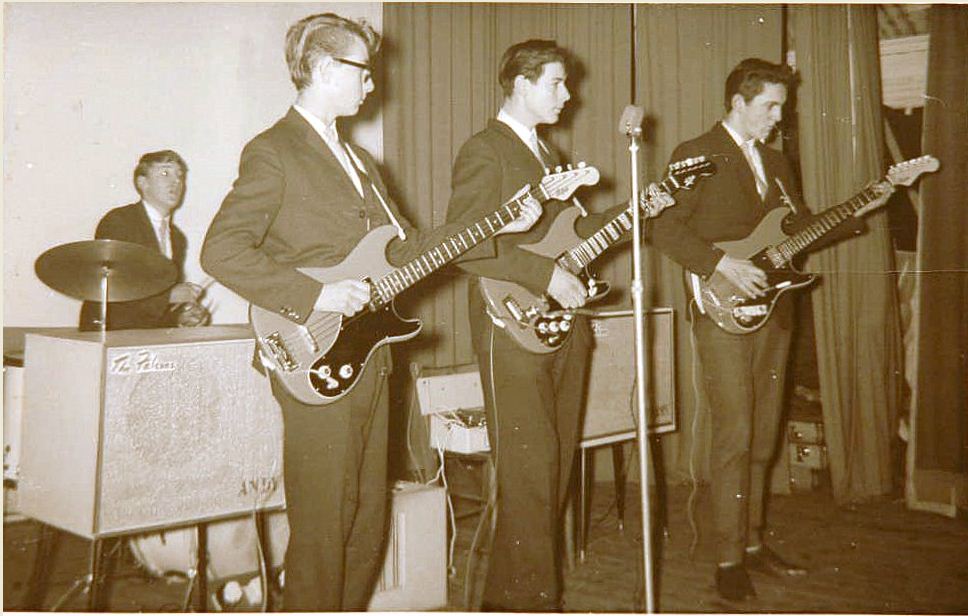 ST JOHNS HALL HYTHE
L-R: Early 60sMalcolm Collier ? Terry Collier John Langford
(Note the amp on left- 'The Falcons' and 'Andy') Connected to Heinz' first band? Matching amp on right
I personally remember playing some of these venues and especially the Bure Club at Mudeford which was one of the best. Our first band- the Abdo-Men supported Eden Kane and the Downbeats who had several hits in the early Sixties. Featured Eden and his brothers Peter and Robin Sarstedt- Anglo/Indian family and great looking with voices to match, the latter had their own solo successes and especially Peter with 'Where Do You Go To My Lovely' one of the finest 60s love songs. You can read up more on our very own Kevin/Danny Finn on Lyn Paul's own website: http://www.lynpaulwebsite.org/NS-Finn.htm as well as Eve Graham (see below)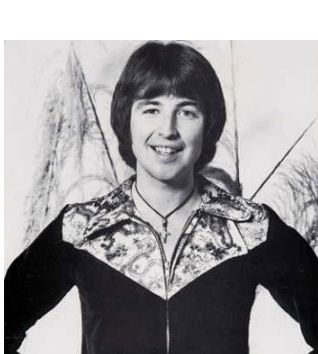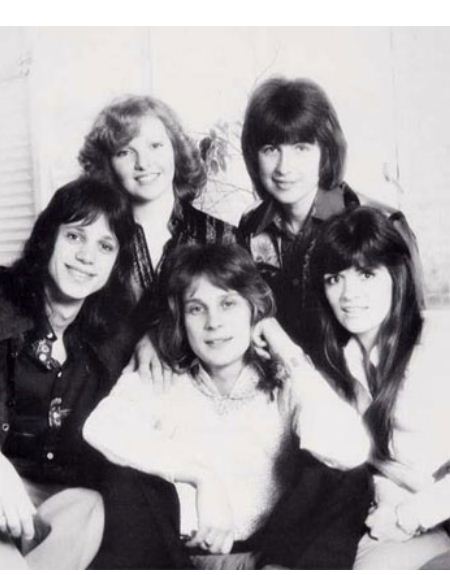 Danny Finn New Seekers c1978- Eve Graham on right
...........................................................................................................................................
THE ANTHONY JAMES SCENE
David,
I was in touch with you a few years ago regarding "The Anthony James Scene", a Southampton-based soul band which formed in 1966, and promised to send you some photos. They have at last come to light and are attached.The lineup in the firstphoto below is (L-R) Ronnie Taylor (alto sax), Tony House (drums), Tony Lowe (trumpet), Geoff Butt (vocals), Mike Kingswell (bass guitar), Mike Terry (lead guitar), John Lawler (tenor sax).
There was originally a keyboard player (possibly Richard Spell?) but he left before we started gigging. Jeff Butts left towards the end of '66, Mike Terry took over as vocalist, and Graham Mintram joined as lead guitar. I started doubling on flute, and when I left (early 67), Graham Mintram took over on tenor sax (not sure what happened about guitar), and Ronnie Taylor acquired a baritone sax.
We were based at the Cliff Hotel, Woolston, but played all around the southern counties (even as far as Cornwall after I left). The band broke up about 1968, with several of them going into "The Globe Show" (Mike K didn't, but was playing double bass on the QE2 about then).
Up to last week, I'd not seen any of them since those fabulous days, but met up with Ronnie Taylor when he was gigging at the "Bent Brief" with his trio "RSJ". His alto playing is ABSOLUTELY AWESOME these days. I now have a phone number for Tony Lowe, and am minded to try tracking down the rest of them (not with any view to making a comeback as my tenor hasn't left it's case since the early 70s, and neither my lungs, nor my fingers could cope!).
Once again, apologies for the delay in finding and sending these photos on to you.
Regards,
John Lawler
PS: in case you don't recognise the venue, it's Southampton's Old Walls, by the 40 steps and Catchcold Tower, and opposite (the long-gone) Pirelli's.
PPS: I don't play any instruments these days, my other interests in historical re-creation have led me into occasional folk singing, though mostly at re-creation events as I find clubs tend to be too organised and amplified these days! I'm actually working on appearing in a 1914 event as a song collecting member of the Folk Song Society (now EFDSS).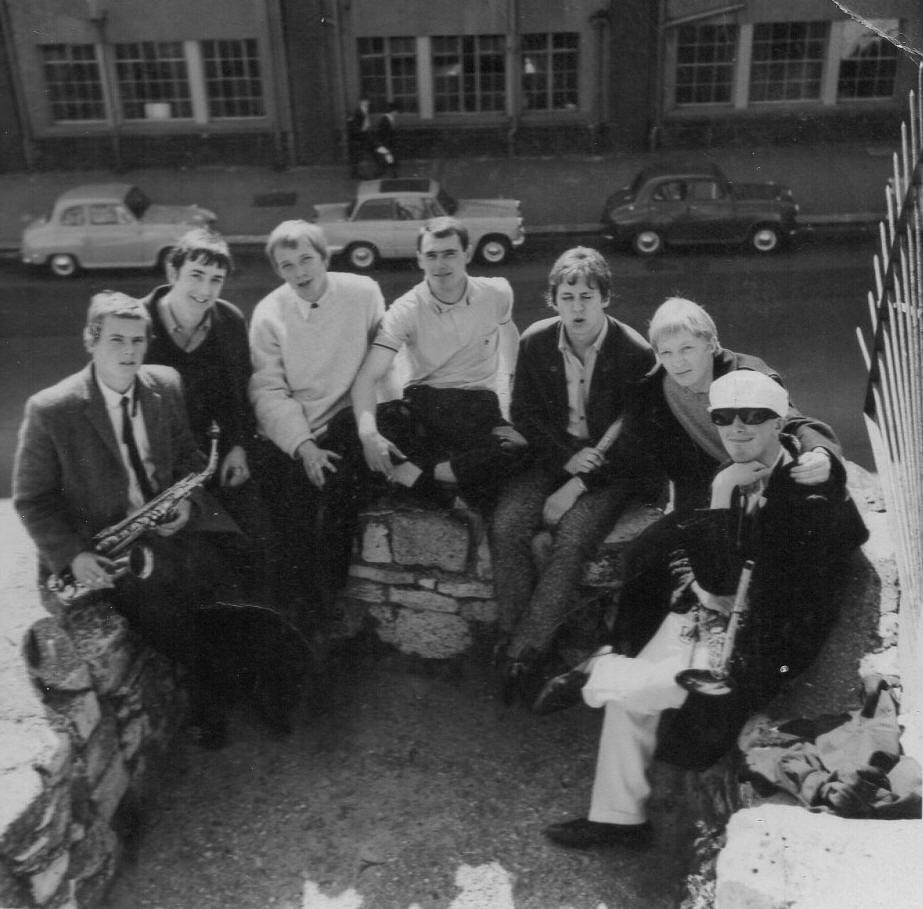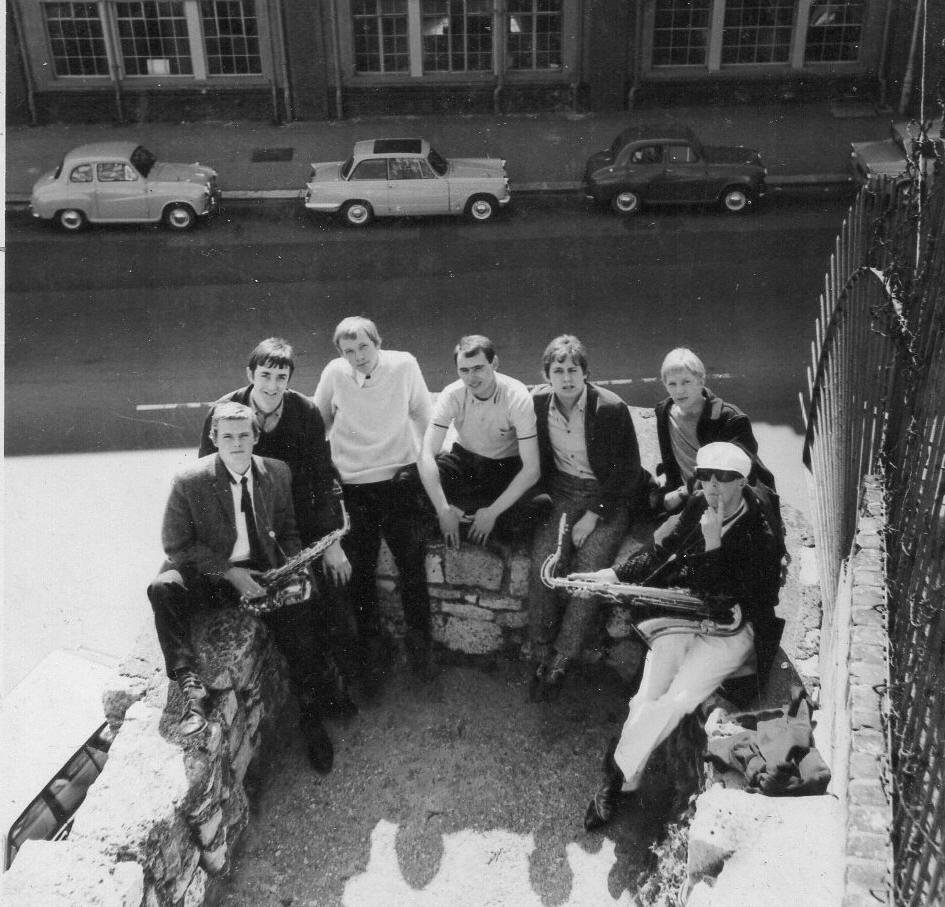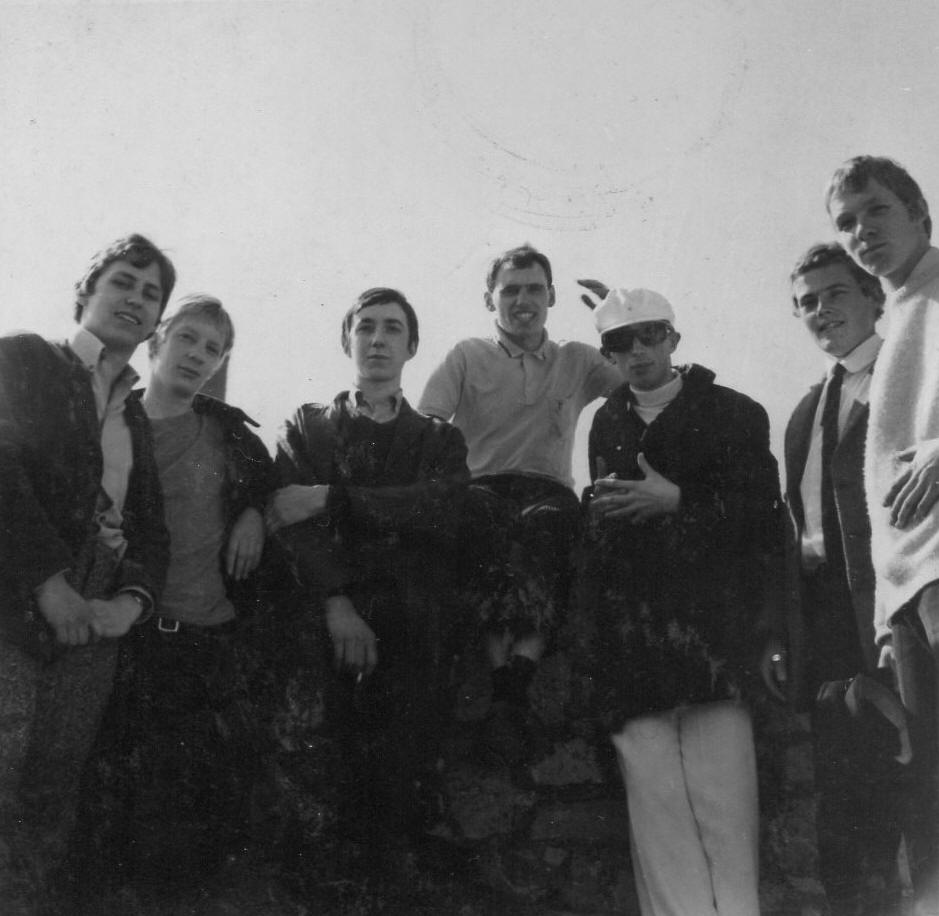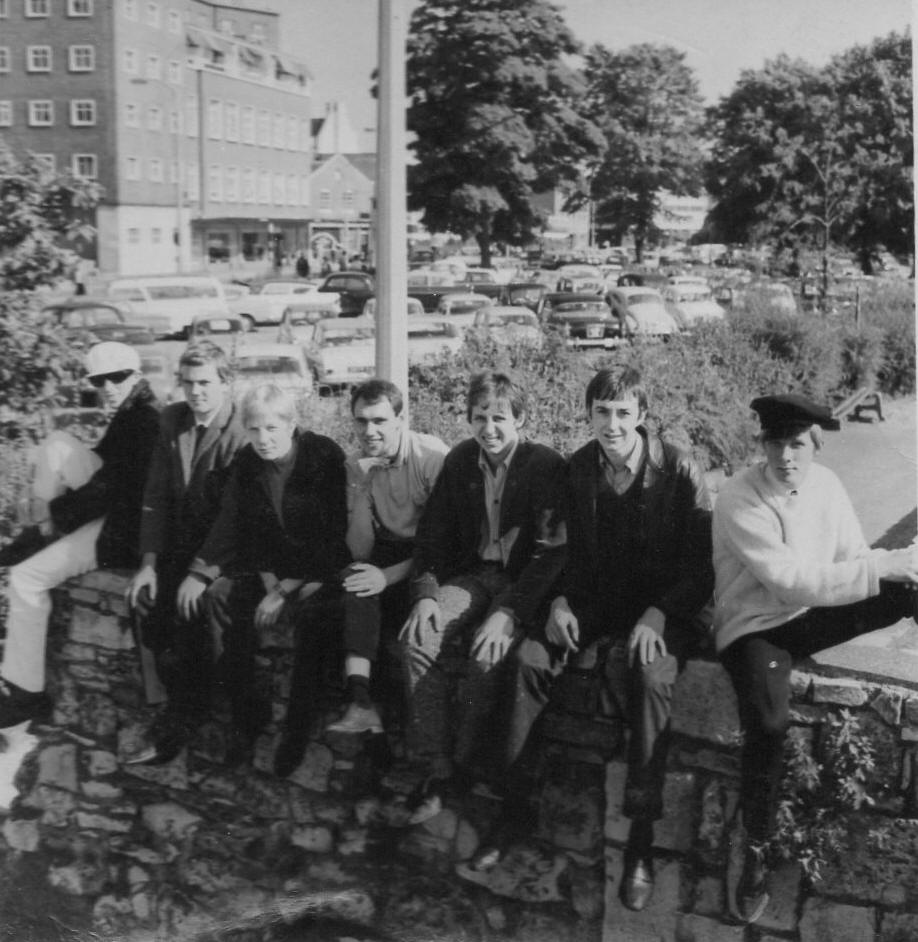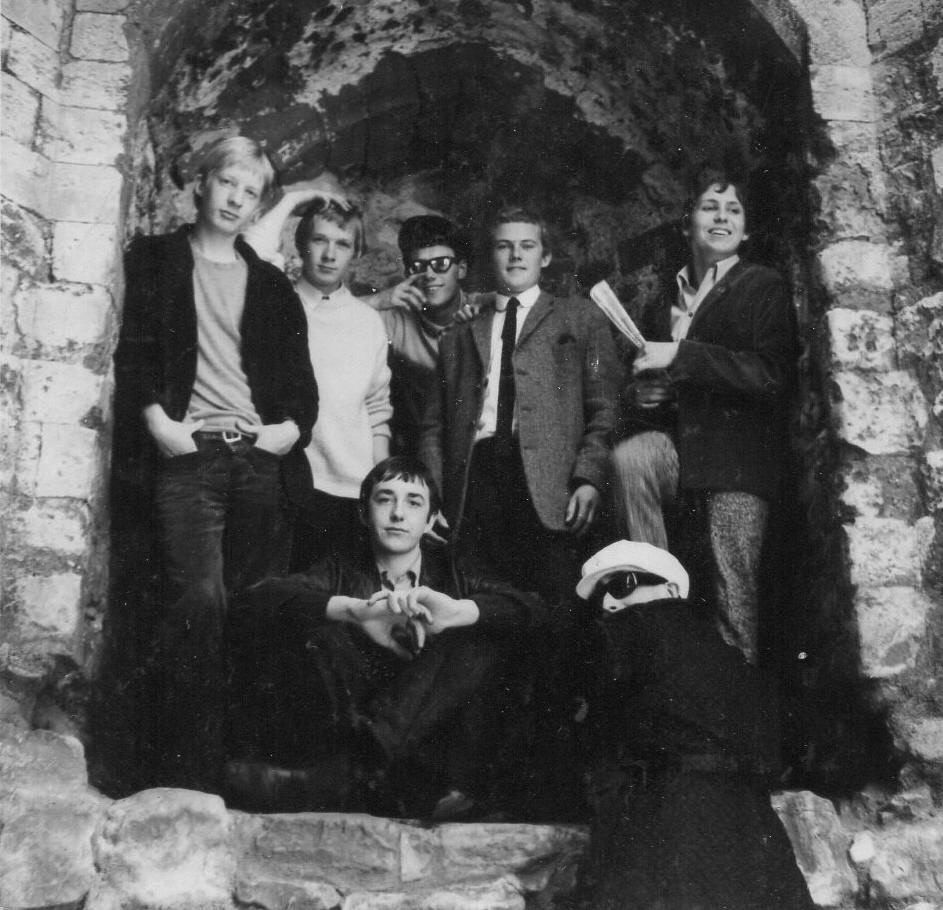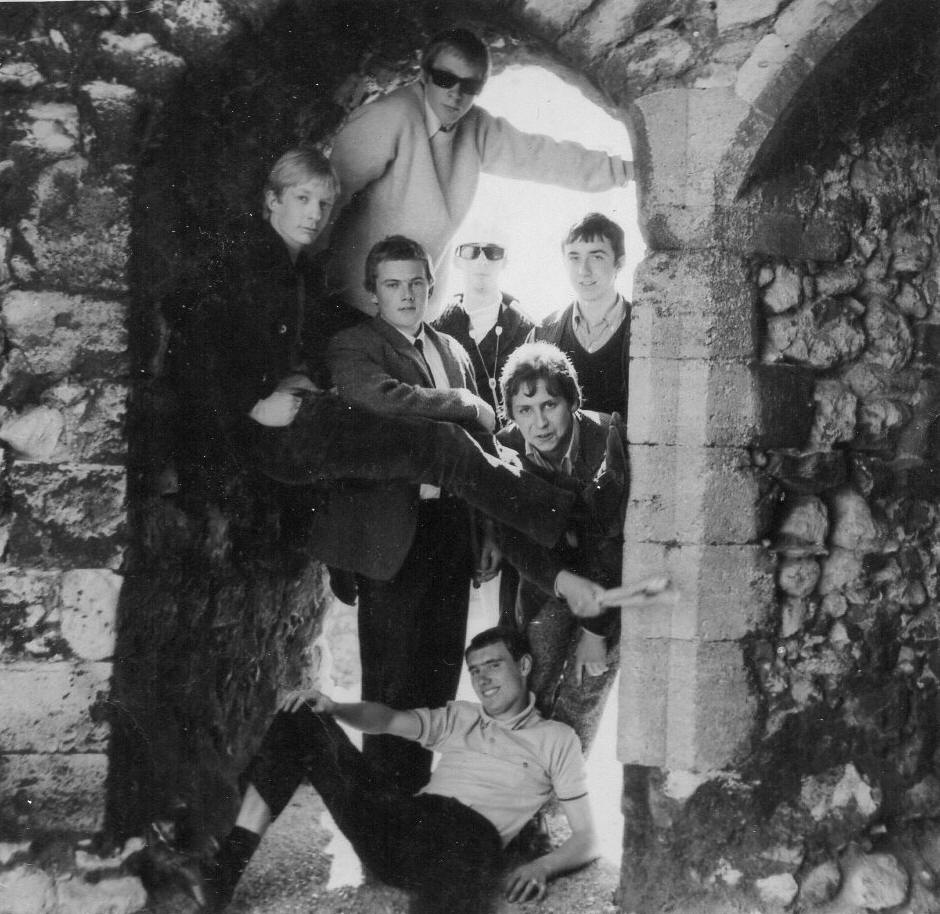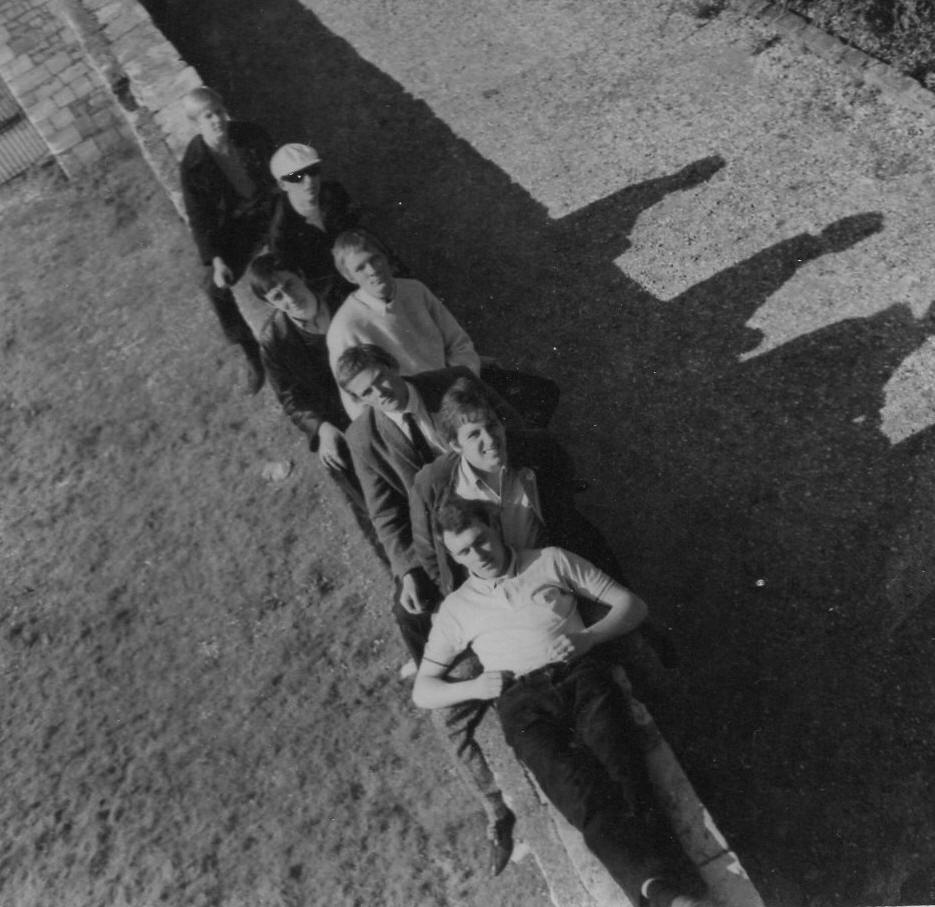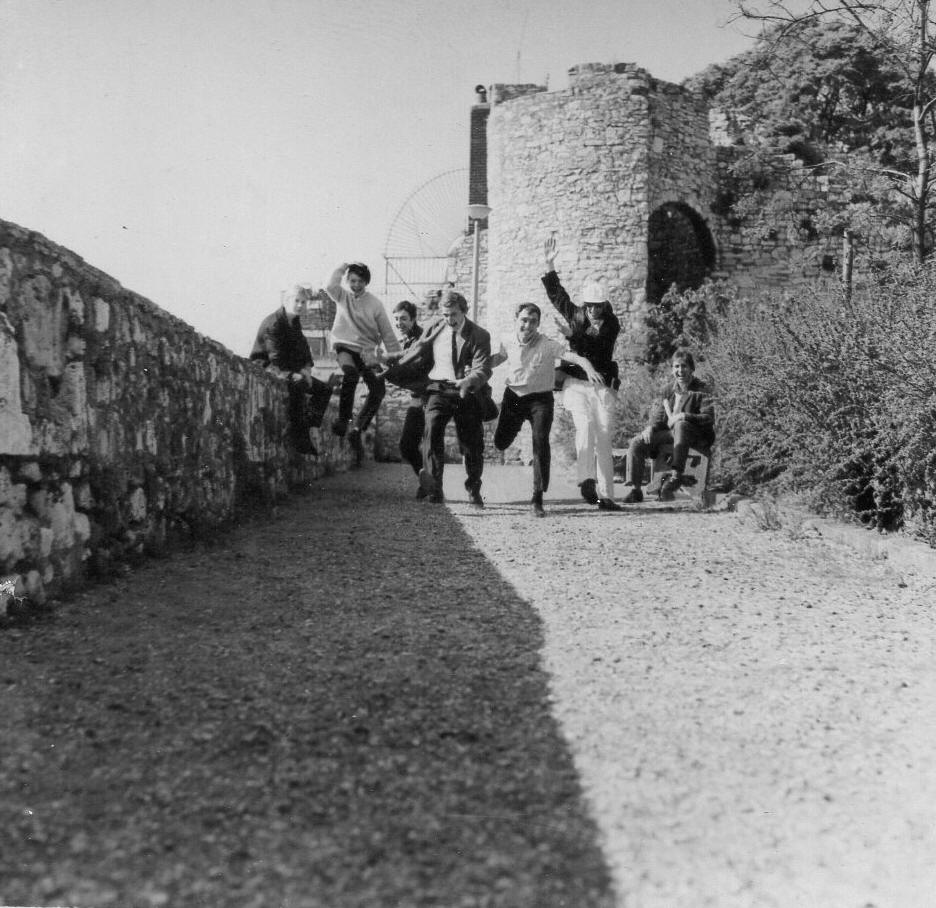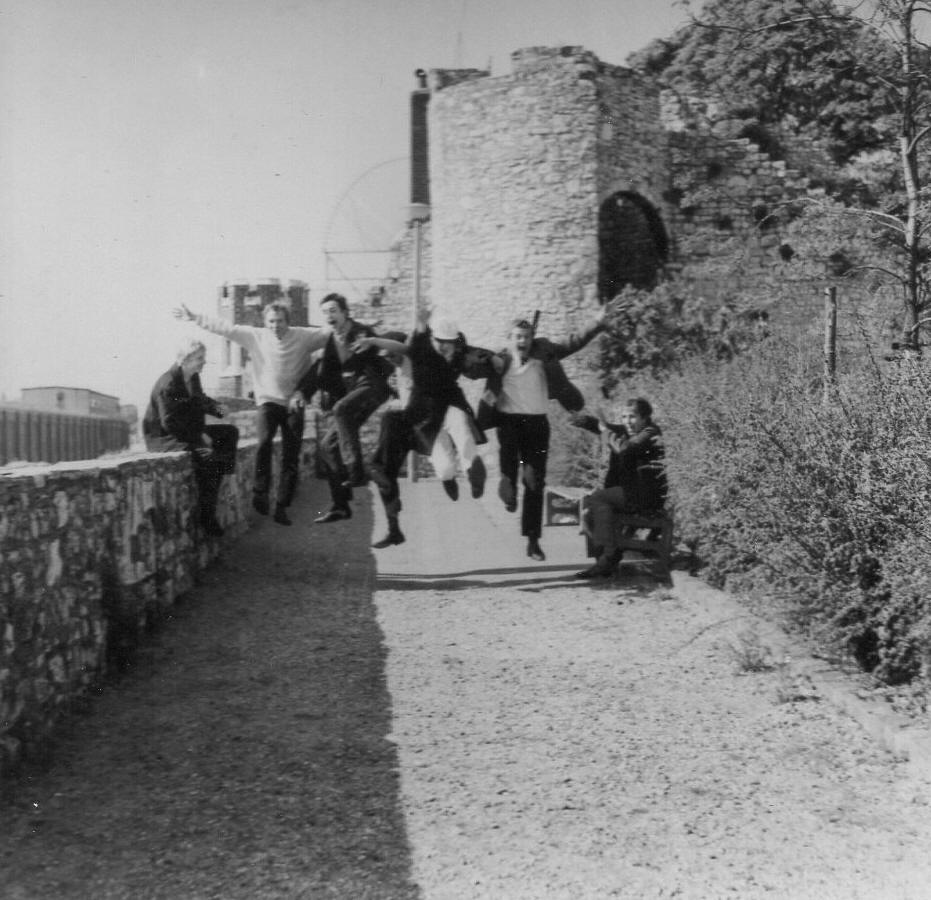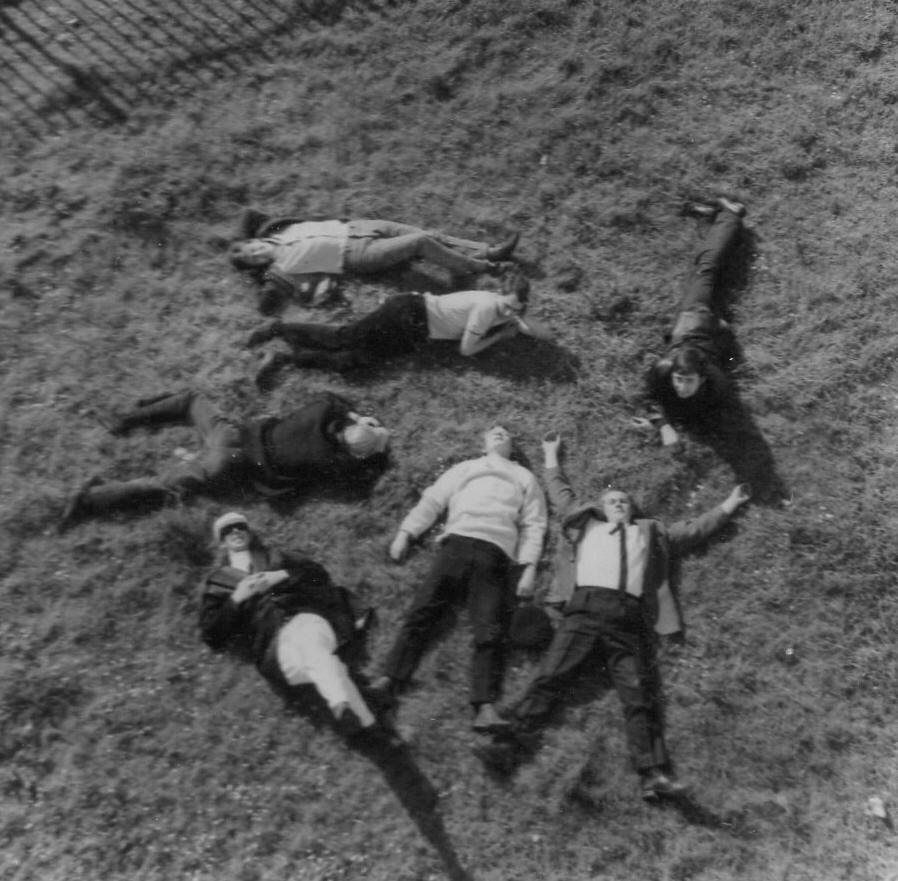 26 April 2014- e-mail
HI , I HAVE JUST BEEN SENT A LINK TO YOUR WEBSITE ABOUT BANDS OF THE 60'S AND DISCOVERED AN ARTICLE AND SOME LONG FORGOTTEN PHOTOS OF THE ANTHONY JAMES SCENE. I AM GEOFF BUTT. I LOST TOUCH WITH THE REST OF THE BAND IN LATE 1966 AND GAVE UP PLAYING LIVE UNTIL, THROUGH A CHANCE MEETING IN 1977 WITH FOUR YOUNG LADS IN THEIR VERY EARLY 20's WHO GOT ME INTERESTED IN PLAYING AGAIN. IT STARTED AS JUST JAMMING IN A CHURCH HALL, TO FORMING A COUNTRY/ROCK BAND CALLED KALEIDOSCOPE, PLAYING IN AND AROUND SOUTHAMPTON SOCIAL CLUBS AND PUBS ABOUT THREE OR FOUR NIGHTS A WEEK. I ENJOYED THAT UNTIL THE MID 80's AND THEN RETERED AGAIN TO A QUIETER LIFE WITH MY FAMILY. I STILL PLAY GUITAR AT HOME BUT IT WAS GREAT TO SEE THOSE OLD PHOTOS. PS, GREAT WEB SITE
.............................................................................
E-mail from Peter Gore who used to play at the Kasbah Coffee Bar on the London Road from the mid Sixties. My first band- The Abdo-Men also played in the cramped cellar that was Southampton's own 'Cavern Club' Pete later went into a long career in DJ and radio presenting work- much of it with the BBC all over the UK. He writes:
I was the rhythm guitarist with the Meteors playing at the Kasbah. Joined the army and had several groups in Bielefeld West Germany on guitar then on Organ. I returned to Southampton with DJ work at the Silhouette club and Birds nest. Gigged on organ in pubs like St Denys hotel and another one at Blackfield. Joined BBC Radio Solent as a presenter.
Throughout my DJ time I remember well that Johnny Dymond was considered the 'prime' jock although I never met him, I seem to remember him doing stuff at the Top Rank Suite in Archers Road
Actually it was him that I was betting on to get into Radio - as it turned out ...it was me, and very happy as I was to morph into a 25 year life with the Beeb. Presenting, producing, music production and programming, reporting and ending as a senior journalist. My career was only limited by the fact that I never wanted to go to London although I did do some foreign reporting in the Far East mostly. At the age of 68 I have my memories and the pleasure of seeing the younger people I worked with, and in some cases trained, popping up on my TV screen doing a pretty good job! Peter Gore April 2014
Birds Nest DJ - me pictured with the manager (forgotten his name) 1972- the chart dates it!
* Radio solent publicity card 1978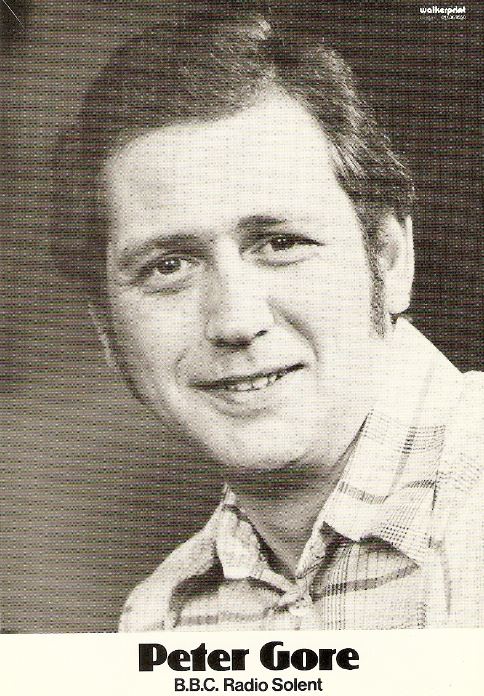 1972 Radio London silver microphone award L to R: Colin Blunstone, Emperor Rosko, Peter Gore, David Carter (programme director BBC Radio London)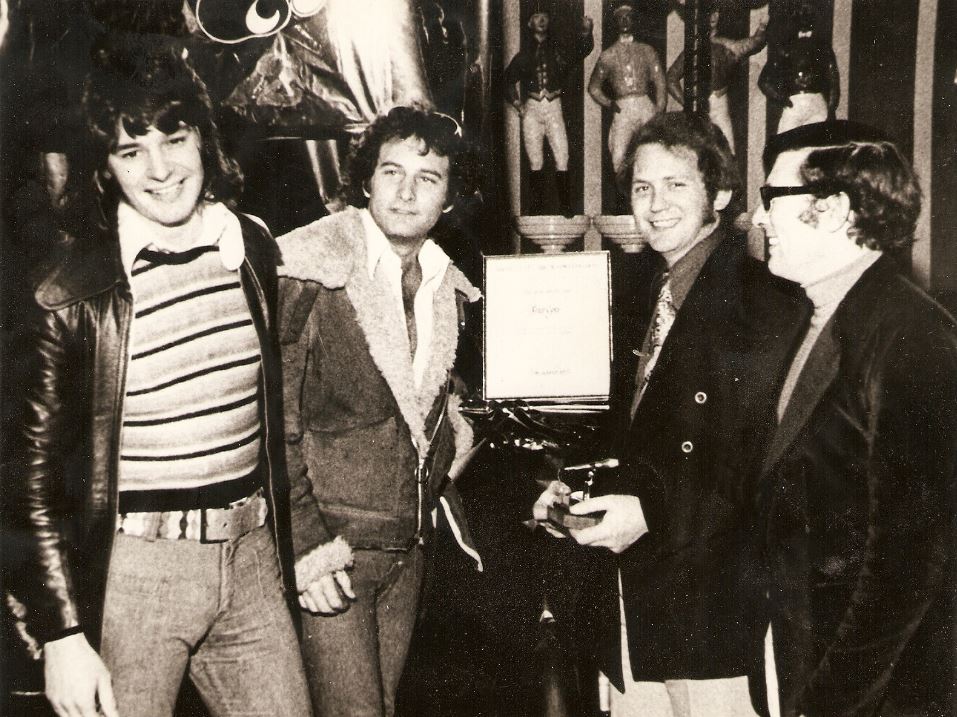 ..................................................................................................................................................................
September 2014- another ex DJ has mailed from Colombia South America!
Hi David
My name is Keith Richards but was better known as Keith James while I was with Avenue Artistes 1973-1975. My old mates Dave Carson, who is sadly no longer with us as you probably know, along with Bob Deene, Keith Rea and Alan Aston managed to persuade Len Canham and Terry Rolph to take me into the fold. I recall Johnny Dymond and knew Dave, Bob, Keith and Alan fairly well, with Bob teaching me a few tricks of the trade. I purchased my equipment from Tony Francis , who used to play at the old Ice Rink. It was made by Wyeminster (formerly Micron Electronics of Sholing) run by Alan Shergold, who did a lot of work for me.
I once played at the Royal Pier (1974) but was blacklisted by the manager, whose name escapes me, for playing the no.1 single at the time 'The Streak'. He told me not to play it, but I had to see how he would react! I did various other local gigs including Fridays, After 8 Club and a dump called The Mermaid Club. I did quite a bit of work for Avenue, with the icing on the cake being the Xmas dinner and Dance for ITN News At Ten, up there off of Oxford Street London in 1974. I had excellent feedback off of that one, which shot me right up the pecking order. I also remember 'Swallow Disco' run by a guy called Vaughan,who came across as a bit of a mystery man. He never said much to me.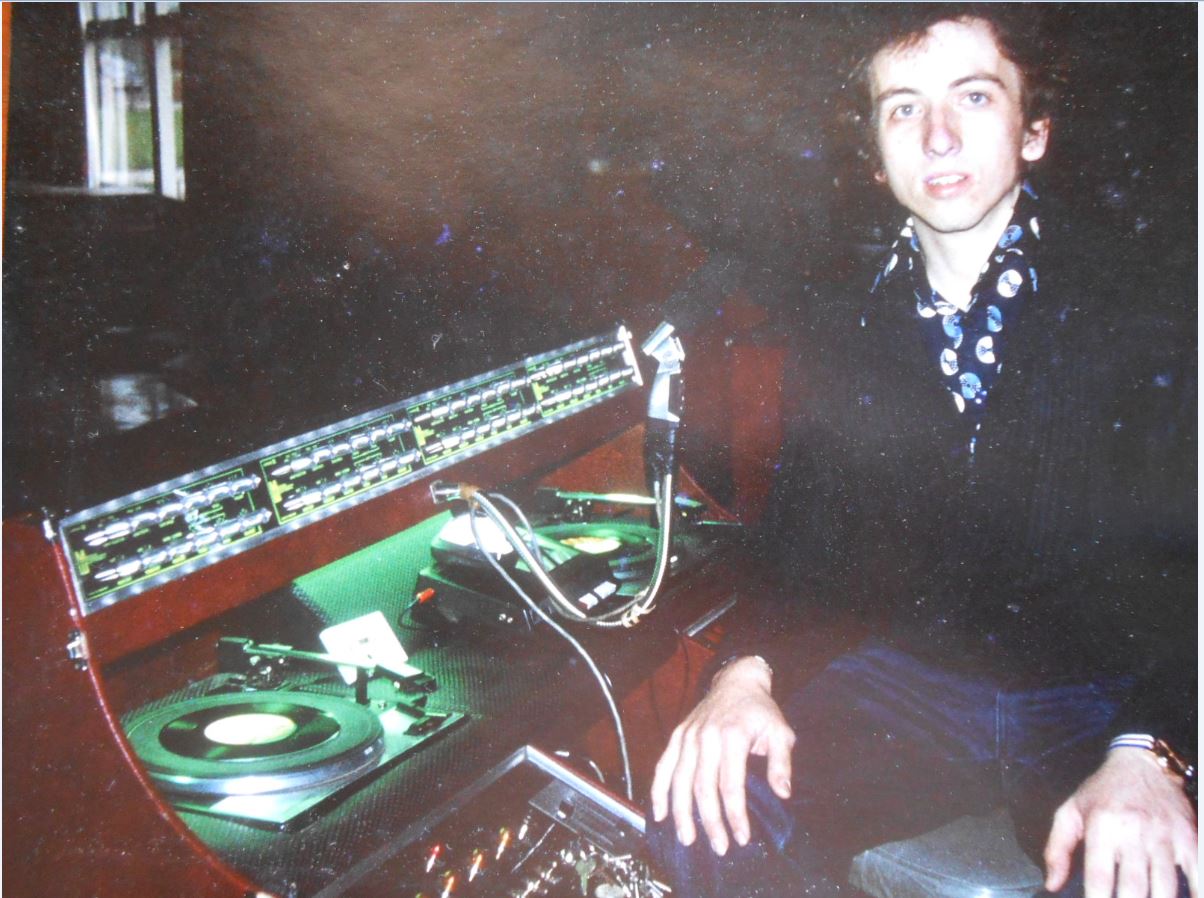 Keith Richards 1978-Eastleigh Youth Centre
I quite often think about the good old days - especially as I am now retired and live in Colombia South America with my mother and wife. I have managed to find a couple of photos taken at the Eastleigh Youth Centre 1978. It was my home town, and I was resident there twice weekly between 1974-75 and then again in 1978. I remember the early Seventies top twenty group ' White Plains'(When you are a King & My Baby Love's Lovin') visiting the youth centre in 1975 to play a few sets. I don't recall anything else though. Avenue did not mind as it was on a Tuesday and Sunday, which was usually very quiet. If Avenue needed me for an engagement, I usually had someone to fill in for me at the youth centre.
The console in the picture was made by 'Micron Electronics' of Sholing, when they were situated by the Picador garage Portsmouth Road. It was originally made for my old buddy Dave Carson(or Dave the Rave),when he first started out. It was designed by Alan Shergold and his partner, whose name escapes me. Alan went on to form Wyeminster on his own in the Old Mill building in Station road Sholing and later in Peveril road. This particular console was 4ft long with 4 channels (1 channel for each turntable, plus microphone channel and auxilary). It had twin Garrard turntables and a slide fader for each channel. I can't remember the output, but it wasn't much compared to the units today. My name was illuminated in a Perspex panel at the front, with each letter displayed in a different colour. There was a built in light chaser which looked great when actually working, or you could just have it static.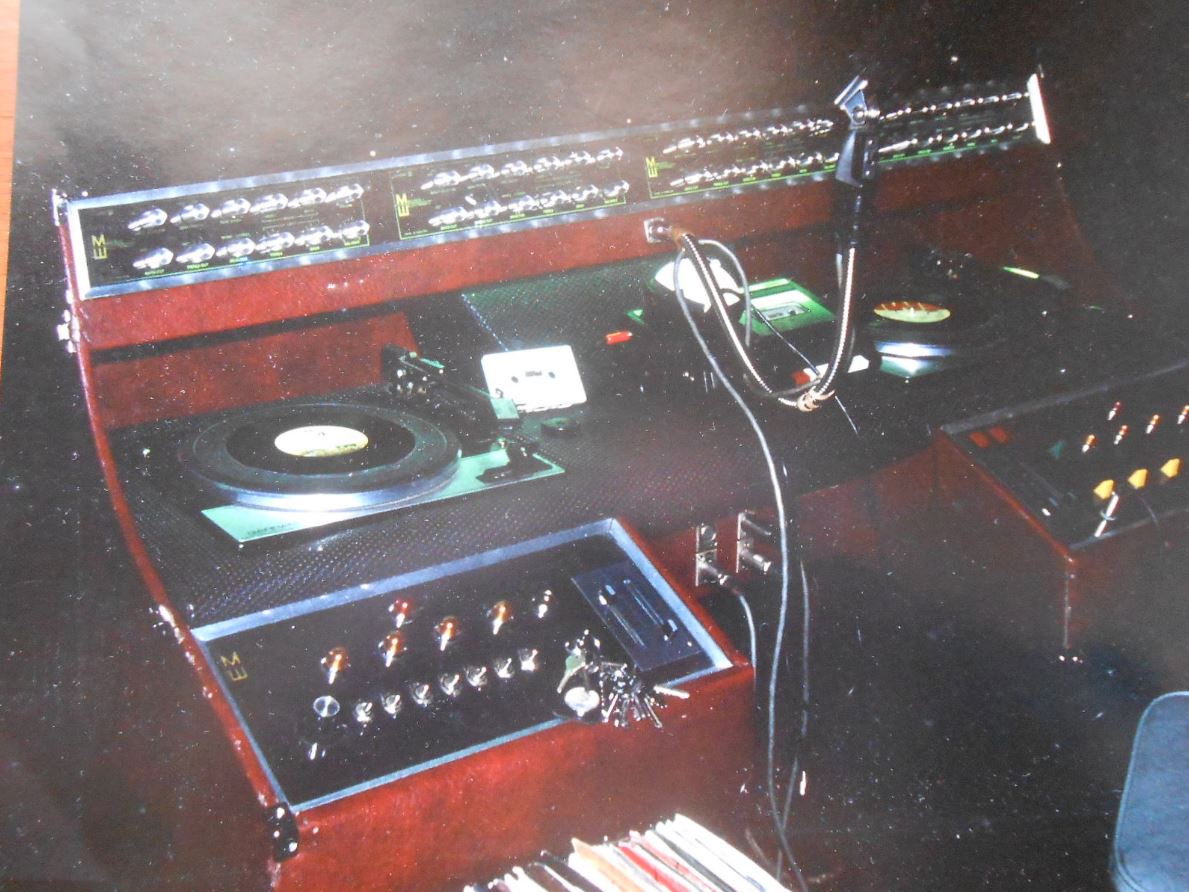 There were two 4ft speaker cabinets with two 12" cones plus horn in each cabinet. Also two 4ft lighting cabinets divided into four colours (sound to light or chaser) with an ultra violet tube in each cabinet, plus two 3ft cabinets with just one colour lighting the whole cabinet at a time. There were two 4ft cases on stands (records) which matched the stand for the console. Two revolving lights-one from a British Telecom van (where Dave was an engineer) and the other from a police car, bubble blowing machine, strobe, a very loud siren which originated from the docks. I used to place the siren on top of the speaker cabinets, then when some guy placed his beer glass on top of the cabinet, I used to let it rip! It had great effect and made me laugh with their reaction. There were several oil projectors plus a 3ft high power cabinet, because there were so many plugs...lol.
I hope this gives you a good idea how this great set up looked, which Dave used on a Monday night at the Mecca Royal Pier in the early seventies. This brings back lots of nice memories, but sadly I have lost touch with Bob Deene, Alan Aston and Keith Rea.
Regards
Keith Richards (not that one!)
DSJ: Can you imagine having the name of Keith Richards and living in Colombia? Especially walking into a local bar and asking for coke......
BACK TO HOME PAGE BACK TO SITE MAP CONTACT DAVID
©davidstjohn2014