Click on SITE MAP to navigate the pages Back to Home Page Contact David
GOODFELLAS!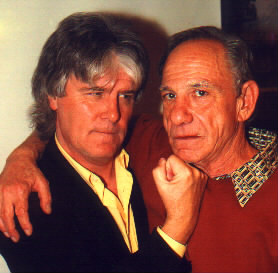 David squaring up to Henry Hill! 2004
I've met some amazing people over the years but nobody like Henry Hill. If the name does not seem familiar, I'm sure that you will be more than aware of the classic gangster movie - 'Goodfellas' one of the most popular films over the last few years. It starred Ray Liotta as a young Henry Hill whose amazing lifestory is told in this narrative tale of the Mafia families that reigned over the New York gangland. Incredible powerful performances of Robert De Niro and Joe Pesci ensured a place in Hollywood legend with its violent portrayal of revenge killings and millions of dollars being stolen from the well known JFK airport heist of 1978.
'GOODFELLAS' 1990 A Martin Scorcese movie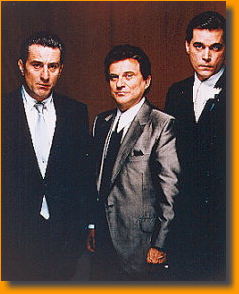 Robert De Niro - Joe Pesci - Ray Liotta
In 2004, I was booked to act as host/compere on 'An Evening with Henry Hill' as part of his UK tour arranged by his agent- sporting promoter Scott Murray - owner of popular Bar Sport venues in the Midlands. This fast-talking Brooklyn born 'Wiseguy' is one of the most fascinating characters I have ever met and I suggest you either watch the movie again or read any of his books. If you wish to find out more about future UK visits, then contact Scott on the above e-mail link or via the website below.
In a nutshell - Henry Hill grew up surrounded by larger than life characters who always had money, flash cars, women and all the trappings that go with a certain kind of 'profession' Although not a true Italian American, he rose through the ranks of the local 'families' and gained his reputation along the way. Henry was implicated in a multi-million dollar heist of banknotes at JFK airport in 1978 and later spent many years in prison, although eventually gaining his freedom in return for 'squealing' on the Mafia dons - quite a gamble! Henry and his family were then spirited away under the Witness Protection Scheme with a change of identity and different locations for some considerable time.
Mixed feelings suggest that Henry did not adhere to the unwritten code of 'omerta' (silence) by virtue of not being sworn in as a true Mafiosi. Despite many threats from convicted gangsters and their associates, it would appear that the passage of time has been good to him apart from the fact that many of these people are no longer with us. Henry paid his dues and has led a fairly reformed life since 'coming out' to tell his tales all over the USA and abroad but always looking over his shoulder....... He appeared on the 'Richard and Judy' TV talk show as well as appearing at selected venues, talking about his incredible life story and promoting his cookbooks as well!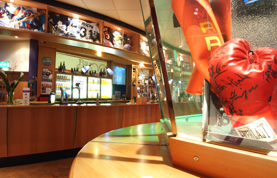 Bar Sport Walsall England
Picture the scene - Bar Sport in Walsall just outside Birmingham England. The place was heaving as local 'Goodfellas' fans waited patiently to see Henry Hill upon whose story the film was based and the movie played on a loop throughout the early part of the evening on television screens around the packed venue. A large black Mercedes swept up to the entrance, with an even larger security adviser jumping out of the car and looking all around, before opening the door and hurrying his diminutive passenger inside to roars of greetings as I announced his arrival to the excited throng. After some considerable time spent chatting to his fans, they managed to escort Henry to the top table where I was waiting to interview him and host a question and answer session.
More laughs came thick and fast as we launched an impromptu routine from 'Goodfellas' - the classic 'You think I'm funny' scene - one of the most memorable segments in the film but without shooting the young waiter in the foot! I kept scanning the crowd, looking for any tell-tale signs such as large guys wearing sunglasses under fedora hats and holding violin cases etc. Some local 'wiseguy' suggested that Walsall was a bit too scary for some of these characters to show their faces so I just let these worries pass me by, aided by a few more 'Buds' with Henry & co!
The expletives came thick and fast as the 'Wiseguy' fielded some really good topics, with loads of laughs between us and the crowd as Henry and I ad-libbed our way through the night. We had a few beers, followed by book-signing, autographs and photo-sessions before our American visitor dashed off into the night, tyres screaming through the local streets and leaving a great impression on all who met him. A very funny guy and great company although a few scary thoughts went through my head as I sat next to one of the most wanted 'canaries' that had helped to lock away some really nasty people. I had the chance to chat with Henry just a few days before this amazing evening and one couldn't help liking the little fellow, although not forgetting what his past was all about!
David St John July 2005
UPDATE: This sad story is taken from USA websites and seems that Henry is still having minor run-ins with the cops. Very different to his colourful past......
Mafia rat Henry Hill, 61, was photographed by Nebraska cops in February 2005 after security officers found glass tubes with cocaine and methamphetamine in his luggage at a North Platte airport. The drugs were discovered in August 2004 when Hill took off on a flight for Denver leaving behind his bags in the hope that they would catch up with him later. He was charged in January 2005 with two counts of felony drug possession. The Lincoln County sheriff also took the former Lucchese crime family associate's bottom mug shot in October 2003 when he was convicted of disturbing the peace after a drunk Hill was seen screaming at passing cars from a convenience store parking lot.

Click on SITE MAP to navigate the pages Back to Home Page Contact David
ęDavid St John 2006