BACK TO HOME PAGE BACK TO SITE MAP CONTACT DAVID
CONCORDE JAZZ CLUB SOUTHAMPTON
28 July 2009
In memory of one of the South's finest players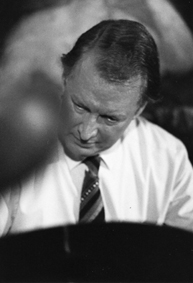 KEN MAXWELL
1926-2009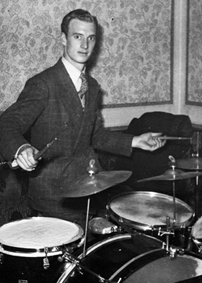 Glebe Hotel 1949 Drumming up an admirer!
This article is copied from the Daily Echo (Southampton) 11th August 2009, following this great memorial night to one of the South's leading jazz musicians.
On Tuesday August 11th Echo reporter PAULA THOMPSON wrote:

CONCORDE CELEBRATES DRUM KING

The sounds of Ken Maxwell's drums have had toes tapping for more than six decades. So when the Southampton jazzman lost his battle with cancer earlier this year, fans and fellow musicians gathered at one of his favourite venues to celebrate his life and his music.

Maury Deans and Dory's Riverside Jazz Friends and Sunflower were among the bands that turned out to salute Ken At The Concorde Club Eastleigh. The 83 year-old drummer was a familiar face at the venue in Stoneham Lane and regularly performed at jazz Clubs and music venues across the South coast. The tribute night raised Ł635 for the Wessex Cancer Trust and was brought to a conclusion by a scratch line-up of Southampton musicians including Paul Francis, John Baker, Paul Atkinson and Andy Dickens.

Ken was perhaps best known for his performances with the Monty Worlock Trio and was a firm favourite with regulars at The Concorde Club, Owner Cole Mathieson, who founded the club in 1957, said "the evening was a fitting tribute to a popular man and much loved performer".
©DailyEcho2009
This is an excerpt from the programme written by Ken's brother Keith Maxwell:

Ken was born in 1926 in Southampton. He went to St Monica Road School, Sholing, then on to Merry Oak School, leaving at the age of fourteen years. His first job was working in the Southampton Docks, training to be a shipwright in the then Southern Railway, Docks Division. With the war going on, Ken was recruited into the Royal Navy at the age of nineteen years. He was in the Navy for about two years and, on leaving the service, he returned to the Southern Railway working as a joiner.

This was not for Ken and his next job was working for Dupont, as a credit salesman, selling clothes and goods from his car. It was a big open-top car, and when I was off school, I would go with Ken and ride shotgun to stop anyone pinching the goods! As you can imagine, Ken enjoyed this job meeting the public, as he was a people person.

His next job was working for Robinson Rentals. This was the time in the Fifties when televisions were new to all of us. He then moved over to work at Currys. Ken soon got bored with this job and joined Mercantile Credit Company for quite a long period. He then worked for Foreword Trust, again a credit company, then with Roy, Martin and me at Foster Wheeler Energy. This gave Ken the opportunity to change his career and join us in the petrol/chemical industry. He stayed with this job for a few years before being head-hunted by Trant. This was Ken's last job before he retired.

All through his working life Ken enjoyed playing in various bands. My first memory of that, apart from hearing him at home in Mowbray Road, Sholing, was at the Embassy Club, Below Bar, Southampton. He was playing with the Pete Stanton Trio, which was an excellent band. Ken's other love was cars and motorbikes. My first memory of Ken and his motor vehicles was that he bought a motorbike and sidecar. When I had an accident in the garden, Ken was the only person in the family who had a vehicle, so he took Mum and me to the hospital. Ken was not the best of motorcyclists; Mum nearly had a heart attack on the way to the hospital, with the speed he was going. Ken was a wheeler-dealer, and he soon traded in his motorbike and sidecar for the open- top car. The previous owner was an actress, so Ken said this was the start of his love of cars. We think Ken had over 100 cars during his lifetime. Roy told me about Ken owning an Armstrong Siddeley car, one of the first cars to have a 'Variomatic' gearbox. The car engine was running, Ken telling Roy how marvellous it was, with Ken standing outside the car, when he said "you push this button," which he did. The car shot off down the road with Roy and Ken chasing after it. Ken was fifteen years older than me, so I remember Ken from the age of about five years. Ken was an excellent son to our mother, and a good brother to Roy and me.
Keith Maxwell
Sid Carter (sax player) sent me this post gig report:
Here is a brief rundown on the Ken Maxwell gig. I have included a photo of Cliff Harper who was at the Concorde Back To The Sixties night last January and who will have sold instruments to many a Southampton muso when he worked in a popular music shop many years ago!

Recently the Concorde Club Eastleigh, saw a celebration of the life of recently deceased Southampton drummer, Ken Maxwell. With the promise of five bands the club was comfortably full.

The first set was a relatively quiet affair featuring Cliff Harper, bass Chris Paradine, piano and it was good to see one of Ken Maxwell's oldest friends, Mike Hutton, behind Ken's drum kit.

The second set from the Maury Deans band was a lot more lively. With three trumpets, two trombones, five saxes plus a piano bass and drums rhythm section the excitement, and volume, increased considerably. Trombonist Bob Cooper entertained the audience with a few anecdotes between numbers, and it was good to see the band's only female member featured on baritone sax.

The raffle, run by Ken's daughter Claire, followed as Maury's band packed away its music, music stands and instruments.

I had been looking forward to the third set and Dory's Riverside Jazz Friends did not disappoint! With the ever young and effervescent Dory Whitfield on piano and vocals, and the front line skills of Bill Harvey on trumpet and Roy Sear on clarinet, the band was perfectly balanced and very enjoyable. I understand from drummer Alvern Ember that the band's gig diary is pretty full and on last night's evidence I can understand why. Catch them if you can.

As far back as the sixties Ken was involved with three of the musicians featured in the fourth set. Those players were Chris Paradine on piano, Trevor Rice on bass and Bill Pritchard on guitar. The band worked under the name of Sunflower. John Hammond took the Ken Maxwell role and played with his usual drive and flair. The set was well received by a knowledgeable audience.

The evening was brought to a conclusion by a 'scratch' line-up consisting of some of Southampton's most talented musicians. On piano was Paul Francis, one-time pupil of Monty Worlock (Ken was Monty's drummer for many years). With John Baker on drums and Paul Atkinson on bass the audience was treated to an excellent rhythm section. The icing on the cake was a short guest appearance by Andy Dickens on trumpet and vocals . . . what a treat! I joined the band for a couple of songs and the trio concluded the evening.

Thanks to all the musicians involved! Sid Carter
Here are just a few of the hundreds of photos taken on a memorable night. Some of the shots are not quite lined up- maybe 'arty' angles or perhaps impaired vision due to booze! I understand that the beer pumps nearly ran dry on this jazz lovers' night out......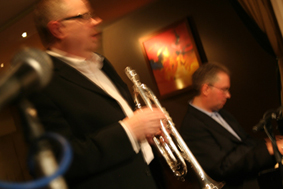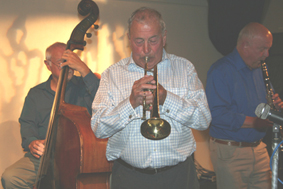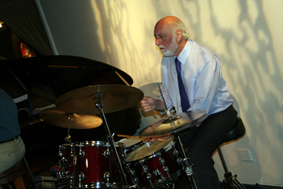 Andy Dickens Paul Francis Toni Goffe Bill Harvey Roy Sear Alvern Ember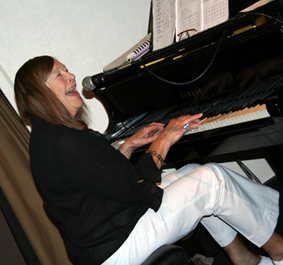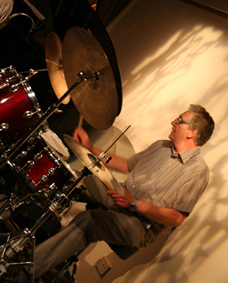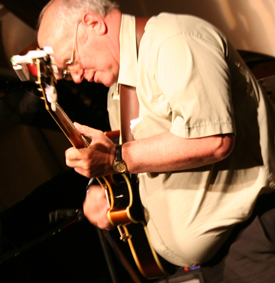 Dory Whitfield John Baker Bill Pritchard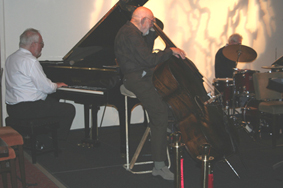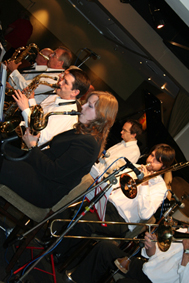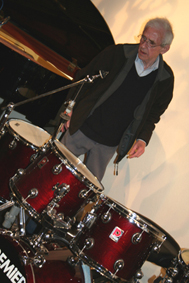 Chris Paradine Cliff Harper Mike Hutton Maury Dean's Big Band Mike Hutton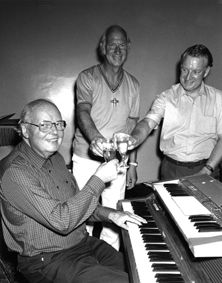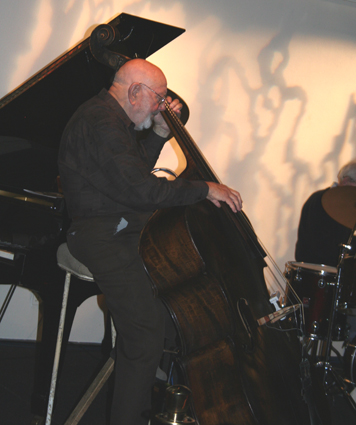 Monty Worlock Ron Andrews Ken Maxwell Cliff Harper
David St John:
Whilst my many webpages are focussed on the 60s pop group scene, we must not forget our jazz 'brothers and sisters' - many of whom were making great music long before many of us discovered this way of life! Most of these terrific musicians started off as trained readers in the dance band era and are still at it a few decades on! Some great characters and each with their own stories to tell as well as keeping the memory of dearly missed pals who will no doubt be having one hell of a jam up there! Everybody felt as though Ken Maxwell was there on the night and loving every second.
This tribute night raised a lot of money for the Wessex Cancer Fund, and like my own 'Back To The Sixties' ReUnion Nights at the Concorde, provided a terrific chance to play and/or listen to superb jazz. In addition, a chance for old pals to hook up, swap stories, sink some beer as well as providing much needed funds to help fight a terrible cruel disease that has robbed so many of our families, friends and fans who enjoyed their talents over the years.
Please click on any of these related links below if you need any more information or just want to find out where you can hear some hot jazz being played around the area! Any of the featured musicians will be more than willing to share their memories of Ken Maxwell and anything concerning the jazz scene-just for a pint!!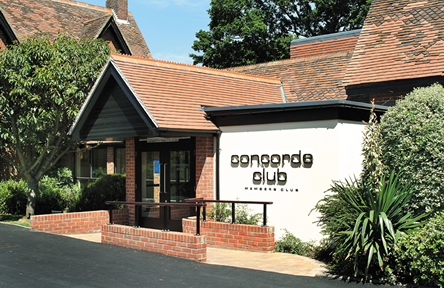 Concorde Club Southampton.....click on image for website

Paul Francis

www.paulfrancis.com/index.html


Dory Whitfield

www.riversidejazz.org.uk/index.html?_ret_=return


Andy Dickens
BACK TO HOME PAGE BACK TO SITE MAP CONTACT DAVID
© copyright David St John 2009