Click on SITE MAP to navigate the pages Back to Home Page Contact David
Page updated 16 June 2010
COPYRIGHT
Please note that many images contained within this website may be subject to copyright, although many have been kindly sent to me and intended to be shared on this non commercial outlet. If anybody wishes to use any of the same, then please get in touch as well as possibly giving credit where due as well as setting up reciprocal links if relevant to the actual content on any webpage. Please note that I am able to monitor any image-copying and if published on other websites. I would appreciate any contact to report broken/outdated links and any corrections to the text that accompanies any images herein. Thank you and enjoy!
If you are returning to this page- press 'Refresh' F5 in case your cached browser shows a previous version
DAVID ST JOHN MEETS CHUCK BERRY!!
('No Particular Place To Go')
Just click on any image above - this will take you to Chuck's official website
Or try this terrific Blog page: http://goheadon.blogspot.com/
New 2009 blog written by Peter O'Neill with stacks of amazing info/videos and much more!
If you have read through my Biography page you will note that I was weaned on classic 1950s rock and roll and was a big fan of Chuck Berry whose amazing songwriting and electric stage shows have captivated audiences all over the world since those early days.
Most musicians and songwriters will admit to being heavily influenced by this incredible character whose lyrics beamed out the images of teenage years in the American Fifties, weaving stories of cars, railroads, drive-in movies and much more. Adding these songs to a driving R&B guitar based beat just took us all to a different dimension and my first ever pop groups featured many of these songs, like so many new British bands during the early Sixties.
I just worshipped the Beatles and Rolling Stones - both of whom owe a great debt to Chuck Berry as their early set lists show. In fact - the first Stones UK single was a cover of "Come On" back in July 1963 and this kick started the British R&B boom which helped refresh the careers of many old Blues performers. I just loved the Stones driving beat and suddenly discovered a new talent on blues harmonica which I still play these days when sitting in with a band and jamming away!
I was lucky enough to grow up in Southampton and went to many pop concerts at the Gaumont Cinema Theatre and now known as the Mayflower (in memory of the ship that sailed through the old port and took the Pilgrim Fathers to the New World back in 1620) For a few shillings - you could see several top names on the same bill although they only performed for around 15-30 minutes each, depending on their stature etc. In 1963 and 1964 I had queued overnight to buy tickets to see the Beatles and will never forget the nonstop screaming through their show - you could hardly hear them although I was lucky enough to be close to the front!
Thanks to this new beat boom, Chuck Berry was 'rediscovered' and I quickly bought a ticket to see my idol as he was touring the country and due at the Gaumont on January 16th 1965. This package show was R&B influenced and the first half featured the Five Dimensions, Winston G, The Graham Bond Organisation with Long John Baldry closing the first half before the interval. The curtains opened for the main attraction and the warm-up spot fell to the fantastic Moody Blues whose first single "Go Now" had just hit the no. 1 spot in the UK charts and they played a great set before the compere started to tease the packed theatre who were all screaming "Chuck-Chuck-Chuck..." Once again - the curtains opened and the Five Dimensions belted out that well known rhythm as Chuck Berry strutted onto a thunderous ovation and proceeded to play so many classic songs along with his terrific stage presence. His cheeky facial expressions and innuendo-laden lyrics were enhanced by his guitar playing with showmanship to the fore. He looked and moved so cool shuffling around the whole stage and lifted the roof as he slided into the famous 'Duck Walk' then scooting across the front.

It was one of the best shows I have ever seen and it all ended far too soon as the curtains closed with the National Anthem ("God Save the Queen") being played as was the protocol at that time! Most people just stood courteously still and waited for the music to end before leaving the auditorium - can you imagine that these days?? It also gave the stars a chance to dash offstage and straight into the waiting cars or vans that had to whisk them out of the way before they got trapped by fans who were screaming at the sight of their idols just a few feet away. Security wasn't that well organised back then and many stars must have felt frightened as hysterical fans climbed all over the cars in an effort to talk to them or grab an autograph plus ripping off bits of clothes and even souvenir hair if possible!
I was close to the emergency exit leading to the stage door that was in a narrow alleyway running down the side of the building, so I quickly sneaked out and clutching my programme in case I might be lucky enough to catch a glimpse of the man himself. The waiting car had its engine running and I was on the opposite side looking across to the stage door exit just a few feet away and the police kept the quickly growing number of fans away from the area.
The doors flew open and a hot sweaty Chuck came dashing out of the building and into the car. I tried the other door and it was open so I jumped in and sat next to my idol clutching my programme and pen. The driver swore "Get that ******* kid outta here!" Chuck just laughed and shouted "No Man - just give the boy a ride - let's keep moving" The car inched its way down through the screaming fans and through the back gate turning past the railway station and they dropped me off in Hill Lane a couple of blocks away. I was chatting to Chuck who was laughing as I talked about his songs etc. His Southern Missouri drawl was a joy as he said "Why son - you know more about my music then I do!" This was certainly 'No Particular Place To Go'
He signed my programme (see below) and said "Now you go home and be a good boy now!' I met him again a couple of years later after another show, as we found out he was staying at a hotel off the Avenue. I strolled in and had another chat as he was sitting in the reception with a late night drink. He remembered me straight away as the cheeky lad that jumped into the car before! Again we talked about his music and I found him to be one of the nicest stars I have ever met, despite some stories that he could be 'difficult' on some occasions. I also recall a well documented story when the Stones knocked on his dressing room door and were told to come back later as Chuck was 'too busy' to meet them! The story goes that they meekly wandered off muttering "Hmmph - we aint gonna do any of his ******* songs again!"
Chuck Berry is still touring the world at the age of 82 and rightly belongs in the Rock and Roll Hall of Fame. I wonder if he stills remembers that cheeky young lad who gatecrashed his car all those years ago..............
The official programme which he signed - No it's NOT for sale!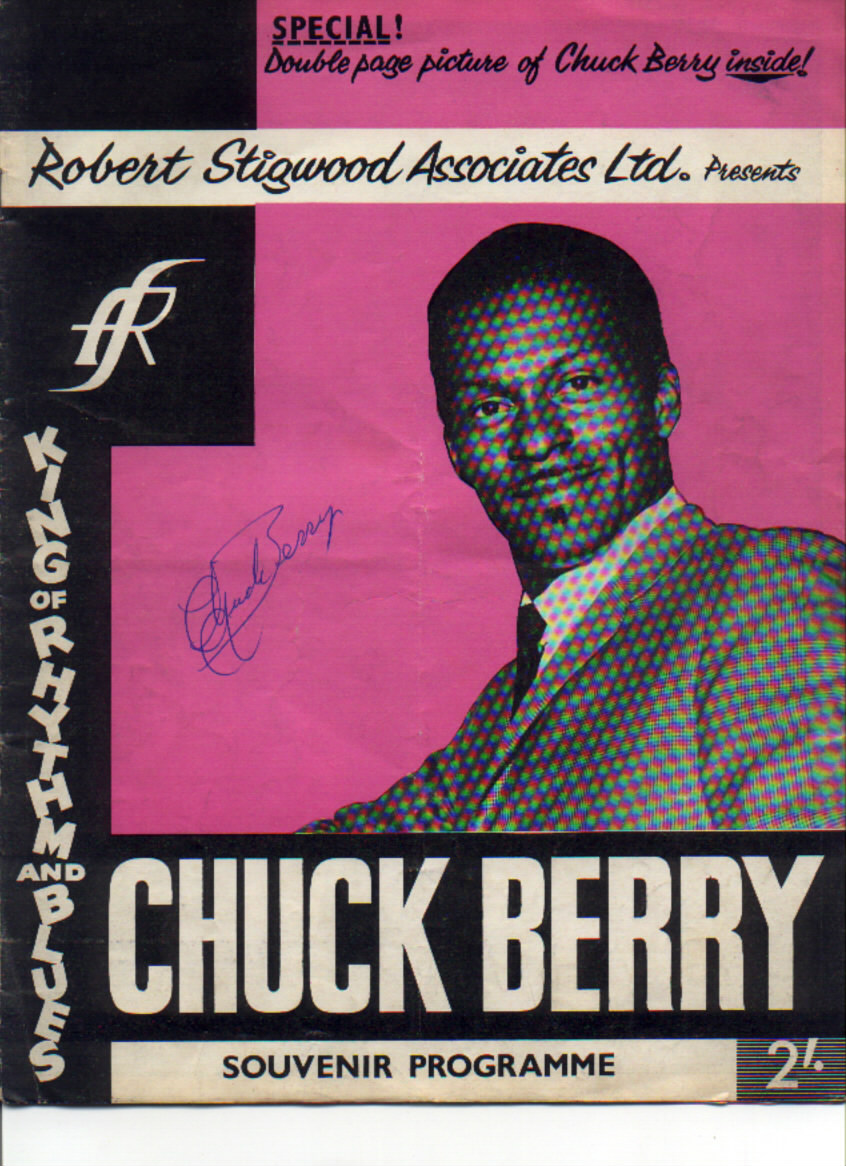 This tour was promoted by pop impresario Robert Stigwood who later brought the Bee Gees over to the UK and you will note the cover price of 2 shillings (10p in modern money) The actual show ticket would only have cost about ten shillings - around 50p and the chance to see a few top line stars on one night! How times have changed
June 2010
Yet again, I was e-mailed out of the blue in the shape of Simon Scott, whose name will be familiar to those who are into early Sixties hit recording artistes. I recalled him from one of several pop package tours that visited Southampton and mostly at the Gaumont (now Mayflower Theatre) on Rolling Stones and Chuck Berry shows. Simon was then managed by Robert Stigwood, who later made a fortune by looking after his fellow Antipodeans -the Bee Gees and other interests.
Simon's only hit record managed no 37 in the 1964 UK chart with a great sounding song 'Move It Baby' and the single has become collectable over the last few years. It can be heard by searching title and artiste on You Tube or just click on this photo below plus the B-Side can also be played so well worth a listen. Recorded on the Parlophone label, as were the original Beatles hits from 1963 until they launched their own Apple outlet. In fact, Simon was nearly managed by Brian Epstein as part of the well known NEMS set-up but this never quite worked out, so who knows what might have happened? Stigwood spent a lot of money in promoting this good looking lad with a great voice and had loads of 'Simon Scott' busts made and distributed all over the industry as he was hoping that many a desk might sport this unusual reminder but it mostly caused some derision in some quarters- especially the music press of the time.

Simon Scott- click on the photo for rare YouTube footage
You can also find a rare clip of Simon on 'Ready Steady Go' from 1965. 'My Baby's Got Soul' at:
http://www.youtube.com/watch?v=BXEfcU7PBlA&feature=related
or 'Tell Him I'm Not Home' a demo from 1965 at:
http://www.youtube.com/watch?v=3yNLYKBhP4k&feature=related
'Move It Baby' still stands the test of time and recorded with the Leroys, with 'Big' Jim Sullivan on lead guitar- he was a very busy session musician in that era and played on a great selection of hits (and misses) Another session musician in great demand was a certain Jimmy Page, just before he joined the Yardbirds and later formed Led Zeppelin! Simon enjoyed the tours, working with the Beatles,Rolling Stones and many more top names of the Sixties but later moved into TV and film production in Canada, USA and other countries. Groups had now dominated the charts and many a solo artiste would soon disappear from the limelight although many are still touring some 45-50 years on, and to full houses on the revived package tours of late.
I spoke to Simon by calling his home in Florida and we had some really interesting chat about many aspects of the music game and much more. Who knows- perhaps he might be persuaded to hook up with some old pals and get back to the UK as he still keeps in touch with many former pals such as the ever youthful Mike Berry and others. Sadly Simon has very few mementos of his brief glory days but maybe someone, somewhere might read this and dig out some old photos, tour programmes or just memories of this good looking lad as seen below.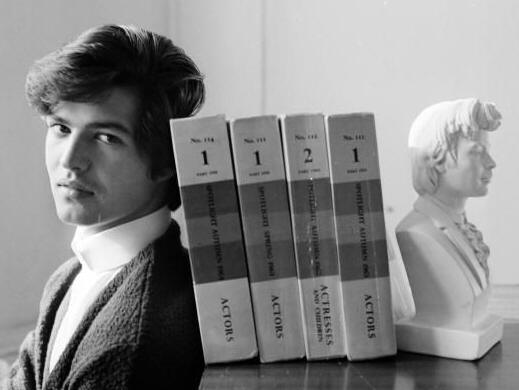 SIMON SCOTT and the Stigwood bust! Have YOU got one?
Click on SITE MAP to navigate the pages Back to Home Page Contact David
ęDavid St John 2010