Click on SITE MAP to navigate the pages Back to Home Page Contact David
BLONDIED!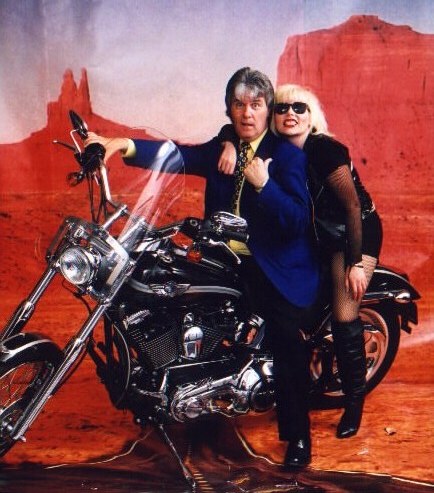 I was just riding a Harley Davidson down Route 66 through Death Valley when who should I see trying to hitch a lift? Was it a desert mirage? Had I stopped to eat some magic mushrooms growing wild alongside the road?
Yep- none other than Debbie Harry! She explained that she had a row with the rest of Blondie on the tour bus which was travelling between gigs and had stormed off into the wilderness! Debbie just swooned when hearing my English accent as I gallantly offered to take her wherever she wanted and then jumped onto the pillion. She was puzzled as to my outfit - not the usual 'Easy Rider' gear you'd expect so I had to explain. I had been booked to do my stand-up comedy act in a Hell's Angels Social Club in Oakland California but the venue was a lot rougher than my agent had mentioned to me. How rough? They had plasma on draught and a pig on the bar as an air freshener with a cheese grater close by in case anybody wanted any pork scratchings! How rough? The glass collector was Mike Tyson!
I jumped up onstage and proceeded to lay into the ugly drunken tattooed audience (luckily the men hadn't yet turned up) with some sure-fire gags and insults which are normally appreciated by the more hostile kind of clubgoers - not on this night. Then the guys came thundering into the carpark, jumped off their their hogs and marched into the bar whereby they noticed this long-haired Limey seemingly chatting up their 'ladies'. The place erupted with tables, chairs, bottles flying through the air so I ran straight offstage and onto a waiting bike around the back before gunning the motor into the night! I just needed to get miles away, in case they caught up with me and proceeded to place the microphone into the very place that was mentioned by the leader of the gang.
Debbie laughed and we rode for hours and hours with her serenading me all the way, singing my favourite Blondie tracks into my ear. We finally reached L.A. and bid our farewells to each other - she even promised to let me do a warm-up support spot on her next visit to England, so just keep watching the papers.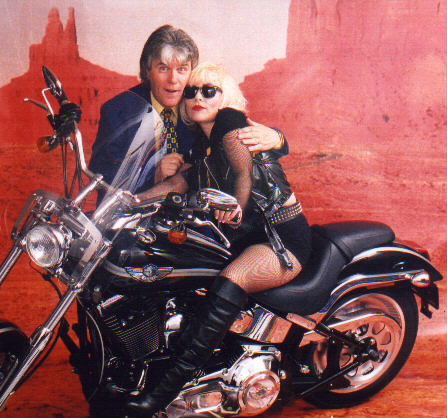 OK OK Just a dream..............this amazing lady is none other than Michelle Hendriks - one of the finest Debbie Harry tributes in the world and based in the UK. We recently worked together on a 4th July American Independence Day theme show at an RAF base, along with Roy Orbison, Frank Sinatra, Elvis Presley amongst others - we were the only living ones there! She performs an amazing Debbie Harry tribute act, either on her own or with a full Blondie tribute band and you may be interested in her own fascinating website at:
www.mhendriks.fsnet.co.uk/Blondied.html
Click on SITE MAP to navigate the pages Back to Home Page Contact David
© David St John 2006