HOME PAGE SITE MAP CONTACT DAVID ST JOHN
David St John BLOG 2015
*If returning to this page- please 'refresh' or press F5 for latest browsing session*
COPYRIGHT
Please note that many images contained within this website may be subject to copyright, although many have been kindly sent to me and intended to be shared on this non commercial outlet. If anybody wishes to use any of the same, then please get in touch as well as possibly giving credit where due as well as setting up reciprocal links if relevant to the actual content on any webpage. Please note that I am able to monitor any image-copying and if published on other websites. I would appreciate any contact to report broken/outdated links and any corrections to the text that accompanies any images herein. Thank you and enjoy!
A review of a great new music book that covers part of the Hampshire music scene - I will publish details of where to obtain copies in the near future- otherwise, you can find info below.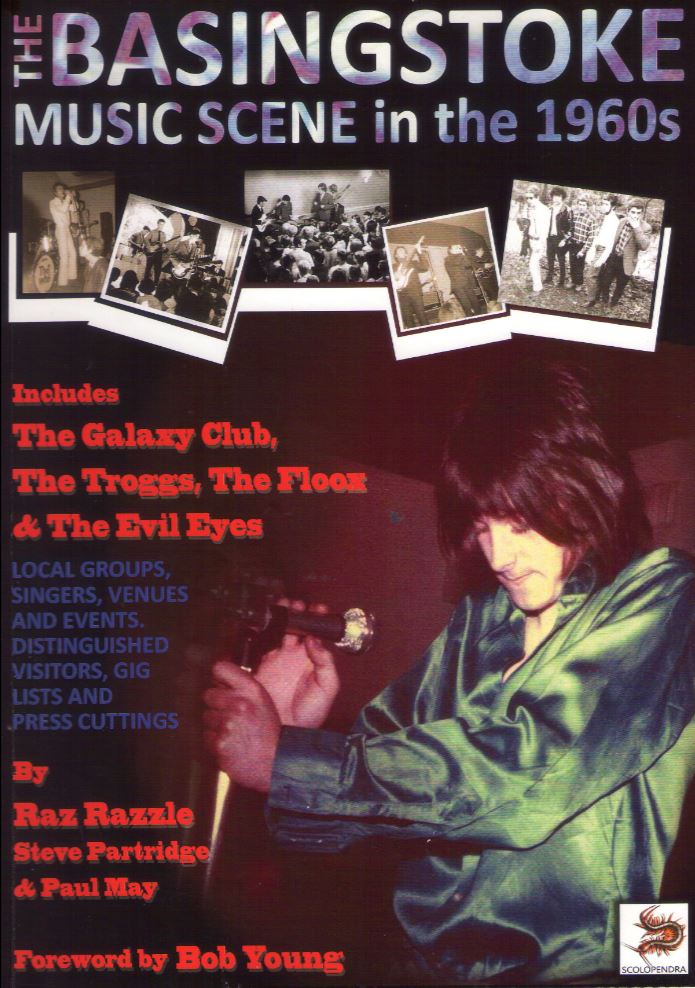 Raz Razzle-Steve Partridge-Paul May
Scolopendra Publishing 2015
ISBN 978-0-9572636-2-8
As many of you know, my website contains a wealth of nostalgic memories of the Southampton music scene of the Sixties – just go the Site Map and take your pick! This all started a few years ago, when I knocked up this site, in order to promote myself as a professional comedy entertainer and started to add a few photos, information and related content. My own musical roots can be traced back to the golden era of the British Beat Boom - spearheaded by the Beatles, Stones and many more great groups that set the template for the next few decades.
My first band was the Abdo-Men in 1964, which saw me as lead singer/blues harmonica as many of us young lads were influenced by the 'new' exciting sounds of R&B. We mainly played around the local Southampton area, and my later bands travelled all over Hampshire plus surrounding areas, but we were never really aware of the Basingstoke music scene, just some 30 miles up the old A33/A30 roads that led to London. I was contacted by 'Raz' Razzle, as he was quite impressed by my own efforts and requested that some of my own information might be shared in a new book that he and others were writing. Most of my webpages contain great images and memories – all of them shared by many contributors, so I was more than happy to spread them around! I received a copy of this new book- 'The Basingstoke Music Scene in the 1960s', and was amazed to see such a wealth of information plus a great collection of old photos. Rare images of the local groups, along with an amazing collection of adverts that appeared in the press – mostly the old Hants & Berks Gazette (now Basingstoke Gazette) These are reproductions of the old posters that advertised the local dance halls, youth clubs, schools and all manner of venues where the youngsters could go and dance the night away. The more 'serious' types (mostly males) would gravitate towards the rhythm & blues acts – many of them travelling down from the London area. Within a couple of years, the likes of the Stones, Yardbirds, Kinks, Pretty Things were packing out the venues, and this book has some great personal stories from a wide variety of musicians, fans who recall seeing the early Who in full blast!
Sadly, Basingstoke did not have the benefit of large venues, but the main focus was The Galaxy Club - this set-up being shifted around various locations. Another was the Ticky Rick venues- 'borrowed' from the Ricky Tick venues a few miles away, and featuring some classic bands-many of whom would go onto bigger things. Rod Stewart, Long John Baldry, Elton John and others would eventually become household names, but did their apprenticeship all over the Hampshire area. This fascinating book has a foreword by Basingstoke's Bob Young – another musician who now tours with Status Quo as roadie/guest harmonica player on many gigs. It contains sections on different local groups, as well as amazing documentation of the acts that appeared at the Winchester Lido Ballroom in 1963/1964. This great dance hall was one of our favourite places to play, and I have two dedicated webpages on the venue. Another catchment area was Andover, the birthplace of the Troggs, who evolved from an earlier line-up of Ten Feet Five and this book has more great inside stories of this world-conquering group. One of the original Troggs – bass player Pete Staples- moved to Basingstoke some years ago, and has also contributed his own memories of that hit-making time. Also, many of us bands played around the nearby Salisbury area, which saw the rise of Dave Dee, Dozy, Beaky, Mick & Tich – formerly known as Dave Dee & The Bostons, and their name can be seen on several posters in this book (but I suggest using a magnifying glass to savour the small print!)
The attention to detail is mind-boggling, as it catalogues so much information that will appeal to a much wider readership outside of Basingstoke, as it conveys the feel of the whole 60s music scene that was mirrored all over the UK. The town could never compete with the major talent that sprung up from Liverpool, Manchester, Birmingham, London etc, but it had a thriving music scene that really comes alive as you read through this superb publication. If you were lucky enough to have been around during the Sixties, then you will enjoy the nostalgia. Younger readers can only wish they could have been a part of it all….
David St John December 2015
......................................................................................................................................................................
October 2015
I was featured on BBC Midlands Today - 26 October 2015- just click below to view the video-clip: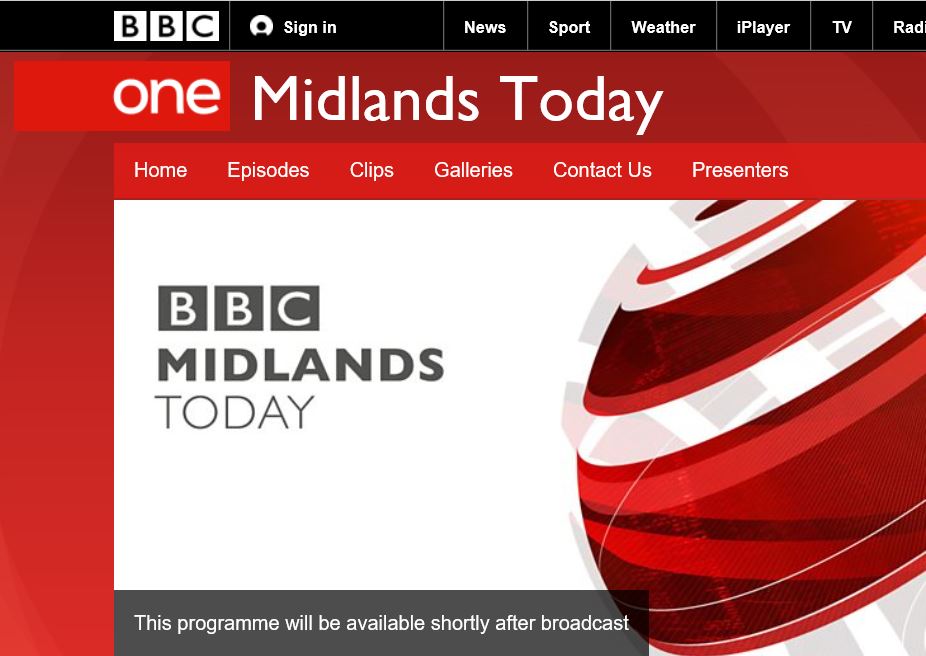 www.davidstjohn.co.uk/dsjbbc2015.mp4
Courtesy BBC TV
July 2015
Not much happened so far this year! As before, I add recent information in reverse order and then you can read down the page to the start of the year. I have applied/auditioned for some new TV quiz shows, but so far have not been selected - maybe as a result of my national press coverage? See Blogs 2013/2014 to learn more! If you come back to this page, then there will be more news to come as and when it happens!
October 2015 - More radio interviews!!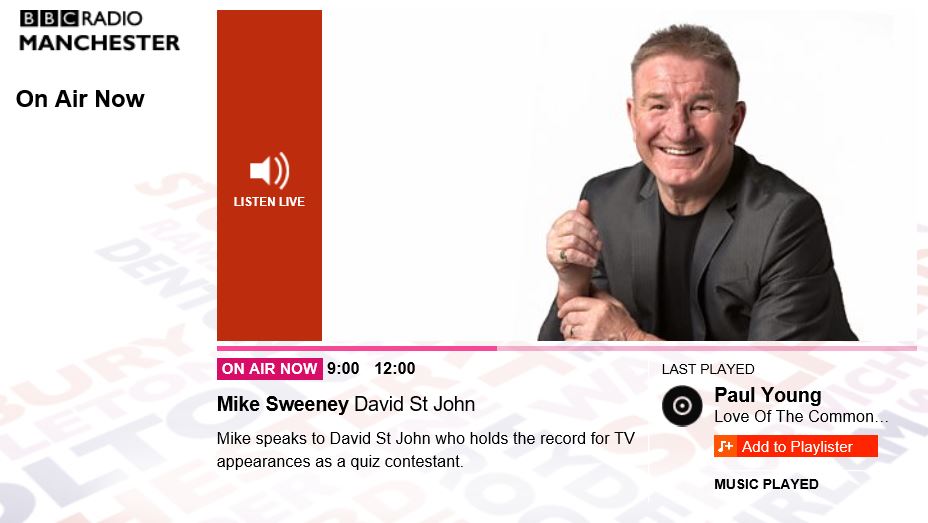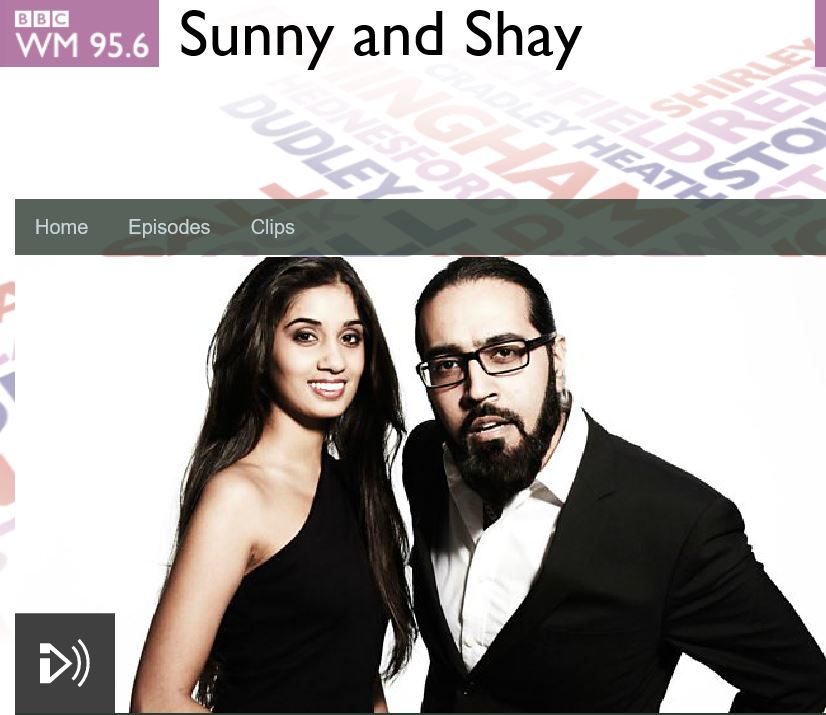 ....................................................................................................
October 2015 - press coverage via Express & Star (Wolverhampton)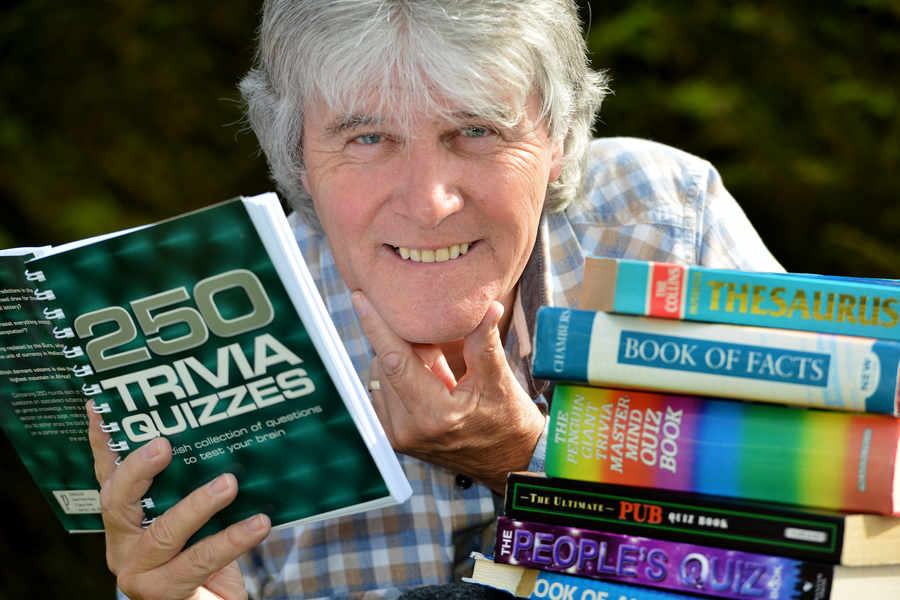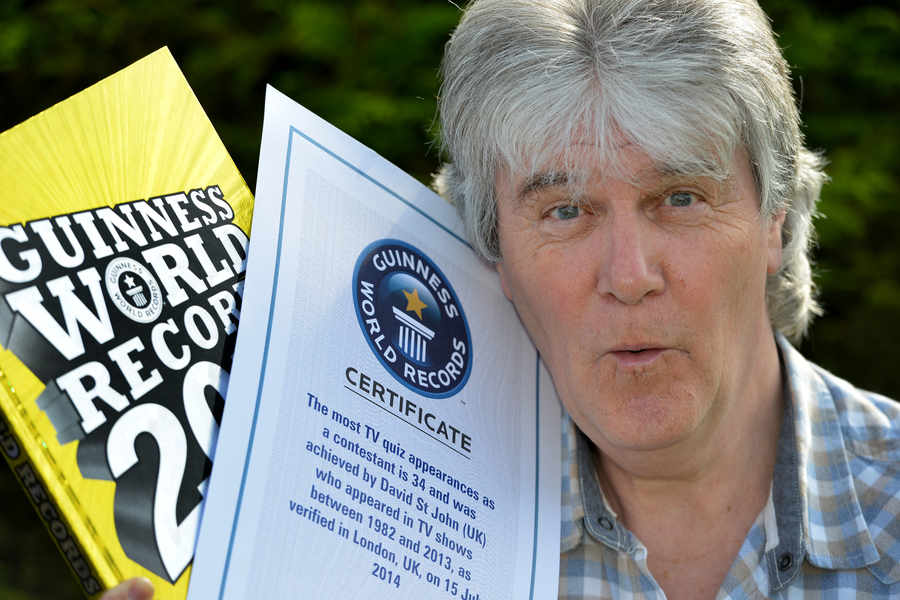 Guinness World Record -Most TV quiz show appearances as a contestant (34) at July 2014. 2016 book just published
June 2015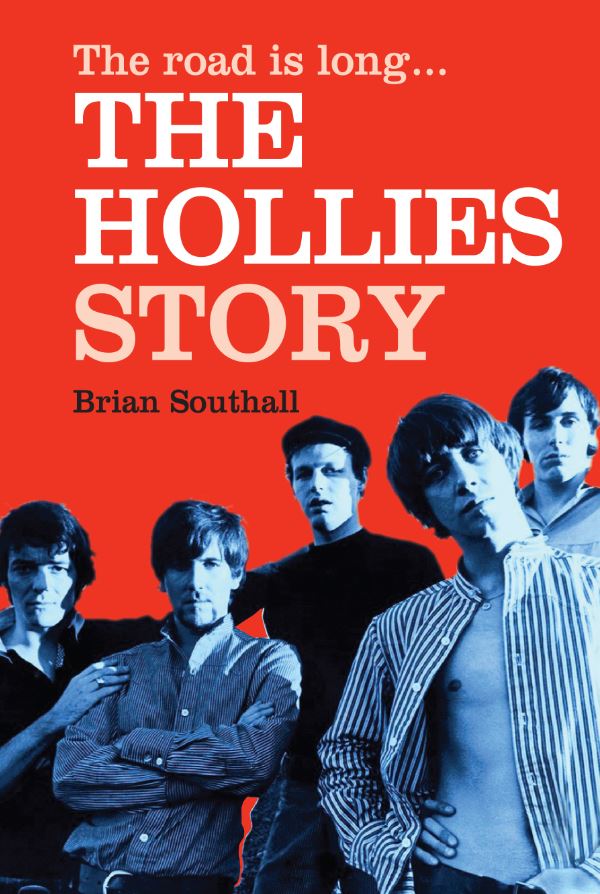 I am often requested to review new books, and mostly geared toward music-orientated publications, so was really please to read this great story. The Hollies were/are one of my favourite 60s groups, and this latest offering provides a very comprehensive look at the early days, the hits and personal problems that cropped up along the way.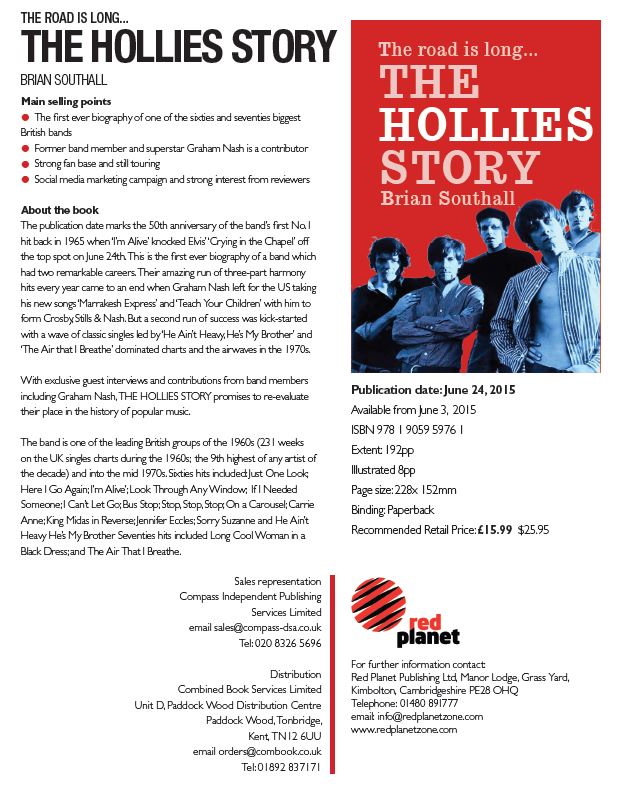 My review:
The Road is Long: The Hollies Story
Author: Brian Southall
Yes- one of the 'longest roads' in pop music from 1963, when the Hollies brought the Manchester Sound to the UK charts, following on from the rival Merseybeat that had changed the world forever. They are still around, albeit without the main players from the Sixties, but the current line-up still delivers the great hits that many of us grew up with. I have read stacks of 'pop music' books from the early Sixties, absorbing the trivia, discography plus the stories behind the scenes and this great new book has encapsulated a massive amount of information.
As for me, I was lucky enough to sing with pop groups around the same time, and many of us tried to emulate the Hollies harmony sounds, but this was virtually impossible. Apart from being great musicians, they had a very strong front line of perfect voices, led by Allan Clarke. Mixed with the unique vocal range of Graham Nash, plus Tony Hicks – this was a 'group's group', as well as having the good looks that appealed to the screaming girl fans on their live performances. Like many chart acts of the time, they had covered obscure US hits but soon made use of their own writing talents, along with the good luck of having ace songwriter Graham Gouldman, who provided many of their classic hits, as well as other top acts of the time.
This comprehensive story offers a flavour of what it was like for many new 'beat' groups back in those exciting years, and the book will certainly appeal to any Mancunian, as they will recognise many names and places. It will also appeal to a wider audience, as it tells of the highs and lows as experienced by many top bands. The hits dried up, plus inevitable personal clashes and musical differences which saw members leave, for a variety of reasons. This brings in the personal side of it all, and don't we all love to hear what really went on behind the scenes?
I thoroughly recommend 'The Road is Long' as a fascinating glimpse into the Sixties, and suggest you listen to the hit singles, in between reading each section, as it will bring it into perspective. The big Hollies' hits still sound as fresh as ever, unlike many of their contemporaries from that era, and this book will complement your enjoyment.
David St John
July 2015
....................................................................................................
May 22 2015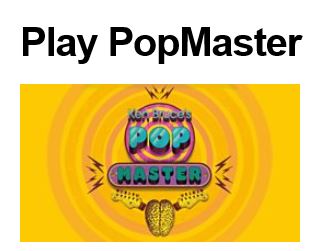 I finally made it onto BBC Radio 2's 'Popmaster' on the Ken Bruce Show! I didn't have the best of subjects and questions - I was hoping for 'older' music but it was fun, and I now have the much sought-after 'One Year Out' tee-shirt! Ken was broadcasting live from Vienna for that weekend's Eurovision Song Contest, so quite pleased to be on this special show, and I enjoyed the experience!
....................................................................................................
March 2015
Once again, the Southern Daily Echo (Southampton) published another article on my new book, that was inspired by my recent press/media coverage. This is a basic copy of the piece.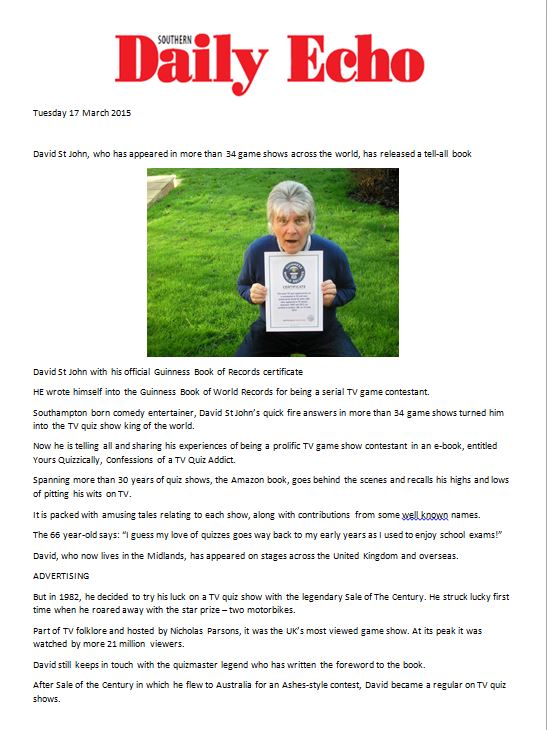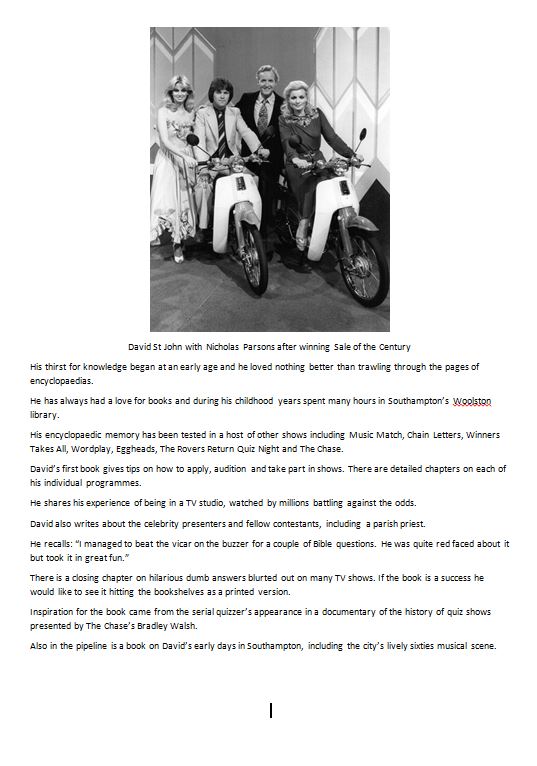 ©SouthernEcho Duncan Eaton
....................................................................................................
HOME PAGE SITE MAP CONTACT DAVID ST JOHN
copyright ©davidstjohn2015