HOME PAGE SITE MAP CONTACT DAVID ST JOHN
DAVID ST JOHN -BLOG 2009
COPYRIGHT
Please note that many images contained within this website may be subject to copyright, although many have been kindly sent to me and intended to be shared on this non commercial outlet. If anybody wishes to use any of the same, then please get in touch as well as possibly giving credit where due as well as setting up reciprocal links if relevant to the actual content on any webpage. Please note that I am able to monitor any image-copying and if published on other websites. I would appreciate any contact to report broken/outdated links and any corrections to the text that accompanies any images herein. Thank you and enjoy!
This webpage has now been edited down to 'Blog 2009' and Blog 2010 is now keeping up to date. The articles are in descending order and I hope you enjoy reading through just some of the exciting things that have happened or coming up in the near future as the months and years overlap.
...............................................................................
You've heard of the Three Tenors?
How about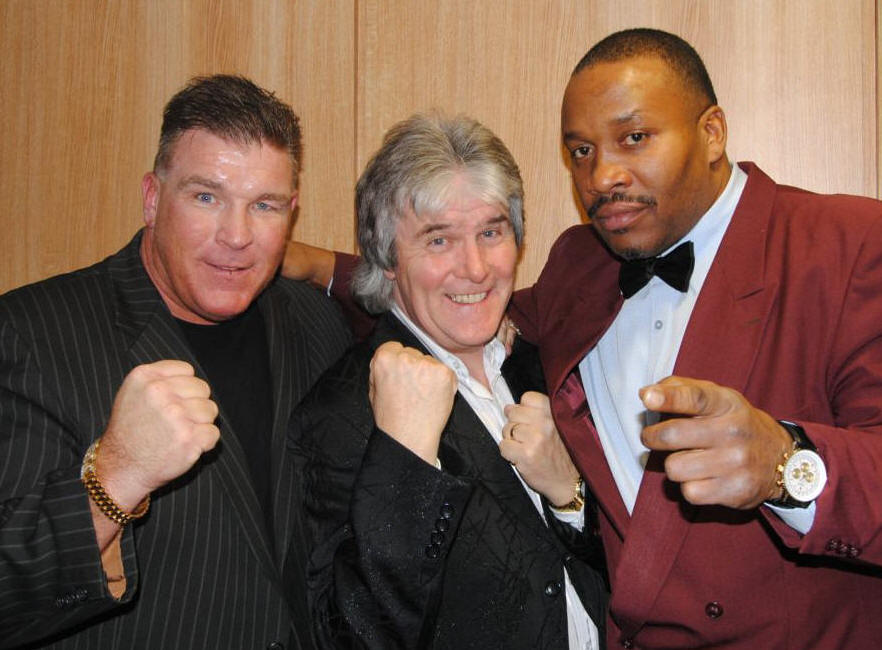 THE THREE BOXERS!
December 2009 at the Star City Casino Showbar Birmingham
Promoted by STARNIGHTS see their website for news of 'Iron' Mike Tyson's UK visit 2010
Joe Egan DSJ Tim Witherspoon
I was booked as comedian/compere for a very special Boxing Stars Special in the company of two legends of the Ring.
'Big' Joe Egan - one of Mike Tyson's sparring partners with an amazing history over many years. Click on Joe's website: http://www.bigjoeegan.com/
Great character and a superb speaker as he recounted his lifetime of battles
'Terrible' Tim Witherspoon was twice recognized as heavyweight champion of the world by a professional boxing sanctioning organization and hit the headlines when suing promoter/manager Don King whose less than savoury dealings have upset many people in the boxing world. I certainly wouldn't upset Tim! They were both great fun and provided an evening of chat along with a 'RatPack' style vocalist, so a taste of Las Vegas next to Spaghetti Junction.
...............................................................................
SUMMER 2009
One of the classic lines from Don Maclean's 1972 hit of 'American Pie' that harked back to that sad day in February 1959 and the tragic loss of Buddy Holly. Music had changed my own life the year before as I had made my first public appearance at a teenage Rock n Roll dance on the Royal Pier Pavilion Ballroom close to Southampton Docks and at the tender age of ten years old. This is one of my favourite photos taken in 1958 and I'm still earning my living on stages some fifty years later! The guitarist is Johnny Watson (of the Three Stars) who later switched to drums and played in Germany a few years later, with his own bands as well as backing Gene Vincent and others. He was approached by another visiting UK group - a scruffy bunch of lovable rogues but turned them down as he was quite happy with his success. That particular band then returned to Liverpool and replaced drummer Pete Best with some guy called Ringo..........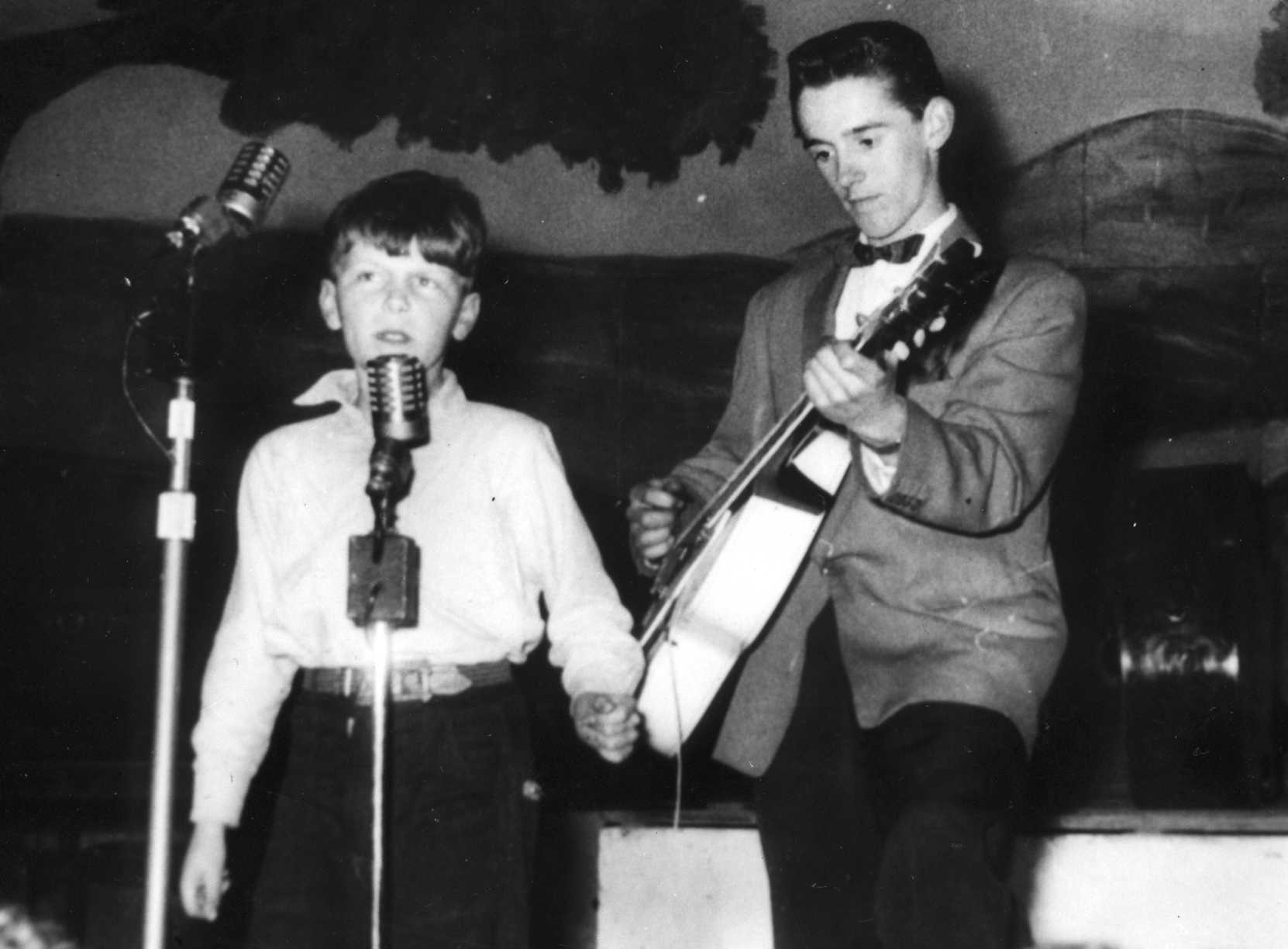 See my Biography Page for more info on this first public performance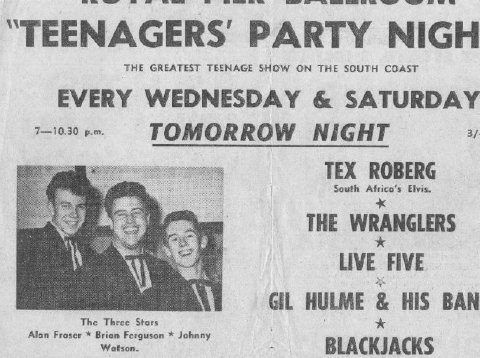 Post war Britain was a rather grey austere time and people were slowly getting back to a normal way of life after years of hardship. Our family home was a large house in Southampton and we lived with my grandfather for a few years before getting a place of our own. To help with the daily struggles, we took in lodgers to help the finances as well as providing B&B - some of them being merchant seamen from all over the world and the house was always full of foreign languages plus sounds of American 78 rpm records being played on ancient wind-up gramophones. Many of these new exciting sounds were early recordings of blues and the emerging rock n roll that set the country alight in the mid Fifties, so I was lucky enough to have been weaned on this environment that would shape the rest of my life.
Southampton was a terrific place to grow up with a long history, and its status as a major port provided full employment as well as having crew members from the TransAtlantic crossings bringing back the new fashions (mainly jeans) and records picked up in New York. Every time the Queen Mary, the Queen Elizabeth and other much loved ships sailed back into the docks, the seamen came home and played these great new sounds to their younger brothers and sisters. Another new style of popular music was being imported at the same time, in the shape of Skiffle that was closely based on a mix of American folk and blues and this was championed by the likes of Lonnie Donegan and others. If one or two lads could play a few chords on a cheap guitar, it only needed another playing their mother's washboard with thimbles on the fingers plus a tea chest 'bass' which comprised of an upturned wooden tea chest with a piece of thick string tied to a cut off broom handle which was then placed on the wood to provide a thumping accompaniment to the vocals!
Rock n Roll finally took off as many a young person went to the cinema to see a cutting edge 1954 movie called 'The Blackboard Jungle' starring Glenn Ford as a frustrated teacher trying to control a classroom full of 'juvenile delinquents' as labelled by the media at that time. The movie still stands up as an insight into the generation gap that was emerging during these times and when viewed some 55 years later still makes sense. The credits had Bill Haley's 'Rock Around The Clock' playing away and this saw cinema staff shocked as the kids jumped up, sang along then danced in the aisles - not forgetting a few teddy boys slashing the seats etc! Exaggerated media reported 'riots' and this naturally stoked the fires of publicity and paved the way for the next batch of movies with great music soundtracks such 'Rock Around The Clock' and 'The Girl Can't Help It' These major US rock and pop stars then made their way across the ocean to appear at venues all over the country, thus influencing a new generation of musicians.
Although I was a few years younger than many of these fans, it all rubbed off on me as I absorbed the music, the stars and much more of what was going on all around Southampton. New bands and singers popped up all over the place and enterprising managers, agents and dance hall promoters soon latched on to this growing lifestyle. When Buddy Holly was tragically killed in that plane crash, it did appear that the 'music had died' in some way as the next few years seemed to stagnate somewhat as far as the major stars were concerned. Apart from a few home grown stars, many under the heavily controlled Larry Parnes stable of managed acts such as Marty Wilde, Billy Fury and other such 'wild' names it seemed that we were just covering and copying the US stars. It all seemed a bit 'safe' again as Ivy League styles of carefully coiffeured singers ('most of them called Bobby' to quote a sarcastic John Lennon) dominated the UK charts with wishy washy pop tunes.
Then in late 1962 and early 1963 another revolution kicked in thanks to the Beatles who led the Mersey Sound Invasion and opened the floodgates for many more pop groups but noticeably from cities such as Liverpool, Manchester, Birmingham,Newcastle and London but strangely enough not Southampton. We had the same influences as far as being a busy port as Liverpool which also had their own seamen bringing in those rare US records that were covered by the new local groups, but for some reason the city never seemed to produce any big 'names. The Brook Brothers - an Everly Brothers style duo did manage minor chart success but soon faded out as the new groups took over. Likewise Heinz Burt who played bass guitar with the Tornados(of 'Telstar' fame) and later went onto a short solo career but soon ended up on the same shelf as many others. Ricky and the HiLites were one of the finest bands around and later became Brownhills Stamp Duty who had some minor chart success in the late Sixties and played right through the next couple of decades.
Southampton saw many great bands over the next few years and a few of them did make some inroads but not on a big scale as other cities and this has had many people thinking about this aspect. Fast forward some forty odd years and to my knocking up a basic website to promote my main comedy work - it then grew into the massive collection of webpages dedicated to my early years as well as documenting so many local groups, singers, DJs and other people who were there at the beginning of the amazing innovative time. Thanks to my old pals and new contacts, I have been sent an avalanche of e-mails with rare photos plus personal memories of the entertainers as well as receiving mail from all over the world as more and more web surfers discover my website. In addition, I have made contact with music-related writers who have shared research and also inspired me to write my own first book-this has been in progress for a couple of years and now reaching final stages.
Out of the blue, in February of this year, I received a mail from London based freelance TV producer/editor Dave Barrett who was doing some of his own research into the Fifties/Sixties and stumbled across my website. It transpired that we have much in common as he was raised in Sholing Southampton -just a mile away from me in Woolston! Furthermore, his father was a carpenter and had great memories of working on the large ships such as the Queen Mary - my own father was a carpenter and also worked on many ships. When Barrett snr looked at my own website, he was also knocked out by the nostalgic look at the old venues, including the Park Ballroom - the very same dance hall where he first met Dave's mother back in the Swinging Sixties! A new company and website have been formed under the name of Carpenters Mess which refers to the brass plaque on the cabin door of the old Queen Mary, now berthed at Long Beach California - this was where Dave B's father hung out in between working on this beautiful liner.
Dave and I swapped loads of e-mails and phone chats as we discussed various ideas and it soon became clear that we were both working on a very similar idea that clicked with his own project, although he is kept busy with his own freelance TV work so trying to juggle a few interests himself. He was working on an idea in which a movie could be made and featuring interviews with many of the singers and bands who pioneered the Southampton music scene from the late Fifties. This mixed with archive footage of the docks, ships and general street scenes showing the many dance hall venues that were often packed with youngsters enjoying a night out but without binge drinking, drug taking and violent street brawls that now dominate the news. It really was a Golden Age and it's not surprising that many people hark back to those days and not just those that remember it all. Intertwined with the factual elements, Dave B has also written in a narrative story of a young lad discovering Rock n Roll and adding a dramatic aspect telling of the social changes at that time with other tangents. TDTMD also poses the questions and possible reasons why Southampton never emulated the success of other major cities around Britain as well as providing insights into its tolerant multicultural status and much more.
Dave B was very impressed with the wealth of info and photos which he had found on my site and has used some of this to produce a short demo clip that includes interviews with Rick Brown (HiLites) Roy Roberts (MeddyEvils) Tex Roberg and Pete Broyd. He has been in touch with several media outlets and was himself recently interviewed on the Mike Osman Show on Radio Solent, so able to convey our shared passion over this exciting new project called 'The Day The Music Died'. The Southampton based Echo has also picked the story up and a two page spread, by feature writer Duncan Eaton, was printed in their Weekend Supplement (see below) so we are hoping to hear from anyone who has memories, photographs and any input that might be included in a feature film. Our next stage is to organise a presentation in an effort to attract funding to make this unusual movie that will be forwarded to the Sundance Film Festival in Utah USA amongst other independent film outlets and I will be updating this page as we hopefully make inroads with this exciting project. The media is very interested in this look back at an important part of our heritage and have requested that we keep them informed of any developments. Another unusual side to this story is that Dave and I have still not met up - just working away by phone and mail links but hoping to hook up soon and get stuck into the PR/marketing stage as we both feel very confident that we have a unique story to tell. It will be more than just a local interest project and has the major benefit of being evolved from the inside with regard to my personal memories of those days mixed with Dave Barrett's standing on the TV production side.
Echo Weekend Supplement- printed Saturday 23rd May 2009
©Southern Daily Echo 2009 Content not be copied/used without consent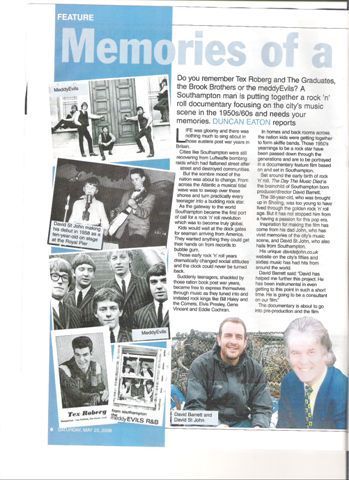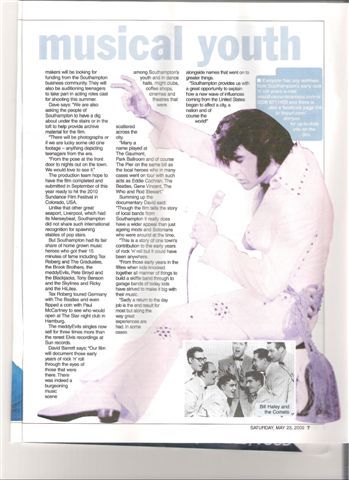 Summer 2010 The movie project has been put on hold for the moment in order for possible funding and I hope to update this story in the near future
...............................................................................
Do you remember Tex Roberg and The Graduates, the Brook Brothers or the meddyEvils? A Southampton man is putting together a rock 'n' roll documentary focusing on the city's music scene in the 1950s/60s and needs your memories.
DUNCAN EATON reports:
..........................................................................................
Life was gloomy and there was nothing much to sing about in those austere post war years in Britain. Cities like Southampton were still recovering from Luftwaffe bombing raids which had flattened street after street and destroyed communities. But the sombre mood of the nation was about to change. From across the Atlantic a musical tidal wave was to sweep over these shores and turn practically every teenager into a budding rock star.
As the gateway to the world Southampton became the first port of call for a rock 'n' roll revolution which was to become truly global. Kids would wait at the dock gates for seaman arriving from America. They wanted anything they could get their hands on from records to bubble gum.
Those early rock 'n' roll years dramatically changed social attitudes and the clock could never be turned back.Suddenly teenagers, shackled by those ration book post war years, became free to express themselves through music as they tuned into and imitated rock kings like Bill Haley and the Comets, Elvis Presley, Gene Vincent and Eddie Cochran.
In homes and back rooms across the nation kids were getting together to form skiffle bands. Those 1950's yearnings to be a rock star have been passed down through the generations and are to be portrayed in a documentary feature film based on and set in Southampton.
Set around the early birth of rock 'n' roll - 'The Day The Music Died' is the brainchild of Southampton born producer/director David Barrett. The 38-year-old, who was brought up in Sholing, was too young to have lived through the golden rock 'n' roll age but it has not stopped him from a having a passion for this pop era, Inspiration for making the film has come from his dad John, who has vivid memories of the city's music scene, and David St John, who also hails from Southampton.
His unique davidstjohn.co.uk website on the city's fifties and sixties music has had hits from around the world. David Barrett said: "David has helped me further this project. He has been instrumental in even getting to this point in such a short time. He is going to be a consultant on our film." The documentary is about to go into pre-production and the filmmakers will be looking for funding from the Southampton business community. They will also be auditioning teenagers to take part in acting roles cast for shooting this summer.
Dave says: 'We are also asking the people of Southampton to have a dig about under the stairs or in the loft to help provide archive material for the film. There will be photographs or if we are lucky some old cine footage - anything depicting teenagers from the era. "From the pose at the front door to nights out on the town. We would love to see it." The production team hope to have the film completed and submitted in September of this year ready to hit the 2010 Sundance Film Festival in Colorado, USA.
Unlike that other great seaport, Liverpool, which had its Merseybeat, Southampton did not share such international recognition for spawning stables of pop stars. But Southampton had its fair share of home grown music heroes who got their 15 minutes of fame including Tex Roberg and The Graduates, the Brook Brothers, the meddyEvils, Pete Broyd and the Blackjacks, Tony Benson and the Skylines and Ricky and the HiLites. Tex Roberg toured Germany with The Beatles and even flipped a coin with Paul McCartney to see who would open at The Star night club in Hamburg. The meddyEvils singles now sell for three times more than the rarest Elvis recordings at Sun records.
David Barrett says: "Our film will document those early years of rock 'n' roll through the eyes of those that were there. There was indeed a burgeoning music scene among Southampton's youth, and in dance halls, night dubs,coffee shops, cinemas and theatres that were scattered across the city.
"Many a name played at The Gaumont, Park Ballroom and of course The Pier on the same bill as the local heroes who m many cases went on tour with such acts as Eddie Cochran, The Beatles, Gene Vincent, The Who and Rod Stewart
Summing up the documentary David said: "Though the film tells the story of local bands from Southampton it really does have a wider appeal than just ageing Mods and Sotonians who were around at the time.
'This is a story of one town's contribution to the early years of rock 'n' roll but it could have been anywhere,
"From those early years in the fifties when kids knocked together all manner of things to build a skiffle band through to garage bands of today kids have strived to make it big with their music.
"Sadly a return to the day job is the end result for most but along the way great experiences are had. In some cases alongside names that went on to greater things. "Southampton provides us with a great opportunity to explain how a new wave of influences coming from the United States began to affect a city, a nation and of course the world!"
DUNCAN EATON
©Southern Daily Echo 2009 Content not be copied/used without consent
The Southern Daily Echo features local and international news so well worth a look: www.dailyecho.co.uk Duncan Eaton has also written a superb biography on Heinz Burt (Tornados etc) and I will add information on this in the very near future.
The Echo website also has a superb regular feature called Hampshire Heritage which casts a nostalgic look back at the sights and sounds of yesteryear. Written by Keith Hamilton and has regular updated features, many of which have also shown fascinating photographs of many dance hall venues that we used to play at back in the Sixties. At time of this update (February 2010) I am still in discussions with David Barrett as regards the progress of the movie project - it does take a lot of time and effort with this kind of 'grass roots' ideas so I am hoping that 2010 might click in, so watch this space!
............................................................................................
We have been in talks with the management of Kuti's Royal Pier Thai Restaurant which opened in 2008 - one of Southampton's finest eating establishments and situated in the renovated entrance hall of this iconic building. They have transformed the old entrance building into a state of the art restaurant with views over the nearby docks and Southampton water which offers the experience of watching the new fleets of cruise ships that have boosted the port status. It is hoped that we will shortly holding a presentation evening with live 50s/60s music and an AV presentation of a short demo clip that gives an idea of this innovative movie which is now in pre-production. This is aimed at attracting local funding from a wide variety of sources and hoping to boost Southampton's profile by showing that a home grown production can highlight the rich musical heritage and much more. We also have interest from some big names in the music industry who have a strong connection with the core subject of how the Fifties and Sixties provided the footing for the next few decades. I hope to have updates on these developments over the new few weeks.
You can read my two webpages on the Royal Pier via the sitemap and realise how important this building is, with regard to being one of the UK's finest seaside attractions and Kuti's have provided local people with the chance to enjoy a flavour of great Thai food as well as the flavour of its history. Although the pier jetty remains in a derelict state, there are big moves on the way which might hopefully see a massive regeneration of the whole waterfront area and maybe sometime in the near future, we might see people walking down to dance the night away at a new ballroom?
N.B. Check out the 2010 Blog for updates
............................................................................................
The summer of 2009 saw the general release of a very relevant film based on the life of the legendary producer Joe Meek and named after his most successful instrumental hit record "Telstar" This was the first ever single to top the UK and USA charts, recorded by the Tornados and it still sounds good some 47 years on! The most striking member of this great group was local Eastleigh lad Heinz Burt on bass guitar with peroxide blonde hair which was quite rare back in those days! Heinz later went on to have a smash solo hit with a tribute to the great Eddie Cochran which got to no 5 "Just Like Eddie" but then faded out due to the new Merseybeat boom that eclipsed many solo artistes. Sadly, Heinz suffered from ill health and returned to his Southampton roots, ending up by working at the local Ford factory and passed away in 2000. Check out my page on Heinz via the Site Map with more to come as 'Telstar' gets everybody talking about that era
This groundbreaking film, based on the book/play by Nick Moran starring Kevin Spacey as Joe Meek's sidekick, follows on from 'Rock The Boat' based on the Richard Curtis book about the Swinging Sixties and Pirate Radio which featured a wacky bunch of DJs broadcasting pop music back into the UK from rusty old ships and wartime towers in the North Sea. You may have read my webpage on the tragic story of Reg Calvert, who was involved with this new scene but was shot by a business rival during a petty argument that got out of hand in 1966. Reg started out as a pop music promoter in Southampton before moving up to the Midlands and dealing with the nastier types of people in the music game that resulted in his untimely death. Reg also had the amazing Screaming Lord Sutch on his books, who is played by Justin Hawkins (Darkness) in this new movie, so this all helps to keep these amazing Sixties alive! This is the release poster - click on it for the official website with sound.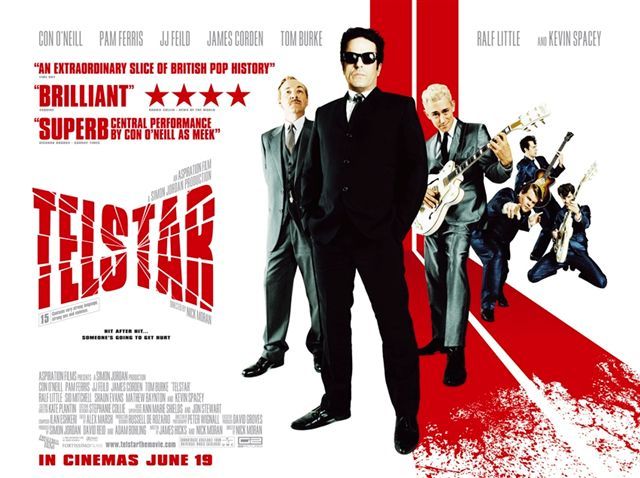 TELSTAR
Another great website- click on: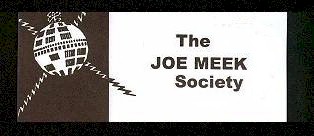 The Definite biography- 'The Legendary Joe Meek- The Telstar Man' by John Repsch

One of the best researched books with a wealth of in-depth interviews, discography and written with great flair. It really conveys the manic disorder and chaos of Joe Meek's home-made recording studio, from which sprang some of the most incredible sounds. A few Southampton musicians happened to try their luck and get some recordings done at the North London studio including Heinz Burt who had a great success with the Tornados, solo hits but then heading back to his hometown for a 'proper' job.
22 June 2009
I have just seen this film and very impressed as would anybody who knows anything about the Joe Meek story or just remembers the great music that came out of his weird set-up above a leather goods shop in North London! Joe is played superbly by Con O'Neill and the basic story line is more or less how it all happened although family and friends of the late Heinz Burt will not be too enamoured by the rather salacious scenes, regarding Meek's well known 'dark side'
However, it is a dramatic reconstruction and a 'bio-pic' production that should be enjoyed by people of all ages as it serves as nostalgia plus offering another insight into what the early days of Britpop were all about.
............................................................................................
With perfect timing, one of my many associates is currently promoting a live show that features original recording artistes who were produced by Joe Meek and quite simply goes under the title of 'Telstar the Concert' and here is the poster- just click on the image for more details of how to book this amazing show or go along to enjoy it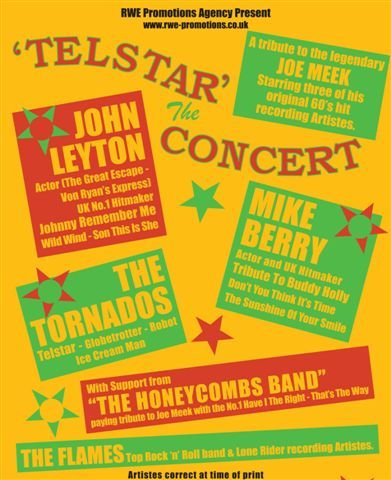 Telstar the Concert
This evening full of Sixties classics sees the Tornados along with John Leyton whose smash no. 1 hit of 'Johnny Remember Me' still sounds as fresh it was when first topping the charts back in 1961. This atmospheric record shows the magic of John Meek with its echo effects and driving beat and John is also a very successful actor with many film credits under his talented belt. I worked with Mike Berry a few years ago and he has a great live act which includes several hits such as 'Tribute To Buddy Holly' that links to Joe Meek's obsession with the occult - just read about this or watch the movie to learn more. Mike also starred in the TV series remake of 'Worzel Gummidge featuring the eccentric Jon Pertwee in the title role.
The Honeycombs provided Joe with his final hit back in 1964 with the catchy 'Have I The Right' and it went straight to number one. This song was penned by the prolific songwriting team of Howard and Blakeley who went onto write many more big hits throughout the Sixties and the original line-up featured the first lady group drummer (Honey Lantree) who apparently inspired Karen Carpenter to pick up some sticks! Honeycomb Tony Harte can also been seen in this movie, playing an EMI executive, although looking much different from his usual style above!
On top of this great line-up, they also have a terrific rock n roll band The Flames and this packed show is unique with its link to Joe Meek as well as providing a great night of nostalgia. 'Telstar the Concert is also available on a scaled down version and with a varying line-up of the featured artistes mentioned.
For more information go to www.rwe-promotions.co.uk
............................................................................................
..................................................................................................................
Tuesday 21st November 2009 saw the release of 'Circles' a book all about another of Southampton's top bands that nearly cracked the big time in the mid Sixties - The Fleur De Lys. Superbly written by Paul 'Smiler' Anderson and Damian Jones who have captured the atmosphere of the Mod scene with inside interviews, rare photographs that all convey the twists and turns of fate in the music industry. The book was launched in November at the reknowned 100 Club in Oxford Street London and information can be found by going to the club's own website. This special evening also witnessed a live performance by the Fleur De Lys some forty years after splitting up! I was invited to attend but sadly not able and missed a terrific night with the Fleurs and support bands as well as loads of young 'Mods' suitably attired in the very style of Swinging London back in the mid Sixties. Many of these youngsters are gradually discovering the wealth of talent that sprung up in the mid Sixties, as well as being able to buy some 'fab gear' along Carnaby Street and elsewhere!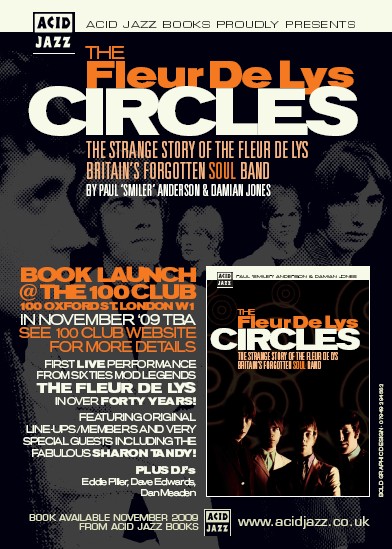 CIRCLES- THE BOOK
This fascinating insight is complemented by the re-release of their much sought after E.P. a 7" vinyl recording with four great tracks and featuring the much revered Sharon Tandy. Also available on download by going to the Acid Jazz website, which covers a massive wealth of 60s Mod/Soul and much more music that has a growing interest in recent years. I have now read 'Circles' the book and thoroughly recommend it to anybody who is into the great 'Mod' days of the mid Sixties. Beautifully presented with superb graphics and even more rare photographs that bring it all back (including some shared images from my own website- re 'Four Hits and a Miss' etc) Just search the net (Amazon & co) or contact Acid Jazz as below.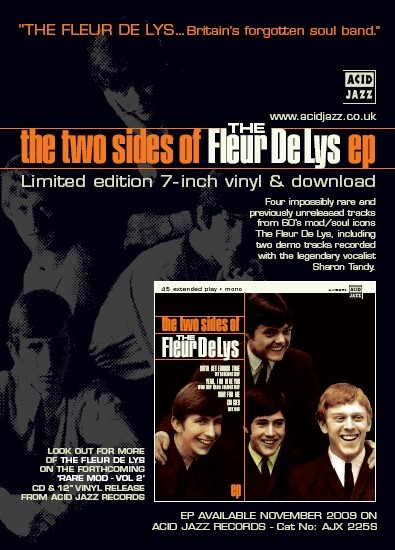 THE TWO SIDES OF THE FLEUR DE LYS
Plus original 'Fleur' Keith Guster's superb website:
http://www.dysongs.net/lfdl/home.htm
............................................................................................
........................................................
November 12th 2009
I receive so many great messages from all over the place including this mail from Dave McClure whose Liverpool band the Abstracts played at the original Cavern Club during the early Sixties, following in the footsteps of the Beatles and many more top Merseybeat names and visiting acts. He now lives in San Antonio Texas and the drummer in Florida plus the road manager in Philadelphia but keeps in touch with the old country and many of his former bandmates from the amazing days when they all trod the same smelly boards that projected many a scruffy group to world fame. I bet many of these young lads were hoping that Brian Epstein might wander down the steps in search of new talent but he was kept busy elsewhere of course!
Hi David,

Great website - I wish more ex group members from that era would do the same! I was a member of a 60's Liverpool group called The Abstracts www.The-Abstracts.com and we played at the Cavern quite a few times. I am in the process of publishing a book about the group and would like to request your permission to use the photo of you standing in the doorway of the "original" Cavern, obviously I will acknowledge the source.

It's unfortunate that we never thought to take any photos at the time but who would have thought that the City of Liverpool would have been dumb enough to allow it to be torn down! I think the "new" Cavern is a joke and would like to have an image that shows it "the way it was" and I think your photo really captures the mood.
Regards,
Dave McClure ~ www.VelocePress.com
This photo that Dave found on my webpages was taken back around 1965 as I have family in the Liverpool area and took every opportunity to walk around the old 'Beatle Trail', before it came the well organised tourist organisation that exists these days. Unfortunately, I never saw any bands playing there but wandered down Mathew Street just a few blocks from the Pier Head and riverside areas on an afternoon. I got my dad to take a photo outside the shabby rundown warehouse at no.10 (Kellys') that had one of the most famous doorways in the music world, with steps leading down into the old cellars that saw the birth of a sound that conquered the world and changed pop music forever. There was a sign above the door that stated' The Beatles played here 292 times' but thanks to the stupid blinkered visions of the old Liverpool council, they decided to demolish the whole building in favour of a damn car park! A 'new' Cavern was built a short distance from the old venue but it could never be the same and many Scousers have fond memories of that 'shrine' that so many visitors have made their 'pilgrimage' from all over the world, just to get a taste of what it was like
I wandered down and was immediately hit by the smell of stale sweat and urine, despite the overpowering pine disinfectant that was used everyday to disguise then previous night's entertainment that saw packed houses enjoying the onstage groups! I doubt if many could have danced with so little room as everybody jammed to the front whenever the Beatles or other top bands were playing. Anyway, here is the draft page (copied from the 1994 'Abstracts' book of this brand new publication called 'The Best of Cellars' by Phil Thomson (Bluecoat Press 1994 ISBN 1872568165) and well worth a read! Dave sent this page that lists a few shows during 1964 and his band the Abstracts appeared on many occasions including support to the Yardbirds with a young Eric Clapton in the line-up! The Yardbirds also boasted Jimmy Page and Jeff Beck in those days and I was lucky enough to have seen them in Southampton around that amazing time. Other acts include John Lee Hooker and Little Walter- two of the finest r&b artistes ever along with the Alex Harvey Band.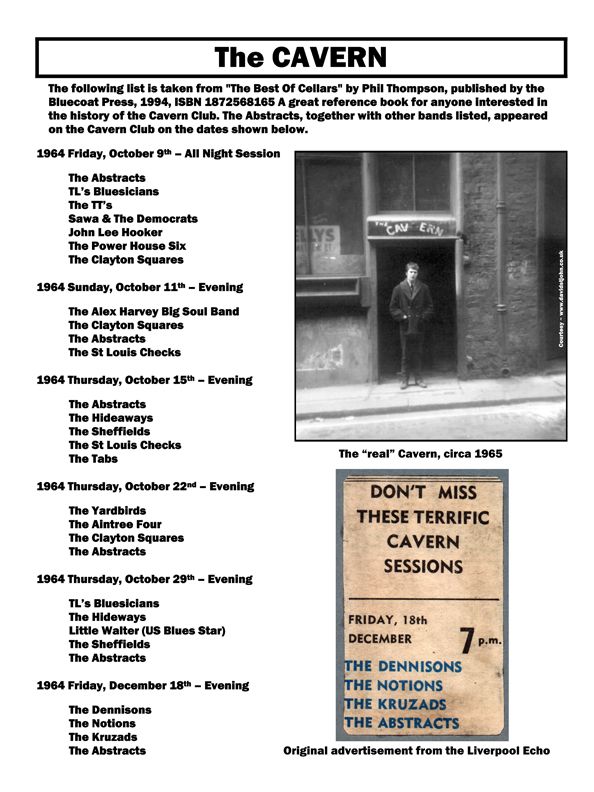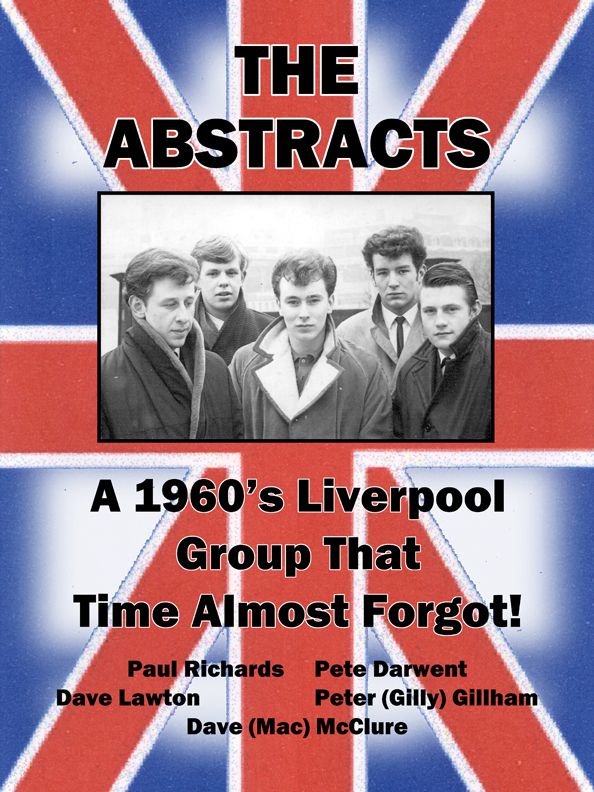 Back cover of the new book and due for publication in the near future-come back and check it out
Also - try this link:
...............................................................................................................................................
September 2009:
Reg Calvert's daughter Susan Moore has obviously inherited some of her late father's talents as she is an established artist, whose work is currently on show at an exhibition called 'People and Places' and running until 20th September 2009 at Nuneaton Museum and Art Gallery. If you live or are passing through the Midlands then well worth a look.
In addition, she has been working hard on a musical double bill play and based on the life and times of her parents from the early days of the pop music industry and leading to the drama that unfolded on the high seas when Pirate Radio reared up and changed the record business forever. It had its first showing (world premiere!) in Windsor and I will update on any progress
Susan Moore writes:
"The play is the story - beginning to end of Reg and Dorothy Calvert. From the early days of Big Band through to Clifton Hall, the School of Rock and Roll and then finally, the dream of owning a pirate radio station. It combines a powerful love story, with colourful characters, music, intrigue and murder. It runs a little bit like Blood Brothers."
...............................................................................................................................................
I had a very rare photograph sent to me by Mick Pink (ex Footprints) and I have added it to the Bob Pearce webpage as well as placing it here. Taken in Southampton in 1932 and shows the very popular local Gil Hulme Dance Band with none other than Louis 'Satchmo' Armstrong who was on a UK tour from July to November. It's also a special photo for Mick as it features his grandfather Harold Mumford who played piano in the band so the musical legacy lives on!
The lady might be Lilian Hardin, who was the second of Satchmo's four wives! The title and captions are taken from a 1950s Southampton Echo article and harks back to 1932 when Louis appeared in the town as part of his many UK tours and I have just been sent this Echo piece from Cole Mathieson of the Concorde Jazz Club so reproducing it here as well as quoting the actual text from the small print.
WHEN GIL HULME MET SATCHMO
Southampton Echo photo and article which I think was written by John Edgar Man?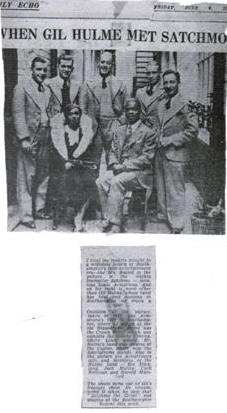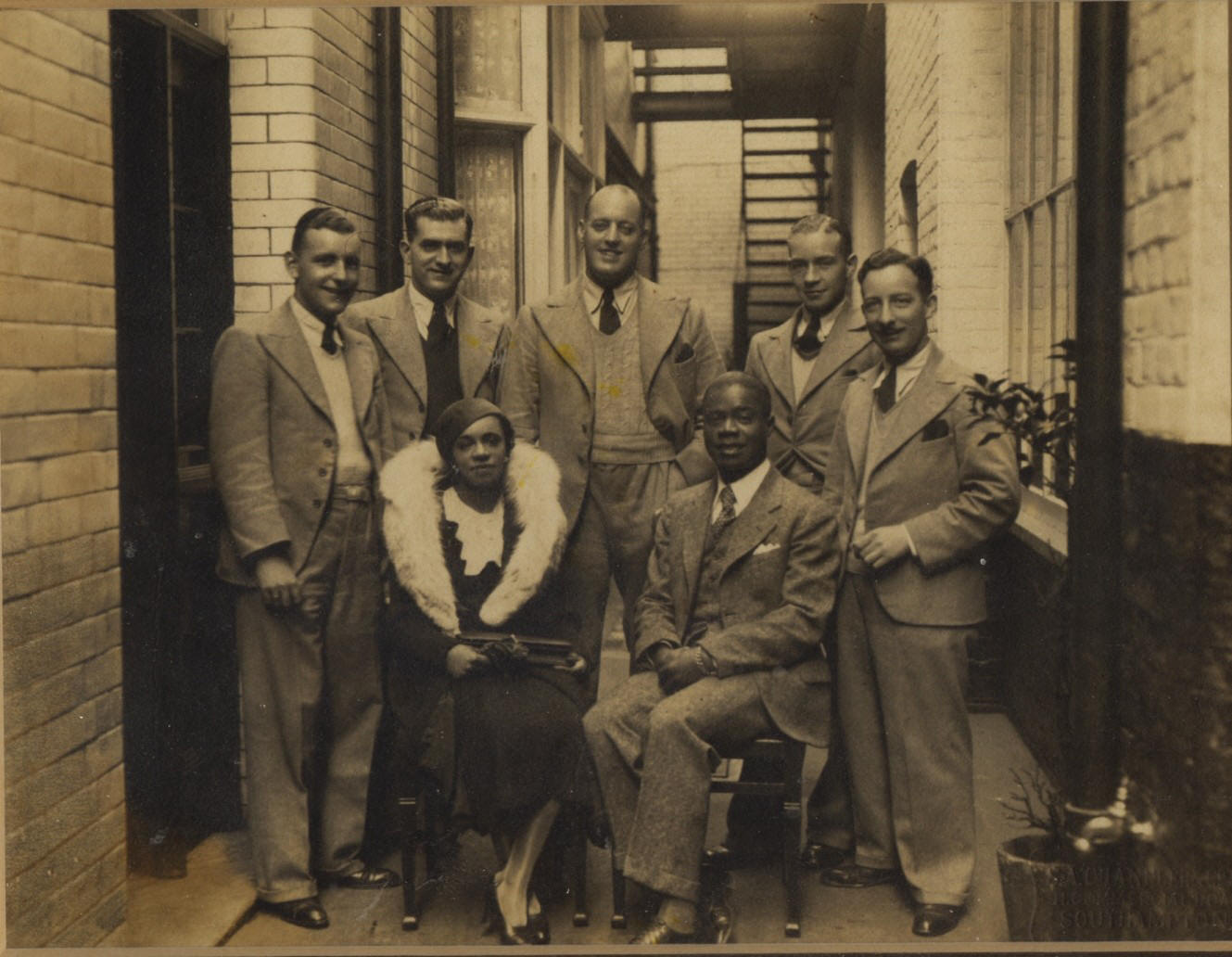 "I treat my readers tonight to a nostalgic breath of Southampton's lush entertainment era - the 30's. Seated in the picture is the mighty trumpeter Satchmo - fabulous Louis Armstrong. And on his right is none other than Gil Hulme whose band has kept feet tapping in Southampton for many a year.
Occasion of the picture taken in 1932 was Armstrong's visit to Southampton, where he played at the old Hippodrome. Scene was the Crown Hotel which was opposite the Gaiety Cinema where Louis stayed. Mr Hulme's band was playing at the Casino where the Sportsdrome now stands. Also in the picture are Armstrong's wife and members of the Hulme band-Les Stickland, Jack Morley, Cyril Wellman and Harold Mumford.
The photo came out of Gil's 'Treasure Chest'. He remembered it when he saw that "Satchmo the Great" was playing at the Southampton Regent this week"
'What A Wonderful World' eh?
19th February 2012
Just received this e-mail from a relative of Gil Hulme and a wonderful photograph- I wonder if anyone might recognise the year/venue? Looks like a cinema or theatre with the organ in front- a copy of sheet music for 'Tannhauser' read for the resident organist to play! April 2012- I have also just received more info and great photo of Gil Hulme so will now add it this additional input on the newest 'Groups' page in the very near future
Hi David,

I read with interest your "Call up the groups" web page as I'm related to Gil Hulme. One of 10 children to Theophilus and Mary Frances, Gil was born in Etruria Stoke-on-Trent, the family moved to Sunderland for a short time before moving south, Theo worked on the construction of the A1 moving the family with him ending up in Southampton some time around 1904/5 where they settled. I only met him a few times but remember him and his brother John (my granddad) giggling like a couple of girls when they got together.

My mother (his niece) used to go to dances when he played, sometimes she was his hat check girl when it was busy, she told me the Americans were a nightmare when in port and at the end of the night would jump the counter and help themselves to coats and hats, sometimes not their own.

Others in the family were musical too including my granddad, he had a trio that played around the Southampton area. Another brother had a shop in The Avenue/London Road.
He sold instruments amongst other things. Sadly that generation are long gone, the last sibling , Ellaline died 2007 aged 102. Its nice to see that not all are forgotten. I've (hopefully) attached a photo of Gil on stage, perhaps someone will know where it was taken.
Regards
Chris Griffiths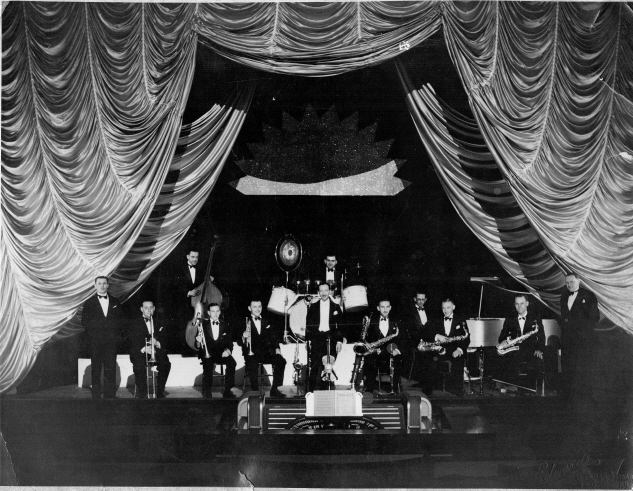 GIL HULME ORCHESTRA
...............................................................................................................................................
18 June 2009 (Happy 67th birthday to Paul McCartney!)
I never cease to be amazed by the daily e-mails that pop up in my inbox and just received a couple of photos that could not be released before! If you have read my many music webpages, then you will be aware of one of Southampton's top 60s r&b bands the MeddyEvils and I am in constant touch with founder member Roy Roberts. This group reformed to perform at the first two Concorde ReUnion shows of 'Back to the Sixties' after some 45 years and were terrific. Roy has several business interests including the marine industry and he has just sent me a couple of photos of the preparation of the actual vessel used in the recent movie "The Boat That Rocked" (see above). She was moored at Hythe Marine Park and undergoing various changes to take her back to the mid Sixties, before sailing down the Channel for the filming off Weymouth (posing as the North Sea). His company is involved with marketing on many of the top marinas and boatyards around the South Coast so just happened to have a camera with him whilst on a business visit, but not allowed to share any pictures until now, as the film has been on release for some while.
The boat was refitted and the revised superstructure built as a 'proper' constructed ship as opposed to a film set...it was all real. The cast came down and stayed onboard for a week, to get the 'feel' before sailing off and filming scenes at sea, although this had to kept under wraps and these photos are now available to share, thanks to Roy Roberts. He has just sent me a couple of photos of 'Challenger' aka 'Radio Rock' as she was renamed for this film and much more information can be found on the net.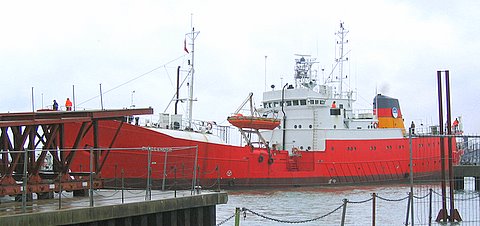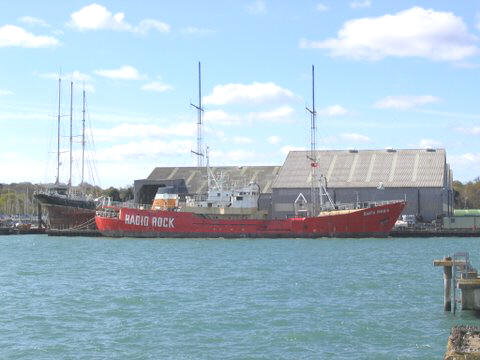 'RADIO ROCK'
courtesy:
You may wish to visit Roy's website which encompasses a long established (1969) company that is in the forefront of marketing, creative, graphic marketing and much more. His marine side covers photography and associated links as one of the highest profile companies along the South Coast - well worth a look. Despite a very busy schedule that takes Roy all over the world, he still finds time to play mean guitar with local bands as well as being involved in the Southampton 60s music scene that is kept alive through my own website.
......................................................................................................
If YOU have any photos and memories, then please get in touch with me through this website - just click on any e-mail links and I look forward to hearing from you.
HOME PAGE SITE MAP CONTACT DAVID ST JOHN
Page updated 9 June 2010
copyright ©davidstjohn2010