Back to Home Page Back to Site Map Contact David St John
BARRIE JAMES
September 2007
Once again, some friends and family of a well known Southampton singer mentioned to him that he was part of a new web-based 'publicity' campaign, despite 'retiring' a few years ago! So once again, another popular Southampton artiste has found my website in the shape of Barrie James - a versatile entertainer who had some great times travelling all over the UK and overseas during the late Fifties and Sixties. Barrie has kindly sent me some more rare photos etc which give a really good insight into the flavour of those great times as well as mentioning several singers and musicians featured elsewhere on my ever expanding webpages. This act was more of an early showband as they played some terrific music mixed with showmanship and variety such as jokes, impressions and other routines that set them apart from many other bands.
Barrie James and the Strangers publicity handout
L-R: Tony Collier Sandy Lane Barrie John Baker Brian Oram (known as 'Fred Funnel' !)
Picture by the well known Dezo Hoffman - photographer to the stars (Beatles etc)
After checking my website, he got in touch with me via son David and we had a great chat about our backgrounds, as well as adding many of his own memories that have been lying dormant in his scrapbooks for decades! Barrie is mentioned on my other webpages and was one of the main local 'stars' who appeared at the Royal Pier Pavilion and managed by the legendary Len Canham who also features on this website. These rare photos and posters really bring back some great memories of that early era and offer a nostalgic glimpse into the whole scene - a piece of 'modern history'!! I am copying his mini-biography below as it gives another personal glimpse into the early years that saw new bands and venues springing up all over the place and Barrie is really pleased to be able to share it with his fans both 'old and new' Once again, if YOU have any memories then please contact me and I can add these to whichever page is featured.
Barrie James - In his own words:
Barrie James - A Rough Blog.
Apart from singing in the choir at Bitterne church whilst still at school, I suppose my real singing career started with Carroll Levis around 1956 !! He was the forerunner to Hughie Green, running talent shows. I was an apprentice jockey at the time, and when the Carroll Levis Show came to the Grand theatre in Southampton, or the Kings or Theatre Royal in Portsmouth, heíd send me a letter, asking me if Iíd like to sing in the first half of the show, which was a talent competition. I of course accepted every time, and really enjoyed it. He introduced me as the singing Jockey !!! I won the Southampton area finals of the Revlon £1000 competiton at The Grand which took me to Skegness for a weeks all England finals.
In 1959 my sister persuaded me to take her to the Royal pier in Southampton on a Saturday night. It was a good night, but at the end of the evening, I went up to the manager (Len Canham) and said that I has enjoyed the show but I could singer better than the current act!! He called me a cheeky sod!! But said that the "Hi-Fi" group would be rehearsing next morning at the Pier and that I could have an audition. I apparently impressed, and from then on, I sang with the "Hi-fi" regularly at the Pier and various other venues alongside such names as Billy Fury, Dickie Pride, Johnny Gentle, Duffy Power, Gene Vincent, Georgie Fame, Ray Ellington, to name but a few. ! A lovely time.
The next band I worked with was "The Dominos" who I joined when the Brook Brothers went solo and professional. The band consisted of Chris Hillery, Bob Brown, Eric Williams, and the drummer Brian Jeffries We had some great times and did some great gigs.
At this time, I was still working, but Len managed to get me an audition for a 9 day tour, with Emile Ford, Ricky Valance, Norman Vaughan, Sounds Incorporated, and a few other acts. I passed the audition and was told to "Go home, pack up your job and join the show at Cardiff that day." From then on, under Lenís guidance, things seemed to snowball, a record contract with Parlophone records, the radio show at Earls Court, ( I mimed record, just before Anthony Newley, a favourite of mine), and a London agency.
It was about this time that Len formed the "Strangers" and "The Barrie James Show" with Collier, Funnel and Fergie. Also in the show were Gary and Lee, 2 brothers singing harmony, and doing Everly brothers impressions, Patti Knight (Vocals) and various other artists, who came in when someone left i.e. Johnny Watson (great drummer) Sandy Lane, Shirley Gaye, John Baker (Drummer) and Pete Jackson (Bass). We did impressions, jokes, rock and roll, ballads and generally tried to entertain. We even did a 3 month show in Northern Ireland called " London West One " We were working all over the UK because Len was doing deals with other promoters and swapping venues. Thatís really how I became friends with the Barron Knights, they gave us work and Len got them working locally on "our patch".
WE WERE NOT HOME VERY OFTEN !!!
By 1964 I was getting fed up with touring, and it seemed that none of the bands in our agency was getting anywhere, and my wife had just had our second child, (I hadnít seen much of our first, who was born whilst I as working in Ireland!) so I decided to retire from singing professionally. Len wasnít too happy, but we agreed heíd take over "Barrie James |Enterprises", the agency heíd started for me and re-name it "Avenue Artists".
I then worked in clubs and pubs semi-pro, with Bill Pritchard, Clarrie Moore, John Picken, and for a while Roger Pope at The Silhouette Club, Celebrity Club etc etc ( Roger was a bit loud for the Silhouette !!)
Peter Madsen asked me to join his band with Shirley Morgan in 1965 at the Pier, but he was to be replaced by Derek Butterworth in a couple of months. I joined Alan Ross as resident vocalist, with Shirley Morgan in 1966 at the Top Rank Suite, and stayed on when Pete James took over until mid 1971.
I then spent over 25 happy years singing with "The Southampton All Stars Orchestra " working with some of the best musicians in the area. I retired from the band in January 2000.
The man mainly responsible for helping musicians and singers in the 50ís and 60ís was the late Len Canham, best man at my wedding and godfather to my daughter.
Iím truly grateful to all the musicians, who have used their skills and their talents to accompany me over these years. Many thanks.
Barrie James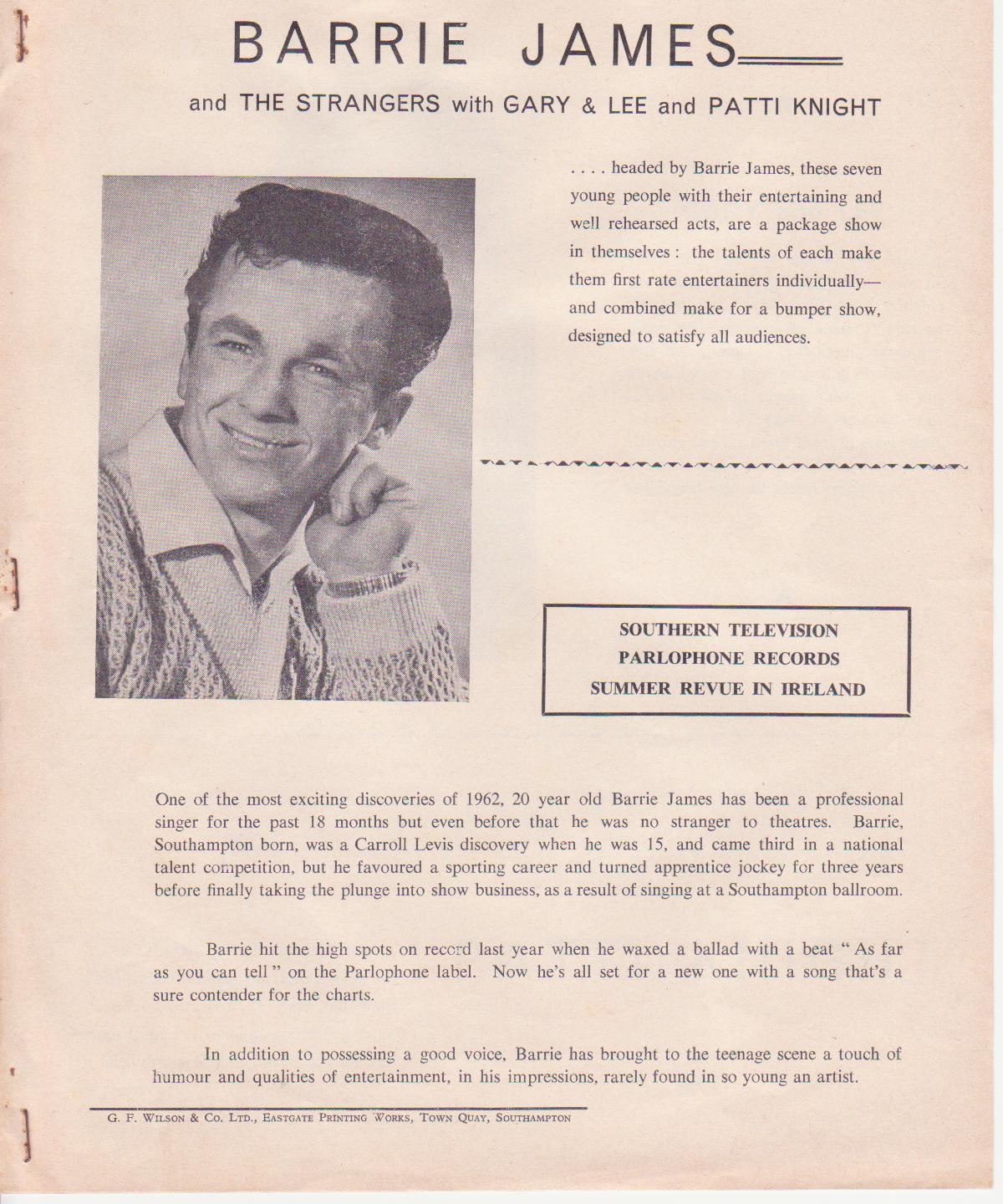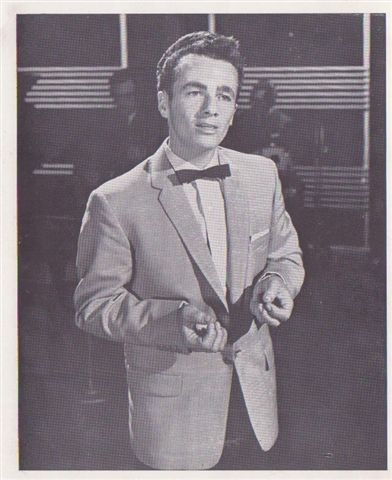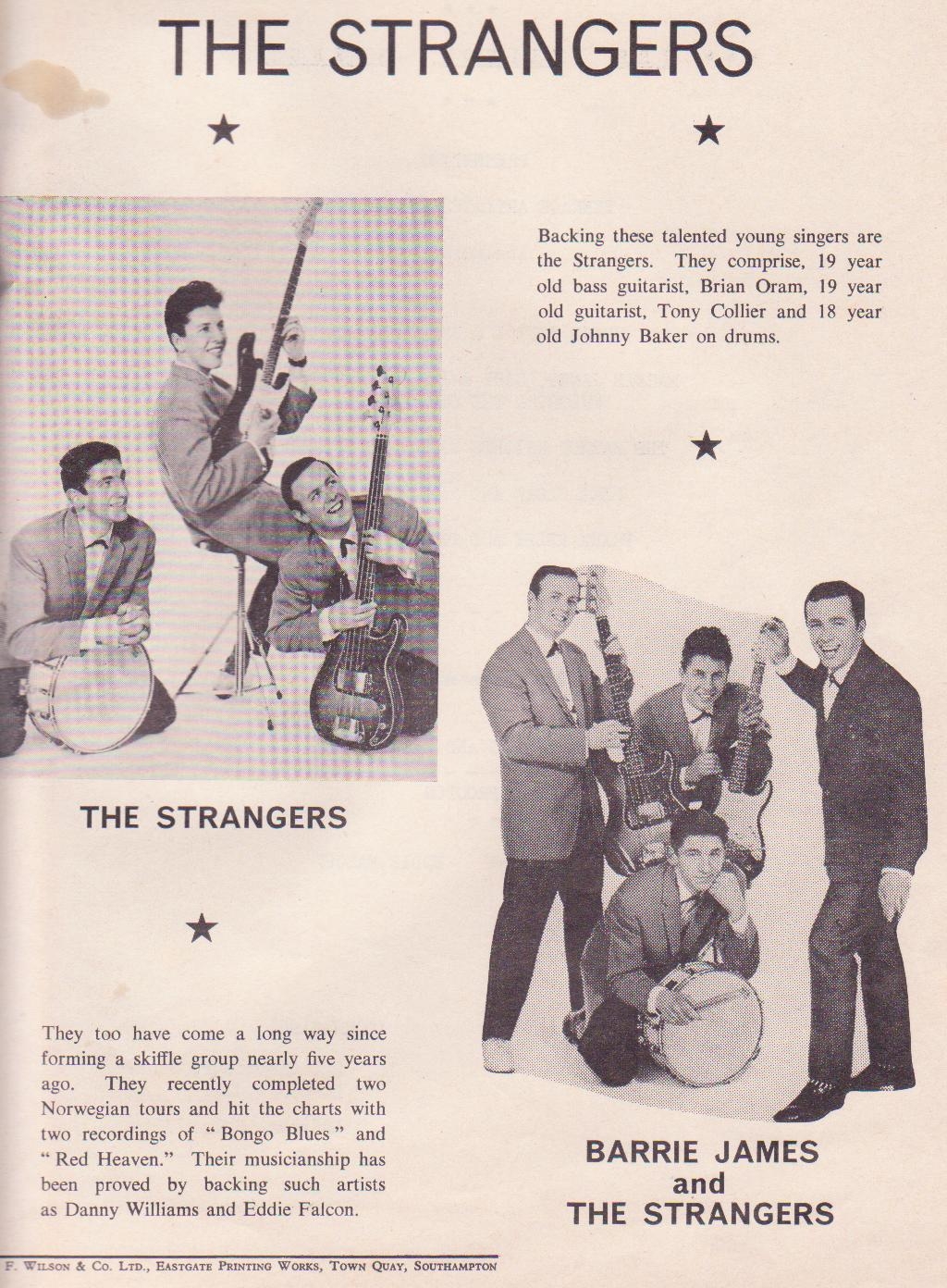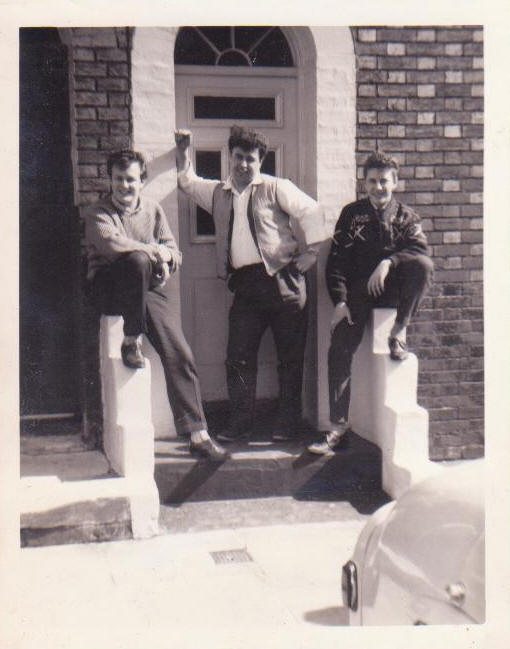 Brian Oram Brian 'Fergy' Ferguson Tony Collier
At Fergy's front door in Latimer Street off Oxford St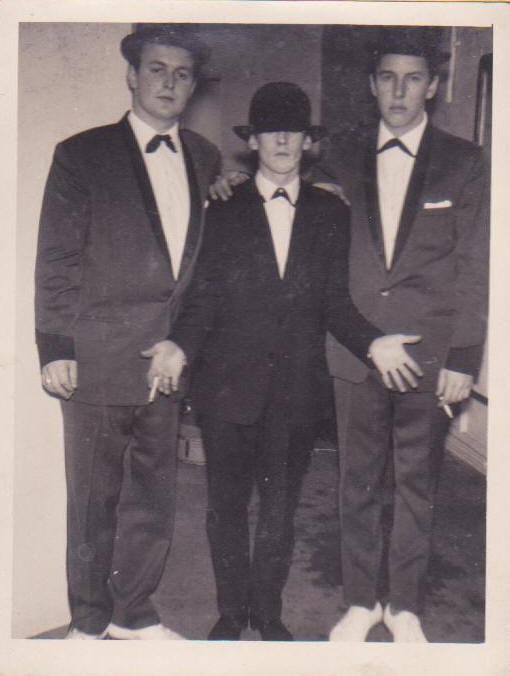 Brian Oram Johnny Watson Tony Collier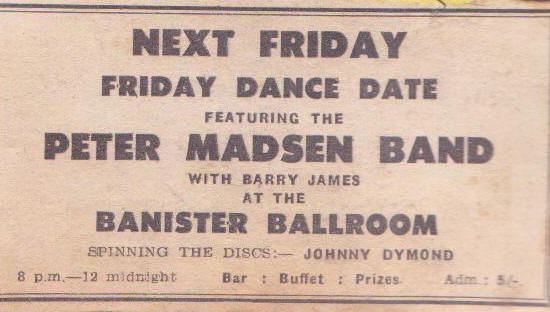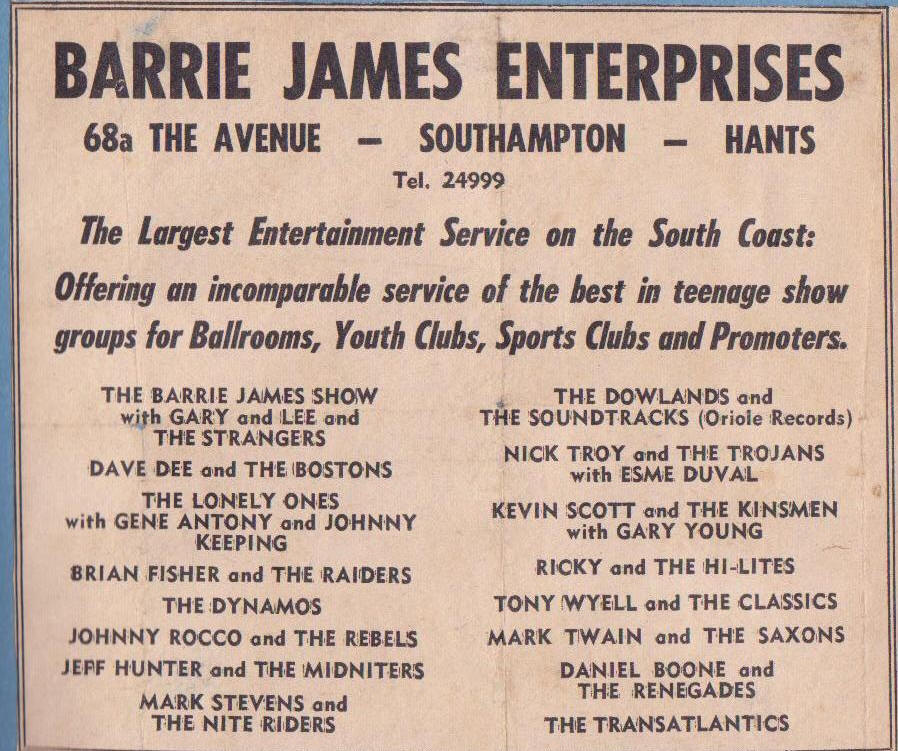 This agency was later renamed Avenue Artistes before moving to the Polygon area. Len Canham founded this agency for Barrie and then ran it with Bob James then later with new partner Terry Rolph who still runs the agency to this day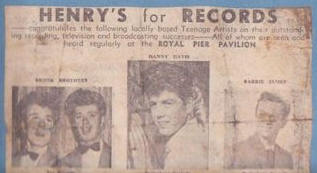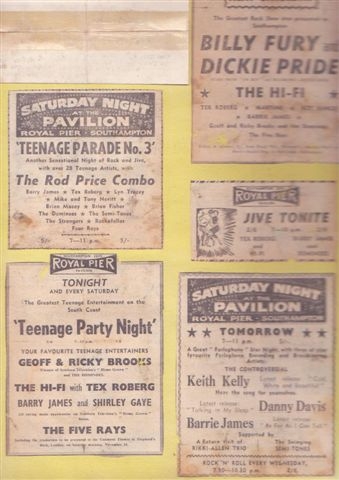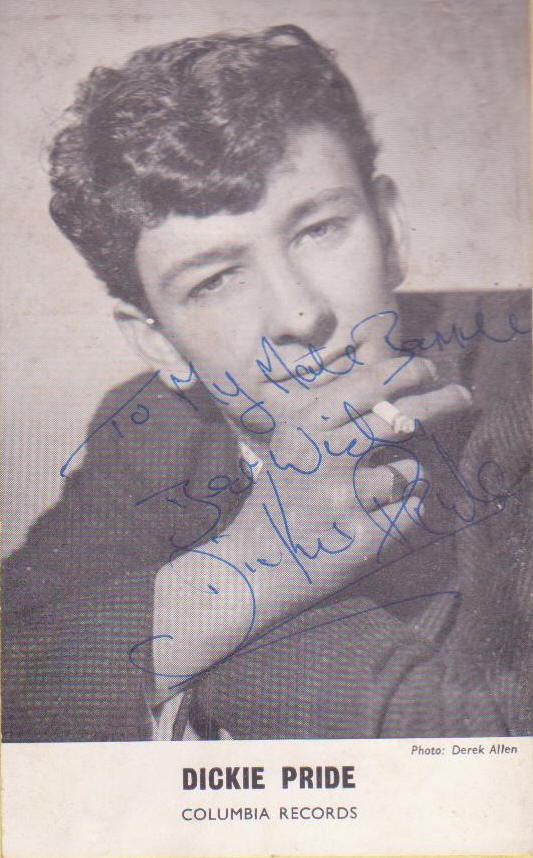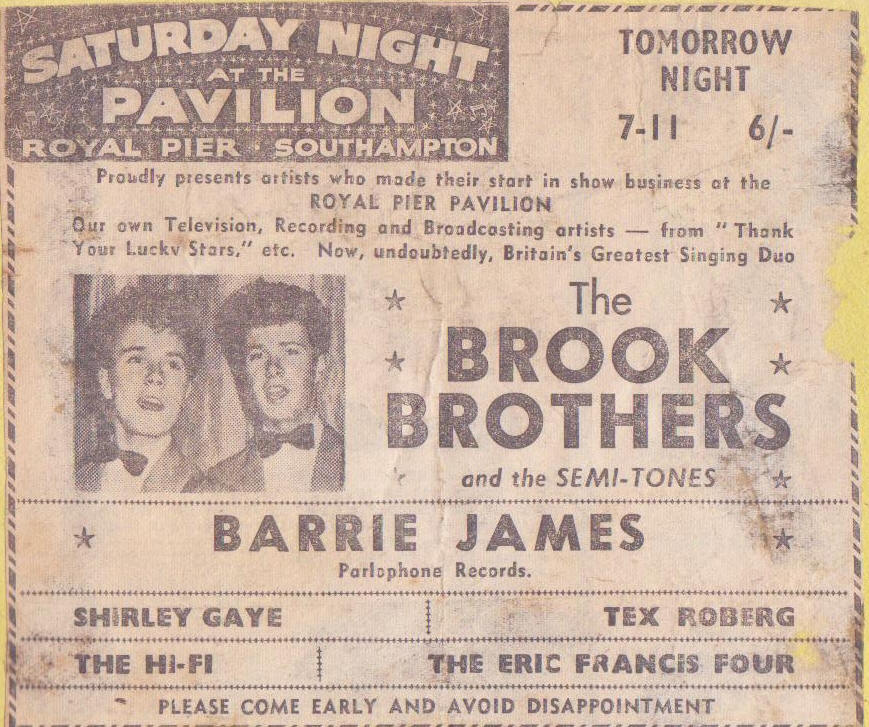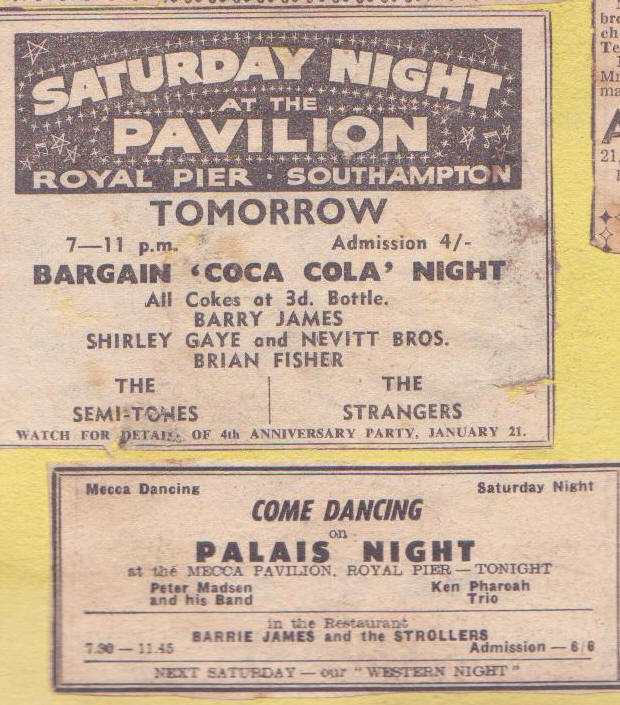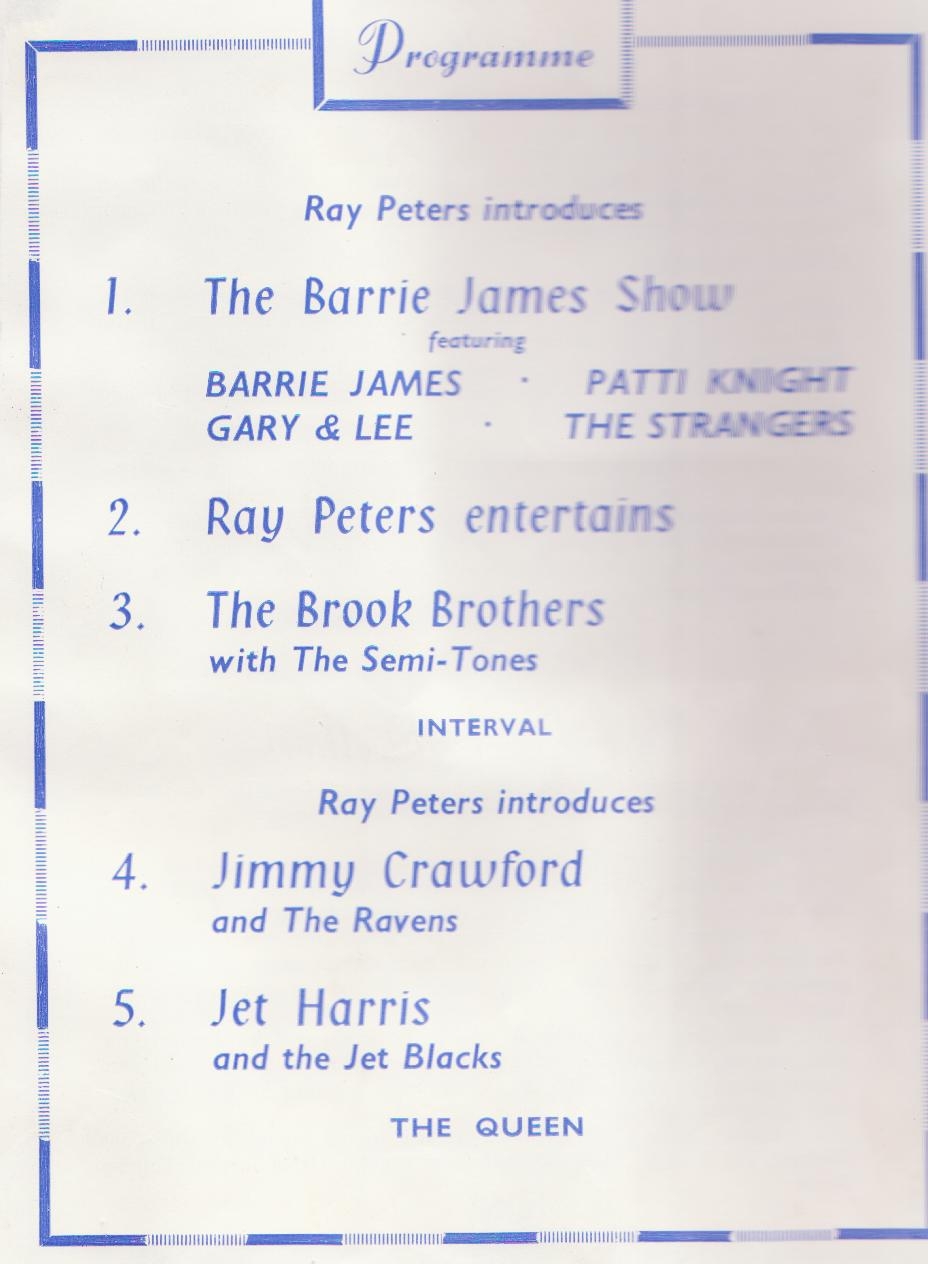 This was a special show programme at the Rialto York around 1963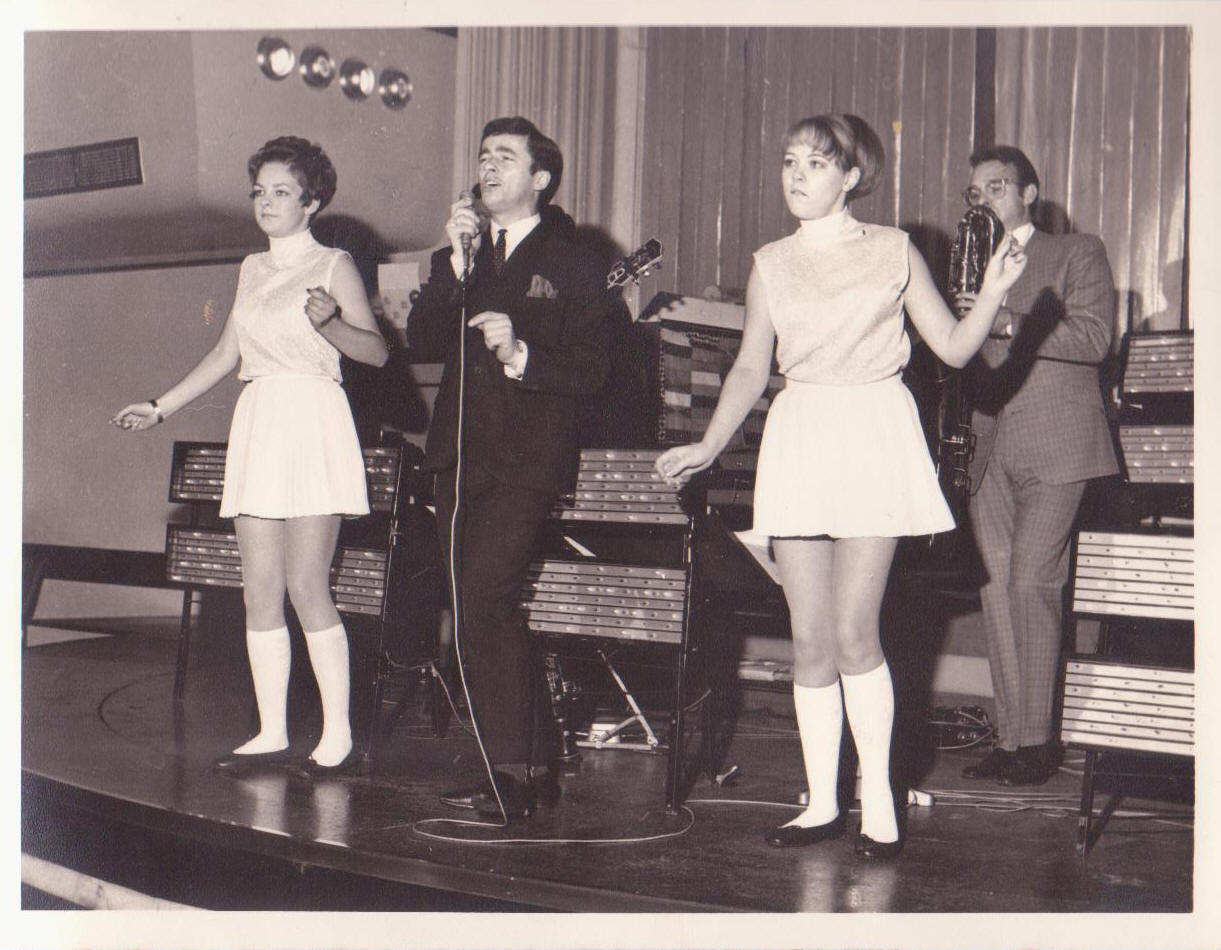 Top Rank Ballroom - a classic Sixties photo!!! This featured a revolving stage with the next act setting up behind
Barrie backed by the resident Alan Ross band with Janice Ross (l) and a dancing dolly bird mate! Barrie played there from 66-70
Barrie spent some 25 years singing with the Southampton All Stars big band as well as various gigs in between but has now retired after a lifetime which brought him many good times. I am grateful to him for sending this superb collection of photos and memories and I'm sure that many of you will recognise these names and places so please get in touch with me if you can add to them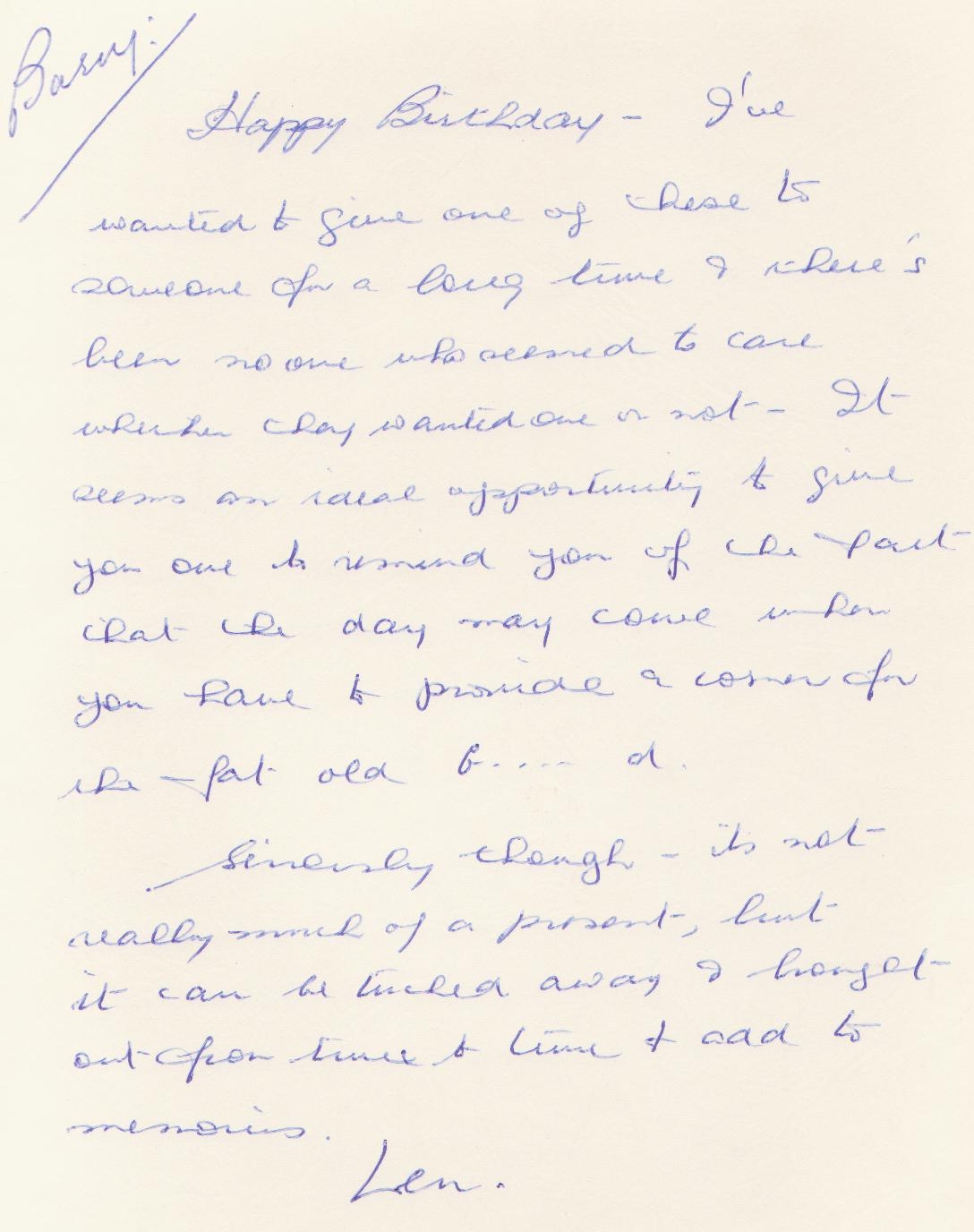 A birthday letter from Len Canham
Barrie and many more of us were proud to have been associated with Len who was best man at his wedding as well as being godfather when the little ones came along. He remains as one of the South's leading music promoters and loved the business right up to his passing in 1987 and he was responsible for many careers as well as being a very good friend to so many who were lucky enough to have known and worked with him. They should have a blue plaque on the Royal Pier building!
What memories! I trust you have enjoyed just a few of Barrie's many fond memories and I am grateful for his input. Please check these pages on a regular basis as I am receiving more contacts and information all the time. Perhaps you or a friend have been mentioned so please get in touch and I may even be able to link up old pals again - this has happened on several occasions following the steady growth of my website dedicated to the Southampton music scene
Back to Home Page Back to Site Map Contact David St John
©David St John 2007